Hey dudes and lady-dudes, your friendly neighborhood PPYM stepping in for Rad for a game.  He took his talents to night shift. So pour yourself a Harvey Mombanger, grab a seat, and lets go.
The Knights came in off last night's loss to the Caps in the annual, forced rivalry, rematch of the cup final.  As usual for a team playing back-to-back, the Knights had jump to start.  Two minutes in, Colin Miller showed what a summer internship at the Jedi Academy looks like when he took a phantom high stick from Simon.  The resulting power play was uneventful. The Pens picked up some momentum from the kill.
After the penalty the Knights continued to cycle. No-sex scored his first of the year, six hole, the puck was deflected on the way in.  Short of growing bigger elbows, there's really nothing DeSmith can do about that goal.
A minute and a half later, Phil buries it on Geno's faceoff win.
https://twitter.com/penguins/status/1050529141555175424
Its reminiscent of the "James Neal play" from a few years back.  Three teams later, Neal is rubbing Alberta beaver water on his hair trying to get his sheen back.  Since Neal didn't resign in Vegas, or (ahem) Vegas didn't resign him, its worth pointing out that his replacement, Pacioretty, was invisible in this game.  I'm sure he won't stay that way for long, but its rough when an impact player has no impact.
The third line put on a possession clinic for about 45 seconds in the o-zone. It was beautiful chaos of cycling, shots, and checks. The best thing about the third line is how every player can hit, pass, and control the puck.  They're like triplets.  And unlike Ung's mom's, Riikola was smooth, patient and natural in his debut.
Late in the period Sheahan came down the left wing with time and space. Not to cast dispersions on the guy, but Sheahan may be the least dangerous forward in league with time and space.
One one, after one.

Sid's line was essentially shut down by the Marchessault/Karlsson/Smith line.  Sid looked a little out of sync all night.  Tip of the hat to Sully for seeing it and putting Rust with Sid and moving Hornqvist to the third line to start the second.
There's really only one two three things to talk about for the rest of the second.
Top shelf. Oh babyyyy. pic.twitter.com/fyZOCdcVMS

— Pittsburgh Penguins (@penguins) October 12, 2018
Kessel run. 12 parsecs.
Five minutes later its Phil again.  If you want to see the video of the second breakaway goal.  Watch the first video again, give your balls a tug, and say: "Same old shit, ya know?"
Whatever nightmares Malcomb Subban has about P.K. sitting on his chest and rubbing a moist jock in his face have now all been replaced by Phil's stubbly mug bearing down on him, high glove side.  Phil Kessel man.  What an American. What a hero.
Hard to believe its been more than 3 years since Phil's last hat trick (2/1/14).  Hard to believe he only has six in his career.
Schnackal reminded us he was still alive with five minutes left in the second. Two dangerous looking cross-ice passes with Sid and its in the back of the net.  Michael Chiklis looked like he was ready to pack it up and sign on for another Fantastic Four movie. (Working title "Fantastic Four: Kicked Off the Team Bus")
In yet another of installment of "Pittsburgh-Fans-Done-Lost-Their-Damn-Minds" the crowd started chanting "Fleury. Fleury. Fleury."  After deep reflection, I still have no idea why they would chant that after Subban gave up four.  Is it because they want to beat up on flower too?  Is it because they want to witness better caliber goaltending?  Is it just for fun, cause they're fans of 29?  Inquiring minds don't really want to know, they just want those fans to shut their fry holes.
In the last minutes of the second, Ryan Reaves reminded us why Sully wouldn't play him when Reaves muffed a 2 on 1 breakaway. It looked scary, then I remembered it was Ryan Reaves with the puck on his stick.
There isn't much to say about the 3rd.  The pens played a defensive period and rode their lead.  With six minutes left they decided to huddle in the crease and talk about how they could save fifteen percent or more on car insurance.  Reilly Smith poked the puck in behind DeSmith.   Despite both teams coming alive in the last five minutes, it was too little too late and the Pens put the City of Dreams in a sleeper hold.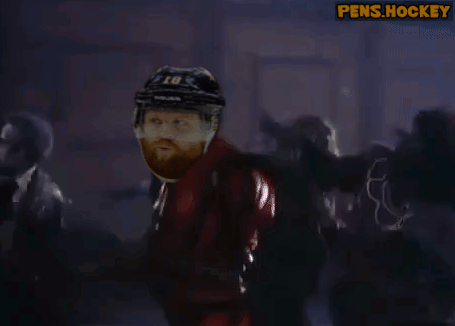 Stats N'at
Kessel with the 22nd natural hat trick in Pens' history, first since Crosby vs. Florida on March 19, 2017. (Grover)
Riikola with 18:08 TOI (0:54 PPTOI) in his debut. More than Schultz (17:56) and Johnson (17:40).  Postgame interview was brutal though.
Sid won 64.7% of draws and contributed an assist to the Guentzel goal.
Pens gave up 37 SOG and blocked another 27.  Sullivan will have to address that.
Vegas is legit, it just wasn't their night. Caps/Pens back-to-back is probably the worst possible B2B in the league.

Meat Philling
"I think that one leaves a good taste in everyone's mouth." - Of Smith (55%, 18 Votes)
"I'm gonna get it up." - Errey (21%, 7 Votes)
"You wanna feel that rubber." - Errey (9%, 3 Votes)
"It came off harder than it went in." - Errey (6%, 2 Votes)
"Look at Rust find a soft spot in the slot." - Caufield (3%, 1 Votes)
"Johnson...turns it over to his forehand, double-teamed in the corner." - Mears (3%, 1 Votes)
"He just got harpooned by Engelland in front of the net!" - Errey (3%, 1 Votes)
"He doesn't mind grinding sometimes." - Errey (0%, 0 Votes)
"The referee says, 'work it'!" - Mears (0%, 0 Votes)
Total Voters: 33

Loading ...