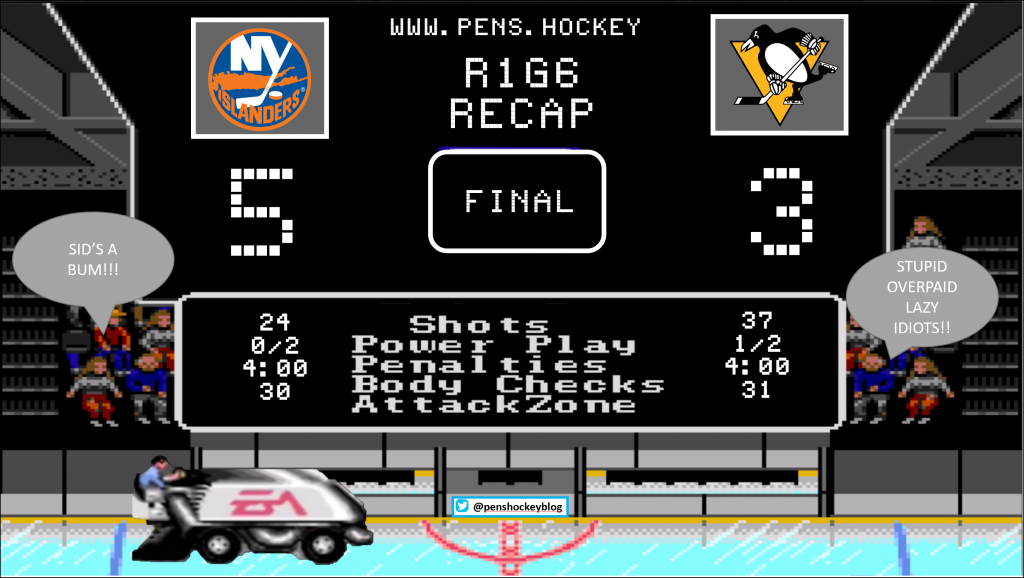 By Vlad

*I am not a professional writer in anyway and haven't done one of these in a year plus. So bare with me on this ride.
The Pens have one game to get it right or they are golfing. Win or Go Home. It's simple.

1st period – The good ol' college try

The first period starts out like both teams are shot out of a cannon. The Islanders get into our zone and look to be pushing the pace. The Islanders get an excellent chance in the slot but it goes over the net. The Pens get it going the other way. Zucker gets it out to Kapanen and a 2 on 1 develops. Kap to Carger and Carger does his thing and gets it past Sorokin for his 4th of the series.
The Pens look like they want this one. Both teams are moving the puck and skating well.

Then the story of the series continues like a bad novel. A face-off in the offensive zone burns The Pens. Bailey gets it out to Nelson and a 2 on 1 develops. Nelson gets the puck and Beauvilier fights through Crosby. Nelson gets it to Beauvilier and he puts it behind Jarry. This is the type of goal that you need our goalie to stop in this type of game. Sure it wasn't "his fault" it's a 2 on 1. But you need a goalie to settle the team down.

*Fuck the Islanders, we don't need to see this.*

Buckle up for this one.. It's going to be a wild one.

Stuff happens.. I want to drink more…But it's a weekday. I feel like a song on repeat. Another 2 on 1 goes the other way. All because Ceci pinched. This time though, a smart play by Matheson keeps it from being finished. The puck comes out to the right of Jarry and Ceci gets back and fills the lane of the shot. Good play by our D getting back and ruining a two on one. The buy-in is there tonight.

Malkin shows he is in it tonight with a hard clean hit to separate the puck from Matt Martin.. Scott Mayfield gives Malkin a cross check and Malkin goes down. Scotty takes a seat for 2. Pens on the PowerPlay!

Pens PP seems to have taken a bit of the blue pill and looks threatening. Letang and Malkin swap spots with G in the high slot. G get the shot off and it goes off Ryan Pollock and goes in! Puck luck finally happens for the pens and goes in high blocker side. Pens lead 2 to 1!


The Pens are playing with some swagger. McCan't get an excellent chance and Sorokin makes the blocker side save.

Take a guess WTF happens next. If you guest shit. You win.

Pageau steals the puck in the neutral zone and sends a shot from the right boards between the face off dot and blue line. So what does Jarry do?

Jarry leaves a PHAT ASS rebound and it gets buried. It's now tied 2 to 2. Initially I was thinking this was less on Jarry and more on Ceci for not boxing out Palmieri. But when you look at the shot and where it came from, he needs to control this rebound. He does basic rebound control and this isn't a goal and the Islanders don't have momentum.

That being said The Pens don't turtle and carry play often during the last 7 and half of the period.

Pens are still pushing this game. But Jarry just looks like he has no confidence and is fighting the puck. His confidence level is zero. Carger and the Pens are winning some faceoffs but the heavy forecheck of the Islanders is making things difficult.

They have some really good chances but some weak shots get blocked. While Kaps get a gold chance; he can't bury it. He gets it past Sorokin but Zajac gets a stick on it.

A clinching moment happens as the puck goes through Jarry but ends up through the paint into the corner.

Crosby's line produces some really good zone time but can't get one past Sorokin. He takes it to the blue paint but can't jam it home and takes a hard Cross check for his troubles and is slow to get up.

To end the period and Malkin sends a good shot on net; it goes to the corner and the first period is over.

Stat wise it was an even period. But it felt like the Islander responded to the desperate Penguins very well.


Second Period – The Unraveling

The pens are in a bad spot. They need to beat a hot goalie while they need to keep their goalie from cracking.

McCann seems like he is trying to break out with another good shot, but another blocker save. The Pens once again have a one and done.

Things start to look up though! Geno's line gets the zone and keeps the bouncing puck in the zone.. Ceci from the point Zucker in front of the net redirects the puck and it goes in! Zucker took away the goalie's eyes and redirected the puck. What we have been missing for this series! The Pens take the lead early in the 2nd!


At this point the Pens are getting some good time in the offensive zone. Crosby's line had a solid shift but nothing goes home.

Malkin's line is playing hard and looks like he is playing at a high level. Zucker is selling out and blocks a hard shot. Kapanen though seems to be hesitant about this game. Just isn't crisp.

Letang is being decent Letang. But he is doing some things that drive me nuts. He has a wicked shot from the point, but it keeps missing the net and going out of the zone. You are in the zone against a trapping team, that is half the battle. Take a bit off the shot and get it on net. Let a rebound happen that doesn't go out of the zone. Small adjustments rather than trying to ram it home. That is what experienced players do. That is what Gonch would do.

Another Pens faceoff loss leads to something for the Islander.
Pens lose the faceoff.. Sid gets smoked again. Beauvillier gets it to Bailey and Nelson goes back door and buries it.

3 to 3

This one is not on Jarry. The team needs to take away that back door and it's an innocent play to the corner. I haven't seen Crosby get smoked for 2 goals in awhile. He looks like he doesn't have that first step right now. It seemed to me about 2 weeks left he wasn't himself. But then he looked good toward the end of the season so I thought it was just a few down games. It was noted that his hands are bandaged up. So he could be beat up from the regular season and just doesn't have that extra gear right now.

*Unraveling Begins*

As what has happened before, The Pens have a break down for 5 minutes and the game swings against them.

Geno loses a faceoff. Zajac gets it to Pageau who stabs it out Pulock. Pulock shoots from the point and Jarry watches it go past him..

4 to 3.

For the old former blog people, it's "Sum of all Fears" right now. The crowd is loud and the islanders are in it. The momentum needs to be taken back to stay in this. At this point Sully has nothing to lose and should pull his Goalie. He just is fried. But… He doesn't.

The Islanders keep us on the perimeter but Geno's line has a good shift and looks to be trying to get the momentum back for the Pens. But nothing in the Danger Zone.

**unraveling continues**

Beauvilier skates the puck out of the Pens zone. Gets it to Nelson once in the zone. Nelson glides into the top of the circle and fires one 5 hole. Jarry just gets smoked.

Sully calls his Time Out. But leaves Jarry in. Right now you have nothing to lose. You send a message to your team by changing goalies.

The Pens aren't giving up though. Geno has a breakaway… But he looks like he is on one leg and can't bring it with speed. He gets a weak shot off and its saved. The rebound goes to the corner. Meanwhile, Zucker is down and is taken off the ice with Crosby and a trainer for assistance.

Tanev takes Zucker's spot and brings his energy. The Pens aren't backing down and McCann's line gets in a scrum. They are cycling the puck but have nothing in the slot. We don't have anything in the center line drive department and that is due to a trap. We don't get that forward in the slot, we don't generate good chances, it's that simple.

Sully is starting to mix things up. He puts out Crosby and Malkin and they get it going. Crosby runs over a guy and Malkin gets chippy. This brings a PP as G gets an elbow to the face and sells it better than Kenny Omega.

But as this series goes the best chance was a shorty attempt broken up by Malkin.

Right before the period ends. Geno makes a nice pass across the ice to Rust. Rust fans on it and it goes into the corner and the horn sounds. In the cups years that pass across the ice goes to Kessel and it gets buried. Instead it trickles out..

The 2nd period ends with Pierre's cock holster all over the Islander's schlong.

The Islanders have 5 goals on 19 shots.. 5 goals.. 19 shots. That means the D has allowed about 10 shots a period. That is well within spec for a good D. Your goalie needs to do something! Your coaching staff needs to do something. Not swapping goalies sends a bad message to your team.

3rd Period – The Turd of a Period.

Pens start out on the PP and Crosby gets into the slot and bangs it off the pipe. If this goes in, it's a different game.

Zucker is back in the third somehow and brings the thunder. He hasn't been very successful offensively but I won't take anything away from how hard he plays.

They have some good zone time the whole period. Geno is banging bodies. The Crosby line is making noise but can't get anything in the back of the net. But, once again if you don't get into the slot and in front of the goalie you aren't going to score much in the playoffs.

With 4:44 left Marino gets Martin in the face and he is bleeding. He looks like he got shot between the eyes. So the double minor for Marino and the game is pretty much done. Of course, we go with an empty net and it has better luck than when Jarry is in it and Nelson's hattrick attempt hits the side of the net.

The pens literally went out with a whimper.

Vlad's takes:
Feels like this could be the end of this core. I expect to see Crosby and Malkin stay, I don't expect to see Letang here next year.
Jarry is young and needs some coaching. Some time in the minors to get his game back might not be a bad idea. We need a new goalie coach, I expect him to be fired by next week. A point of depth for us 2 years ago is now a weakness. Things change quickly.
Crosby has to be hurt. I won't say he has lost a step watching him this season. He looked fast up until about 2 weeks before the season ended.
Malkin has a knee and was fighting through it. He deserves one more year. Don't be shocked if he signs a contract extension that isn't worth his current 9 million a year cap hit. I feel he might take 6 to 7 million a year to stay here.
Our D needs a better coach, I wouldn't be shocked if you see a certain Gonchar to show back up as an assistant. They wanted him to move here full time; he wanted to spend more time in Dallas (who can blame him, it's cold here).
Todd should be gone. Rick is available and this would be a great upgrade.
Sully isn't gone. WE all praised him with what he did for the team during the season. I think he elevated an ok team.
This team played over their heads this year.
The window maybe closed. It may not be. Many thought it was back in 15. Then we got 2 cups.
Not having a real backup goalie is what killed us this series. Jarry was smoked like a ham. DeSmith at least brings an average game to game 5 and 6. We could be talking Pens Vs Boston right now.

Even if this is it for the core. What a run it has been. 15 years, 4 Cup Finals, 3 Cups. All in a cap controlled league. Some will say they have been disappointed with only that many Finals and Cups. But honestly, it's a cap league, so you can't have all the great players. We have won the most playoffs games in the past 15 years, the most Finals and Cups. This team has accomplished a lot and we are truly blessed.

On a personal note: It has been a great season with all of you. The pandemic has not been easy on any of us. Jovi and Rad are heroes to me; keep up the good fight. Personally, having a place to watch a game with some acquaintances and friends has helped. Being able to drop some Fucks and other colorful language helps vent things for not just hockey; it brings some normalcy in a time that is far from it. It's the little things that can make a difference. Pre-pandemic we watched games together. During the pandemic we shit talked and then watched games together. It really made things feel a bit better.

Here is to next season, a full next season, and another Meat Up!

Do something you like this summer. Travel if you can. Get The Fuck Out in the good way.

As always

Let's Go Pens!
VLAD


As in … Time for the Season to be Over
Afterword by UNG
The Pens started out right. But ultimately it wasn't going to happen. Too many mistakes were ultimately their undoing, as is often the case for every team who loses in the playoffs. That or the other team suddenly has some ridiculously hot goalie out of nowhere…
I thought about recapping this game but decided it truly doesn't matter. Jeff Carter stepped up. Jake finally found enough separation to do what he does best. Zucker got a timely rebound. That's… about it. And if you watched the game you already know all of that. I didn't watch the game, I'm sorry to say. Amusingly, I'm on a work vacation – a fun trip to hang out with my boss and some co-workers to do some work and also have some fun. We had a great seafood dinner and I looked at my phone for updates.
And when I saw that the Penguins had lost, I didn't get upset. It didn't ruin my night or my trip. There are more important things in life, even if this is my only hobby and something that I've devoted more hours than I can count to watching, reading about, writing about and talking about. So I was upset, sure, but it wasn't me that lost tonight – it was OUR Pittsburgh Penguins.
I'm not here to cast blame, though I have opinions on the topic, as I'm sure we all do. I'm simply here to thank all of you readers for coming here and hanging out with a few of us idiots who make it a priority to cheer on this team. Most of you are regulars and regular commenters. Many have come (heheh) and gone. Some of you will only read and never comment. Some of you may comment once in a blue moon. Along the way in our goofy journey we've incorporated some of the other PB castaways and count ourselves lucky to have you as fellow fans. We welcome you all. After all, what the heck is the point of a blog if not to create a community of disparate yet like minded individuals? There's probably more to say but you all already know it.
So from those of us at pens.hockey, thank you for coming along for the ride.
And be ready to do it all again starting in October!