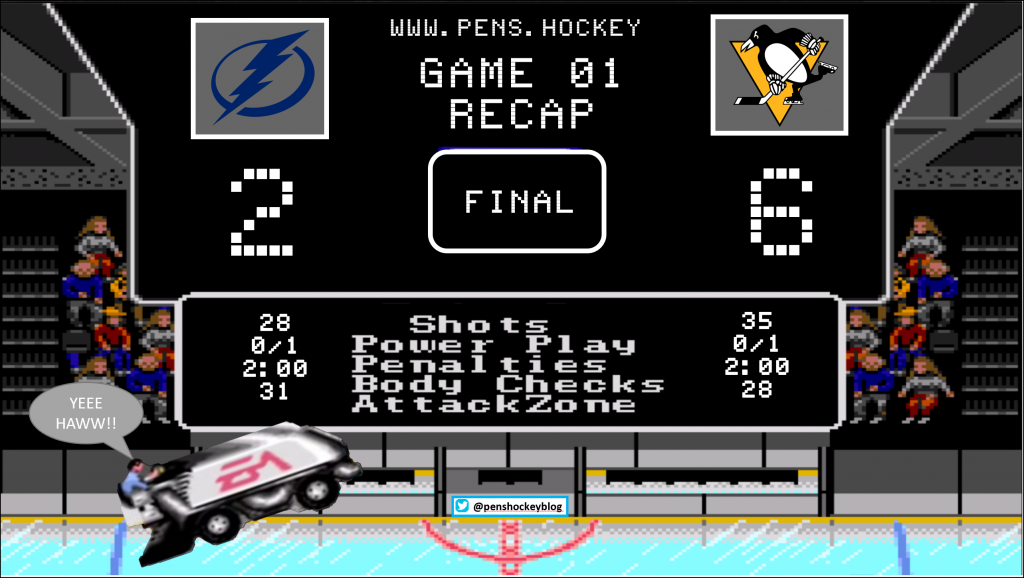 Well, it's here. It's finally here. And our undermanned Flightless Waterfowl drew the short straw in heading to Tampon Bay to face the mighty, two-time defending Stanley Cup winning (*cap cheatin sonsabitchez) Lightning.
For those of you who have been around, thanks for sticking with us for another season. For those of you new to the blog, prepare to be massively underwhelmed at least 82 times this season. You have been warned. But you are also welcome. Or whale cum. Don't worry, you'll figure it out.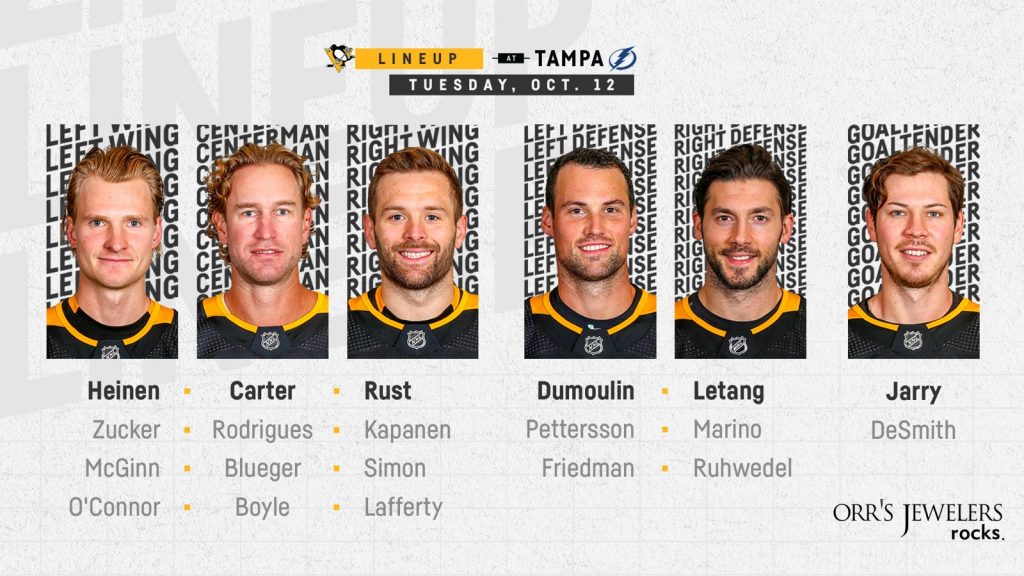 No Sid. No Geno. No Jake. Late word was no MathIsFun? WTF. At least it's hockey.
Also is it just me or does Heinen look like an extra from the Bad Guys in Schindler's List? Just me? OK, good, because that would have been creepy.

Pens were better than the defending champs. Period.
Crisp passing. Puck support. Nothing cutesy AT ALL about their game. Can you tell I'm writing this from others notes and just a few minutes of highlights? No? Good. Because that's not at all what happened…
But the Pens were obviously ready to go. People talk about the let down when you have the opening ceremony before your first game but I call bull. Tampa just did that last year and came out and smoked *insert proper team name that I won't be looking up here*. You can do your own homework, that ain't my team.
Nah, Tampa just wasn't ready to go, and the Penguins were. To the tune of double the SOG and FO wins. That's what I'm TALKING 'BOUT!!!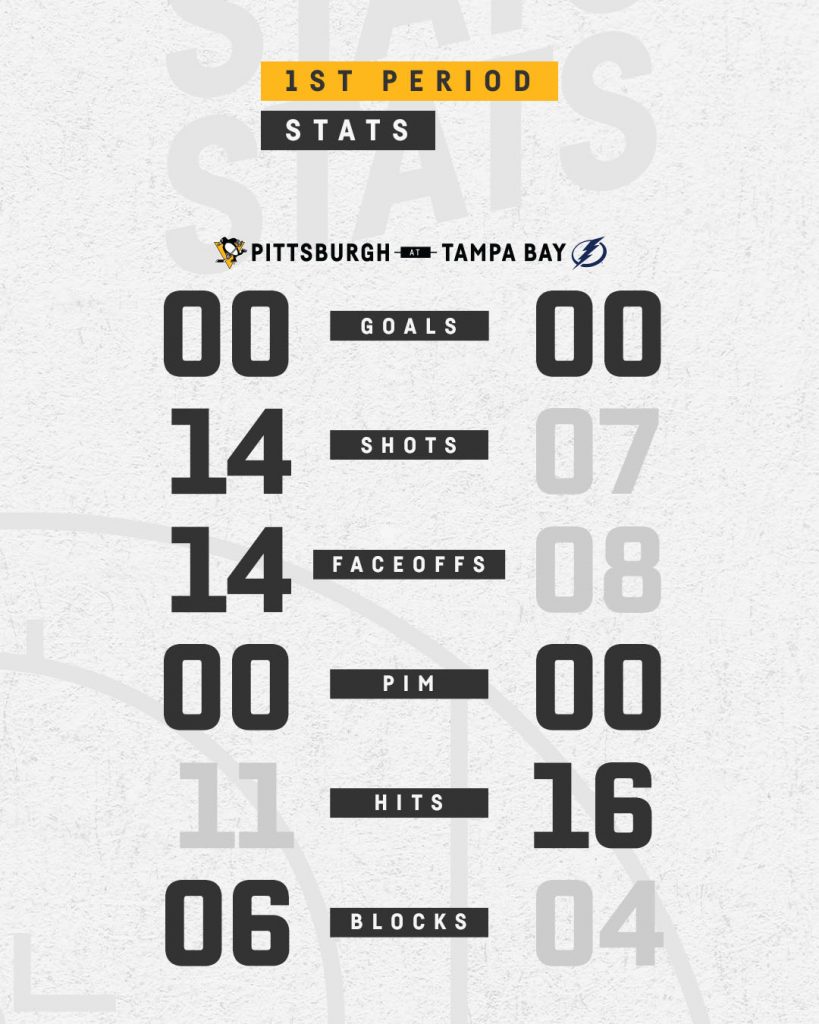 Vaselinesky is a big monster. It sometimes takes a mistake to get a break. Andrei obliged by badly misplaying a dump in directly to Elder Statesmen Jeffrey Carter, who found a streaking Heineken and he did the rest.
Heinen (1) from Carter (1) – 0:12 – EV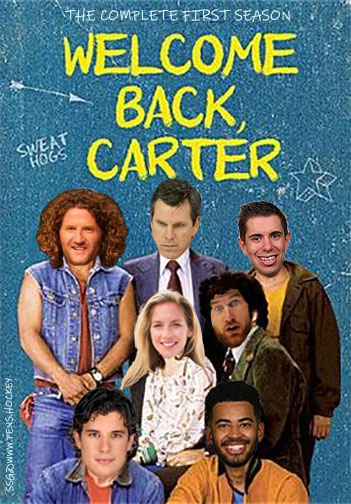 Great heads up play from the big guy, laying it out there for Heiny to easily put away.
The Pens felt good about that, and Vasy felt bad. But the Pens stayed on task and the Lightning kept looking for something to get them going. Then the Giant BB reminded everyone that the NHL is where he belongs.
Boyle (1) from Lafferty (1), O'Connor (1) – 4:11 – EV
Inexcusable coverage from Tampa, but what a great look from Lafferty to find the streaking (yes, streaking) Beautiful Brian Boyle in the slot and he tickled Vasy's testes. Sign him in the AM, he scores in the PM. Then he gets in your girls DMs because that's just how he rolls.
In general, the Pens just were sharper and ready to go, all period, just like the first. Keeping everything to the outside and out-chancing the Bolts 14-5 midway through the game. It's almost like they're missing their top three scorers from last year and have a renewed commitment to team defense… so far, at least.
A few notes on ESPN's coverage: not too shabby. Also, they're trying to present the game differently and using this thing called the 'rush cam' which is down closer to the ice. Pretty cool, says me. OK, for maybe a minute or two.
With 7 minutes left in the first, we'd get the season's first penalty. Unsurprisingly, it was a borderline call. Though it was a trip, the play had already been whistled dead for offsides. No matter, Tampa needed offense so Heiny would park his heiny in the sin bin for two.
PK was pretty good. Or the Tampa PP was pretty bad. Or maybe both. And despite a flurry of opportunities towards the end, no damage was done.
With just under 4 minutes left, Tampa decided they couldn't count peoples, thus giving the Pens their first powerplay of the season.
No Sid. No Geno. No Jake. No goal.
It wasn't that they were terrible. But they definitely were not any good. Letang, Rust, Kapanen, Carter, Zucker have skillz, yo, just not as PP #1, knowwhatI'msayin'? No shots, lots of pressure from the Bolts killers, and iced the puck. Sure, that's only the first one, but it wasn't pretty. And you know it ain't great when O'Connor, Rodrigues, Heinen, Pettersson, Marino looked more like a #1 unit with some sustained pressure. Let's hope that doesn't become a trend.
The good news is, the PP was the worst part of the Pens first 40 minutes of the season. And they'd take a 2-0 lead into the locker room.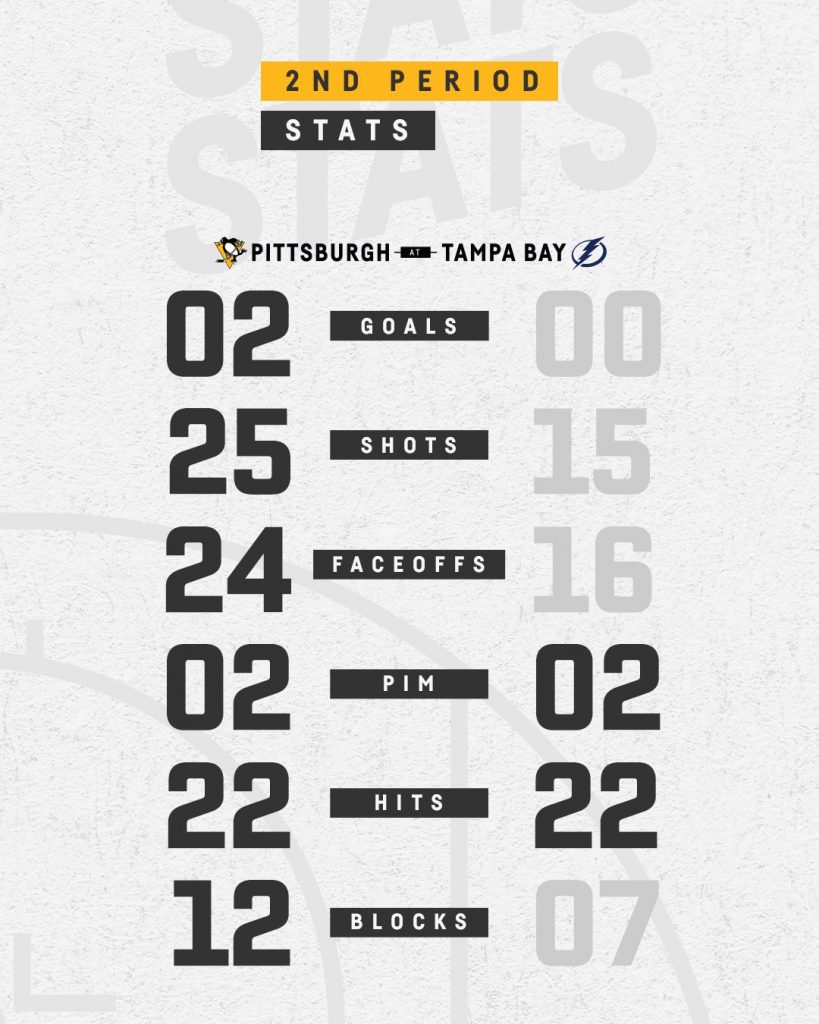 Opened like they closed it – no room for the Lightning, moving their feet, making good decisions. This is how you win with a limited roster.
Heinen and Carter look good together. Marino looks re-invigorated. Letang didn't poop the bed, not even one time! Kapanen is fast, but not really noticeable all night aside from his hair which, frankly, is phenomenal. That kid has personality and I'm here for it. I'm here for the goals too, though, so enough about the hair.
Tampa started to show a little life with 12 minutes to go, but the Pens were there with an answer at every turn. Speaking of turns, Perry turned into Rust, fell down awkwardly in front of Jarry and introduced his twig and giggleberries to the post at an, eh, uncomfortable angle. This made Ugly Corey Big Mad, as reported by the infinitely better upgrade over Maguire between the benches who dutifully reported that he was 'pretty pissed off'. Yeah, I like ESPN, I've decided.
More crappity slappity play from the boys in blue bringing down some jibber jabber from a frustrated home crowd. You could see that having an impact, so Simon said, 'I'ma just throw this at Vasy' and made up for his earlier miss on a 2 on 1 that I neglected to report in the first period because of course.
Simon (1) from Letang (1), McGinn (1) – 11:32 – EV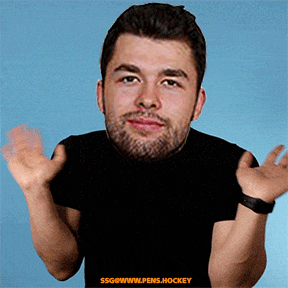 LOL
Anyway, nothing else was happening for the home team, so they pulled the goalie with 6 minutes left. Double LOL. Sadly, it worked with a deflection in the high slot getting by a Jarry who had people in his crease. 3-1 good guys.
Following the ensuing puck drop, Vaseline found a spot to head back off for another extra man situation. Hedman and Stamkos then did their best Keystone Kops impression at the line, falling over each other and giving Teddy KGB a clear path to an empty netter.
Blueger (1) from Letang (2) – 14:53 – ENG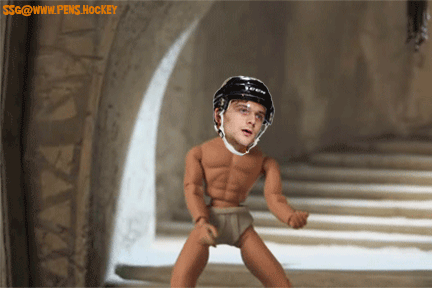 More empty net shenanigans. Then a great shot from Killorn. 4-2 Pens.
Lightning just kept trying that empty net thing. So ERod decided it was his turn.
Rodrigues (1) from Marino (1) – 17:35 – ENG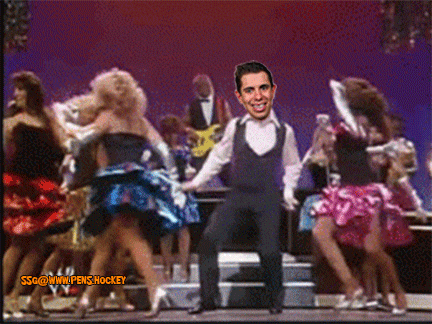 5-2 (the O/U was 6, just sayin'…)
Oh, and then Rusty gave it a whirl because why not?
Rust (1) – 18:11 – ENG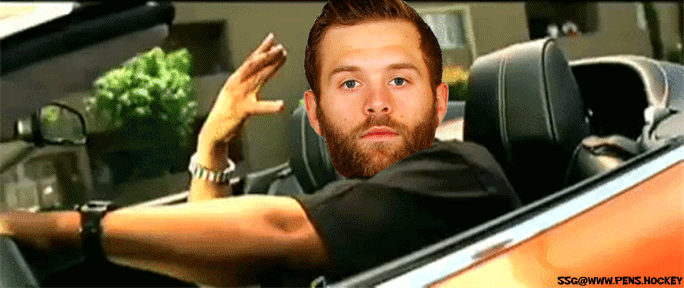 Since the Pens twitter team isn't a bunch of jerkfaces, they put all of the ENGs into a single clip. For your viewing pleasure.
And history was made…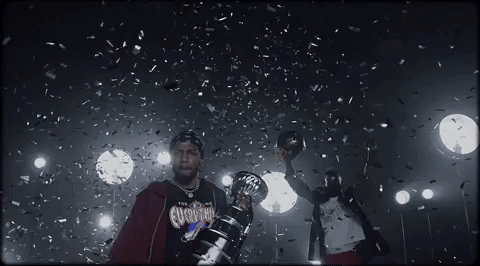 Thoughts:
Simple and solid. All game. No real standouts, just great stuff all around. The announcers called it the perfect road game. They were right.
Didn't hear Dumo's name all game. Nor Letang's. That's a Good Thing.
Carter still has the fire in his belly. Boyle looks like he does too.
Kapanen was oddly quiet, but that's fine – plenty of time
Friedman and Ruhwedel played and neither looked out of place at all. The blueline seems like it could be a real strength this season.