Just when you thought you were full of goalie controversy Matt Murray goes and does this during warmups:
https://gfycat.com/HelplessDefiantEmperorpenguin
It was an oddly similar movement to the one in New Jersey when everyone originally suspected he was injured. Nobody really thought anything of it until Marc-Andre Fleury was standing between the pipes to start the game. "OHH NOOOOOOOO" everyone exclaimed in horror. "That's why I didn't trade him for a 6th round pick jag off" Jim Rutherford thought. Leading up to this game the media was pushing the "keeping them guessing" game with the starting goaltender but unless you're an African in a commercial you shouldn't be hungry enough to eat that shit. There isn't a strategy change with a goalie, the object is to put more pucks in the net than your opponent, the only guessing is goalie weaknesses, which isn't the hardest thing to prepare for. Playoff hockey was back, man…here we go:
We just play. Let's Go Pens! pic.twitter.com/I2wwpezJqI

— Pittsburgh Penguins (@penguins) April 12, 2017
This game had a literal feeling out phase, as Dubinsky must've been on the same uppers Sultry Bob usually takes.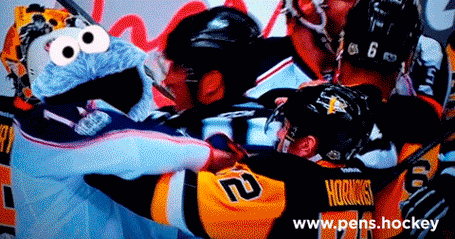 As we are accustomed to in the playoffs thanks to the chel gonna chel there were a lot of uncalled penalties…
https://streamable.com/v3uyf
The period would remain scoreless thanks to solid play by the two netminders.
END 1: #PITvsCBJ is scoreless after 20 minutes of play. Looking for more offensive zone time in the 2nd period. pic.twitter.com/SoTdj7WkoV

— Pittsburgh Penguins (@penguins) April 13, 2017
What a guy, wearing that mask at a time like this. The Jackets came out firing with 16 shots in the first to approximately 1 by the Penguins, but Fleury and Crosby played some pretty solid goal.

The second period started and the Penguins decided the sweet talk was over as they turned to Mrs. Reliable to get the job done:
BRYAN RUST Assisted by KESSEL & MALKIN @ 1:15
Bryan Rust has 4 goals in his last 5 playoff games at PPG Paints Arena. This one is probably our favorite, though. pic.twitter.com/zr4H21cQ6w

— Pittsburgh Penguins (@penguins) April 13, 2017
A rightie kick passing it to a rightie at this point in the ice isn't something you see everyday, but damned if Bryan Rust doesn't love scoring goals in the playoffs. A closer look at the play…
https://streamable.com/aign3
The Penguins got a rare powerplay just 2 minutes later and it was the guy in the huge slump slumping his way to the goal.
PHIL KESSEL Assisted by SCHULTZ & MALKIN (2) @ 3:45 PPG
We have the luxury (?) of getting this first series covered by ROOT, and Paul wouldn't let us down with a few gems in this one as he choked out "Phil the Thrill can fire the pill"
https://streamable.com/3b1t9
Pretty sick shot by a dude that forgot how to score 2 weeks ago.
Beautiful placement by Phil Kessel. We love that guy. pic.twitter.com/8bya9u7q9s

— Pittsburgh Penguins (@penguins) April 13, 2017
Play continued and much like we saw in the final regular season match-up the Blue Jackets have one strategy against the Penguins, hit. Finishing the game with 49 hits it is pretty obvious what their plan of attack is. This is great news for the Penguins, who outside of trying to avoid injury they just have to stick to their game and wait for an opening. The Jackets would hit and try, the Penguins would hold the fort and this went on for the next 12 minutes until Amish Man powered through.
NICK BONINO Assisted by HORNQVIST & MAATTA @ 16:25
From: @NickBonino
To: the fans

Net-front presents. 😉 pic.twitter.com/JtdyCykx4Y

— Pittsburgh Penguins (@penguins) April 13, 2017
If you want to see what inexperience in the playoffs versus experience in the playoffs looks like, watch this gif. Experience = Nick Bonino was going to do everything in his power to get this shot on goal. Inexperience = Seth Jones figured a swipe at the puck would suffice. Welcome to the show kid.
The Jackets didn't have an answer for the penguins 3 goal period and we would head to the third with a nice cushion and you could actually hear The Paint Can. After being outshot 16-3 in the first and allowing the Jackets to blow their load the Penguins returned the favor with a 16-4 shot differential in the second.
In the last 2 weeks of the regular season the goal of every third period was to forget the score and not get injured, so this should've been pretty familiar territory for the Penguins. In desperation mode the Blue Jackets brought their cannons to the front lines but fired off dud after dud finally able to break Fleury at the 12 minute mark when Calvert scored.
steal n score

5:38 remains! #MarchOn #CBJ pic.twitter.com/7AWKXWOhRV

— ColumbusBlueJackets (@BlueJacketsNHL) April 13, 2017
The rest of the game looked like this for Columbus:
Stepping in and stepping up. What a night for Marc-Andre Fleury. pic.twitter.com/ffrvSt17cQ

— Pittsburgh Penguins (@penguins) April 13, 2017
Classic Fleury, the old "I don't know what the fuck he's doing because it doesn't look like goaltending but shit he saved it so it must be goaltending!"
Fleury: "I was a little nervous in the beginning. At the end it was a great feeling, a fun game to win."

Read more: https://t.co/xQzd9GbMK1 pic.twitter.com/xo9WaZ4GFP

— Pittsburgh Penguins (@penguins) April 13, 2017
Time would wind down and the Penguins would have no problem suffocating the Blue Jackets to get the first win of the series, and the goalie drama would come to one exciting conclusion…
Whether Murray or Fleury, the Penguins are united! And when united, we beat Torts.
http://gph.is/2oZGk4a
GAME
---
THOUGHTS:
Fleury did exactly what he had to do in the first period. The Jackets came out with a lot of belief and if any one of those 16 shots get in in the first this could quickly be a different game.
Olli Maatta wasn't terrible the whole time
Malkin with Kessel is a great line, please don't ever change it
1 game at a time, it was nice to get this first one down and over with in the victory column
Sullivan said they will hopefully have an update on Murray sometime today. Those usually come out between 10-12 so keep your eyes peeled for that
---
Around the Stanley Cup Playoffs
The Stanley Cup Playoffs began for eight other teams yesterday, and I wanted to post recaps to those games along with a quick summary for the interested parties.  (These videos have embedding disabled, so you'll have to open a new tab or window.)
My pick for Game of the Night was Game 1 between the St. Louis Blues and the Minnesota Wild.  Jake Allen made 51 saves in nearly 78 minutes (including many outrageous ones, watch the recap!) and the Blues stole home ice away from the Wild, winning in overtime 2-1.  Former Penguin-to-be Zach Parise tied the game at 1-1 with 23.4 seconds left in regulation, but at 17:48 in the first overtime it was Blues defenseman Joel Edmundson picking up a loose puck from Vladamir Tarasenko and slamming it past Wild goalie Devan Dubnyk that won the game for the Blues.  Game 2 is Friday at Minnesota.
Staying out west, the San Jose Sharks and the Edmonton Oilers also went to overtime, with the Sharks also stealing home ice from the Oilers and winning it 3-2.  Former Actual Penguin Paul Martin (POWERBALL!!!) scored the game-tying goal at 5:32 in the third period, and Melker Karlsson buried the game-winner at 3:22 of the first overtime period.  Edmonton mustered only 19 shots on Sharks goalie Martin Jones, but I'm sure he'll take the .895 save percentage and the win versus Oilers goalie Cam Talbot's 41/44 (.932 save%) and the loss.  Game 2 is at Edmonton on Friday.
"King" Henrik Lundqvist stopped all 31 shots he faced, another Former Actual Penguin Tanner Glass(!!) scored (nifty backhander, taking lessons from Sid), and the New York Rangers likewise stole home ice away from the Montreal Canadiens by winning 2-0.  It looks like Montreal's idea of winning this series will be about getting all over Lundqvist, but they were unable to break through and didn't look very smart with their shot selection.  Game 2 is in Montreal on Friday.
Last (and probably least, partially thanks to Jack Edwards' homer boner), the Boston Bruins made it 4 for 5 for the visiting teams last night as they also stole away home ice against the Ottawa Senators with a 2-1 win.  Frank Vatrano scored the game-tying goal at 4:55 of the third period, and Brad Marchand scored the game-winner at 17:27 in the same frame.  Bobby Ryan would not be denied in this game as his goal at 10:28 of the second period was a good individual effort, but it was not enough for the Senators.  Game 2 is Saturday in Ottawa.
Stat of the night: power plays were 3/34 (8.8%; PIT, SJS, EDM)

1st ANAL-UAL PENS.HOCKEY PORN POLL
PLAYOFF ROUND 1: BRACKET 2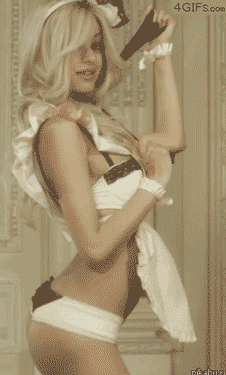 GAMES 21-30 Vs GAMES 51-60
Game 28: "Feels good when it's goin in…you want to ride it as long as you can." - Sid Crosby (9 votes- 45%) (94%, 31 Votes)
Game 54: "Look at the dingle dangle there." - Tyson Nash (6 votes - 25%) (6%, 2 Votes)
Total Voters: 33

Loading ...
BRACKET 1 Champion: Game 38: "Crosby just whacked off with his left hand." – Bob Errey (16 votes – 52%)
LET'S GO PENS