Last April, after the Pittsburgh Penguins waltzed past the New York Rangers, the Penguins lost Game 1 of the Eastern Conference Semifinal in Washington 4-3 in overtime.  I was a nervous wreck, and I couldn't sleep.  I was anxious because this was a Penguins team that I could put my heart into.  In the time since 2008's meteoric rise and 2009's victory, the Penguins had struggled to play the same brand of hockey that got them to the Stanley Cup Final those two years.  Jordan Staal was the Penguins' first-line center in 2013.  They were hard to get excited about when injuries and inconsistency derailed their Cup dreams year after year.
The next morning, my wife smashed some sense back into me.  Yes, the Penguins are "my" team, but I'm not financially invested, nor am I personal friends of any of the players, so I need to chill the fuck out because I have no control over how the Penguins do, and their success or failure has nothing to do with me. Que sera, sera.
Turns out, I really had nothing to worry about.  The Penguins took four of five from the Capitals then fell behind the Tampa Bay Lightning 3-2 before taking Games 6 and 7, and finally disposed of the San Jose Sharks to win their fourth Stanley Cup all-time, and their second in seven years.  After Mike Sullivan came to thankfully replace Mike Johnston as head coach, the Penguins looked like a team possessed.  By the time the playoffs were over, the Penguins' top three centers, Sidney Crosby, Evgeni Malkin, and Nick Bonino were 2-3-4 in the team in scoring.  Kris Letang (remember him?) was being floated as a possible Conn Smythe candidate, and why not at 29 minutes/game? And, of course, Matt "Jesus" Murray was risen.
The Stanley Cup Playoffs are naturally the most exciting time on the hockey calendar, and it doesn't take long for the men to be separated from the boys.  Teams that have legitimate Cup dreams need to have a number of things going for them.  Good health helps players know and maintain their roles, and get to best know their line-and-pairing-mates.  Teams need to be consistent and tenacious.  They need to have the stars carry and create plays like stars once in a while.  They need a goaltender who is mentally tough.  And, very often, they need a dash of luck at the perfect moment.
Much was made in the offseason of the Penguins' lack of turnover and how that would work in their favor towards defending the Cup.  For the first several months of the season, everything was looking up and the Cup defense was well in their control.  Unfortunately, the Penguins ran into a rash of injuries, and the depth of the franchise was seriously tested.  The Penguins have largely recovered from those injuries, but even then the makeup of this team has changed a little bit from last year.  The HBK line hasn't maintained the same success they saw last spring, Carl Hagelin was injured in February and has fallen off the radar, and Phil Kessel hasn't been shooting as much or as well, particularly of late.  The defense has shifted a bit with Letang, Olli Maatta, and Trevor Daley on the shelf (though Daley and Maatta have returned).  Sid has himself a dynamic new lineman in Jake Guentzel.
It doesn't help to mention that teams rarely repeat as Stanley Cup finalists, much less champions, but it stands to be mentioned.  The three longest tenured Penguins, Crosby, Malkin, and Marc-Andre Fleury, have been down that road before in the aforementioned dream seasons in 2008 and 2009.  The last team to win back-to-back Cups were the Detroit Red Wings in 1997 and 1998, and before that it was the Penguins in 1992 and 1993.
Let me be blunt: if the Penguins are 100% healthy, there is no reason why the Penguins can't repeat as champions.  Those 1998 Red Wings were pretty healthy in the regular season save for one major exception: Sergei Fedorov played just 21 games.  But he returned in late February and the Red Wings faced a young, rough-and-tumble Phoenix Coyotes.  (The Coyotes had seven players with 100 PIM or more, the Red Wings had three; by the time the 2016-17 NHL season ends, there may be two dozen players over 100 PIM League-wide.  It was a different time, wasn't it!?)  Fedorov didn't miss a beat and the Red Wings ended their Cup defense with a 4-0 sweep of the Capitals.  (No, Alex Ovechkin wasn't around at the time.)
Seeing the maturing young players step up into bigger roles is encouraging, since that's basically what started last year.  Conor Sheary has emerged as that #wingerforsid we've been waiting for, and then another one, Guentzel, has dropped onto Sid's other wing and the trio lit up the NHL this season.  The inimitable Jesse Marshall put it together quite succinctly, but Guentzel has a rare talent himself, one that helped Crosby and Patric Hornqvist make hay last season: both Guentzel and Hornqvist go to the front of the net and go to work.  Just a day after coming back from a concussion, Guentzel crashed headfirst into Rangers goalie Henrik Lundqvist's leg pads and skated off like it was no big deal.  He comes back again the next night, scores another goal and plays another 17 minutes.  Having an eye for the front of the net gets Guentzel and his linemates in position to be dangerous.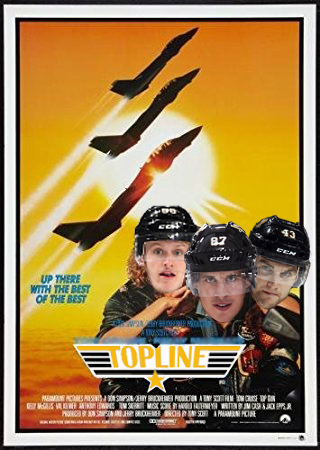 As I mentioned in Gameday 80, the hole in the lineup Kris Letang leaves is, well, not immeasurable, but perhaps irreparable.  Yes, the Penguins have been winning hockey games without Letang for years, but what they haven't done since he started playing full-time in 2007 is win a Stanley Cup without him.  When Shane Doan knocked him out of the season in 2015, the Penguins couldn't do anything in the playoffs without him and were dismissed in five games by the Rangers.  This season, having the time to exist without him may have prepared the Penguins mentally and if they're successful without him…well, it's a conversation worth having if and when it happens.
Are the Blue Jackets a serious opponent for the Penguins? Absolutely.  In their last meeting of the regular season on April 4, the Blue Jackets indicated quite how serious they were (despite losing 4-1) by putting up a season-high 49 hits on the Penguins.  Columbus has some skilled players, moreso than in years past, and they went on a sixteen-game winning streak earlier in the season by leveraging that skill and goaltender Sergei Bobrovsky's resurgence.  They're becoming a team that means business, and each time they replace a player that has grit with a player that has skill, they're getting closer to being a team that will contend for the Cup.
However, as evidenced by the fact that they put a pounding on the Penguins and lost by three goals, all the physicality in the world won't do them any good if they can't score goals, and this is the game Pittsburgh will have to play.  The Penguins will get banged around, and it's likely they'll lose some more players, but it's the Stanley Cup Playoffs.  The teams with skill almost always win out over lesser teams.  If the Blue Jackets plan to try and win this series by attrition only, they will fail in the long run, whether they eliminate the Penguins and run into another greater-skilled team, or if they simply flame out because they are spending too much energy trying to pound the Penguins into submission.
The keys to this series for Pittsburgh, therefore, is to continue doing what they did on April 4: withstand the physicality, support the puck carrier in all three zones, and keep moving the puck.  If they can do all of that, and keep their best players in the lineup, this series will be over quickly.  For everyone's sake, let's hope it is.
These lineups are based on both teams practices yesterday and keep in mind it is the playoffs so everything is subject to change. Both of these coaches pride themselves on being secretive so who really knows if either Malkin or Werenski are ready to go, we will find out at 7:30. With the last change on home ice Sullivan is going to be trying his best to get THE TOP LINE out against the top pairing of Columbus, "what? That doesn't make any sense!?" Sure it does, it takes the best pairing out of the game, something we've seen THE TOP LINE do, and it leaves Malkin, Kessel, Bonino and Hornqvist to handle the rest. This series is going to come down to matchups, and you have to like Sullivan in any mind games here.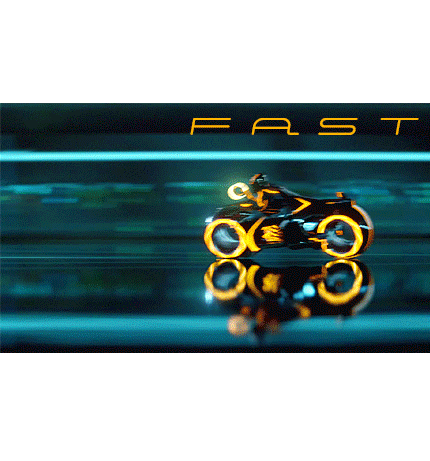 The most attention will be paid to the Maatta/Daley pairing, but maybe Sullivan just used them in practice yesterday to give the Blue Jackets hope? That is what I am praying for at least. There is one thing that people will remember soon enough, and that is the return of Evgeni Malkin. All of the beat writers for whatever they are worth said that Malkin looked beyond ready to go, as if the added games off were just adding rage inside the beast. Don't be surprised to see a huge night from the mad Russian tonight as he will look to set the tone in this series early.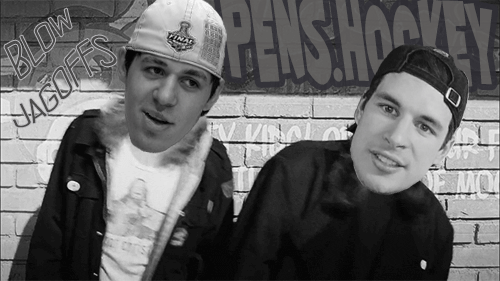 Last season is officially over. Nobody gives a damn about the 2016 Stanley Cup Champions anymore. Everyone has a clean slate and it is up to one team to win 16 more games. Tonight the Penguins begin their quest to 16. Tonight a new chapter begins, new memories are made, and new stories will be born. Tonight every shot by the Black and Gold will bring you to the edge of your seat while every possession by Columbus will make you clench until your palms are pale. 82 games of lineup manipulation, strategy implementation, and system tweaking all go on display starting tonight.
Go to the store and buy your hotdogs,
put down your razor,
find your gameday song and let it rip,
it's a playoff hockey night in Pittsburgh
and it is time to fucking go.

VOTE McFLY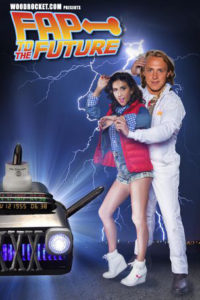 FINAL REGULAR SEASON - 8th round HP POLL ...PIK-A-PORN
G82) "You got Sestito breathing down your backside when you go to the corner, you really gunna go in hard when you got him comin' in your backside? -- Errey (28%, 10 Votes)
G78) "See if I can hit myself in my face with my own stick. (Errey) ... If that was just a question, I don't know the answer. (Steigy) ... The answer is, YES." -- Errey (25%, 9 Votes)
G80) "If you have any pictures of woman caves, send em along" -- Steigy (19%, 7 Votes)
G71) "Uhhh. The accepting of it. The releasing of it." -- Errey (8%, 3 Votes)
G75) "His shot swallowed by Matt Murray." -- Darren Drager (8%, 3 Votes)
G77) "Sometimes you have to put it in deep and then get on it hard." -- Joe Micheletti (6%, 2 Votes)
G73) "He'll take it and take it and take it, then he'll push back hard." -- John McClain (3%, 1 Votes)
G79) "On the bench right now, the Penguins are using this new iPad, and they're looking at…things." -- Errey (3%, 1 Votes)
G76) "Panik's tappin with a beaver tail." -- PeeAir (0%, 0 Votes)
G74) "He's lookin at a butt right in his face there." -- Errey (0%, 0 Votes)
G72) "Sid has had a lot of work done on his mouth a few years ago." -- Steigy (0%, 0 Votes)
G81) "Fleury absorbs that with Hymen in front." -- Jim Hughson (0%, 0 Votes)
Total Voters: 36

Loading ...

1st ANAL-UAL PENS.HOCKEY PORN POLL
PLAYOFF ROUND 1: BRACKET 1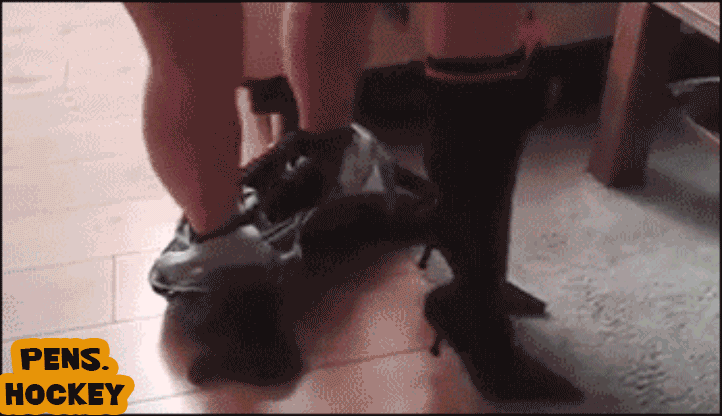 GAMES 31-40 Vs GAMES 11-20
Game 38: "Crosby just whacked off with his left hand." - Bob Errey (13 votes - 59%) (52%, 16 Votes)
Game 16: "They are talking about bad stuff, nasty stuff. Stuff that I think Doc likes to see from time to time" -- McGuire "Yes, depending on the circumstances" - Doc Emerick (7 votes - 20%) (48%, 15 Votes)
Total Voters: 31

Loading ...
Results of bracket 1 and the next bracket (2) will appear in tomorrow's GLORIOUS PENGUIN VICTORY RECAP.
LET'S GO PORN…ummm wait,
LET'S GO PENS
DO IT