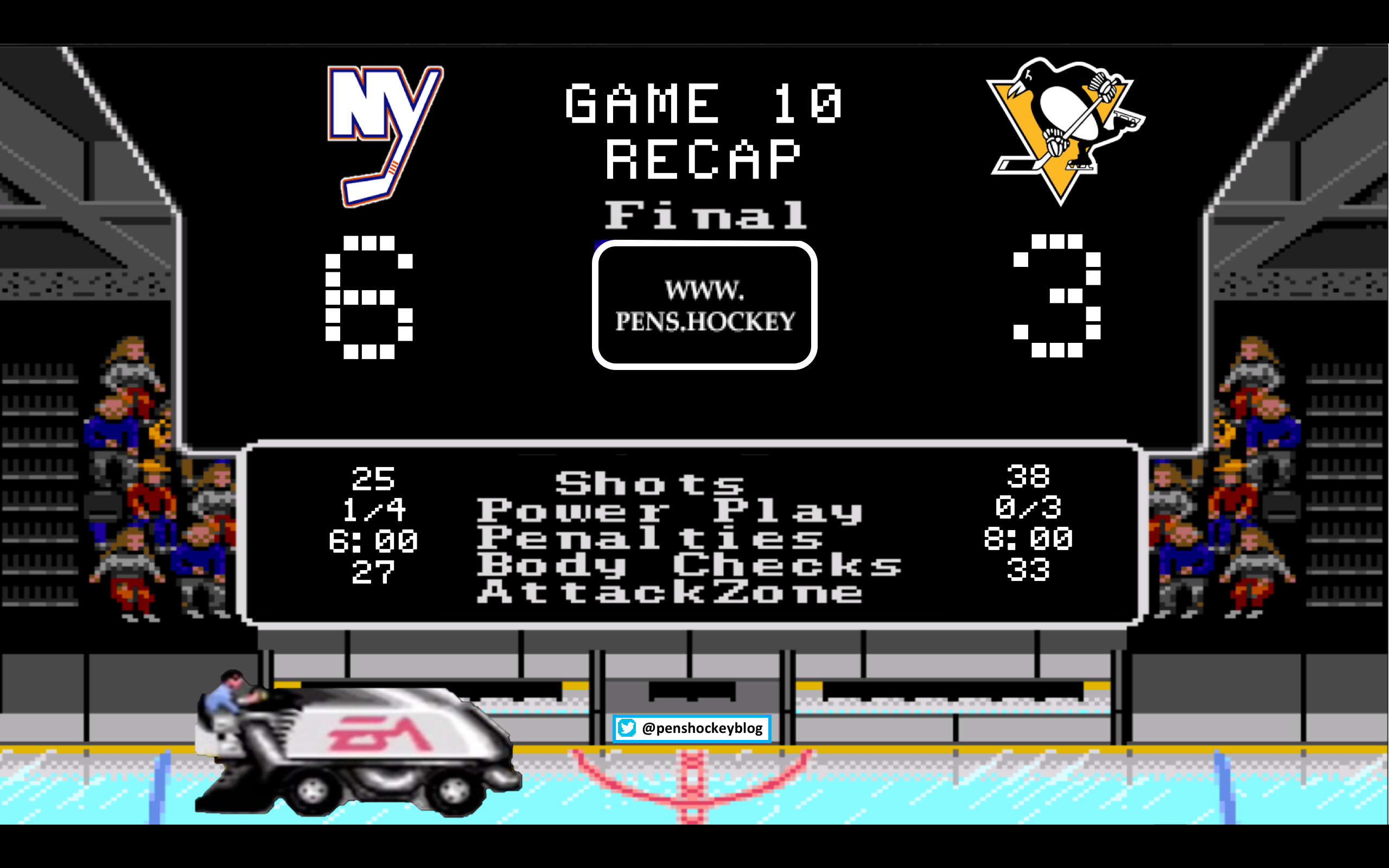 The Penguins were back on home ice for the first time in 4 games following a road trip, it was also the first game in Pittsburgh since the tragedy that occurred at a local synagogue. The team, as usual, went above and beyond with their pregame video:
We stand together.#StrongerThanHate pic.twitter.com/EU6G2iotIZ

— Pittsburgh Penguins (@penguins) October 30, 2018
If you didn't choke up while watching this you're lying. The Pens also wore new shoulder patches
#StrongerThanHate pic.twitter.com/rgm5NCP6U0

— Pittsburgh Penguins (@penguins) October 30, 2018
The Islanders also paid their respects, classy moves all around by both organizations
Our hearts are with Pittsburgh. Please join in the effort to support victims and families of Saturday's tragic shooting at the Tree of Life Synagogue: https://t.co/mgwgiO1WK4 pic.twitter.com/DVbq1hjb1F

— New York Islanders (@NYIslanders) October 30, 2018
And shared 11 seconds of silence for the 11 lives lost, 11 seconds that seemed to last an eternity .
Lined up and ready to take on the Islanders.

Kris Letang (lower-body injury) is out for tonight's game. pic.twitter.com/laJ6ZwmDxF

— Pittsburgh Penguins (@penguins) October 30, 2018
Kris Letang is currently listed as day-to-day and did not play in this game. Derick Brassard continues searching for his dick and also did not play. It doesn't matter which NHL team you're playing, when the guy on your top pairing has played 3 career NHL games it's probably not going to be a good night.
Full disclosure, I worked last night during the game and though I got off at 11 pm some douchebag decided to get sick on the subway turning the express train into a local, this caused me to miss my original train home so I picked up a  later one which moved at approximately the speed of smell, I eventually got home at 1:30 AM. I have a conference today at 9 am and a 4 hour exam at 11 am so this recap is going to suck as much as Jack Johnson, feel free to use screen shots on your Nokia flip phone to justify my poor performance though.
The Pens came out with a lot of hop in their step to start the game eager to put up a show for the Pittsburgh faithful, unfortunately lady luck didn't care. After a penalty kill by the Isles they were the ones to crack the ice first when Andrew Ladd, who apparently still plays in the NHL, scored at 10:43:
— New York Islanders (@NYIslanders) October 30, 2018
That's just 226 pound Jack Johnson getting handled by 210 pound Leo Komarov in front of the net to leave Ladd wide open, great to see JJ using his frame.
https://twitter.com/NYIslanders/status/1057420161106493441
The 1-0 lead lasted for two minutes before Brock Nelson netted his 6th of the year on this play:
https://twitter.com/NYIslanders/status/1057417287995719682
That's just Jack Johnson taking away the dangerous pass up the boards while a man walks down broadway, huge coincidence he was on the ice for this goal though.
The score was 2-0 but the Penguins were actually carrying the play, finally they were rewarded when Dominik Simon tickled lady luck for all of the missed opportunities he had early in the season.
DOMINIK SIMON (2) Assisted by CROSBY (8) & DUMOULIN (5) @ 14:24
https://twitter.com/penguins/status/1057417567604785152
One of those nights.
The Penguins continued pressing and were once again rewarded three minutes later when someone forgot to tell Crosby that he isn't in Western Canada anymore
SIDNEY CROSBY (6) Assisted by OLEKSIAK (3) @ 17:41
Fun fact: Sidney Crosby's point streak is at five games (6G-4A). pic.twitter.com/PxIwz4zfzr

— Pittsburgh Penguins (@penguins) October 30, 2018
Sid picking his corner like the first hooker to arrive in the evening, seeing him with a shoot first mentality is never a bad thing.
Neither goalie allowed another goal in the period, good for them
Here's a look at the numbers from the 1st period of play ⬇️ pic.twitter.com/yKHXNiyCdz

— Pittsburgh Penguins (@penguins) October 30, 2018
Tough to come out of that period 2-2 but at least Jack Johnson made $13,211.38 during the period.

The second period started without the Penguins on the ice as they fell off into oblivion. The Islanders took advantage and the lead less than halfway through when Matt Martin, who is also still in the NHL, scored his third of the year:
https://twitter.com/NYIslanders/status/1057428159489081344
This gif with the clarity of the Pens defense. Maatta misplays the man along the boards, Oleksiak tries to be a hero and help out, wide open man scores for the third time tonight. Hockey isn't hard when you are feeding wide open people all night. Just a minute after the goal Riikola was getting two for hooking and the Letangless PK went to work for like 40 seconds before it was 4-2
— New York Islanders (@NYIslanders) October 31, 2018
Eberle walks right in front of Murray and buries it. You would love for Murray to make this save, Murray would love to not be 1 on 1 with an Islander goal scorer. After giving up 4 goals to 4 wide open players on 9 shots Sullivan decided to take Murray out of the net in hopes that his team would feel like giant sacks of poo and start to play better. The did for like 40 seconds until it was a case of deja vu when Eberle scored again as the defense broke down again.
Back-to-back GOALS for this guy. @jeberle_7 pic.twitter.com/fzv2phyV7Q

— New York Islanders (@NYIslanders) October 31, 2018
Nothing else in the frame, here is the "thank you Kuhnhackl" video you've been waiting for
Welcome back to the building, @Tkuhn14. pic.twitter.com/DSKUwQKZbr

— Pittsburgh Penguins (@penguins) October 31, 2018
The poor intern that had to find 35 seconds worth of footage for this deserves a job.
Here's a look at your stats through the 2nd period of play. pic.twitter.com/J7IvjI6M3M

— Pittsburgh Penguins (@penguins) October 31, 2018
The third period opened up with Evgeni Malkin continuing his quest of being the most overlooked player in professional sports
EVGENI MALKIN (6) Assisted by KESSEL (8) & OLEKSIAK (4) @ 1:23
A no-look tally for @emalkin71geno. Impressive.

Malkin's goal extends his point streak to eight games (5G-11A), and also puts him in sole possession of second place in the NHL in scoring (19 points). pic.twitter.com/70GvaLOm3F

— Pittsburgh Penguins (@penguins) October 31, 2018
The skill of this goal is really highlighted in the gif because it is in slow motion. While this gif plays you can barely keep up with every movement going on with Geno's body, now imagine being the brain controlling that at game speed. Unreal. The goal injured Lehner or something and Greiss came in for relief.
The Penguins were destined to lose this game, and it wouldn't be a real Pittsburgh game if Tom Kuhnhackl didn't score against them in his first game back.
https://twitter.com/NYIslanders/status/1057446747981651968
Fantastic.
Nothing else in the final 11 minutes.
GAME
---
THOUGHTS:
In an 82 game season these nights are going to happen, especially with over $13 million worth of defense missing the game
6-2-2 in the first 10 game stretch of the season, that would come out to a 48-16-16 record (112 points), no complaining here with this start from the team
I feel a lot better about this team after the first month of the season this year than I did last year.
Evgeni Malkin is good at hockeys.
Pens lose for just the 6th time when Sid and Geno both score in the same game, 79-6-2 overall when this happens.


Loading ...