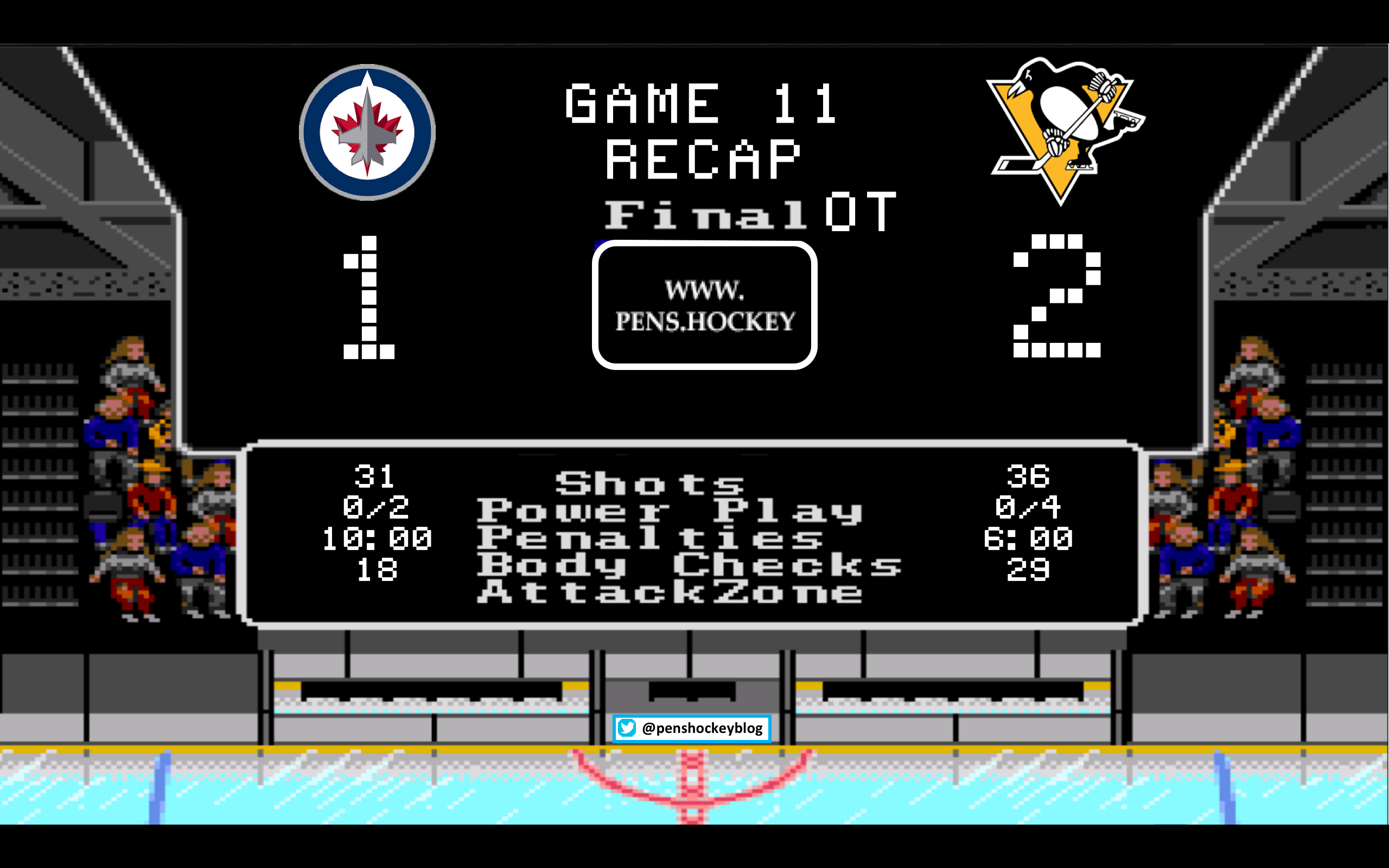 During the preseason a lot of us got tingly in the right parts while watching the Top Line pick up where it left off last regular season. For various reasons that line just hasn't been clicking this season, though in fairness overall the Pens 5v5 hasn't  been off the charts impressive either. Less than two minutes into the game it was the big boys showing up.
CONOR SHEARY (5) Assisted by GUENTZEL (4) & CROSBY (6) @ 1:25
https://twitter.com/penguins/status/923689968442249221
So much good happens in just this gif.
Guentzels vision and ability to execute a pass to open space in anticipation of Sheary getting there while skating one on one at full speed
Sheary seeing the pass and making an unusual cut towards the puck, so many times you hear coaches say "don't let the puck come to you, go to the puck,"and this is why
Guentzels ability to stick this pass between a stick and skates so only Sheary can get to it.
Not a bad way to start, Sheary with 5 goals in 11 games is on pace for 37 by the way.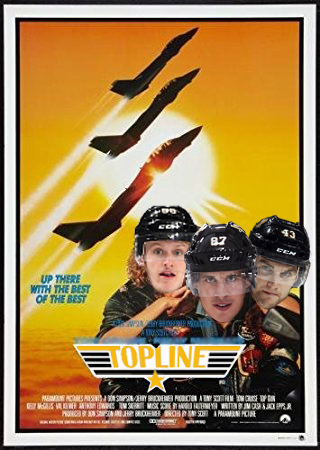 After a quick goal it seemed like this might be another who gives a fuck about defense game between these two teams but things actually settled down and resembled competent hockey.
8 minutes after the Sheary goal it was the Jets answering off of a faceoff with Jim Morrison getting the goal through the Doors of Perception:
https://twitter.com/NHLJetsNation/status/923693118615986176
Tough defensive zone loss by Sheahan, who nicely won 69% of his draws in his first game as a Penguin. Really have no clue why Letang would even have his stick that high up, let alone try to knock that out of mid-air, but at least he didn't get injured on the play.
The rest of the first would actually go scoreless which was pretty uncharacteristic for both of these teams.
https://twitter.com/penguins/status/923698176984432640

The Penguins failed on 3 powerplay opportunities in the second period and the Jets failed on their only chance of the period as well. Both teams failed at generating any even strength scoring, also. Neither team scored a shorthanded goal, either. This has basically been 3 sentences to tell you nobody scored in this period, sorry for wasting your time.
Highlight of the period was new Pittsburgh favorite JuJu was in attendance:
https://twitter.com/penguins/status/923705691562561536
I'm sure some yinzer somewhere got mad about him wearing a hockey jersey.
https://twitter.com/penguins/status/923712730162450432
The
third period
had
more stoppages
than you
during
sex.
Though the game was turning into another goaltender battle, Sidney Crosby made his presence felt throughout the period; I feel like the things Crosby does that don't result in goals are almost better than the things he does that do, and often under-appreciated.
https://twitter.com/EvgeniMaIkinEgo/status/923723038620897280
https://twitter.com/DanHoppSports/status/923690369807654912
With 20 seconds left Kris Letang tries some miraculous spin pass to himself off the boards in the defensive zone that didn't work and resulted in a 2 on 1 for Winnipeg. Luckily for Letang it was Brian Dumoulin back for the Penguins, who picked up right where he left off with the Edmonton game with another solid piece of defensive work in this one.
Nobody would be a regulation hero and the Pens were heading to overtime for the second straight game.
https://twitter.com/penguins/status/923726041163730945
The Penguins started with Crosby-Guentzel-Letang and they possessed the puck for their entire shift but eventually ran out of gas and nothing transpired. The Jets took their turn and gave the puck to Laine who turned the puck over to Phillip.
Phil Kessel picked up the puck 150 feet away from the Winnipeg goal, what can an "out of shape" "hotdog loving" "fake superstar" do in this situation?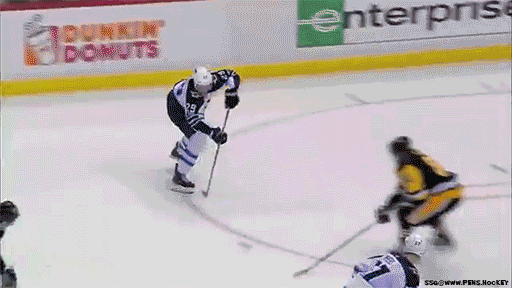 https://twitter.com/BenBergersEgo/status/922636489787412485
Phil took the puck and his one nut and out skated Patrik Laine every inch of those 150 feet to score his 300th career goal.
PHIL KESSEL (4) @ 1:07
https://twitter.com/penguins/status/923737030688952320
Remember when the Pittsburgh media was all over Phil last season? What a player.
GAME
---
Thoughts:
Matt Murray is kind of good, currently 7-0-1 this season = not bad. Here is his body of work since the Chicago Dumpster Fire 
Solid defensive game for the Pens considering they were missing Schultz and had to use Trotman and Ruhwedel throughout. Trotman was a solid choice based on having some NHL experience.
Phil Kessel, man, Phil Kessel.

https://twitter.com/bobgrove91/status/923733173581893633
Damn.
https://twitter.com/bobgrove91/status/923727999803019264
Fuck Morozov, so much hope and dreams wasted on him in my youth.
https://twitter.com/bobgrove91/status/923713483383943168
Geno, you best, shoot
https://twitter.com/bobgrove91/status/923685170443558913
ok
https://twitter.com/bobgrove91/status/923680138272817152
https://twitter.com/bobgrove91/status/923673597419360257
600 games… life comes at you fast
https://twitter.com/bobgrove91/status/923674099523751937
#blessed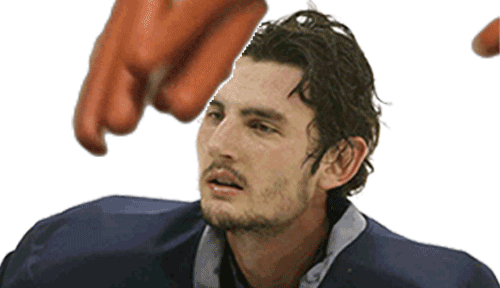 The 300th was sooooo beautifully PHILTHY
"He's played with that long stick all his life, so he's accustomed to it. He's just able to choke down, feels very comfortable doing that." – Errey (33%, 8 Votes)
"Crosby puts stickem on his shaft. He's got the rub stick out. He's gonna rub it up and down, that's tacky, It's to get a little grip on your stick. Little magic here for Crosby." – Errey (29%, 7 Votes)
"Kessel went coast to coast and in his 5 hole" - Errey (17%, 4 Votes)
"Sooner or later yer gonna find a rebound or yer gonna find a hole" - Errey (8%, 2 Votes)
"I'm seeing you too much Potash" - Dumo (4%, 1 Votes)
"Nice D work by Reaves in his own slot" - Mears (4%, 1 Votes)
"People are coming, bodies are coming on McKegg" - Errey (4%, 1 Votes)
"Cole from his knees trying to press it up against the boards" - Mears (0%, 0 Votes)
"Byfuglien driving hard, one hand on the stick" - Mears (0%, 0 Votes)
"Morrissey clamped onto the stick of Sheahan...he grabs that stick and holds right onto it. One hand on it now, gonna clamp down with his right arm on it" - Errey (0%, 0 Votes)
Total Voters: 24

Loading ...
ROUND 1 HPP SHOWDOWN WINNER:
G5) "Guentzl dosen't waste any time and he bangs all the holes."
Bobby "The Chief" Taylor
10/36 VOTES – 28%