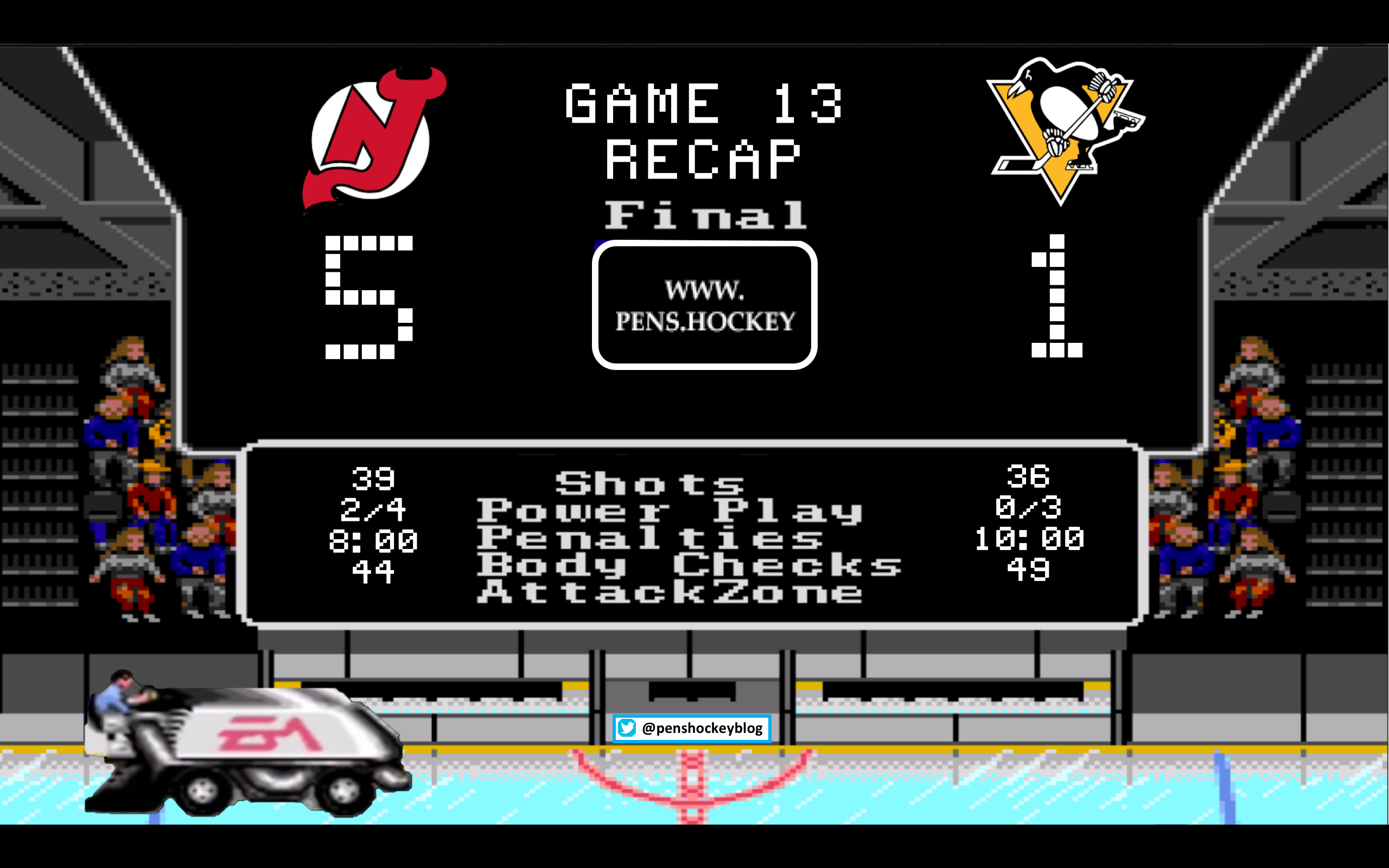 It was Hockey Fights Cancer night in Pittsburgh, the team showed their support with these unis during warmups
Tonight the Penguins will wear purple warmup jerseys in support of #HockeyFightsCancer month. "I fight for" patches will be personalized by each player.

A jersey auction will benefit the Mario Lemieux Foundation and @UPMC Hillman Cancer Center: https://t.co/zcV2VWWEtQ pic.twitter.com/vf3FnVnmaW

— Pittsburgh Penguins (@penguins) November 5, 2018
They will be auctioned off for charity with the opening bid being way too high for most fans, the blog asked the team to do a 50-50 raffle for one of the jerseys so at least the average Joe would have a shot but they never responded.
Ready to dance with the Devils. pic.twitter.com/ltDZrl5RBO

— Pittsburgh Penguins (@penguins) November 5, 2018
Mike Sullivan putting Jack Johnson with Kris Letang is nothing more than Mike Sullivan telling GMJR that he doesn't know what else to do with this tree stump.The best defensive pairing on the team was broken up for this game in an attempt to make Johnson look better than Matt Hunwick.
I was running a little late to the start of the game but that's okay the anthems will take at least five minutes no fuck never mind the Pens are losing.
***The Devils use full videos instead of gifs because New Jersey sucks***
That's how you open a game – @WillButcher4 from the circle! #NJDvsPIT pic.twitter.com/0Or4VI4LBo

— New Jersey Devils (@NJDevils) November 6, 2018
Losing faceoffs in the defensive zone isn't good, leaving people wide open also isn't good, overall this goal isn't good.
The Pens weren't phased by the early deficit, they were most likely comfortable in the position. After settling into playing hockey the Penguins finally got on the board thanks to the big rig.
JAMIE OLEKSIAK (4) Assisted by MAATTA (4) & GUENTZEL (4) @ 9:24
Was that a @jamieoleksiak shot or a laser beam?

That's 7 points in his last 7 games (3G-4A). pic.twitter.com/PXvHMsOnQO

— Pittsburgh Penguins (@penguins) November 6, 2018
Not sure there as been a better surprise this season than the progress Oleksiak has made. Oleksiak now has 7 goals in 59 games played with the Penguins, that will do. He was also acquired for a 4th round pick, Rutherford strikes gold on every defenseman he trades for, when it comes to signing them however…
Scuderi to Chicago for Daley = the gold standard, this was a literal win win win
Schultz from Edmonton for a 3rd = Schultz Chug Gold
Hunwick signed for $2.25 mil for 3 years = why?
Oleksiak from Dallas for a 4th = Promising signs of gold
Johnson signed for $3.25 mil for 4 years = 13 games played, 5 defensive partners, no success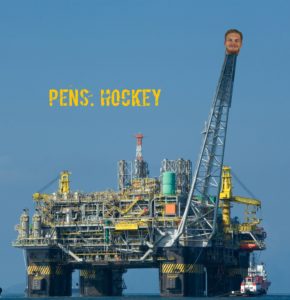 The Penguins enjoyed the lead for three minutes before the Devils turned some hard work into a shot from the point by Mr. Lovejoy. The puck deflected off Boyle in front and the Pens were down by one again. Nothing Murray could do but he will get some blame, the Devils simply outworked the Penguins on this goal.
https://twitter.com/NJDevils/status/1059610531584045056
Nothing else of note happened in the period, Murray had to make 3 or 4 ridiculous saves just to keep the flatfooted people in front of him down by only one.
Here are some numbers ⬇️ pic.twitter.com/evqU0oXeSP

— Pittsburgh Penguins (@penguins) November 6, 2018

Could the Penguins finally turn it around against the struggling Devils?
Nope.
Boyle scored his second of the game on a powerplay 7 minutes in
That'll do, Boy(le)! #NJDvsPIT pic.twitter.com/t40Dcq7rne

— New Jersey Devils (@NJDevils) November 6, 2018
Sure, lets leave a player unmarked in front what could happen? Nothing Murray can do on this other than pray to every known and unknown God there is. The penalty kill has gone from a hotspot to meh in one week, a team that was clicking off a kill rate of 87% 4 games ago is now only successful 81.6% of the time.
Matt Murray is Adam Sandler in this gif.
The Penguins almost looked like they cared for 3 minutes following the goal before it was more of the same from the Devils. Eventually the Penguins actually showed some interest when Crosby, Letang and Hornqvist all got in fights at the same time with different players. Jack Johnson came to Crosby's aid and even managed to fuck that up. This was nothing more than the Penguins taking out inner frustrations on the Devils, but even their rage was underwhelming.
When the dust settled the Devils were on the powerplay and then they were up 4-1
He's such a natural, isn't he?

Congratulations on your first career hat trick, @BriBrows22! #HockeyFightsCancer pic.twitter.com/rZCsxzhFeR

— New Jersey Devils (@NJDevils) November 6, 2018
The NHL gets the story it wants as Brian Boyle gets his first career hattrick on Hockey Fights Cancer night. The Penguins get the kick to the gut as Brian Boyle, a man who has only scored more than 15 goals once in an entire season, gets a hattrick. Surprisingly the Pens wouldn't give up another one in the final 19 seconds. To quote a great coach, the entire Penguins fucked the dog this period…
Casey DeSmith was put in the net to start the third so the people on Twitter blaming Murray could shut up. 19 seconds later the Devils proved that it's the Penguins lack of giving a fuck that is making Murray look so bad.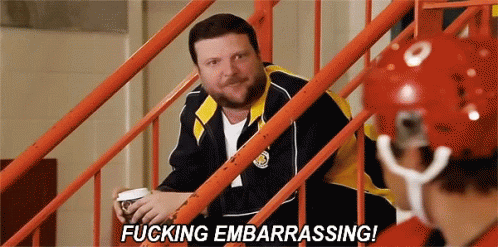 I don't know else happened in this period but I do know one thing, and I think Mike Sullivan knows it too…
Jack Johnson and his playing partners, a quick story:
Corsi For % with Johnson / Corsi For % without Johnson with at least 18 minutes played together (all stats are 5v5 time) / Season total at 5v5
Johnson currently has a 45.55 CF% on the year
Schultz: With 32.43% / Without 41.27% / Season total: 38.61% (<50 minutes 5v5 TOI)
Ruhwedel: With 47.12% / Without 62.50%/ Season total: 49.61%
Maatta: With 48.33% / Without 44.07%/ Season total: 44.89%
Letang: With 56.6% / Without 52.67%/ Season total: 52.35%
Oleksiak: *With 36% / Without 50.13 %/Season total 49.62 CF% *(only 10 minutes played with JJ73)
Matt Murray is on the ice for almost all of Johnsons shifts, with Johnson on the ice Murrays CF% is 47.89%, and without Johnson it is 52.18%. This means the team generates more shots than it allows with Johnson off the ice and the exact opposite with him on.
Jack Johnson finished the game with an even 50.00 CF%, Letang with a 51.22%, Letang was the first defender on the team to get Jack Johnson to 50% CF, which basically means they generated as many shots for as they allowed. The bottom line is, with the exception of Olli Maatta, every defender is sporting better CF% when they are paired with someone not wearing a stupid number. By the way, Brian Dumoulin finished the game with a 69.44 CF%!!!!! And has a team leading 54.08 CF% on the year, he is an absolute gem. The Penguins as a whole are giving up more shots at even strength as demonstrated by their team CF% being 48%. Jack Johnson and Olli Maatta  (other than Juuso Riikola) are sporting the largest shot attempt differential on the team. The Penguins have made the defensive signings by Rutherford turn into gems by sheltering minutes, this is the method used to help Maatta turn his career back on track last season. I'm pretty sure GMJR and Sullivan weren't planning on having to shelter a 13 year veterans minutes but that is what they are trying to do now by putting him with Letang. The issue is, Maatta, Riikola, Oleksiak are still getting sheltered minutes and frankly the shelter is too full for this 4 million dollar mid-life crisis.
Now I know the Penguins have a horrendous road record, have dropped 4 in a row including 3 in regulation, an overall don't look great right now but…
It is November 6th and before we were spoiled fucking rotten by this team we would be satisfied with a winning record. If there is any team in the NHL that could turn a .500 record in January into a Stanley Cup it is this one, because we've seen them do it under this Captain twice. Fortunately you are a Penguins fan, and that is lost on us until we see videos like the one from Ottawa that surfaced yesterday where the players were shittalking the coaches and saying they haven't paid attention in weeks. We are standing on the edge of a bridge right now because of four losses in a row because that isn't normal for our team, which makes us so ridiculously spoiled that we forget what struggles really are. Oh my Gooooddddd the Penguins have 15 points in 13 games an are three points out of first the world is endinggggggggggggggg. Look at the calendar, it's November 6th. Give your balls a tug, get your "depressed about the Pens" shit out of here, and get ready to storm the fucking steps in Washington on Wednesday.
THOUGHTS
Only one thought, with the win the difference between first and last in the metro is 5 points… wow


Loading ...