It's been a fun week for the Penguins, getting treated to facing the previous 2 number one overall picks. Toronto had a lot of hop in their step for a team that played the night before, but those legs eventually wore down. Make no mistake about the score, the Leafs had plenty of golden opportunities in this game, but Matt Murray. I can't remember the last time I saw a team give up 3 2-on-1's during a power play, and MMX was there every time to bail them out. Additionally, make no mistake about the score, if Frederik Anderson wasn't having one of his best games of the season it would've been 8-1. The Leafs eventually showed signs of wearing down in the third, and it was at this point that the Penguins did something that Penguins fans for 4 years have been hoping for, they became relentless. Before I forget, damn those white jerseys are sexy at home. First time since 1992 those jerseys were worn at home. Beautiful. The Penguins continued their 50 years of stories with a goal everyone knows, probably going to make saying "yip" a thing.
When Mario says "yip", you get him the puck. pic.twitter.com/PfJLCR4r93

— Pittsburgh Penguins (@penguins) November 13, 2016
Zach Hyman assisted by Hunwick & Marincin @ 1:22
If this were Sidney Crosby I would say there was an 98% chance he meant to do this, since it's some dude named Hyman, he most likely meant to put his stick on it and hoped it would pop.

Evgeni Malkin (8) assisted by Letang (7) & Hornqvist (8) @ 3:06 PPG
Geno Areno scores again baby, and is quietly having a great season (minus the obligatory 3rd period penalty). Kris Letang has matured with his shots on goal in the last season and  a half (thanks Gonchar), so I am in the crowd that says he missed this one on purpose.
Chris Kunitz (2) assisted by Rust (2) & Cole (2) @ 19:42
Following the worst power play the Penguins have iced this year and some incredible saves by Murray, Chris Kunitz scores a goal we've seen from him countless times (technically countable, but it's Kunitz so you aren't going to go back over that film). Dirty goal from hard work, and going up by 1 to end the second was a huge confidence breaker to Toronto.
Bryan Rust (2) assisted by Crosby (3) & Sheary (5) @ 6:58
Bryan Rust plays best when on a wing with Crosby or Malkin, not sure if that says much about Rust as a player, but he was more noticeable tonight than most of his season on Bonino's line.  Crosby was relentless, missing a shot, chasing the puck to the boards to win it back and then a casual backhand flick to Rust. Rust followed Crosby's example and chased his rebound and made one of the slickest stick lifts you will ever see, then demonstrated great patience to beat Anderson.
Sidney Crosby (10) assisted by Dumoulin (2) & Letang (8) @ 10:14
Yeah, that says 10. This goal looks so easy. It looks easy because he is that good. The battle for position, and the hand eye coordination. Really can't even describe Crosby goals anymore, I may just start using gibberish. There was some joke on Twitter saying Crosby has lost an edge and if he had his choice he would take Kadri right now… it must suck to be trapped in the delusional mind of a Leafs fan.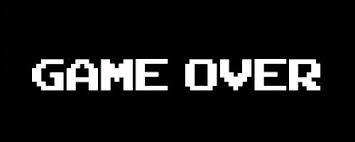 Before I get to the thoughts, a pre-thought thought for you: It's time we start talking about MMX… I'll admit it first, I've been on the "Murray needs a larger regular season sample size/ let's not put all of our eggs in the same basket" side of the fence all year, but Matt Murray is the number one goalie. His positioning and awareness are so good that more shots hit him in the chest than any young goalie I've seen in a long time. The goalie of the future is here, the future is bright, and I have one question for you:
– Credit to J-Bot for finding this, no clue who made it but major credits to that person.
---
THOUGHTS:
The Leafs obviously have some skill, and they stuck with the Penguins for the majority of this game. Their division is a little too strong for a playoff berth this season, but it wouldn't surprise me to see them statistically in the race for a berth until the last 2 weeks or so
Reuniting the HBK line gave Carl Hagelin a major boost, he was flying. The line itself generated a lot of chances, but most frustrating right now is Phil Kessel's pass first mentality. In an interview Mike Sullivan said he reunited HBK because Kessel was looking to pass first too much with Malkin
While discussing lines, HBK is great but if Phil Kessel is going to have a pass first mentality, would you rather him be passing to Malkin or Bonino? I do think that Conor Sheary is a better fit on the top line over Hagelin, it allows Hagelin and Bonino to be a complete pain in the ass for the third defensive pairing.
Since trade rumors are fun, a rumor on Twitter was circling that the Pens were looking at Dougie Hamilton from Calgary. No. 2 things, 1: 5.2 million, 2: Don't trust any grown man that goes by Dougie.

Post Game Coaches Coroner: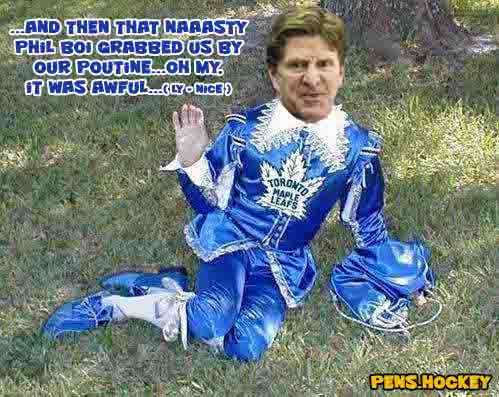 I'm to busy "trimmin the bushes" today to "sweet talk" yinz...pick yer hockeyporn.
7) "You don't need to have it tight down there" –Errey (21%, 5 Votes)
9) "Playing with Hyman." — Bob Cole (21%, 5 Votes)
3) "He's got that mustache, take a big gulp" -Errey (17%, 4 Votes)
13) Bryan Rusts Mustache -IMAGE (13%, 3 Votes)
5) "Kessel gets one opportunity blocked by the shaft of Hunwick" – Errey (8%, 2 Votes)
8) "So often you get focused on dealing with Crosby, you forget on the backend there's another weapon." — Craig Simpson (8%, 2 Votes)
2) "Corrado is in my box right now" –Errey (4%, 1 Votes)
11) "Kessel went down." — Bob Cole (4%, 1 Votes)
1) "Kessel twisting and turning but goes down"- Steigy (4%, 1 Votes)
6) "Sid's getting it all done in the dirty areas." -Steigy (0%, 0 Votes)
4) "He just got hammered by Rust" -Errey (0%, 0 Votes)
10) "Mike Sullivan rides em a bit here." — Bob Cole (0%, 0 Votes)
12) "He gets the stick between the legs and goes down." — Craig Simpson (0%, 0 Votes)
Total Voters: 24

Loading ...
---
Thanks for reading, have a great few days and I will see yinz on Wednesday morning for the Capitals game!