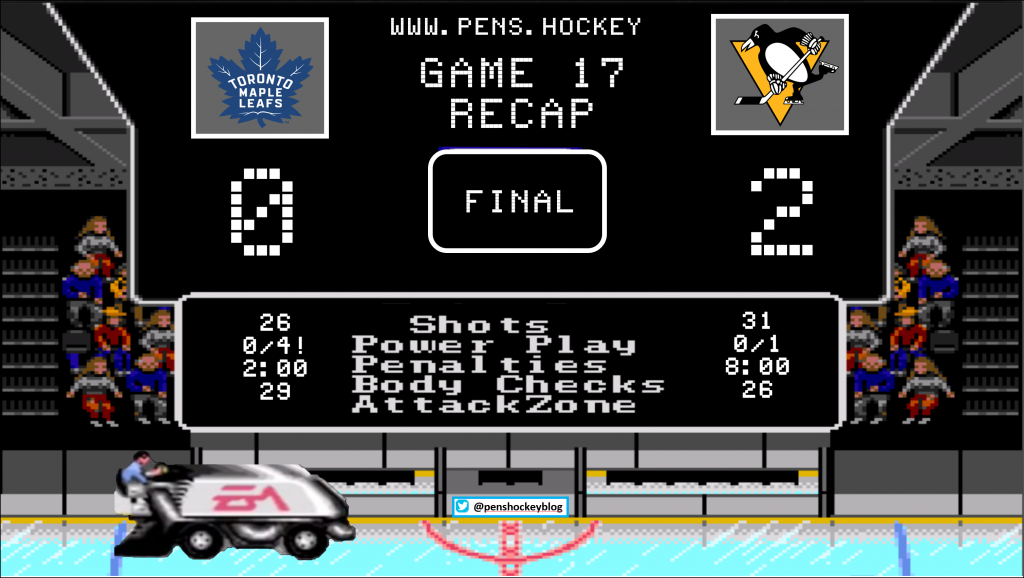 The boys were coming off of a dominating performance in Montreal and had their heads held high. Which is how you want to be on HNIC in Toronto. They also knew that they whomped Leaf ass not that long ago with an entirely different roster. And they also knew they had BJC in the lineup. Who is from Toronto. Which is now completely bereft of Bud Platinum.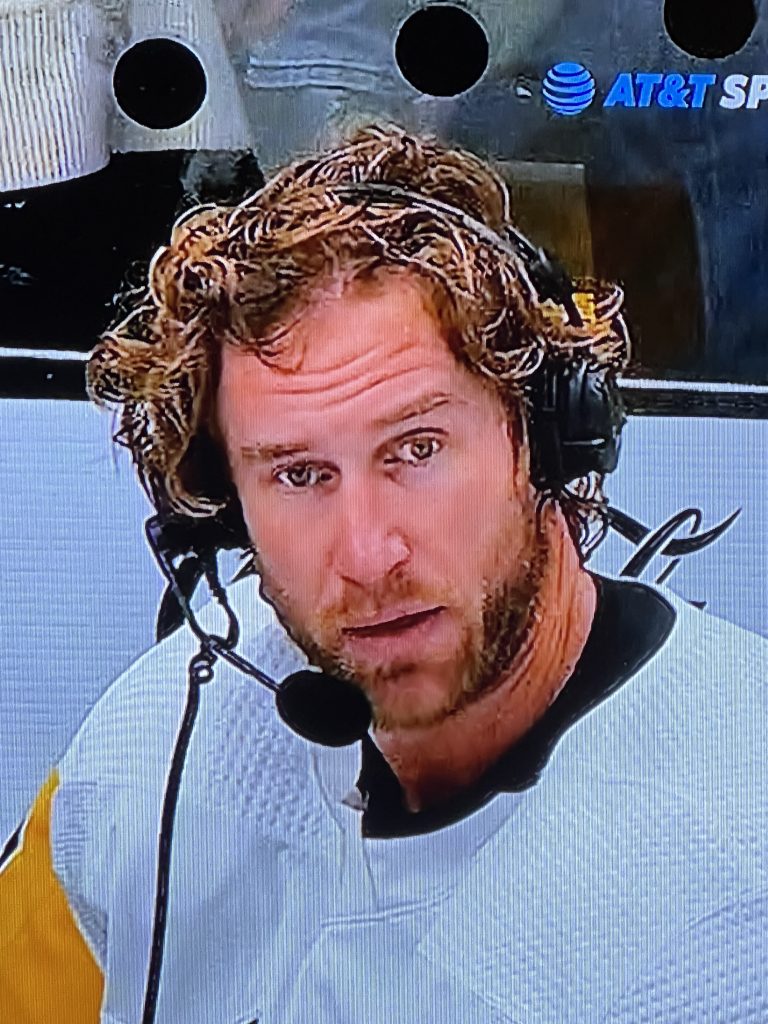 OK, so I missed the first 4:30. Thankfully, zero things of note occurred.
Toronto had a nice rush going but Ruhwedel wasn't having it, even on his offside. That got the puck back to the Pens. And they'd keep it when the Rodrigues line would change out, but not before ERod would make a nice feed to Dumo who would tap it to Rusty. Rust would keep keep keep it until he found a swooping Jake snaking into the zone and he'd look up and see time and space and not waste his chance.
Guentzel (7) from Rust (7), Dumoulin (2) – 5:56 – EV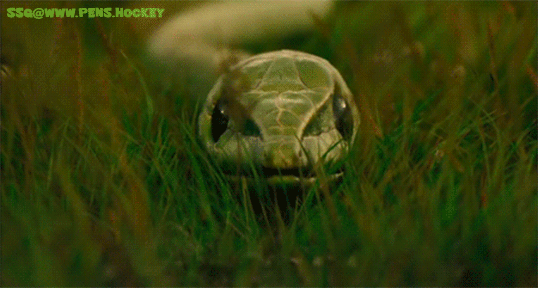 Look at Jake use Sid as a decoy. Or rather, he looked at Sid, saw that it wasn't the best option, and decided he didn't need no Jobu – he'd do it himself. A sweet backhander five-hole on Bruce Campbell, who probably would have preferred the chainsaw to the blocker on that effort.
Pens would keep rolling lines after that and would also keep possession of the puck most of the time. For like, a while. The Blueger line would look particularly good with the three forwards crashing in front of the net and the blueliners controlling the space up top and feeding the puck down. All while maintaining possession. And when Toronto would get an opportunity, the Pens were all over them and taking away follow-ups. Just solid stuff.
The Laffs would manage to generate a good shift around the 12 minute mark, but Jarry held the fort and nothing would make it through. Then Dumo tried an ill-advised, slow-moving, cross-ice, make-everyone-say-fuck pass that would send Trono on a break, but LeTang found his wheels and tied up the guy. No harm no foul and most importantly, no goal.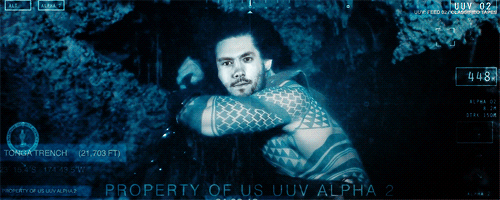 Trono actually started to really pick it up at this point, turning a shift against the Crosby line into a shooting gallery on Jars. Jars did the thing, but more importantly the rest of the boys were all in good position, blocking pucks and playing tight on their guys. And as a unit, they thwarted every attempt.
The Carter line would take the ice and things would start to happen. Because when BJC is on the ice, things often happen.
Carter (4) from Zucker (5), Kapanen (7) – 17:15 – EV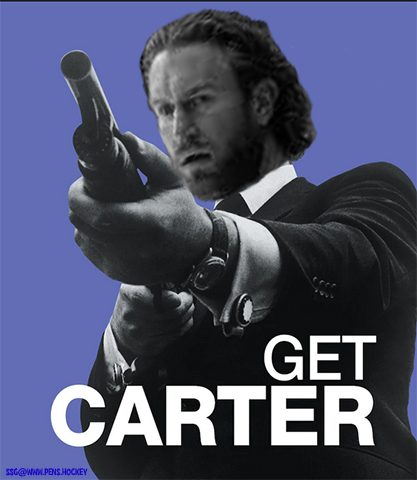 Right. Into. My. Veins. A glorious pass out of the D zone from Dumo to the tape of Kapanen who deftly chipped it ahead to where only Zucker could get it. BJC watched all of this and made quick work of Jake Muzzin and just had to lay the stick dahn to direct a lovely backhand feed from Zucker. Fap fap fappity fap fap fap.
Gotta love momentum swings. Because on the next shift the fourth line would generate a great chance and Some Leaf Defender had no choice but to hook up McGinn and take the penalty, putting the suddenly warm powerplay on the ice with just over a minute in the period. No score in that minute, but fresh ice awaits after the break.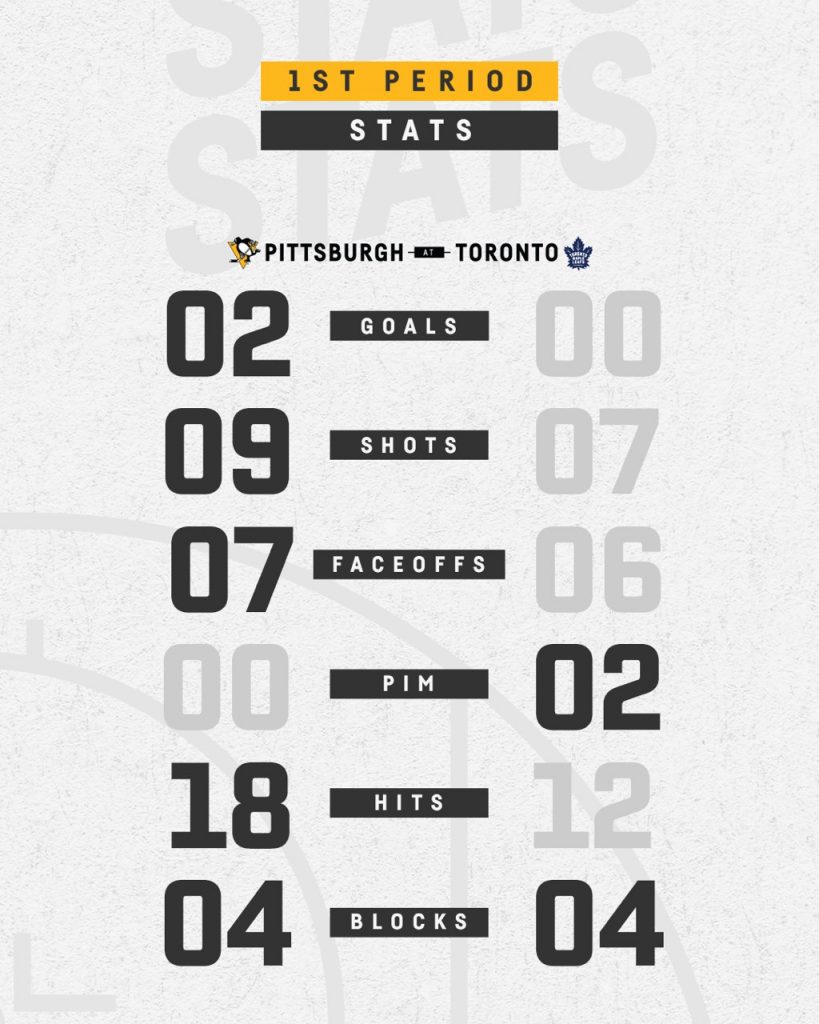 Turns out fresh ice didn't mean shit. Though it was fun watching Sid MF the linesman for kicking him out of a faceoff for no apparent reason. Sid was HOT and tried to score after getting the puck but that didn't happen.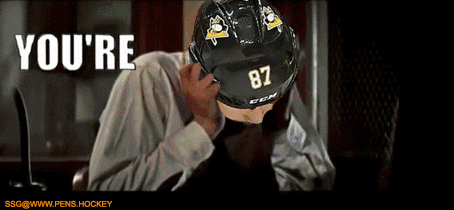 Side note: the broadcast team through up a graphic that I had to see to believe. The Penguins lead the league in shots on goal. I KNOW, RIGHT?!?!?!? It's not something you're used to seeing, but there it was. Also the only team with 5 games with 40+ shots. Fucking ToeCarSki. Anyway…
Back to five on five and you could see that Trono got an earful and were determined to make something happen. The away team was unfazed and continued to step up and meet all challenges.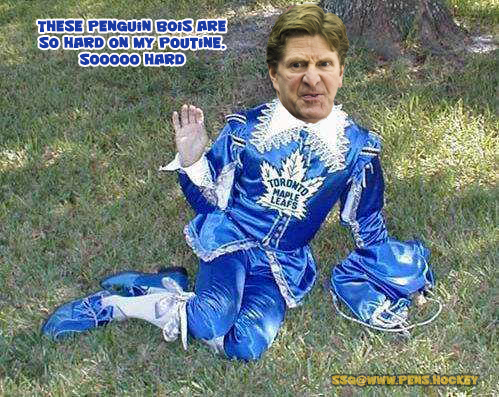 Things got a bit sloppy here, lots of icings and stoppages. But generally the ice was getting tilted in favor of the Laffs. Still, the Penguins stood tall at every turn. Eventually the pressure would build up to the point that Dumo had to take a penalty. Would the PK improve or falter?
So it started well, but then turned into a shooting gallery. Luckily, Jarry looked snug as a bug in a rug and didn't let anything through. Back to even strength.
Once the Pens were able to get the tired bodies replaced with Sids line, the tide quickly turned, generating some quality chances and pressure to give Jars and the blueliners a rest. No goal, but no backing down.
There was a play with just over two minutes left, with the BJC line on the ice. Carts would snag the puck from some doofus and have essentially nothing there, but was able to flick a quick backhander up the boards to free Kapanen for a great chance. And Kappy REALLY wants to score against his old mates. But it was all breadbasket.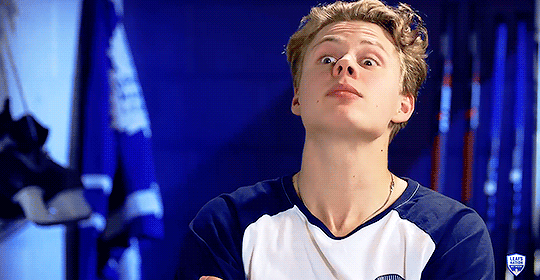 There'd be another fleury at the Trono net, with Kappy involved of course, but nothing would happen and the Pens would stay up 2 after 40.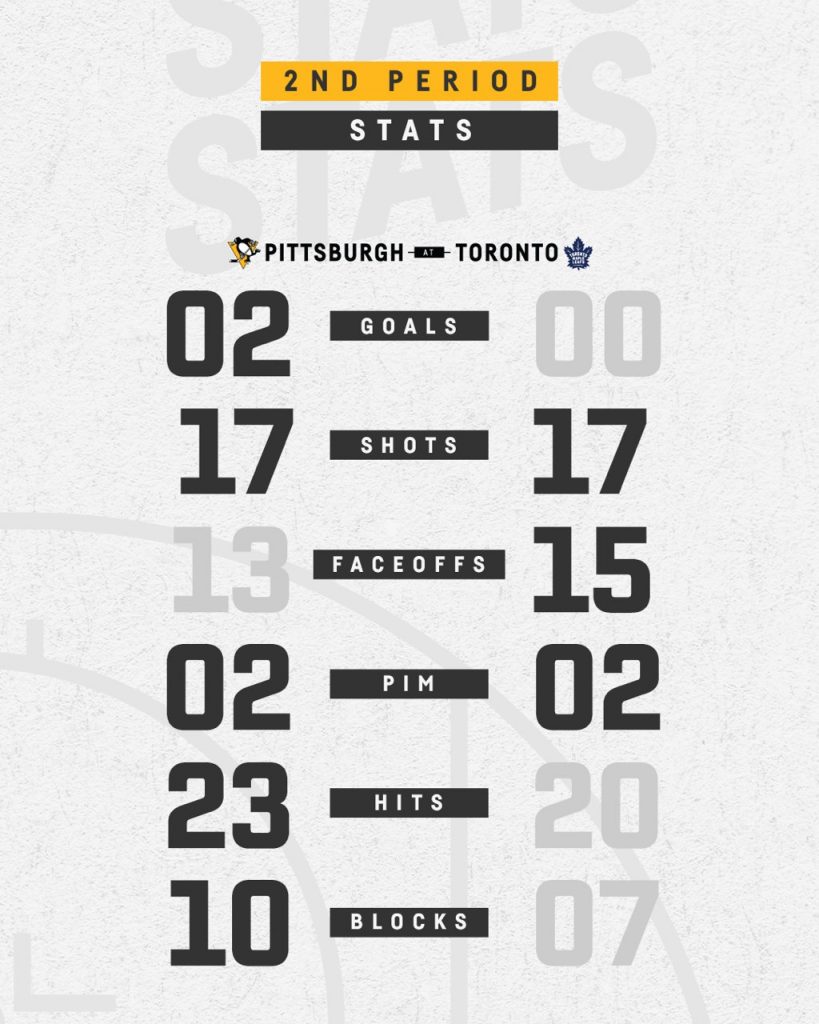 Pens would get a great chance right out of the gate but Bruce would stop both chances from McGinn. Then there was some more great work from BJC, both offensively and defensively.
Next shift, Pens would lose track of comedian Bill Engvall (didn't know he could skate, even) but the post helped Jars out this time. That's fine – he has earned one of those tonight. Two, even.
The boys would just keep on playing that perfect road game. No fancy silly crap, just heads up, stepping up, hit em up when you can kind of play. Playing with the confidence of a team that is showing signs of really pulling things together. I know, I shouldn't write those words, but it's not your damn blawg so piss off.
Another great chance for the BJC line was created by Zucker who is also playing like a man possessed. Great job of getting the puck behind the net and finding a streaking Kappy who put a great effort on net but Campbell was able to stop it with a toe. Fucking ToeCarSki.
Leafs would turn the tables and hem the BJC line in for a change, so much so that BJC himself had to take a hooker to get a stoppage. PK time. But when BJC leads by example, and has to take a penalty, his men have his back. Penalty. Kilt.
I gotta tell you, the 3rd period was FLYING by. Which, when you're up by two, isn't a bad thing at all.
With just over 5 minutes left, Zucker would kind of sort of trip a guy. Definitely a borderline call, but the team trailing on the scoreboard gets those close calls, especially in Canada and especially on HNIC.
10 seconds into the kill, ZAR would DEFINITELY trip Matthews, though it was more him stepping on ZAR's stick than anything else. Regardless, 5 on 3 for 1:49. Great.
Actually, it was great. Just an amazing effort by the Pens. A few good looks, maybe a post, but ultimately it was just effort and determination. YUUUUUUUUUUUGE kill. And an utterly fitting way to close out the game.
The Leafs weren't quite done yet, and where pushing pushing pushing but the Pens matched them at every turn. For some reason, Trono's idiot coach didn't pull Bruce until less than two minutes remaining, but it didn't matter to our boys. To a man, they out worked and out played the home team. They just wanted it more, in every way.
GAME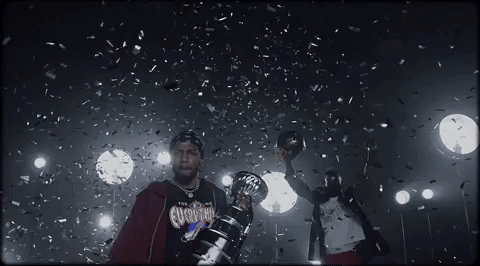 Thoughts:
Three bad losses followed by two shut outs. Hockey is the best.
Jarry playing with confidence is everything.
BJC has no off button. Keep that man in Bud Platinum for life.
The 4th line and 3rd pairing got less work tonight. That's more about the opponent than anything else.
Tanger with 27 solid minutes. T.Hanks.
Busy week coming up. Time for the boys to start stacking W's.