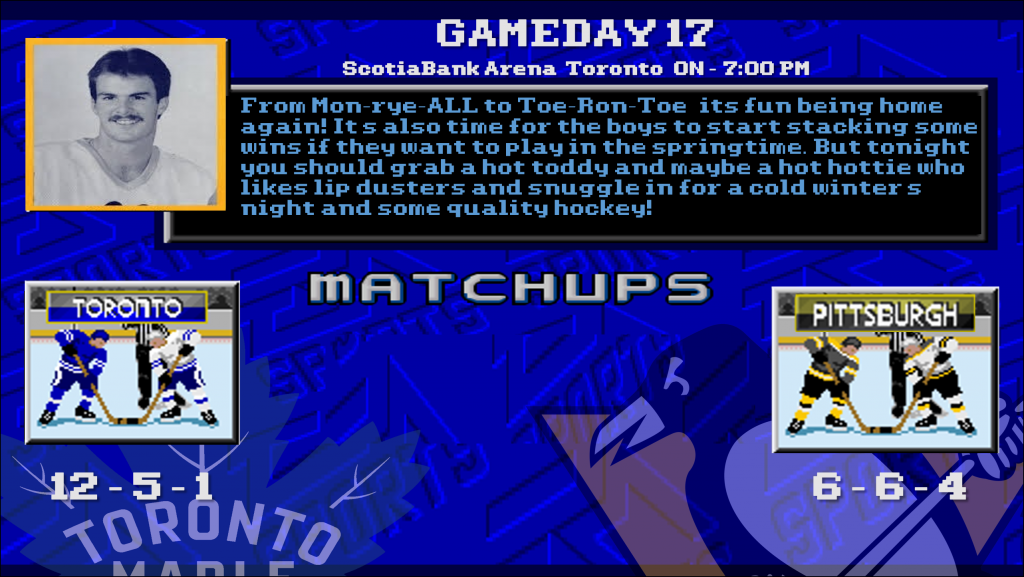 Things have been a bit up and down emotionally for the Pittsburgh Penguins over the past couple of weeks. Being sold to Fenway Sports Group. (I'll get back to that at the end.) Players returning from COVID-19 infections, or from injuries. Winning against a good team, losing against a bunch of bad teams. Six goal games, one in their favor, two not. The one in their favor came on Thursday, a 6-0 palate cleanser against an adrift Montreal Canadiens team seemingly heartsick over the absence of their de facto leader, Carey Price. At this point, I don't care if they're a good team or a bad team, a 6-0 game is always a pleasant digestif.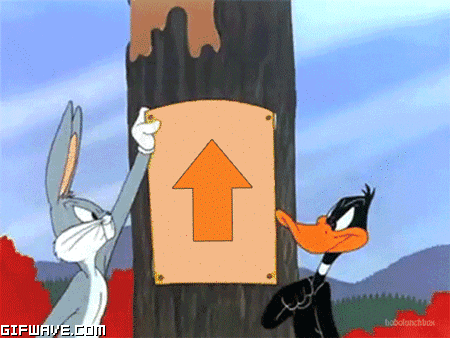 Tonight the Penguins are back in Ontario to visit the Canadian province's more popular team, the Toronto Maple Leafs, for the second of three matches between the two teams this season. The previous meeting was on October 23, the last game that Pittsburgh left with an unbeaten record, back when we thought they were really doing well in spite of numerous absences to the lineup. The 7-1 decision was at the time their best result of the season and, like the Penguins' 6-0 win over Montreal the other night, featured scoring from up and down the lineup. Marcus Pettersson blew up for three points, including his first and thus far only goal of the season; Drew O'Connor scored two goals then disappeared again; Brian Boyle likewise scored a goal and decided that was enough out of him; and Jason Zucker netting the second of his pitiful three goals this season.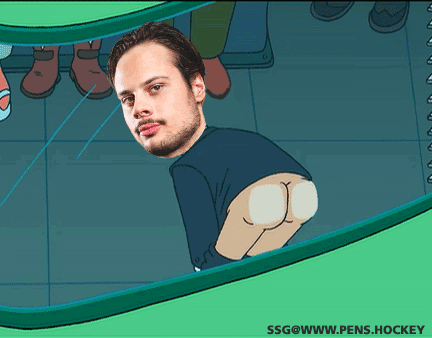 Since winning that third game of the season, Pittsburgh has won just three more out of the past eleven games, and the rout over the Canadiens was the only of those three that came in regulation. It's nice to beat Montreal, but they are not really in good shape right now, in seventh place and eight points behind the Detroit Red Wings for fourth in the Atlantic Division. Toronto, however, is a far more serious foe. After losing 7-1 to the Penguins then 4-1 to the Carolina Hurricanes, the Leafs have been on a tear, winning ten of their last eleven, seven of those in regulation and seven (not all the same ones) on the road, including three shutouts and three other contests where they limited their opponents to just one goal apiece. Now they are near the top of the NHL standings, tied with Washington for third, one point behind Carolina and two behind the Florida Panthers.
However, Toronto could run aground on familiar rocks later on in the season. Goaltender Jack Campbell has been a revelation thus far this season, finally landing in the starting role after being an understudy for two very good if heavily relied upon goaltenders, Jonathan Quick in Los Angeles and Frederik Andersen in Toronto. Finally a starter at 30 years old, he is arguably the best goaltender of the season thus far. He has also started in fourteen of the Maple Leafs' eighteen games, and is second to Anaheim's John Gibson in minutes played.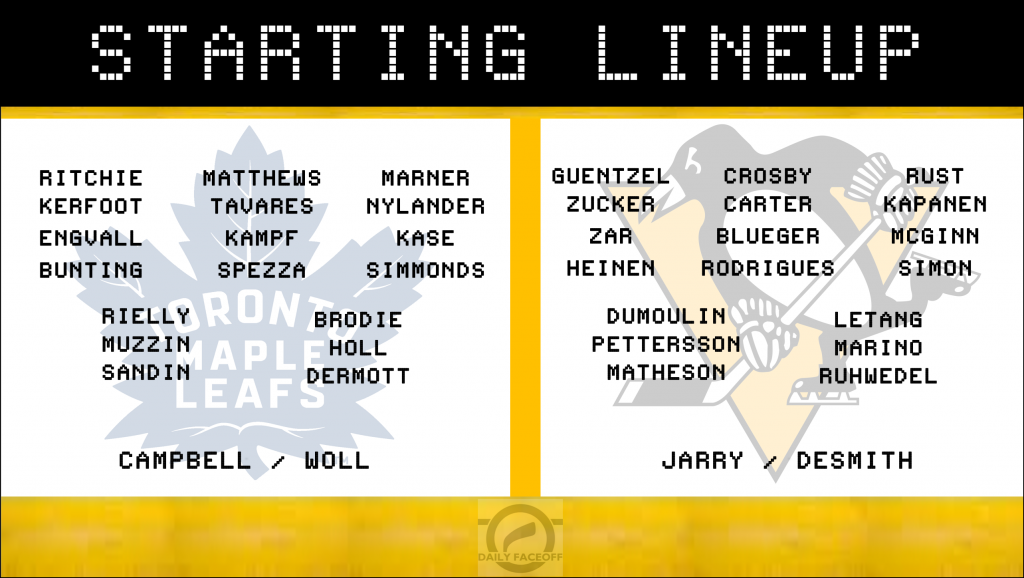 If you'll recall, Toronto's Achille's heel in Andersen's tenure is that he, like Gibson and Quick and anyone else who plays three-quarters or more of a team's minutes in goal, they burn out late in the season and in the playoffs. The Leafs have most of their money tied up in their very productive forwards (66.2% of their salary in fact, thanks CapFriendly), but the goaltending (when Petr Mrazek is healthy, which he isn't right now) only accounts for 6.7% of the team's salary. The Leafs signed Mrazek as a free agent this past offseason, hoping he would be an adequate insurance policy for Campbell, but Mrazek injured his groin a couple of weeks ago, so it turns out Campbell has to be his own insurance policy for the time being. (Joseph Woll and Michael Hutchinson, the team's other two goalies, suck. Here's hoping Woll is tonight's starter!)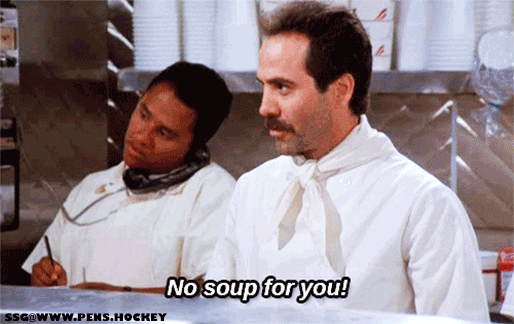 As to the Penguins sale, like the inevitable decline of the team post-Crosby/Malkin, this too was eventually going to happen. Mario Lemieux and Ron Burkle will have made a killing off of this investment. They saw the team win three Cups under their ownership, including two-in-a-row in 2016 and 2017. The writing is also on the wall that the value of this team is going to decline somewhat over the next few years, so just five years after reaching that apex, Lemieux and Burkle are giving someone else the keys to the franchise. Of course Lemieux's status as a legend wasn't in doubt to begin with, but added to his playing years he's been one of the most influential people in NHL and Penguins history. Maybe he should go and be commissioner!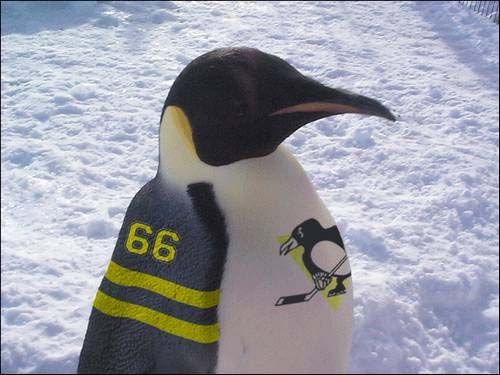 Anyway, it'll be interesting to see what John Henry and FSG do with the Penguins, but their track record is pretty good: of course with the Boston Red Sox, which have won four World Series since FSG took ownership from the Yawkeys in 2002, but also with Liverpool in England since 2010, winners of the 2019 Champions League and the 2020 Premier League champions. The NHL has a more challenging economic system than either league with its hard cap, but as we've seen with the Red Sox there has been a tendency to win, then knock the tower down by trading away the more valuable assets to bolster their long-term prospects, then negotiating free agency to patch the holes said prospects don't fill, and invariably succeed again.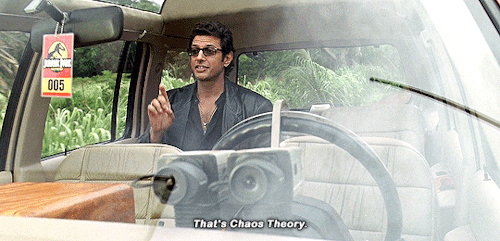 In this context, it'll be curious to see how much influence FSG has over the next couple of years of expiring contracts. The Penguins have just eight players under contract in two years, so there's a lot of potential to work with, but they are really hurting for quality players beyond their NHL roster. That being said, I suspect FSG will give Hextall plenty of leeway in the immediate, which is good because we have yet to really see much from him, at least as far as the Penguins are concerned. Ultimately, the sale of the team only affects those directly involved for the moment, so I wouldn't worry too much yet.