The biggest news before puck drop was that Justin Schultz ended the Zack Trotman experiment, thank God. Matt Hunwick was also noted as being close to a return but was eventually scratched for further evaluation. The Penguins had a few days off to gather their thoughts before this game, and knowing that they have a back-to-back with Washington and Nashville this weekend they knew they couldn't let this one slip away. It also helps that Arizona took 6 penalties, but to the Penguins credit they only took one minor penalty, a new (and very welcome) trend.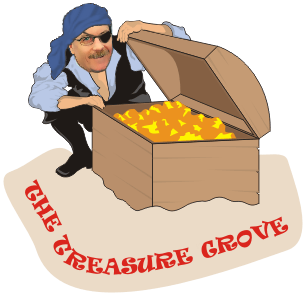 https://twitter.com/bobgrove91/status/928040368251330561
https://twitter.com/bobgrove91/status/928038355081748480
Last night was Crosby's 799th career game. Imagine being someone that got mad at Crosby during his longest goal slump of just 12 games. Also, the last time Crosby went 9 consecutive games played without a goal the Penguins went on to win the cup… works for me.
https://twitter.com/bobgrove91/status/928037348729860097
I would lose my shit if Matt Murray came out for warmups wearing that mask. Just look into those eyes, you can tell he's thinking about robbing Toronto one day.
It took less than one minute to realize Justin Schultz is still representing the Chug life.
JUSTIN SCHULTZ (2) Assisted by MALKIN (10) & KESSEL (13) @ 0:59
https://twitter.com/penguins/status/928054657099943936
The Pens with some solid offensive zone rotation results in the odd Malkin to Schultz at the goal line feed. Schultz had 3 options with the puck, either go back to Geno, dump it behind the goal, or throw it on net out of excitement from being back in the lineup. He made the right call, and Raanta would make up for this shouldn't have been goal by stopping several should've been throughout, naturally.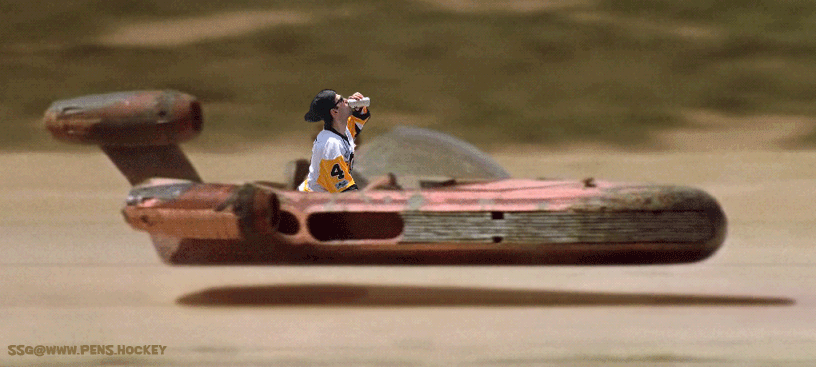 The Penguins would continue pressuring the tired Coyotes and just three minutes later it was The Philkin cashing in:
EVGENI MALKIN (7) Assisted by KESSEL(14) & GUENTZEL (5) @ 3:07
https://twitter.com/penguins/status/928055709660536833
Most media members tried to make a baseball joke here, but if Malkin played for the Pirates he would've been traded for a prospect relief pitcher 8 years ago. The Guentzel Philkin line looked really good in the first, you can even see Jake skate in late to this goal. They were a force that the Coyotes simply didn't have an answer for.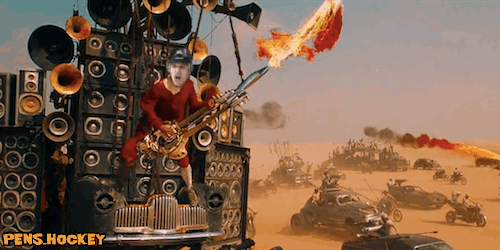 The Pens continued pressuring Arizona throughout the period but apparently their goalie named Antti isn't a complete dud like another dude we know. Neither team would convert for the rest of the period and the Pens took a much needed first period lead off of, wait for it…. two even strength goals!
https://twitter.com/penguins/status/928062823711854592

Some of us, okay all of us, assumed the Pens would come out a little soft in the second considering they had a 2 goal lead on a team with 6 points this season. Well we were wrong. The Penguins came out for the second period with even more fire power throwing 15 shots on goal, by the end of the second period the Coyotes had 15 shots total. Raanta Fanta was solid throughout:
https://twitter.com/five4howling/status/928058239018680320
https://twitter.com/five4howling/status/928068789014429696
https://twitter.com/sportsnet/status/928079265169473536
One of the biggest highlights of the period was Kris Letang didn't look like Derrick Pouliot, maybe this was due to Schultz being back? You know what, yes, yes it was due to Schultz being back.
The Pens couldn't crack Raanta and the score would remain the same.
https://twitter.com/penguins/status/928076002957414400
only 4 blocks for Arizona, either the Penguins were making good shot choices or the Coyotes are scared of the puck, or both.
The Coyotes are that annoying guy that doesn't really need disability but it's easier than work so fuck it. They don't let you win easily even though they know they're going to lose, and less than 30 seconds into the third they had to make it a one goal game.
https://twitter.com/arizonacoyotes/status/928080640850870272
It's "tor," I know Arizona has the worst public school system but come on, Google is free.
Not the best start but it's mostly because Kris Letang was wearing a Schultz jersey. Much like an immature team in a tight game is expected to do the Coyotes took their 6th and final penalty, the Penguins were scoreless on their first 5 so this could only go one way:
PHIL KESSEL (5) Assisted by HORNQVIST (3) & MALKIN (11) @ 6:06 PPG
https://twitter.com/penguins/status/928084378135203840
Phil looking at Geno like "anything you can do I can do better, bitch." Just some insane patience and hand-eye coordination on display, and why didn't a defender get to Kessel while the puck was in the air to body him up?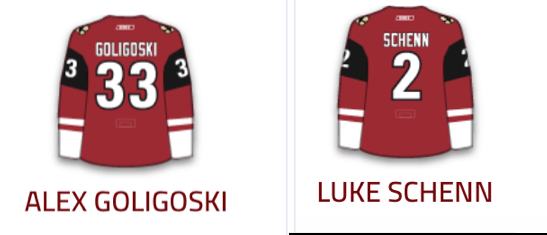 Oh, now it makes sense.
The Penguins just had to hold down the fort, which is a pretty easy task when you aren't under attack. The Coyotes did manage 10 third period shots but Murray was able to stop the remaining nine, time ticked down and the Penguins did exactly what they needed to.
GAME
---
Thoughts:
Three players failed to register a shot for the Penguins: Riley Sheahan, Greg McKegg, and Sidney Crosby
Justin Schultz played 20:31, second only to Letang's 23:38 in his return. Schultz looked solid throughout, and it's the first time since his injury that Letang was under 25 minutes. A win-win situation in every way.
Matt Murray has quietly built his record to 9-3-1, and last night was his 50th career win in just his 73rd career start (he's played 76 career games). Murray's 50 wins places 8th all-time in team history, only 8 wins behind 6th place Les Binkley.
Remember these first 20 games when the media decides to start shitting on Phil Kessel in February for struggling. Phil has put up a solid 5 goals and 14 assists in his first 17 games, putting him on pace for 91 points which would be a career high (80 2013-14)
Evgeni Malkin is also doing his part in carrying the load while Crosby looks for his scoring touch, Geno is second on the team with 18 points and is the team leader with 7 goals, on pace for 33 goals which would equal his total from last season. Geno also picked up career points 848, 849, and 850 last night. His current stat line: 723 GP, 335 G, 515 A, 850 Points, 3 rings, 0 top 100 rankings.
https://twitter.com/penguins/status/928115050929426433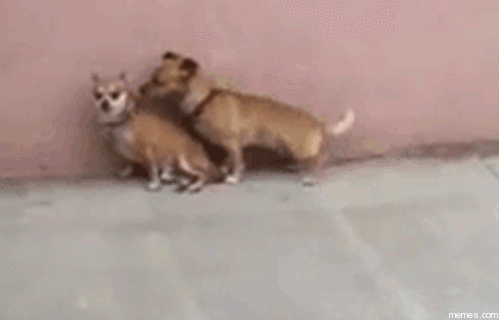 Good doggies...almost there...maybe next time?
"I'm taking pictures of this stuff so I can look at it when I'm down. Makes me feel good." – Errey (36%, 15 Votes)
"Domi's stick went off Ruhwedel's stick and rolled up into his mouth." – Errey (29%, 12 Votes)
"You wanna make it hard?" – Errey (12%, 5 Votes)
"Be supportive in the D zone...get it in the O zone quick" - Sheahan (10%, 4 Votes)
"That whack, that one-handed whack by Keller onto the shaft of the stick of Rust." – Errey (5%, 2 Votes)
"Look at that, right off his shaft" - Errey (5%, 2 Votes)
"Kessel will beat you in so many different ways" - Mears (2%, 1 Votes)
"The way the game is now, he needs to be tighter" - Caufield (2%, 1 Votes)
"Kessel angrily bangs the boards." - Mearsy (0%, 0 Votes)
"No clean second opportunity." - Errey (0%, 0 Votes)
Total Voters: 42

Loading ...