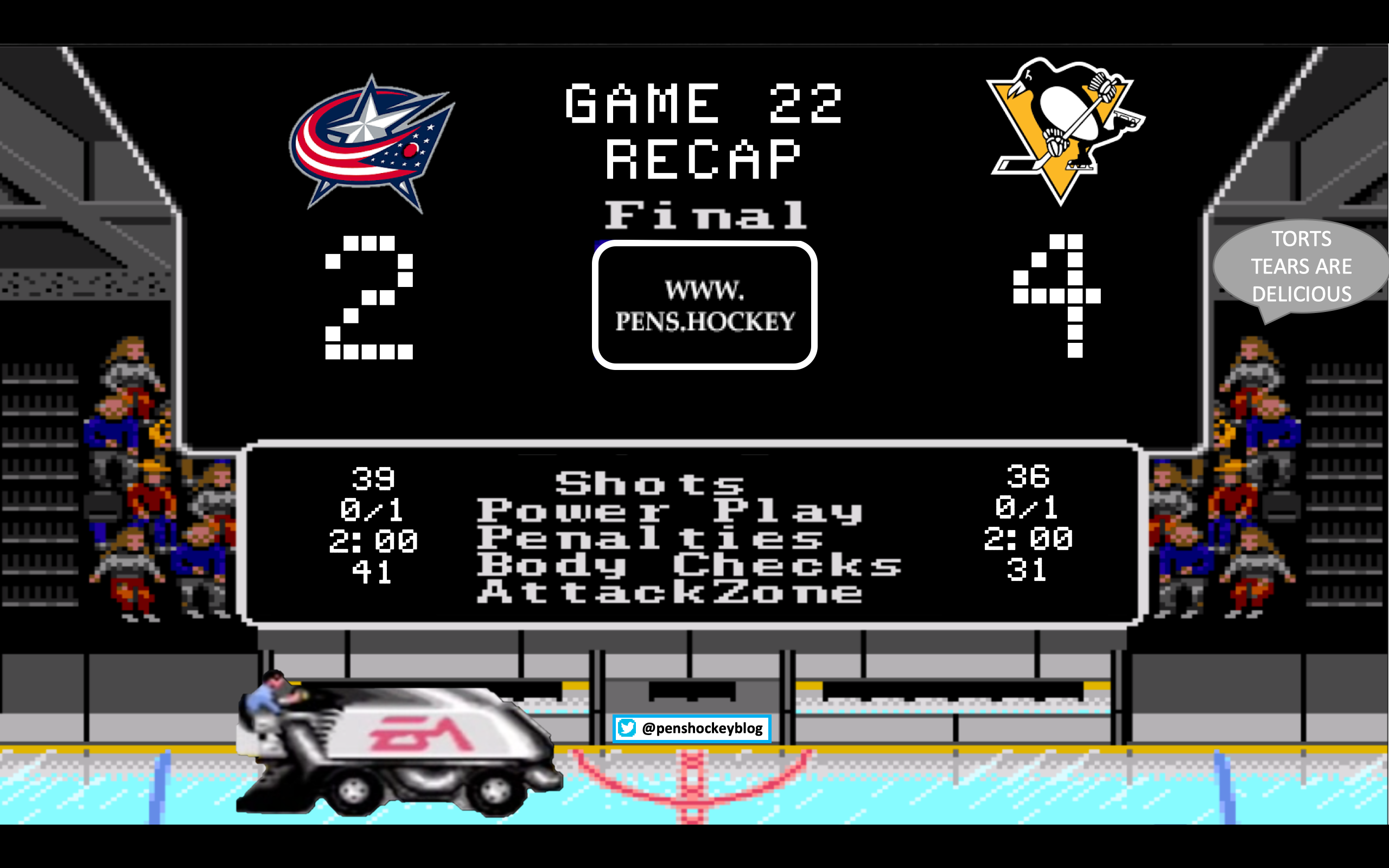 Welcome to the first (and probably last) recap written by chill1495. I'm probably qualified to write this recap; I passed high school english once, so I have that going for me. I am nowhere near as funny as i think I am so I apologize to the ones and ones of you reading this, you will have to bear with me. I've read enough recaps, so i guess it's time to contribute.
Now with that out of the way, we can get to the game.
The Good News:
It's a Saturday night game. This game is (mercifully) not in Ohio. The Penguins have gotten points in 3 straight games, and they're actually starting to look like they know that defense is half the game. Things are trending in a positive direction, now they just need the results to follow.
The Bad News:
We have to see Tortorella's dumb face.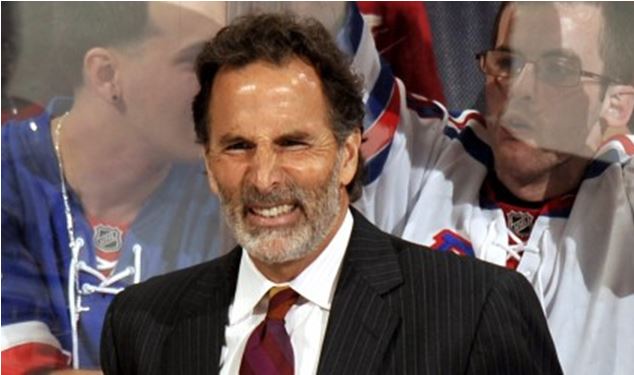 Hornqvist has been spending too much time on Crosby's line and caught his concussions. Garrett Wilson was recalled to take his place.
Coach Sullivan: "Hornqvist is out with a concussion."

— Pittsburgh Penguins (@penguins) November 24, 2018
Also if you're looking for another reason to dislike the BJs, just know that this is their twitter picture.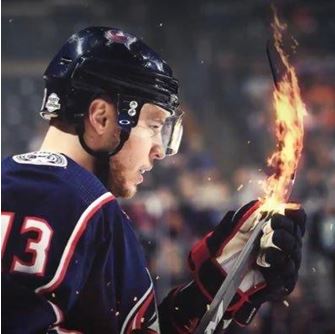 Pittsburgh wasn't alone coming into this game on the tail end of a back to back as Columbus played and beat Toronto on Friday night, 4-2. I'll scratch that off my excuse list now just in case. I honestly couldn't give a shit about a game between Columbus and Toronto, but TheHockeyGuy on the youtube said that it was a good game and Columbus has been looking good, so I'll take his word.
But Columbus doing well means so much…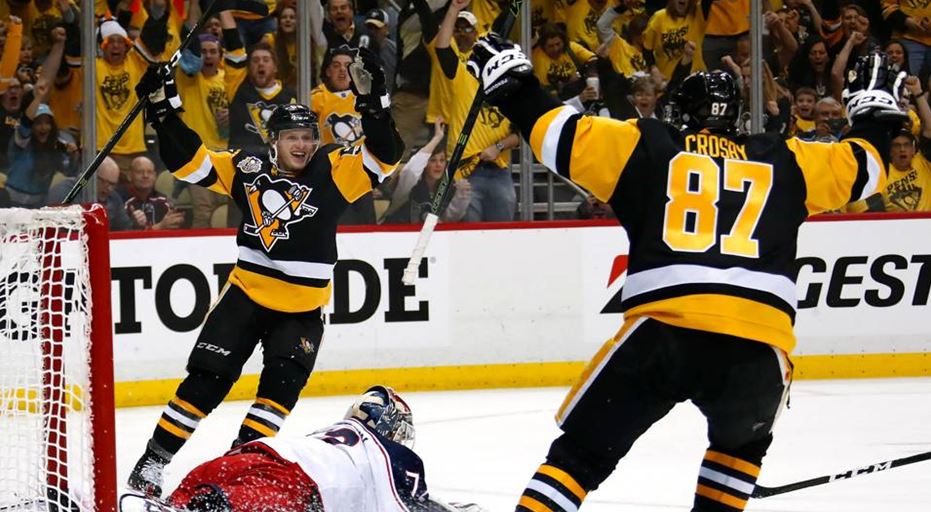 PENS STARTING LINEUP
https://twitter.com/penguins/status/1066476038052564993
COLUMBUS STARTING LINEUP
Apparently Columbus uses gifs as often as they use streamers and I don't want to post a gif lineup. The only thing that really matters is Korpisalo starting over Boobtitski. Atkinson has goals in 6 straight and Panaren is always good against the Pens.
BOB GROVE TREASURE CHEST
Either Crosby, Malkin or Kessel has figured in on 15 of Pens' last 20 goals. You expect that number to be high, but maybe not quite that high.

— Bob Grove (@bobgrove91) November 24, 2018
Pens need some bottom 6 scoring.
Including playoffs, Guentzel has 8 goals in his last 10 GP vs. Jackets and his shooting percentage is 25.0.

— Bob Grove (@bobgrove91) November 24, 2018
Pens are 4-0-2 the last 6 times CBJ has been the second opponent in back-to-back games.

— Bob Grove (@bobgrove91) November 25, 2018
The kind of stats only he knows.
MILESTONES
Evgeni Malkin has tied Jaromir Jagr for third place on the team's all-time games played list with 806. pic.twitter.com/qYaOBjbOyc

— Penguins PR (@PenguinsPR) November 25, 2018
Kris Letang has tied Brooks Orpik's franchise record for games played by a defenseman at 703. pic.twitter.com/pUnndhN4nh

— Penguins PR (@PenguinsPR) November 25, 2018
The Pens were wearing their alternate jerseys, so hopefully you had a pair of sunglasses to wear. The game started with a good shift from Columbus. Joone Benner is trash. The Pens gave up an early 2 on 1 to make sure DeSmith was paying attention, but nothing came from it. Riikola got a wide open chance in the slot, but he can't score was shut down. Following that, Oleksiak tripped over the blueline while defending and there was a good opportunity against, but DeSmith saved just enough of DePuck so it trickled wide of DeNet.  After a little more back and forth, the Blue Jackets got the puck down low and fed it out to "Former Penguin"™ Scott Harrington in the slot and unlike Riikola, he was able to put one past DeSmith. I'm sure some hot take tomorrow will say that we shouldn't have ever traded him.
1-0 Blow Jackets
https://twitter.com/BlueJacketsNHL/status/1066486602992631808
Soon after the goal, Malkin won an offensive zone faceoff back to Phil! for the James Neal Play™. The puck didn't find its way in but Pearson was there to find the rebound.
TANNER PEARSON (3) Assisted by KESSEL (17) & MALKIN (21) @ 5:59
Fun fact: @tannerjpearson has four points (3G-1A) in six games since joining the Penguins. He also has goals in three-straight home games. pic.twitter.com/rOQmqjw8AQ

— Pittsburgh Penguins (@penguins) November 25, 2018
For those following along at home you may want to pay attention to that rebound. A minute and a half later Simon pressured Harrington into the offensive zone. Harrington panicked and threw the puck up the wall which was kept in and passed in one motion by The Tang down to Crosby on the goalline, who immediately turns and throws a backhand pass to the slot where Jake the Snake was waiting to bury it from the slot. Take note Riikola.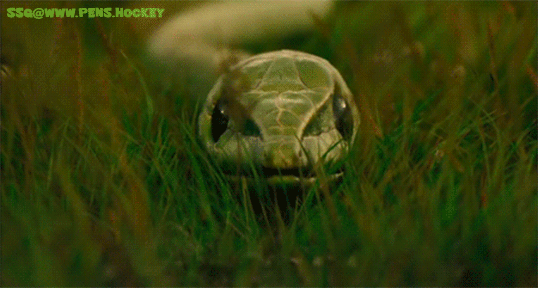 JAKE GUENTZEL (9) Assisted by CROSBY (14) & THE TANG (12) @ 7:27
That pass. Oh baby. That pass. pic.twitter.com/83WPiodSh1

— Pittsburgh Penguins (@penguins) November 25, 2018
Crosby's vision must be in panorama. No other way.
Not long after this, Sprong and Sheahan managed to get a 2 on 1. Sheahan passed to Sprong open in the slot. He probably could have shot, but he set Sheahan back up with a nice chance. The only problem was that he was passing to Sheahan, who was trying to make sure Riikola knows that he's the best at not scoring on this team. Korpisalo was up to the task.
Soon after, The Tang was forced back into the defensive zone. He turned and fired a pass from the faceoff dot cross ice to the opposite blue line, off the boards and right to Mr Crosby. Crosby turned and walked around Nutivaara, who wound up on his face. Crosby and Jake decided that their goal earlier worked, so they'd do it again. The BJs took a lesson from your mom and let another man in the big gap open down the middle.
JAKE GUENTZEL (10) Assisted by CROSBY (15) & THE TANG (13) @ 16:31
https://twitter.com/penguins/status/1066493775302860800
Tell me how this play goes from here: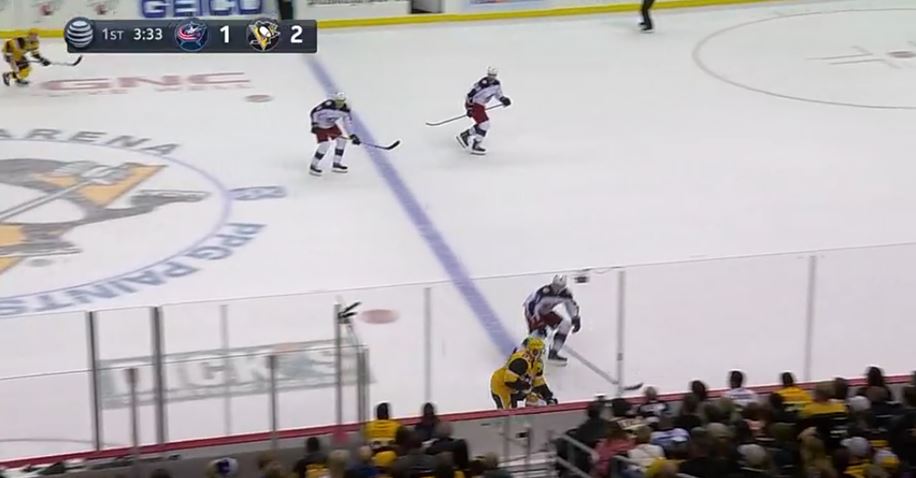 To here: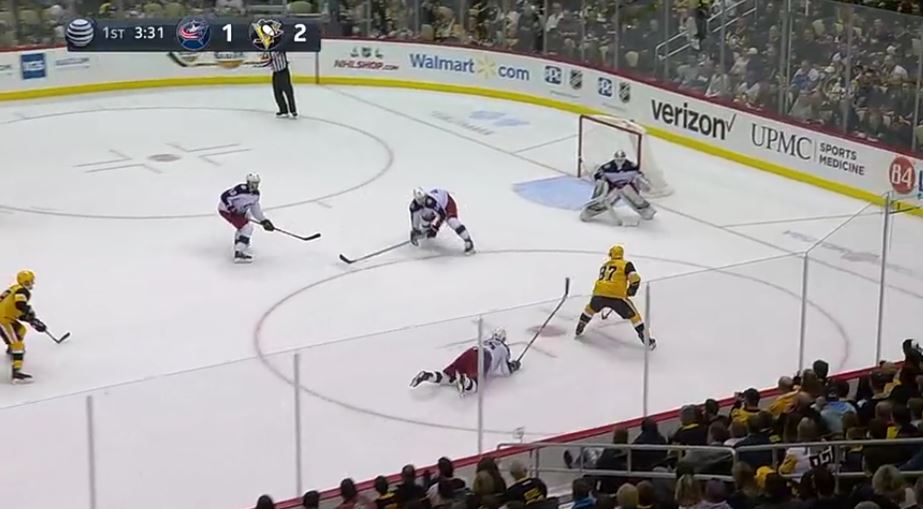 In 2 seconds. Next level defense from Columbus. Crosby continues to dad dick the league at this point. Nothing else happened the rest of the period, good news for CBJ.
First Period Stats
Numbers after 20 minutes of play ⬇️ pic.twitter.com/2xYY2PiVsM

— Pittsburgh Penguins (@penguins) November 25, 2018

Simon had left after running into the boards awkwardly in the first, but he returned for the start of the second. Early in the period Sprong got a puck and carried it the length of the ice. He shot the puck on net and found it back after a block. For the second time in the game he made a nice setup, but this unfortunately also went to Sheahan, who was on a mission to prove that he's best on the team at not scoring.
A little later Bryan Rust was sprung on a breakaway after a swing and a miss by Murray at the blue line. He made sure he threw his hat into the ring in the discussion of Best at Not Scoring Goals.
Guentzel followed this up by going 1 on 1 with a defenseman from Columbus and undressed him, but hit the post with his backhand bid for a hattrick. Unfortunately, on the counter rush Wennberg put one in the net. Fortunately, Jack Johnson pushed Duclair onto DeSmith so the goal was disallowed. Columbus had another high danger chance when Dumoulin blew a tire, but DeSmith made another big DeSave. The Penguins got some more pressure and a puck came to Johnson at the point. He fumbled it and Atkinson took advantage. He weaved his way into the penguins zone and took an innocent wrister that was missed by both Johnson and DeSmith. 3-2 Pens. That one needs to be stopped.
CAN YOU SMELLLLLLLLL WHAT CAM. IS. COOKIN'.#CBJ pic.twitter.com/beUlre7huv

— Columbus Blue Jackets (@BlueJacketsNHL) November 25, 2018
Fortunately for the Penguins, Columbus forgot that this isn't April, so they shit the bed and let Jake Guentzel score another goal. Crosby chased a puck down in the corner and fed the puck to The Tang at the point who quickly fired it on net. Korpisalo gave up a big rebound (pattern) that Simon put back on net, then Korpisalo was feeling adventurous, so he gave up another (see what I mean). This time Jake Guentzel chipped the rebound backhand over Korpisalo.
JAKE GUENTZEL (11) Assisted by SIMON (7) & THE TANG (14) @ 15:54
https://twitter.com/penguins/status/1066508676599558145
Including playoffs, Guentzel now has 2 HTs (and 9 total goals) in his last 8 GP vs. Jackets.

— Bob Grove (@bobgrove91) November 25, 2018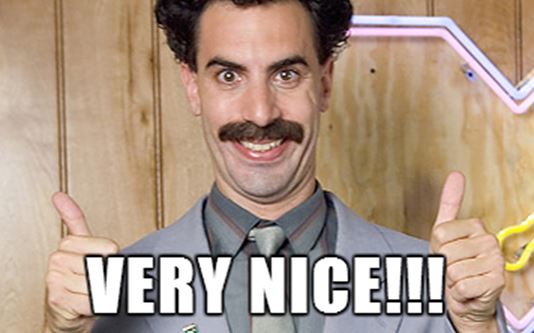 With 5 seconds left in the period, the penguins decided they weren't done. Malkin dug a puck out from behind the Penguins net and fed it to Phil! up the wall. He passed it to Pearson who fired on net and a rebound (still happening) came to Phil! who buried it five hole. Go figure, a team with John Tortellini coaching forgot about Phil Kessel.
Just sitting around the house tonight w my dog. Felt like I should be doing something important, but couldn't put my finger on it.

— Phil Kessel (@PKessel81) September 21, 2016
Tortilla decided to review the play and Phil!'s foot was offside, so no goal. Korpisalo didn't let up a goal in the last 5 seconds, so on to the third.
Second Period Stats
Here's a look at your stats after the 2nd period of play. pic.twitter.com/ETE3ayV22c

— Pittsburgh Penguins (@penguins) November 25, 2018
With the Pens up 4-2, they just need to shut down Columbus and hold the lead. They managed this pretty well until 9 minutes into the period. They decided to hold the lead by giving up a 4 on 1, the 1 being Jack Johnson. Luckily DeSmith made another big DeSave. 
Halfway through the 3rd Fo-lick-no tripped? hooked? slashed? The Tang, first penalty of the game either way. The first half of the powerplay was butt. The second half was much better with good possession, a few too many passes, and some good opportunities.
Riikola followed the powerplay with a bad turnover in the neutral zone. 2 on 1 the other way, but the BJs missed the net. Riikola then (presumably because he was grounded by Sullivan) went down the runway for about 2 minutes, then returned to the bench.
With 2 minutes remaining, the Refs realized that they hadn't called a penalty on the penguins in 2 games and didn't want the rest of the league to know that they favor the Penguins, so Bryan Rust went for tripping. Crosby missed the net by inches from the dots in the defensive zone. He'll probably practice that tomorrow so he never misses that shot again. Columbus had good opportunities but DeSmith didn't allow any more DeGoals. Game.
CHILL THOUGHTS
1) Malkin, Kessel, Pearson = Good
2) Crosby, Guentzel, Whoever = Good
Crosby line was hard-matched to the Panarin line and Crosby more or less owned the puck.

All game charts: https://t.co/0uu4Lsdooo pic.twitter.com/dj3zk3M3VC

— Micah Blake McCurdy (@IneffectiveMath) November 25, 2018
3) The rest of the bottom six still needs to get points, but they're looking better
4) Sprong with a solid game, but I don't think he touched the ice in the 3rd.
5) I like Riikola, but he's been snakebit trying to score since the preseason
6) The Penguins trying to clear their own zone is an adventure.
7) Points in 4 straight games. 6/8 points is very good all things considered.
8) Overall a very solid game in a must win situation.
THREE STARS
Three stars.
Three Penguins.
…And three goals for @jakenbake20. pic.twitter.com/UGz8fohxk8

— Pittsburgh Penguins (@penguins) November 25, 2018
Thanks for reading…CHILL OUT


Loading ...