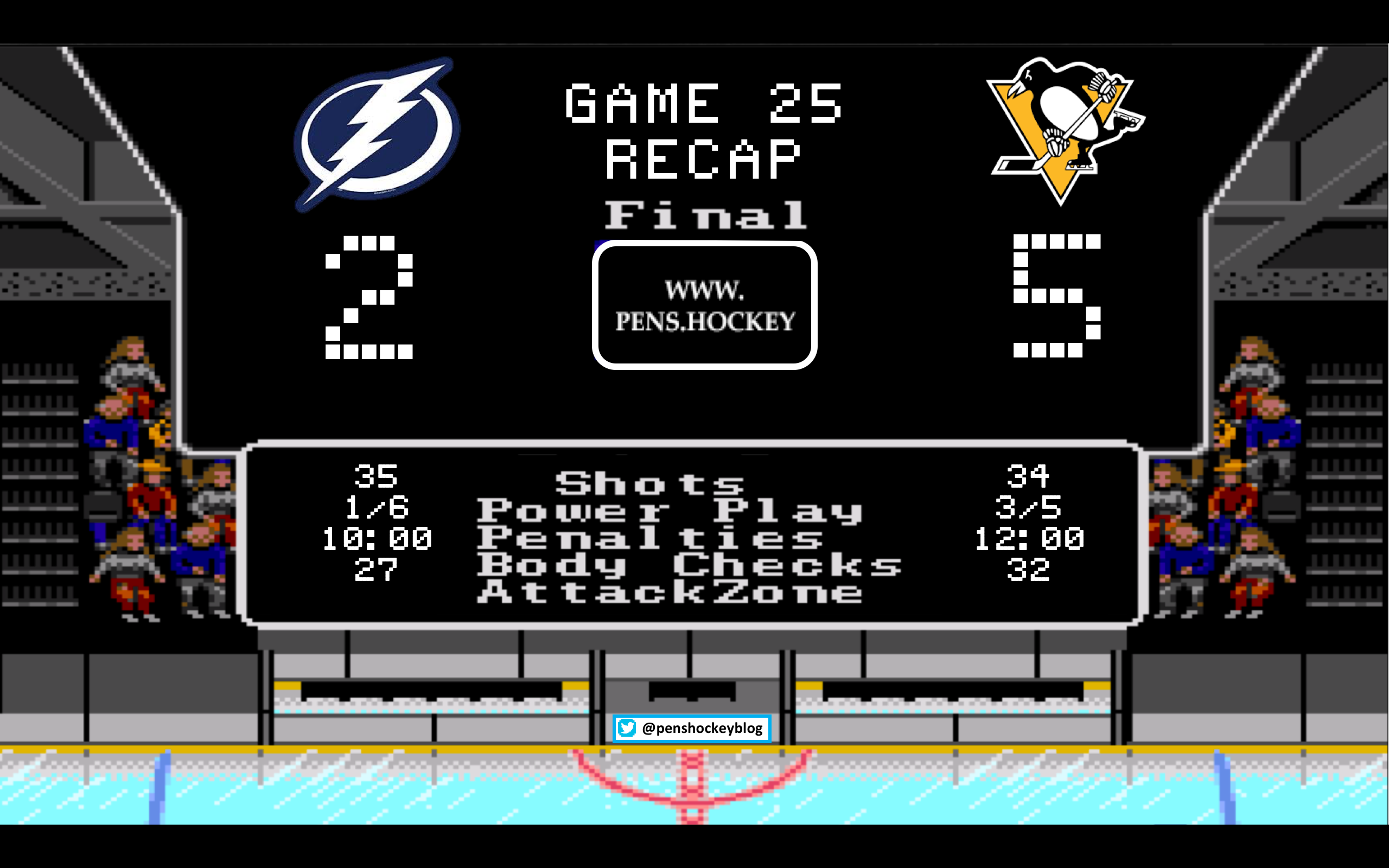 This was the first game for Chris Kunitz back in Pittsburgh so the Pens honored him:
https://twitter.com/penguins/status/934577946890833920
Very good tribute, though it loses a bit of its meaning considering Pouliot also got one.
The Penguins came into this game with more questions than answers. Luckily for the team they got the start they wanted in the first period and they didn't look like dog shit. Unfortunately for the Pens Jake Guentzel was called for a double-minor high sticking penalty at the 11:21 mark, this is generally not a good thing against Tampa. tampa was all over the Penguins in the first 3 minutes of the powerplay but Jarry held his ground and Bryan Rust gives no fucks.
BRYAN RUST (3) Assisted by JARRY! @ 14:36 SHG
https://twitter.com/penguins/status/934583062473650176
Great play by Rust to chip it to himself though it was a little risky considering the bounces the Penguins have been having. Once he was in the clear there was no mistake, he then decided to do the old "jerking two guys off on my pornstache" as a celebration:
https://twitter.com/penguins/status/934591706128842752
There's the money shot.
Jarry and the Pens uncharacteristically killed off the rest of the penalty and two minutes later it was Cedric Paquette, formerly of Downton Abbey, getting his stick up in Crosby's grill. I'm about 82.9% sure Crosby bit his lip following impact and drew just enough blood for it to count as a double-minor. The powerplay looked solid but couldn't find the net, then Conor Sheary entered the zone with steam and was tripped up by Anton Stralman with 30 seconds left in the kill. The Penguins wasted no time on the 5 on 3 after a Letang shot was blocked and Patric Hornqvist fought like a starved pit bull to get the loose puck to Sid…
PHIL KESSEL (10) Assisted by CROSBY (13) & HORNQVIST (7) @ 18:03 PPG
https://twitter.com/penguins/status/934586162055909377
The gif doesn't give Hornqvist enough credit, he was at the top of the crease when Letang's shot was blocked and beat all three Lightning to the biscuit. The best news for the Pens was the goal technically came during the first of the original double-minor penalty meaning the team would continue a 5 on 3 for 2 minutes and I can type the Penguins scored on a double minor without feeling sleazy.
It was at this point that everyone felt it. That feeling we've all had over the last two years that this team puts into your chest, you just know when they are feeling it, it's this odd organic aura that they carry on the ice and you know they are going to score. Following the second goal the Pens had that swagger about them and God damn if it wasn't nice to feel that feeling again. Sure enough Justin Schultz would find Kessel, and Phil skated through 4 different zipcodes before finding his bitch:
SIDNEY CROSBY (8) Assisted by KESSEL (19) & SCHULTZ (5) @ 19:26 PPG
https://twitter.com/penguins/status/934586892158423040
It would be wise for the President to put Mr. Kessel into the Senate because Phil the thrill can pass the bill. What an absolute wicked pass to Crosby. The period would end. Tampa was pissed. The Penguins were happy. What a sport.
https://twitter.com/penguins/status/934587389166735360

Every person watching this game had a feeling the Lightning were going to bring it to start the second period, and they were all correct. The Lightning were trying to establish offensive dominance as Steven Stamkos entered the slot and Tampa looked to get him the puck in a prime spot. They would've gotten away with it too, if it weren't for Jake Guentzel and his amazing backcheck:
PHIL KESSEL (11) Assisted by SHEAHAN (5) @ 2:22
https://twitter.com/penguins/status/934592030931603456
Sheahan with yet another smart pass with a touch of patience to find a breaking Phil Kessel, and Phil the Thrill fired up his grill once again. Don't look now but Riley Sheahan has points in 5 of his last 6 games.
After not getting the start to the period they wanted Tampa would eventually get a powerplay at the hands of Phil Kessel slashing, and this time the penalty killers looked a little bit more familiar.
Ondrej Palat would finally beat Tristan Jarry to make it a 4-1 game.
The rest of the period was a lot of the Penguins except for another Tampa powerplay that resulted in some stellar work by Jarry:
https://twitter.com/EvgeniMaIkinEgo/status/934596340042162176
This was one of his best of the night, but he also stopped Stamkos on a breakaway and overall looked very good in this one… and then there is this guy lol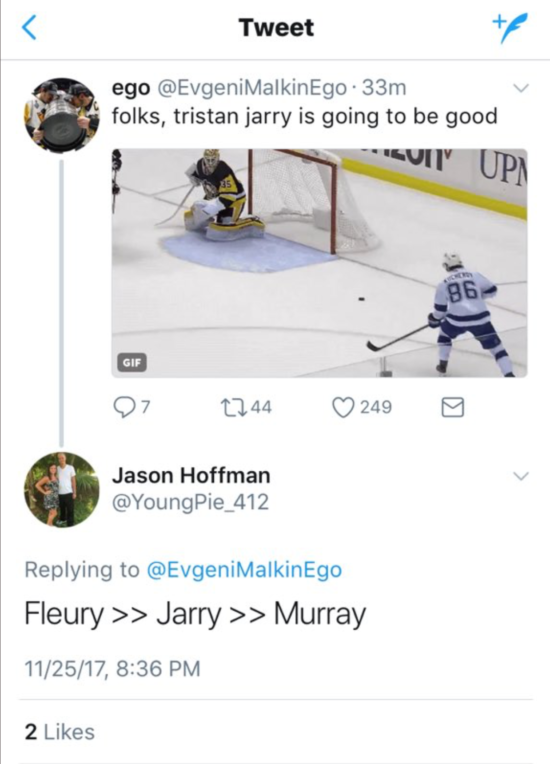 We may have to start a new weekly post on here called hot takes exposed.
https://twitter.com/penguins/status/934600926555443200
The third period was going to be all about the Penguins not shooting themselves in the foot. 3 minutes into the period Conor Sheary continued working his ass off and drew yet another penalty when Mikhail Sergachev interfered with him. 20 seconds later Dan Girardi was called for closing his hand on the puck and the Penguins were once again on a 5 on 3. This time the Captain decided he didn't need any help:
SIDNEY CROSBY (9) Assisted by KESSEL (20) & SCHULTZ (6) @ 4:41 PPG
https://twitter.com/penguins/status/934608799889059840
Just a perfect shot by Crosby, his third point of the game and his second goal on his third shot. Prior to the goal the puck floated off the glass and in one motion Crosby batted it out of midair and to his defender, because why not? Don't look now but Crosby is at 22 points in 25 games, almost back to his normal point per game pace…The dragon may be awake, I repeat, the Dragon may be awake.
https://twitter.com/SynonymForWet/status/934606125756026880
The Lightning scored again at some point but nothing was keeping Tristan Jarry from earning his first career NHL win.
GAME
Thoughts:
– Tristan Jarry goes 26/27 even strength and 6/7 while shorthanded to turn in a .943 save percentage while earning his first win. He had multiple stellar saves and possibly backed GMJR away from a veteran goalie trade, at least for now
– 83% on the penalty kill (5/6) and 60% on the powerplay (3/5), damn.
– The fourth line had a few very good 4th line shifts, but somehow Reaves still only played 3:54 which felt like more
– Riley Sheahan had a very strong game on the penalty kill, and he has obviously benefited from playing with Kessel and Guentzel offensively. This could be nothing, or it could open up a top 6 spot for Daniel Sprong with Geno and leave Sheahan and Kessel together…
– Jake Guentzel, Conor Sheary and Bryan Rust did so many little things that won't show up on the scoresheet in this one, it looked like 2015 all over again
– Due to the new formatting from our hosts system update some features in this writeup are off. Here is the link to the nhl stats page that is usually embedded in the banner: Stats link: https://www.nhl.com/gamecenter/tbl-vs-pit/2017/11/25/2017020353#game=2017020353,game_state=final,game_tab=stats
Also I had to type most of this write-up with white font on a white background, so forgive me if there are any issues. Brendan is in the process of reformatting the site and it should hopefully be up and going later today! As always, thanks for reading!

A double header here, first from two games ago:

Baby (doesn't got) Backes
"Being a location scout, my office is on my back..." -Some woman in a Microsoft Surface commercial (60%, 12 Votes)
"There's the thrust right on the waiting Krejci, and all he's looking at is the yawning cage." -PeeAir (15%, 3 Votes)
"The first thrust of the contest" - Doc (10%, 2 Votes)
"They're going to the box too often" - Milbury (10%, 2 Votes)
"He's gotta be all tingles right about now..." -Milbury (5%, 1 Votes)
"Ya gotta go with the hot hand" - Milbury (0%, 0 Votes)
Total Voters: 20

Loading ...
And here's last games:

Cleaning the Kucherov and breaking the Hyman
"Strallman puts his stick between his legs and goes to the box for it" - Errey (28%, 7 Votes)
"Jarry squeezes it in his left hand" - Mears (16%, 4 Votes)
"Watch Tyler Johnson. He'll come down like ANYONE would do in this situation" - Jay (16%, 4 Votes)
"He comes at such a great speed" - Errey (12%, 3 Votes)
"Sheary tried to go down low for Hornquist" - Mears (8%, 2 Votes)
"Guentzel's stick definitely came up"- Errey (8%, 2 Votes)
"Watch him block it down to his knees, you have to do it" - Errey (4%, 1 Votes)
"Now, they're sayin he's spittin' blood. We want more." - Errey (4%, 1 Votes)
"Don't touch anybody. We're gonna see a flop or something." -Errey (4%, 1 Votes)
"Rowney from the neutral zone, able to easy it in" - Mears (0%, 0 Votes)
"A little backdoor for Stamkos" - Mears (0%, 0 Votes)
"You see it just glaze off the jersey" - Errey (0%, 0 Votes)
"Couldn't dangle past Carl Hagelin" - Mears (0%, 0 Votes)
"He got moar body over there than I would have thought" - Errey (0%, 0 Votes)
"Carter Rowney....blows a tyre" - Mears (0%, 0 Votes)
Total Voters: 25

Loading ...