The Penguins celebrated Star Wars Night, which was kind of odd considering they haven't done so for the first 26 movies of the franchise. Regardless the team ran with the idea:
https://twitter.com/penguins/status/938940855360073728
https://twitter.com/penguins/status/938935033766776832
https://twitter.com/penguins/status/938923035104546816
Pretty bad ass image to be honest.
Following a rare home loss to a Metro division team the focus for the Penguins was on starting this game strong. For the first two minutes they looked pretty good until all momentum building was halted at the hands of an Evgeni Malkin cross-checking penalty. The Penguins penalty kill continued their strong work of late and handled the Islanders PP (#hockeyporn) with relative ease.
Following the kill both teams were able to get to their games, which are both heavily rooted in quick transition and little offensive zone possession. Two teams playing quick strike offense is always fun to watch and this was no different, it was very pleasing to see the Penguins defense completely contain the Islanders offense for most of the period. Eventually Anders Lee took a penalty for having a plural first name and it was the Penguins turn on the powerplay. As we've grown used to, the powerplay looked good with a ton of passes, and eventually Letang got a puck through to Johnny Bravo:
JAKE GUENTZEL (13) Assisted by LETANG (21) & MALKIN (18) @ 12:17 PPG
https://twitter.com/penguins/status/938931946356342785
Kris Letang remembering how to shoot low and on target has been a pleasant surprise this season. I would take 6 low shots with 1 resulting in a deflection on goal to 10 shots on goal from Letang any game of the year. Kris Letang now leads all defenders with 21 assists by the way, not a bad stat considering he isn't playing his best hockey.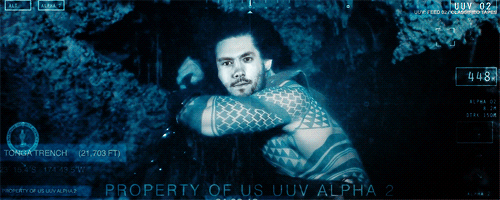 Great hands by Guentzel on this goal, the kid just keeps scoring goals in multiple ways… what more is there to say about him? It would be amazing to see him represent team USA in the Olympics on a line with Auston Matthews……..
The Penguins would continue getting pressure on Halak but the one goal was the only one to get by him in the frame. Tristan Jarry wasn't tested often, but just about every one of the 6 shots he faced were grade A scoring chances.
https://twitter.com/penguins/status/938934254515425281
Nerd moment: If the skating penguin was holding a light saber like that he would lose his right hand fin wing, just saying.

The Penguins started the second period off with the same step they carried through most of the first, momentum that saw Phil Kessel get sprung on a breakaway that he miiiiight have been hooked on but not enough to call apparently. Much like the first period the Penguins ruined their early momentum with a too many men penalty 2 minutes in. The Penguins penalty killers were up to the task again, though the Islanders powerplay looked much more threatening and made Jarry make a few good saves. The Islanders built off of their powerplay momentum and continued packing the heat for the next few minutes until Jordan Eberle was able to clean up some garbage on the doorstep.
https://twitter.com/NYIslanders/status/938941269006540801
Carl Hagelin has decided that playing dead isn't just for his offensive game anymore. Kris Letang with the WWE smackdown move. One thing I have noticed about Jarry is that though he is very patient on shots and breakaways he is like MAF on crack in scrambles.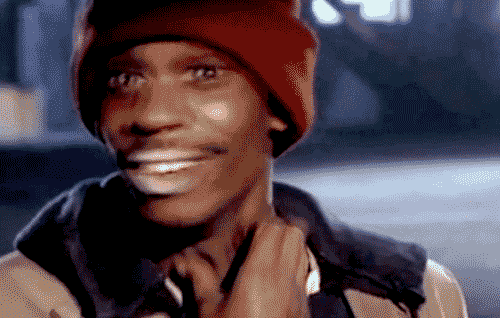 Following the tying goal the Penguins thought it would be an amazeballs idea to take a bunch of penalties, so they did just that. Not only did they take the penalties, but they were bad penalties to take, especially Guentzel's needless slash. The Islanders powerplay looked every bit of the top ten powerplay that it is, and controlled the puck in the offensive zone for nearly every second of every powerplay. The Penguins penalty killers were absolutely fantastic in every situation, blocking pucks and taking away the cross ice passing lanes that the Isles were trying to use to setup the one-timer. Unreal job by the penalty killers to get through this period tied at 1.
In addition to the PK, Olli Määttä was really strong in this period and did a lot of things that probably went unnoticed by most watching, but it was one of the best periods of his season.
https://twitter.com/penguins/status/938947596911030272
13-7 shots advantage for the Islanders in the period, funny how the Islanders had many good looks on their powerplays and the lone goal came off of crashing the net and cleaning up the trash… such a familiar story.
During the intermission you have to think that Mike Sullivan was threatening to knock off some of the players grandmothers if they took another bad penalty, probably made Conor Sheary shit himself. The Penguins were able to finally start rotating through their lines, but the Islanders were there to answer back. At this point I was regretting my 2-1 sarcastic prediction, and then Mayfield tripped up Bryan Rust behind the goal to give the Penguins a powerplay at 6:41. 40 seconds later it was the chosen one snagging the lead for the darkside:
PHIL KESSEL (14) Assisted by LETANG (22) & CROSBY (18) @ 7:29 PPG
https://twitter.com/penguins/status/938955967894622208
Not much to say here that hasn't already been said during this incredible start to Phil's season. Look at the placement of this shot on the slow motion gif.. now remember that multiple idiots in Toronto still think they won that trade.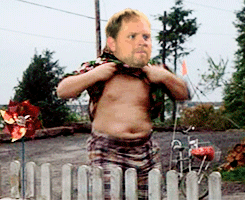 Just an absolute laser. There isn't much Halak could do there but try and forget about it, which he was easily able to do in 32 seconds when he had another goal to worry about:
RILEY SHEAHAN (2) Assisted by HALAK & HAGELIN (3) @ 8:01
https://twitter.com/penguins/status/938956635782963201
What in the actual fuck was Halak doing here I have no clue…  Of course he got negative help from his defenders here as literally none of them attacked Sheahan following the turnover and gave him 20 feet to skate towards the goal.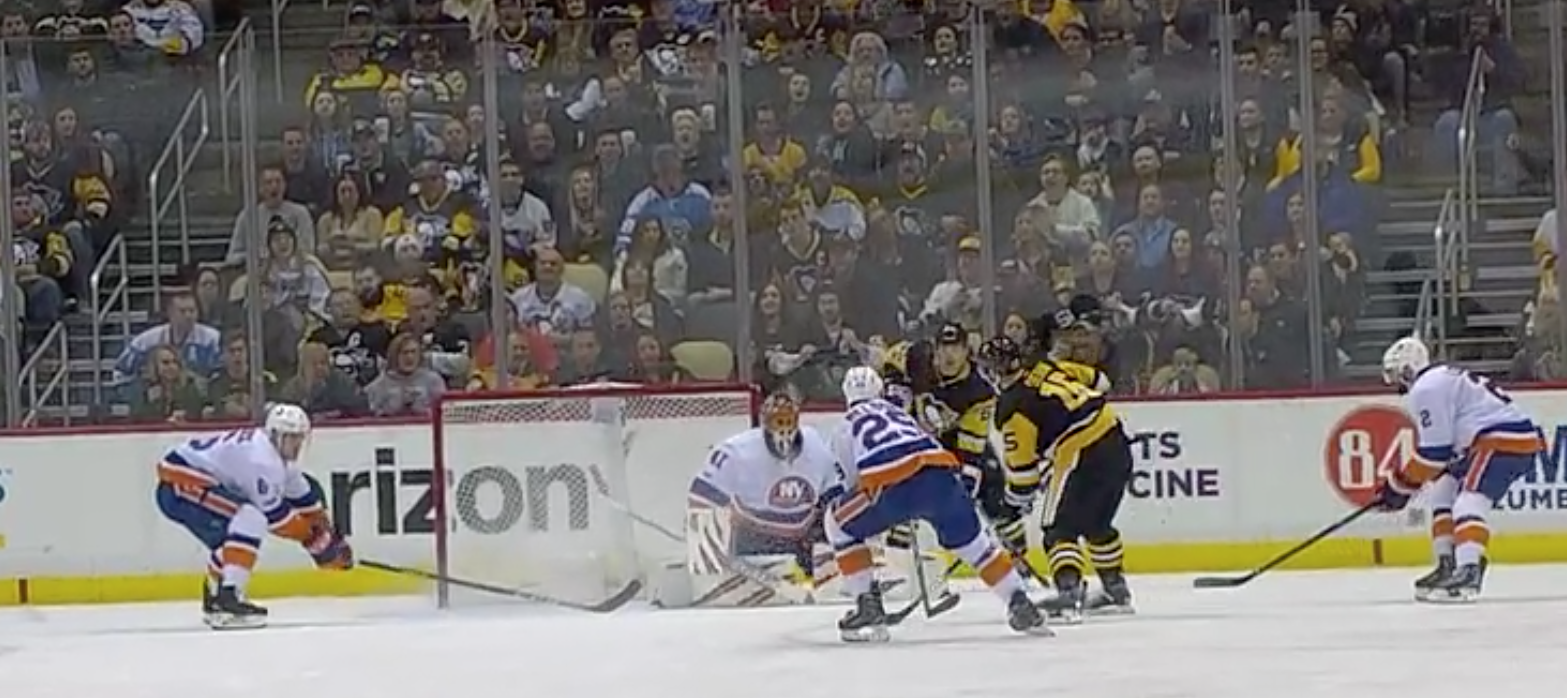 What an angle taken by Halak here, this is the same guy that singlehandedly stopped the Penguins from their third consecutive Eastern Conference Finals in 2010.
Riley Sheahan with his first real goal as a Penguin and the boys were rolling. The Islanders were deflated and the Penguins kept pouring it on, by the next television timeout with 8:13 left in the period the Penguins were outshooting the Islanders 7-1.
The Penguins continued threatening including a post on a breakaway by Bryan Rust, shots that just missed by Guentzel and Malkin, and Ryan Reaves trying to hit Clutterbutt. To their credit the Islanders didn't cave like they would've a few years ago and eventually a bouncing puck landed on the right side of Barzal's stick:
https://twitter.com/NYIslanders/status/938958918256128000
The rookie continues his impressive campaign. The Islanders were balls to the wall following the goal and the Penguins were doing everything they could defensively. Phil Kessel got a golden opportunity and put it off of the post. 30 seconds later the Islanders get sustained pressure with their goalie pulled and the Penguins defense was just worn out:
https://twitter.com/NYIslanders/status/938960070393688064
15 seconds later Anders Lee beats Tristan Jarry but the puck just knicks off the post and out, and this game was heading to overtime.
3 on 3 between two Metro teams….jesus titty fucking christ.
The opening 30 seconds resulted in Mathew Barzal getting stoned by Tristan Jarry, and Jake Guentzel coming up short on a 2 on 1 with Crosby.
The Islanders got a mini-breakaway after Riley Sheahan fanned on a shot but Jarry stood tall, saving the game once again.
Finally Bryan Rust drove to the net but lost the puck, have no fear because crease crasher Matt Hunwick was there…
MATT HUNWICK (3) Assisted by RUST (12) @ 1:29
https://twitter.com/penguins/status/938962933794689024
Hunwick scores on his team leading 7th shot of the game… let that sink in.
GAME
---
Thoughts:
The Penguins definitely addressed their back checking issues as the team looked much more defensively responsible throughout this one
Olli Määttä and Brian Dumoulin with very strong games in the absence of Justin Schultz. Kris Letang picked up his overall game nicely to fill the void as well, and is currently leading all defenders with 22 assists.
Tristan Jarry continues to play good enough to win, which is all you need from a backup. This experience with Murray out could prove to be extremely valuable down the stretch. Jarry's play in the second to keep the game tied was a huge factor in this game
Winning the special teams battle can make a huge difference, the Penguins going 4 for 4 on the penalty kill is the only reason they escaped this game with 2 points. Huge round of applause to the penalty killers in this game. Just look at these short handed time on ice totals: Sheahan (4:14), Rowney (3:42), Hagelin and Kuhnhackle (3:39). Sheahan almost played more shorthanded than Reaves played the whole game. Letang, Dumoulin and Cole were all at 4 minutes also. Major props to those gentlemen for their work in this one
The Metropolitan division is freaking scary good and ridiculously close

Sheahan batting away the Hickeys
"Guentzel again, just a little tip, that's all it took." - Errey (18%, 4 Votes)
"I got my saber up here." – Errey (18%, 4 Votes)
"I would expect they'll only come harder" - Sith Potash (9%, 2 Votes)
"he was the best. and, of course, his uncle really was the best!" - Errey (9%, 2 Votes)
"The damage is done, and the evidence is on the ice" - Errey (9%, 2 Votes)
"Kessel got on the ferris wheel... he can score from there, can he not?" - Errey (9%, 2 Votes)
"He got his stick wacked, and you could feel it" - Errey (9%, 2 Votes)
"Hunwick gets a big one" - Caufield (9%, 2 Votes)
"I love how wide Kessel was there." – Errey (9%, 2 Votes)
"Halak is not playing the body of Hornquvist, he's playing the stick." - Errey (0%, 0 Votes)
"You gotta like that, big man. I'm lookin at him right now up in the box." – Errey (0%, 0 Votes)
"He thought he took a stick in the mouth!" - Errey (0%, 0 Votes)
"Just lookin' for a touch there." – Errey (0%, 0 Votes)
"He's so good down low, creating so many things here." – Errey (0%, 0 Votes)
"its a half-slapper. he's not tickling the Stanley cup banners." - Errey (0%, 0 Votes)
"Just such an easy call for him to make for that big long...kind of tomahawk...umm.. axe like movement." -Errey (0%, 0 Votes)
Total Voters: 22

Loading ...