This is the time of year where a lot of things that have no meaning are turned in to dramatic storylines. I mean hell, 5 of the potential 7 games of the Stanley Cup Finals are aired on NBC primetime so they need something to replace their usual lineup of shows. Here is a storyline for you: it was a cool spring night, May 13th, 2017 when the Pittsburgh Penguins met the Ottawa Senators for the first of a seven game series. The Penguins were only 2 days removed from a dramatic 7 game series with their rivals from Washington and the Senators had an extra 2 days of rest after winning their series in 6. The Penguins played an uninspired game 1 and lost to Ottawa in overtime. Fast forward 16 days and you see a Pittsburgh team coming off of a dramatic 7 game series play game 1 against a Nashville team that had 2 extra days of rest due to closing out their series in 6. The Penguins played some of the worst playoff hockey in the Mike Sullivan era, and while that may be true I think everyone forgot the part where they bookmarked that play with enough to win a game in the Stanley Cup Finals. "The Penguins only got 12 shots hahahaha" well then maybe you should change your "Pekker Rinne is great" argument, 4/11….. yikes. Everything is taken out of proportion this time of year, but the one thing that can't be changed is that the Pittsburgh Penguins were outplayed by a well rested team and won. Pretty easy formula right now, the first team to win 4 games gets their names etched for eternity, and there is no side story the media can spin that can say Nashville is closer to that goal right now.
I was wondering if the Penguins organization would do something other than the gold rush for this series since Nashville uses the color more than the Penguins do. The answer is no, but it also seems like less people are wearing the gold shirts so maybe they didn't give them out at all. Either way the first few shifts of the game were setting the tone for some exciting hockey and then a defensive zone turnover resulted in the puck on PK Subbans stick. Subban went to sniper school on Murray to give the Preds the lead but the Penguins video team said "not so fast."
the officials review & rule that forsberg was offside, no goal pic.twitter.com/5HQnnTl9Wq

— evgeni malkin's ego (@EvgeniMaIkinEgo) May 30, 2017
It was such a close call, one that I certainly would be pissed about if it happened the other way around, but karma is a bitch Peter:
Two things. 1) Preds offside balanced the universe after Laviolette benefitted from this pic.twitter.com/LBQ5ID6bQA

— Adam (@amc424) May 30, 2017
So in typical Penguins fashion they built momentum off of being fake scored against and got some zone time. Then Nashville pulls out their SCF V-card and takes two penalties at the same time while in the defensive zone, one an interference/trip on Hornqvist and one James Neal crosscheck away from the play, something we are all too familiar with. In a matter of minutes the Predators go from having the lead to being down on a full 2 minute 5 on 3. After a minute and a half of control and misses it was Agent 101 breaking through:
EVGENI MALKIN (8) Assisted by DALEY (3) & CROSBY (14) @ 15:32 PPG
MAKE ME A MILKSHAKE, MALKIN! What a laser! pic.twitter.com/lhMGarXGmN

— Pittsburgh Penguins (@penguins) May 30, 2017
The rest of the powerplay would expire and then Mike Sullivan wisely saw the Predators 3rd defensive pairing out so he sent out Kunitz-Crosby-Sheary, which doesn't sound like much on paper but the result was pure sex:
CONOR SHEARY Assisted by KUNITZ (4) & CROSBY (14) @ 16:37
Sheary goal pic.twitter.com/1l7iN9McH3

— steph (@myregularface) May 30, 2017
The play started with Sidney Crosby finding Chris Kunitz for a play that was oddly similar to the last play of the series against Ottawa, however instead of shooting Kuni found the Deer Lord who shook his snake bitten staff clean of all the bad voodoo that was on it.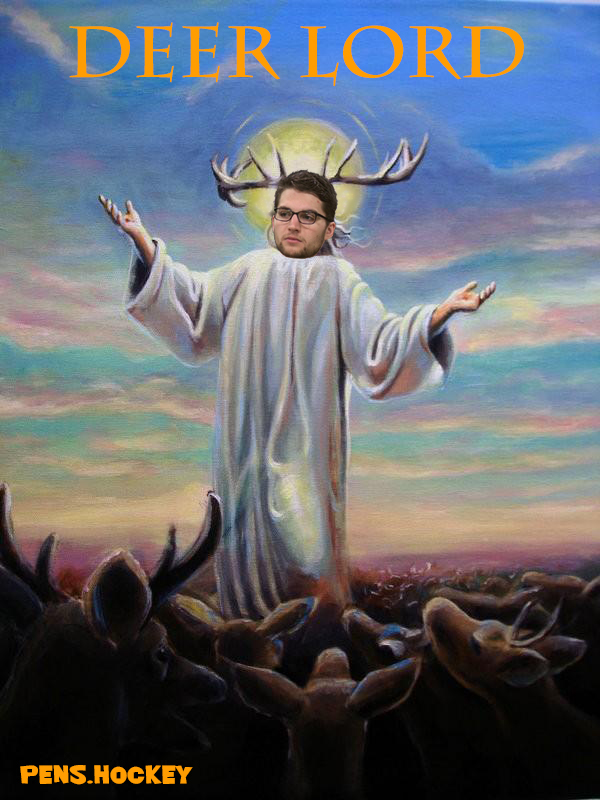 Sheary has played good hockey since his benching, and has been so close so it was great seeing him get one. It seemed as if the Penguins would take a 2-0 lead into the locker room but then Mr. Playoffs decided he would make one more rush for the Amish. If you want to see what experience looks like (other than your mom) look at this play by Nicky Bones:
NICK BONINO! …with a little help from the opposition. pic.twitter.com/koLx8WnRio

— Pittsburgh Penguins (@penguins) May 30, 2017
NICK BONINO (3) Assisted by Dumoulin (3) @ 19:43
The most important part of this play was making Rinne touch it, just the tip, and for once that resulted in the full score. Great play by Fighting Amish and oh yes, you know what time it is…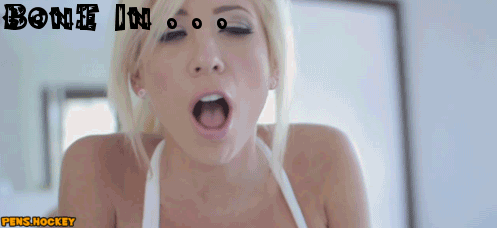 The Penguins would not be able to score in the final 17 seconds as they took a commanding 3-0 lead to the room.

What do you do with a 3 goal lead in a finals game? Well you try not to lose momentum against a team that will be bringing everything they have. Then the penalties roll in as Olli Maatta is called for interference and then Ian Cole was later called for something. The Predators cashed in on their second powerplay opportunity
Ellis goal pic.twitter.com/AM9qHh11eN

— steph (@myregularface) May 30, 2017
The Predators were then able to clog up the neutral zone with a, gasp…. 1-3-1 trap with a twist. With Ottawa the Senators dropped all four defenders on the blue line as they backed through the neutral zone. The Predators maintained the diamond formation of the 3-1 dropping three people right on the blue line and having a solo defender between the goal and the blue line. This resulted in a frustrating time for the Penguins to gain access to the zone and was truly a game changer. Nothing else would happen, as the Penguins completed the entire period without a shot. Tweet of the night:
REPORT: Tiger Woods took more shots than the Penguins did during the 2nd period #StanleyCup

— NOTSportsCenter (@NOTSportsCenter) May 30, 2017
The third period looked a lot like the second period and you could tell Nashville was pressing. 10 minutes in they inch their way closer with another powerplay goal while Evgeni Malkin paid 2 minutes for slashing.
Sissons goal pic.twitter.com/ueNilOfbC4

— steph (@myregularface) May 30, 2017
Both goals are scored the way Nashville has to score to beat Murray, lots of traffic to the net and shots that deflect. James Neal would accidentally (cough, cough) continue skating after the puck went in and his knee would surprisingly make contact with Murray's head.
The Penguins finally got the break they needed when they get a powerplay for a delay of game penalty on PK Subban, except they still didn't shoot. As the penalty expired Dr. Watson showed more heart and determination as he outraced Olli Maatta to a puck in the corner and found Gaudreau alone in front to make it 3-3. Oh boy.
Awesome work by Austin Watson down low, sets up Frederick Gaudreau's game-tying goal pic.twitter.com/HX93DHrKY8

— Pete Blackburn (@PeteBlackburn) May 30, 2017
This play was rock bottom for the Penguins in my opinion, frustrated with not scoring (or even getting a shot) on the powerplay and then just not having the effort to make a routine play here. Great work by Watson no doubt, it's the Stanley Cup Finals, there are no off shifts.
It's honestly like the Penguins just weren't interested in a 3-0 lead because it wasn't a challenge. As soon as Nashville tied it up the Penguins were playing Penguin hockey again. The only logical explanation is one my friend texted me, Mike Sullivan wants to own all of the records and knew no team has ever won when not recording a shot in a whole period before during a SCF game. While that may not be true there is one thing that is true, Mike Sullivan knows his team better than the media, and when he benched Carl Hagelin for The Jackal this is why:
JAKE GUENTZEL (10) Assisted by CULLEN (6) & SCHULTZ (8) @ 16:43
Yeah, that's as good as it Guentz.

Guentzel scores his league-leading 10th goal of the playoffs. pic.twitter.com/ins6s6aPZU

— Pittsburgh Penguins (@penguins) May 30, 2017
Uh yes, can you send this puck to Snipe City, Guentzelvania? Pekker Rinner HAS to make that save. It was the first shot on goal in over 35 minutes for the Penguins. The media is going to make that seem like a big deal, but all I see is 4 goals on 9 shots.
The Sandusky's pulled Rinne for a chance to tie it up but it was Nicky Bones reminding us all that at one point people wondered if he was worth Brandon Sutter LOLOLOLOLOLOL.
NICK BONINO (4) Assisted by KUNITZ (5) @ 18:58
#Penguins Bonino empty net goal! The #Pens take the 5-3 lead.#CallOutNews #NSHvsPIT #StanleyCup pic.twitter.com/mDFNoePcIS

— Call Out News (@calloutnews) May 30, 2017
GAME
---
THOUGHTS:
I wouldn't get your panties in a bunch over this one. I would suspect the Penguins will be able to develop a new plan for breakouts and zone entry over the next day and a half, and once that is taken care of look out. Much navigating the Ottawa trap, it's harder to do it by video alone before seeing it live. The biggest issue for the Pens by far was progressing with possession into the offensive zone, sure that up and the shots will come
Back in the early 90's the star studded Penguins teams (particularly the 93 roster) were notorious for getting 6 goals on just 12 shots, so don't buy anything the media is trying to tell you. 5 goals on 12 shots > 3 goals on 26, the Stanley Cup doesn't ask you for a resume, it just asks you for 4 wins.
Matt Murray was shaken up early in the game (first period) and then again later on. He was obviously deemed healthy enough to continue in the game but he still looked a bit hindered as it went on, much like he did against New Jersey in the last week of the season before his injury was announced. Hopefully it was just a minor pain, but if not it is nice knowing there is another cup winning goalie ready to go in.
Penguins Magic Number:
And that is all that matters baby