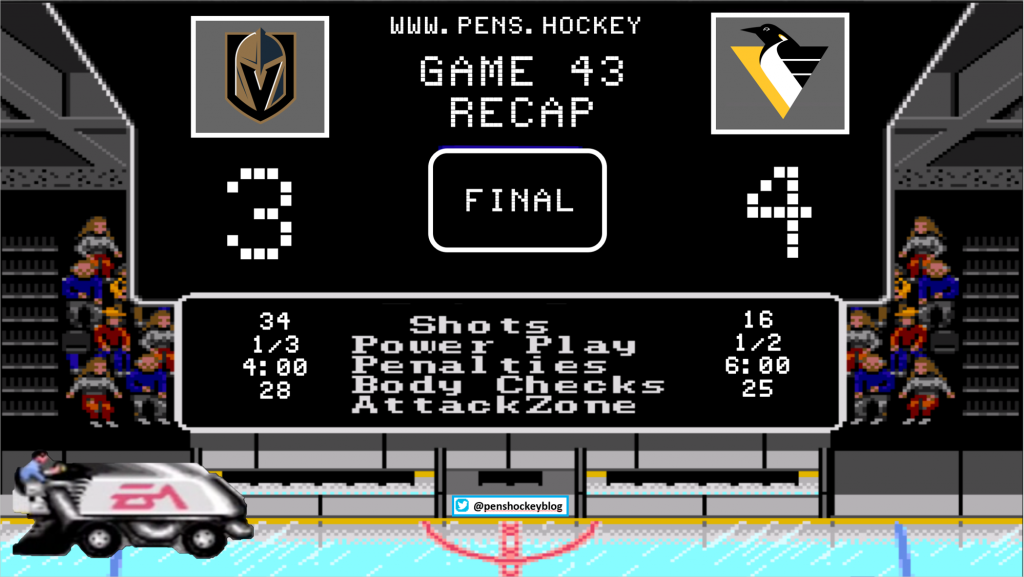 The Pens last game was a 4 to 1 loss to a middle of the pack Florida team. It was less than 19 hours since their last game, so the fact that they played flat wasn't a surprise. But its been a few days off and its time for a West Coast Swing. That means lack of sleep for the us as WE don't miss games for such things. So, get your coffee and whatever stimulants you need, we're going to Vegas Baby!
At this point, a little over halfway through the season, you know what you are. Just like the city they played in last night – they aren't hiding anything. The Pens are going to work you (well unless it's the 2nd period) as they really are Sully's team. Next man up is just what happens, it's expected.
Everyone had their hopes up for this one would bring back the Wizard of Crosby. He decided to hit the strip and drink the good stuff so he just isn't quite ready yet.
We roll with this: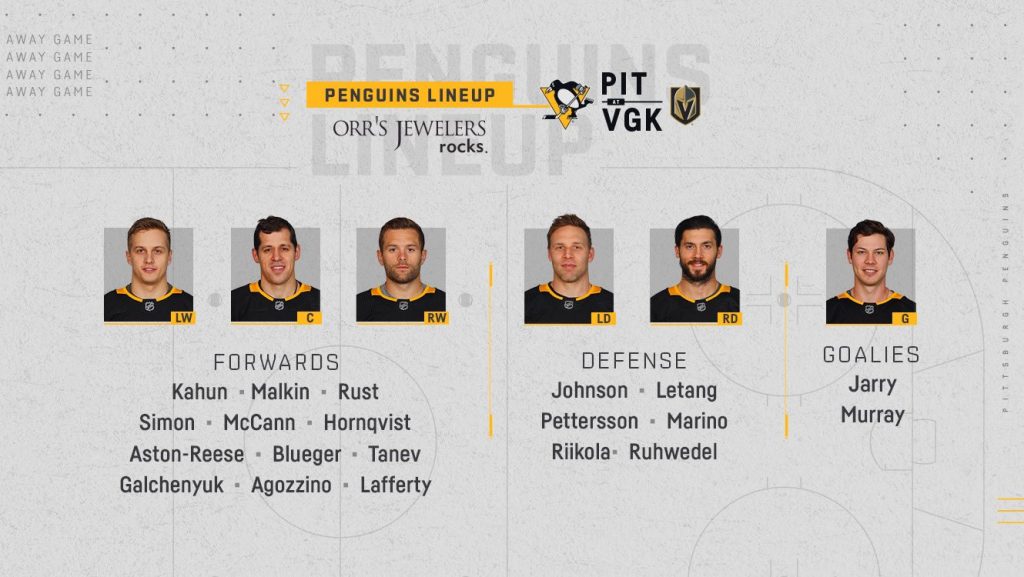 Vegas comes out flat to the start of this one and the Pens have their legs at the start. They really didn't want the play of the last game to hang over to this one. This leads to the pens get the scoring started early with shot by Kahun, rebound off Flower, off Rust and onto Geno's back hand. He really got some sizzle on the backhand shot that handcuffed Fluery and gave the Pens a the 1-0 lead.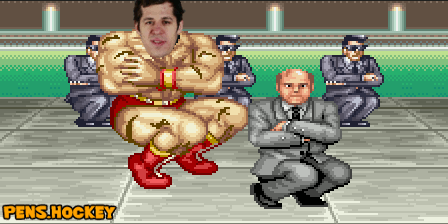 Really great tally to start off the game. As we know, an early goal on Fluery is key.

The Pens got an offensive zone face off and McCann responded with a nice clean win. Letang decided to dig himself out of the hole he has been in and tosses it over to JJ. As horny crosses from left wing and starts cutting in front of the net. JJ, aka captain FrkUp, finally did something right and shot it on goal and got the rebound the play called for. Horny gets that net front and..
OOOHHHHHHhhhmmmmeeee so Horny puts it home. Horny with 4 goals and an assist in the past 6. He is really having a bounce back year; he just needs to stay healthy.
Now the Pens have to make it interesting. Marino plays with a broken stick and get to take a seat for 2. It is often said that your best penalty killer has to be your goalie. This whole game Jarry displayed that. Jarry stood tall and the PK did their thing.
The penalty gave the Knights some momentum and our D looked like they were playing small for he last 5 minutes of the period. Letang got stuck on a 2 on 1 with JJ trailing trying to catch up. Letang played it well and took away the pass and the shot attempt was weak. JJ was able to get the puck out and clear it out. If this tandem always played like this, it would be lights out, but they don't. They keep having mental lapses. Anyway, Jarry held strong and ended the first with the pens up by 2.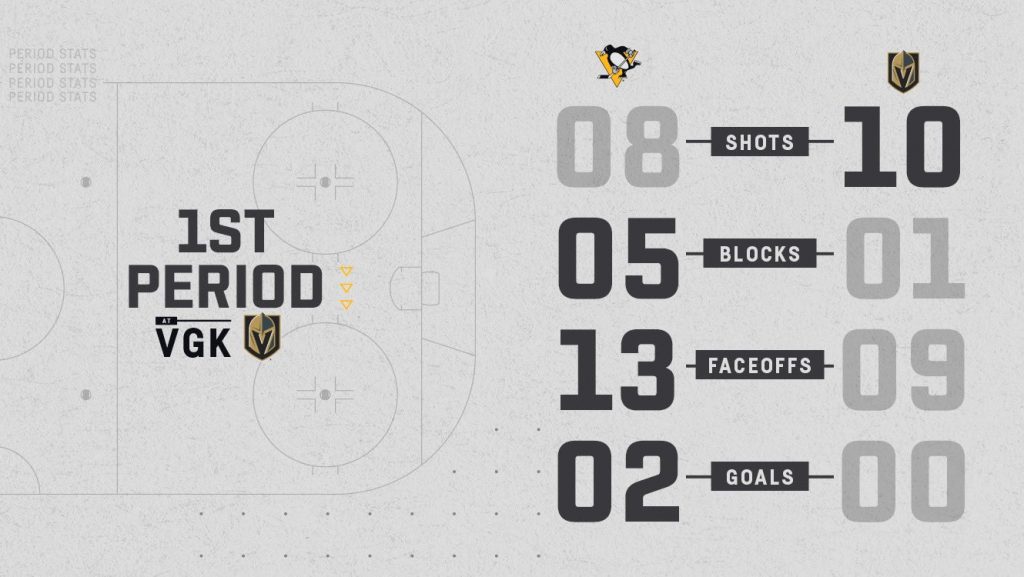 Side note: Something I have noticed is that whoever took over the broadcasts at KBL, I mean Fox Sports Net, I mean Root, I mean AT&T SportsNet really must have liked Pop Up Video or something. Bring back the 90s!
I got a Cold Snack so its time to do this.
It starts off with the Pens drawing a penalty for "HOLDING THE STICK". The ref tonight was Mccally and he really is clear and direct on his calls.
The PP was a bit weak until it wasn't. Agozzino does his best Horny impression and gets in Fluery's grill. Then Riikola makes a routine pass to Marino who sneaks down to the top of the right circle and snaps one. It bounces off a few players and ends up on Kahun's backhand and he buries it.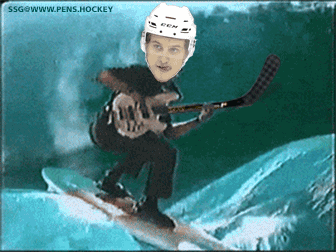 Pens are up 3 to nill and look like they are going to Sailaway like Eric Cartman.
But, Fluery had other plans and made a sick pass to get it to the pens blue line. It was carted in and the Pens just couldn't get it out of their end due to a great forecheck by the Knights.
Pacioretty with a shot that hits Letang, then JJ then goes in. This all happened because Letang got himself caught flatfooted and J.J. was being J.J. and was a pylon. Pens now up by 2 but you feel another one coming.
Soooo, take a guess who gets a tripping call? Your favorite pylon! Your favorite plug! Jack Capt FrkUp Johnson! He truly is the gift that keeps on giving!
The Knights make short work of the PP and off the faceoff it goes to Stone who passes it to Theodore. Theodore launches it from the point and Stastny tips it past Jarry. The Knight did it all, great traffic in front, quick shot from the point and the tip, just the tip and it is in.
The shots at this point are 25 to 10 in favor of the Knights. Then Pens hang on with Jarry really holding court and are able to escape the period up by 1.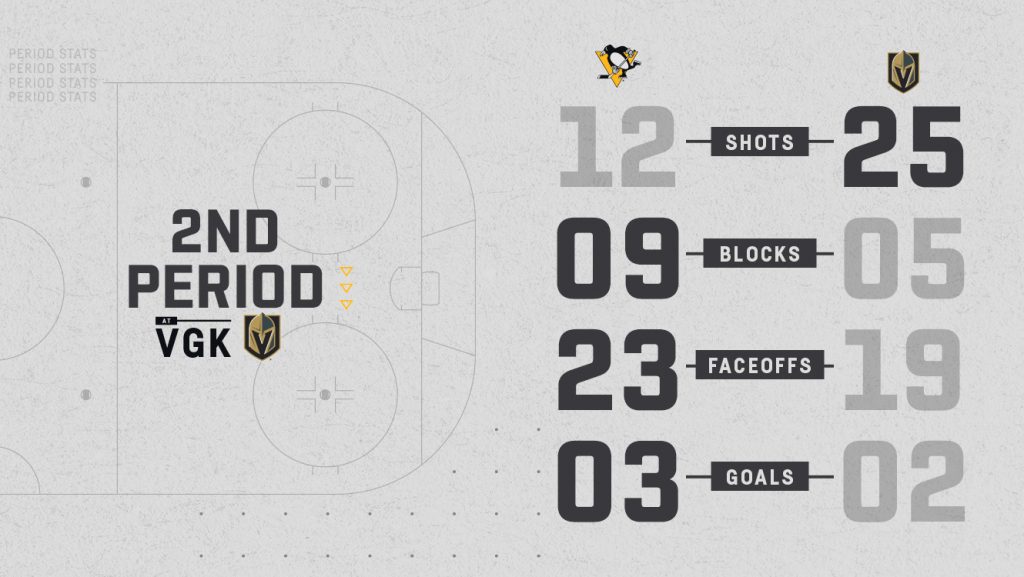 With the start of the third the Knights keep the momentum up making the Pens look a bit flatfooted at first. But, they find their legs quickly.
Letang makes a solid pay with a good clear/pass that ends up on Tanev's stick. Turbo kicks it into high gear and avoids a Fluery poke-check and buries it.
Pens now up by 2 and the momentum is now with the Pens. What a signing Tanev was! Pens up 4 to 2!
But the scoring wasn't over folks, the Knights added one more on a flukey goal by Smith. Smith shot a puck that wen up and over Jarry, hit him in the ass and went in. Nothing to really do there, these things happen. It was a nifty play by Smith for sure.
The refs wanted to see if they can help the Knights tie this one up and call a weak penalty on Malkin. The PK goes to work and the Knight pull their goalie. The Knights give a great push but Jarry just stonewalls them. With the crappy ice at the end of the game; the Pens can't find the back of the empty net to ice it. Time expires and the Pens get …
THE DEUCE!!!!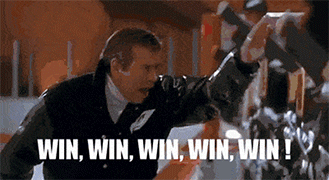 Thoughts:
– Sullivan hits 200 wins with this one. I hope he is able to double as this organizations coach.
– ZAR is a good 4th liner. He checks well and doesn't have a problem giving the other team "the business". He isn't anything beyond that. They need to keep him in this role.
– Typical Letang game. 26 minutes of ice time, 2 points and a few mental lapses. You take the good with the bad with him.
– Fluery is still Fluery. If you put a few behind him he becomes average.
– Expect a let down game or two after Crosby comes back. This team will take a deep breath. Then Sully will kick them in the ass and they will start rolling into the playoffs.
– It seems like the didn't get the Vegas Hangover this trip. I would hope they would hit the strip last night and today and hit Colorado Thursday. For once the schedulers didn't screw us.


Loading ...