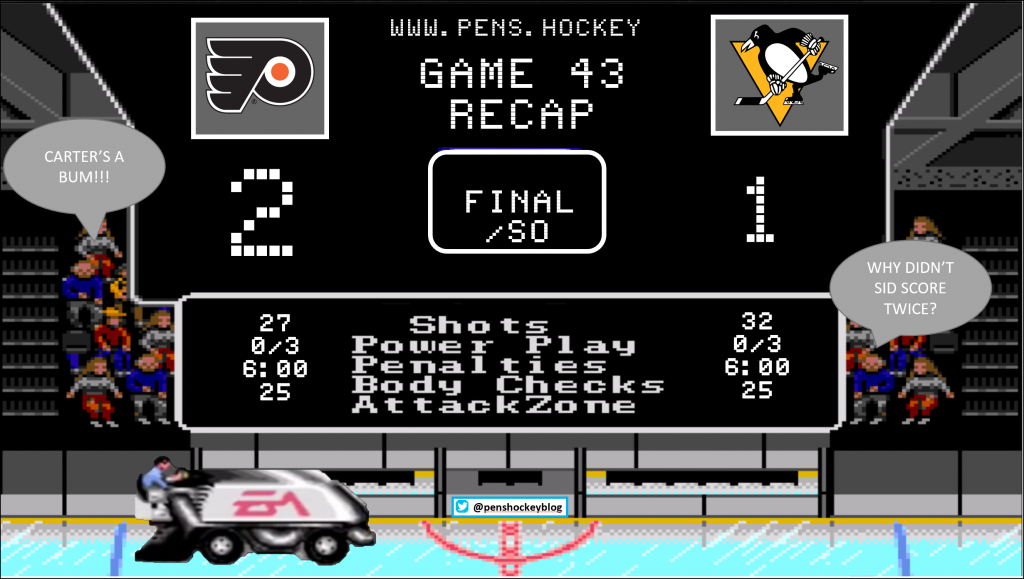 This season, the Pens have owned the Sabres and Devils, as expected. They've also been great against the Rangers and The Islanders. They're even 4-2 against the Crapitals.
Only two teams have managed a winning record against the Penguins in the Massive (Hog) Mutual East – Boston (because wtf, ALWAYS with those pricks) and… *vomits in mouth* Philthadelphia. Ridiculous, but true. So let's f**k this pig.

I mean… they played? Seriously. This was dogshit, squared. Thankfully I worked though part of it. But 8 combined shots in a period…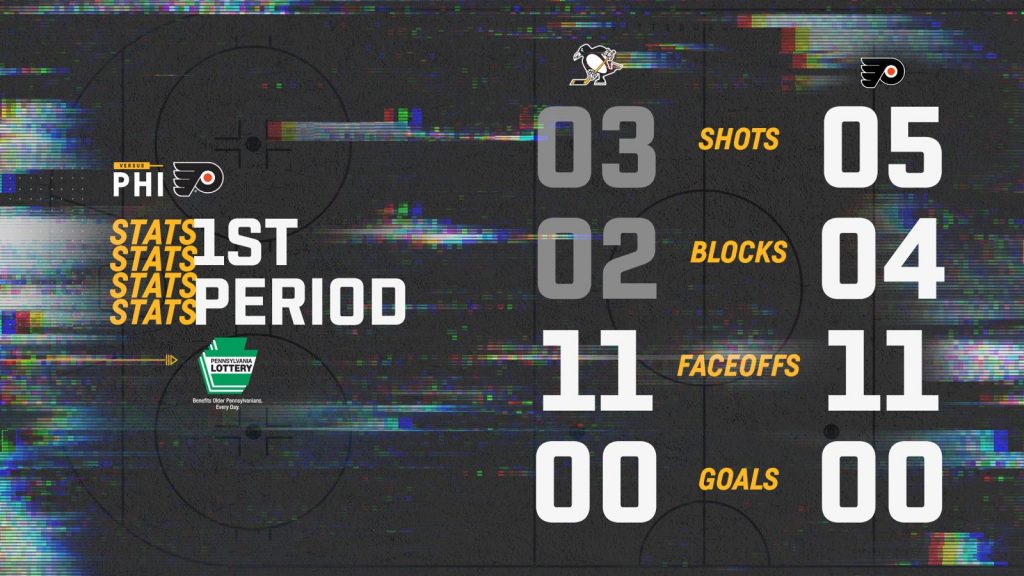 After combining for 8 shots in the first period, both teams finally decided it was time to wake up. I mean, I get that 'playoff-like hockey' is good and whatever, but 8 SOG is Devils in the 90's level garbage. Woof.
Pens would start out pushing play. In the first two minutes alone Carter, Zucker and McCann (twice) would put Hart to work after a 20 minute slumber in the first. Sadly, 'the answer' to the Flyers goaltending woes really did provided the answer this time.
A few minutes later, the Pens would be battling in their own zone after a (rare for the night) Crosby faceoff win lead to a… well, I'm not 100% sure, but I do know that Dumo broke his stick when the puck was coming the other way, and Sid, because he's a Captain, gave his stick to Dumo. OK, here's where things get interesting, so try to follow along. Since it was Sid's stick, Dumo was, of course, able to make the play and get the puck to Letang. Letang, because he's Good Letang now, knew that the right move was to take the ice he had and skate it out of danger. What he didn't know was that the Flyers had no interest in really defending so he just kept on skating. He was able to make a great inside-out move on 'random Flyer dildo' but lost the puck. Apparently Hart did too… but Sid, flying into the zone with a new stick in hand, did not.
Crosby (17) from Letang (28), Dumoulin (8) – 5:40 – EV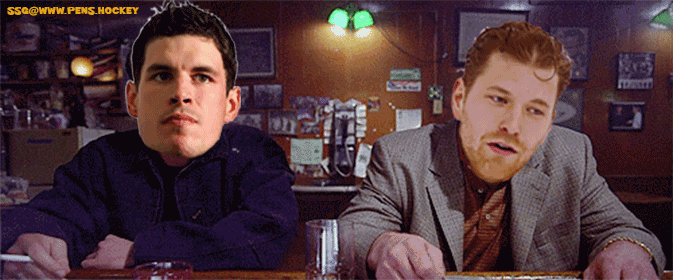 OK, so who's in favor of the NHL awarding Sid the G and the A on that tally? Dumo passed it with his stick, after all. And with a second A for second-generation Penguin Taglianetti of the equipment staff who was Johnny on the spot with the stick hand-off to Sid flying up the ice. What a fun play.
Speaking of fun plays… oh wait, nevermind. There were no fun plays for the rest of the period. In fact, at one point, we had this clown car in the Penguins crease:
At least, I think it was the Penguins crease. Honestly, can you even tell? It's entirely possible that all 10 skaters plus Jarry are in that picture. 'That's playoff hockey' said someone while I poured a bourbon.
In fairness, there were lots of shots, finally. Just not a lot of action. You know who looked good, though? Jeffrey Carter. The dude is big and menacing and even cleared his own crease once. Not to mention took several shots, which is never a bad thing. None got through, however, and the home team would have to settle for a one goal lead after 40.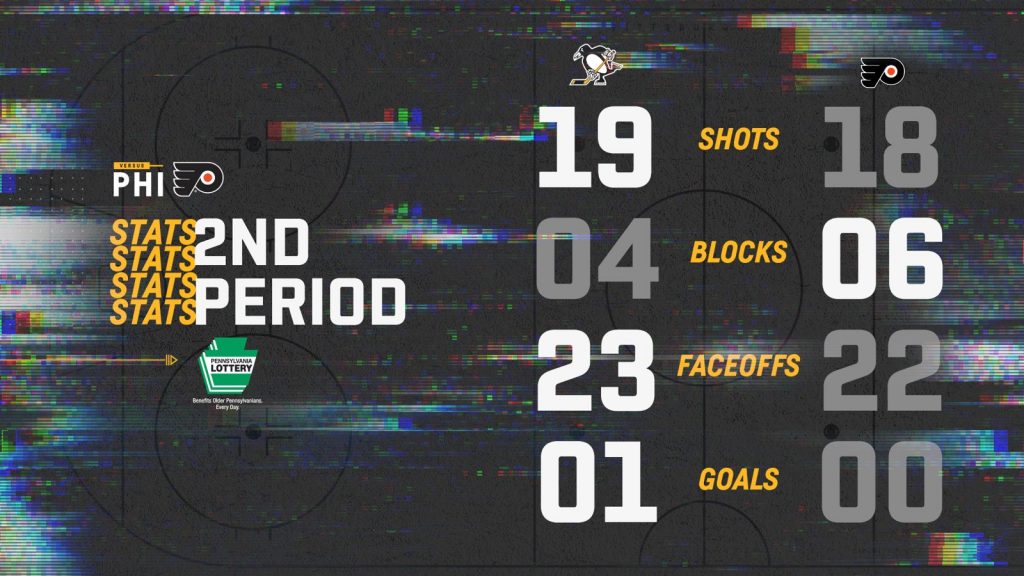 Speaking of Jeff Carter, he also showed some defensive ability early in the 3rd, when he blocked a Myers shot. Sadly, the puck bounced right to the Ginger Minge and he wasted little time putting it right under Jarry's peepeehole…
Bleech. After the great block, Carter was guilty of puck watching. I'll cut him some slack, but you gotta smash the dude you were traded for, any and EVERY time you play. That would have been a good time for it, JEFFREY.
Anyway, there was plenty of time left…
…for both teams to make me sad I signed up to recap these games. I mean, it wasn't bad hockey. And there were some chances. But it was just… unsatisfying, ya know? Like your first time. Or at least, my first time. Probably yours, too, if you're being honest. I mean, it's hockey, so it was GREAT, don't get me wrong. And it's a rivalry game, so yay that and stuff. But… ugh.
Though in the midst of the ugh, you gotta give some props to Jarry and Hart. Both goalies took turns making nice saves, none nicer than Hart on ERod with about 7 minutes left. Blah.
To make things fun, Dumo would draw a holding call against KoNeckKnee with just under three minutes left. And while we're saying his name, let's talk about Dumo's game tonight. Aside from the great play with Sid's stick, he was everywhere. In the crease actually clearing it out, drawing penalties, making great passes. What a complete and completely underrated player he is. Oh, and he's now riding a 6 game scoring streak, which is literally unheard of for the big guy. The Pens are a different team without Dumo patrolling the blueline, and that was never clearer than tonight.
Anyway, Pens didn't score with their PP out and it was time for Free Hockey.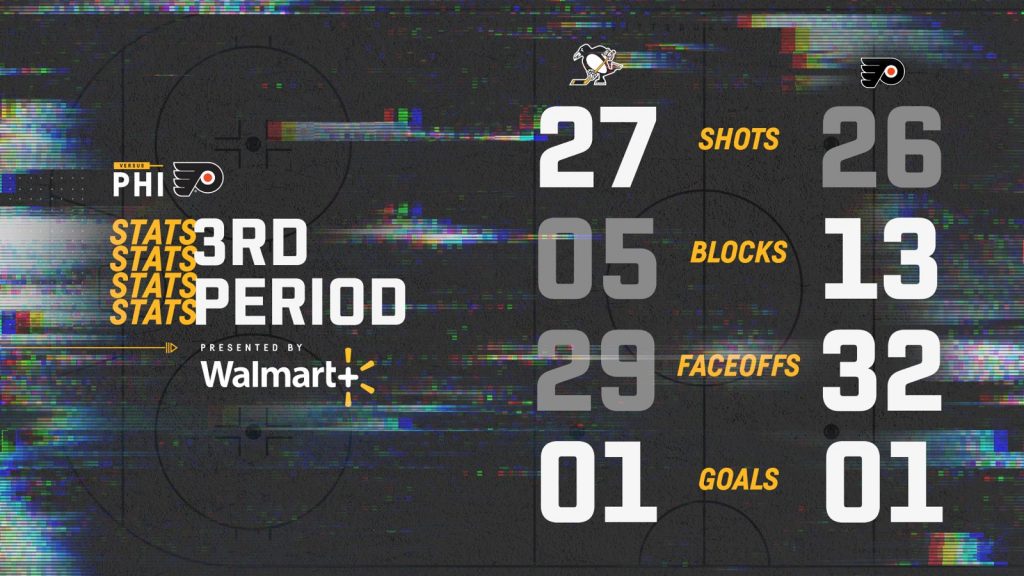 With a point in hand, the Pens would enjoy taking the ice in OT where there were fewer slow bodies to worry about and much more open ice.
OT is a strange business. It used to be all about chances, and now it's all about possession. Somehow, the Pens were able to dominate both. They kept the puck and had a few glorious chances that just were not to be, including one Jake shot off the crossbar early on.
Sadly, with just under 2 minutes left in the frame, Sid would try to push it past CouCouCoutourier but wasn't able to do so and, when the puck was in his feet, Sid got him all can-openered and no ref can ignore that sort of thing. To the rare 4-3 OT PP we go.
Long story short, the Home Team was up to the challenge and we'd head to…

Jake: SNEK!!!
Girwho: dammit
Sid: blah
Couturier: jeezus… and also dammit
Letang: blah
Game, douchebags
Thoughts:
Carter didn't look particularly comfortable at Center, but was still very good. Big body helps too.
McCann with 7 shots – he's doing his part
Sid was very high-energy which is what we need
Jarry had a low-key great night, but man you wish he could learn to poke-check. Time to call up the Flower and take a few notes.
Dumoulin was a stalwart and might have been a star if not for the SO
See yinz on Saturday in Lovely Buffalo…