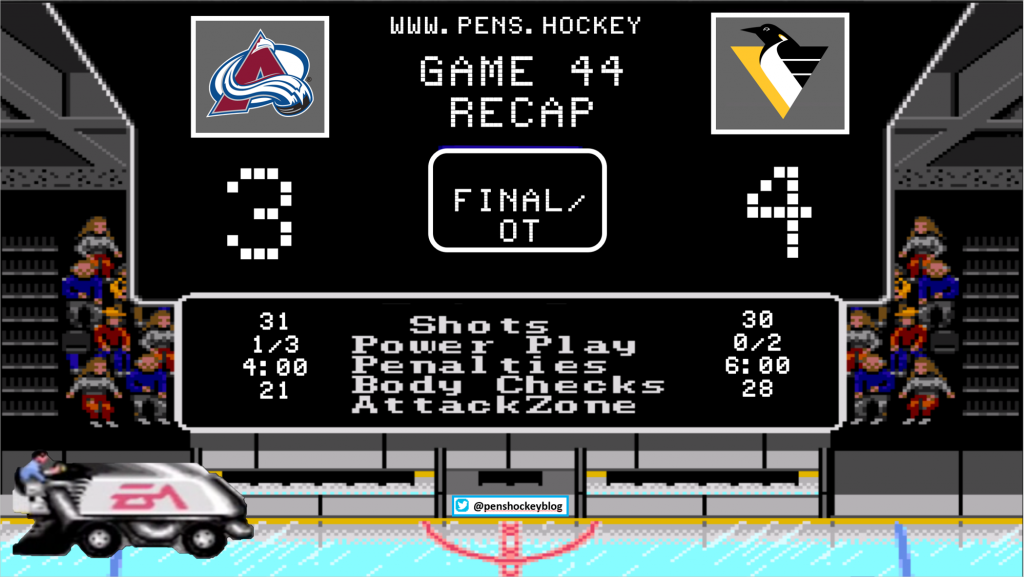 The nice win in Vegas was a distant memory. Sid was on the trip, but hadn't skated in two days. Oh no, what to do?
Look. These Penguins have gotten used to this crap by now. Great players, always hurt, the rest of the league just BAWLING for our misfortune, I'm sure. Wha. Wha. Wha.
In reality, Sully knows the drill. He knows that his teams will always have to play the game AND play the refs AND play the other team AND play the score AND play 53 years of 'OMG you're SOOOOO lucky' to make sure his team is respectable.
But guess what? He KNOWS this. Sully is a good coach because he recognizes the beauty of Sid/Geno/Letang and realizes that the deck will be stacked against them but also that nobody gives a shit. NOBODY likes the Patriots, unless you're from that godforsaken area of the country. Same goes for Pittsburgh, except it rules. But the sports – those are similar.
Sid didn't skate for two days prior to this game. And even though certain commenters on this blog were convinced otherwise, he wouldn't be pulling on his skates for Sully's boys tonight.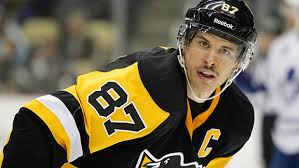 Interestingly, Matthew Murray would. And as a starter. Coming off a solid performance and with a three game break, that could be seen as a message.
Rest of the lineup: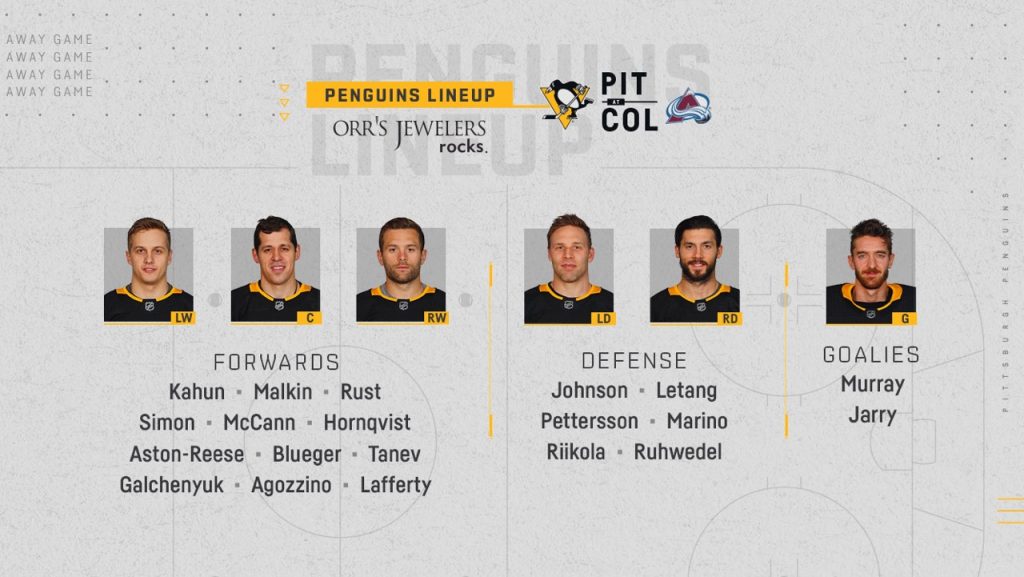 Murray vs. FranSEWS, but I'm sure it should really be FranCOOZE. So he is now COOZY. Deal with it. After all, it could have been worse. Moving on…
Did you know the Coozy has a rightie glove? Because he does. And that's different. SO different. Let Mearsy and Errey TELL you how different! Errey, you played… isn't that different? Mearsy, I'm SO glad you asked! It is SO different! Because it's, well it's hard to describe, honestly. It's almost like you're used to it on the ONE hand… but now… it's NOT ON THAT HAND. Because it's on THE OTHER HAND. It's an adjustment, Mearsy, and, as I said, it's VERY different. I don't know about you, dear readers, but I sure just learned a lot.
A few minutes in, the Pens decided to let MacKinnon lose for giggles. Bad Gap was to blame, and the second best Nova Scotian in the league took advantage of Pylon Johnson, but…
Well, I'd put a highlight here. Of MMX saving JJ's bacon. But apparently, NOBODY CARES. FFS… I'm RIGHT HERE. I will help, you heathen, moron, Tweeners. Good lord. Moving on…
Lots of up and down this period, with the Avs getting the better opportunities, generally. Makar looks comfortable, but if we're being real, not that much different than Marino. Maybe they're both good?
I can tell you this much – we DEFINITELY have the wrong Johnson, and I can't think of much worse than trying to play with the wrong Johnson. The Avs Johnson can actually skate, and I dunno about you, but Cliffs of Dover beats the shit out of Banana Pancakes six days a week and twice on Sunday.
Posts were hit. Blocks were made. Luck was had. But the Pens just kept pushing and playing the system.
Avs kept tilting the ice and finally, with just under 6 minutes remaining, it was too much and Geno took a tripping penalty.
The Avs needed less than 60 seconds to make good on their opportunity.
Perfect setup to the Wrong Nova Scotian and he wasted no time. Zero Murray could do on that one.
A couple minutes later, the Pens finally look a little dangerous with Trusty Rusty using his speed. Kahun had a whack at it and Geno came along to smack it home, but Rust was busy rubbing his Nutz on the Cooze so… no gola. Merde.
Pens still spent too much time in the D-zone, but the period would end 0-1.
Stats after 1: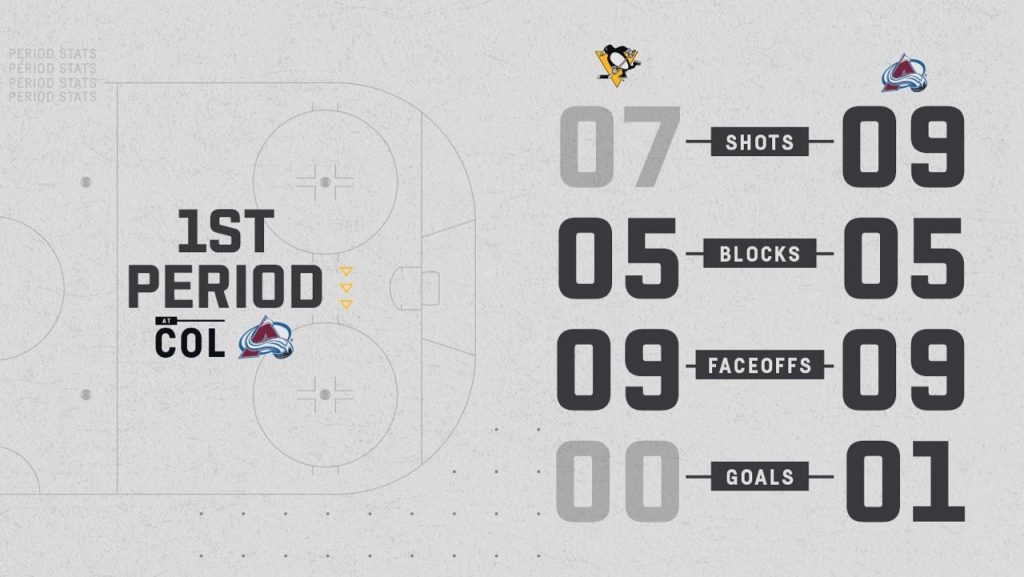 Pens come out SHOOTING. Not scoring, per se, but shooting is half the battle, right?
Driving play a bit to start the period, and finally a good chance out of it for ZAR, but… pillows.
Not too long after that, though a few sphincter clenchers were had, Agozzino got his chin in the way of someone's stick and Pens to the PP.
What happened on the PP? So glad you asked, dear reader. Sadly… you know the answer.
Next thing I knew I looked up and the 2nd was half done. Is this real life?
With just over nine minutes left, the Pens had their next best chance at the hands of Asshole-Grease. Sadly, nothing happened, but crazy he's getting all the looks.
After the line change, Geno's line hit the ice and promptly drew the penalty. PP, beyotches!!!
PPU1 was ballz. PPU2 was ballz… but somehow… BlueBallz…
Blueger (6) from Kahun (14), Marino (17) – EV – 13:29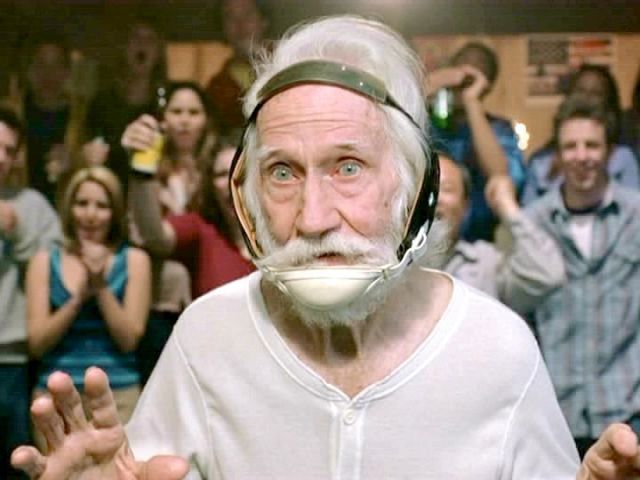 Stick-To-It-Ive-Ness. GREAT stuff by the mix-matched PPU2 to push their advantage and find the open space. Blueger the beneficiary. The System WORKS.
Pens kept driving, looking good, looking strong. Looking much better than in the first. Then… with a minute and a half left, Landry'sCock lobbed one in… that bounced … funny… but not funny 'ha-ha'… more funny…. WTF KILL US.
Are you kidding me? That goal puts the shit sucking mountain ahead? OMG.
Stats after 2: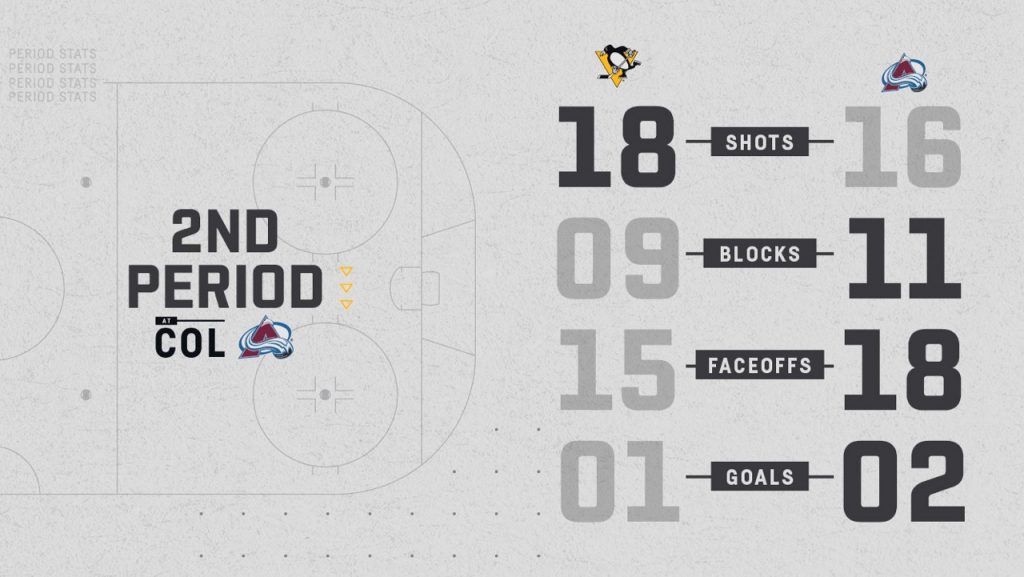 First… some POSITIVITY!!!
Pens FLEW out of the gates. SO psyched to bail Murray out after that horrifyingly unlucky bounce. And they just rolled lines until, just over a minute in, Rusty Nutz DELIVERS
Rust (18) from Malkin (29), Kahun (15) – EV – 15:43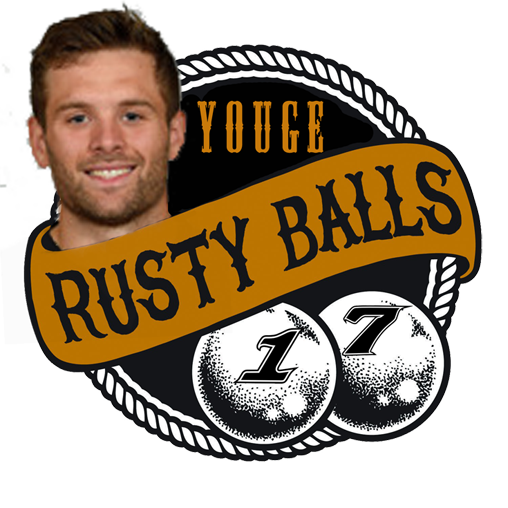 What a SHOT. And got him right in the Coozy, too. To say Rust has been huge for this team is to undersell just HOW huge he's been. That goal ties his career best from last year. In 42 fewer games.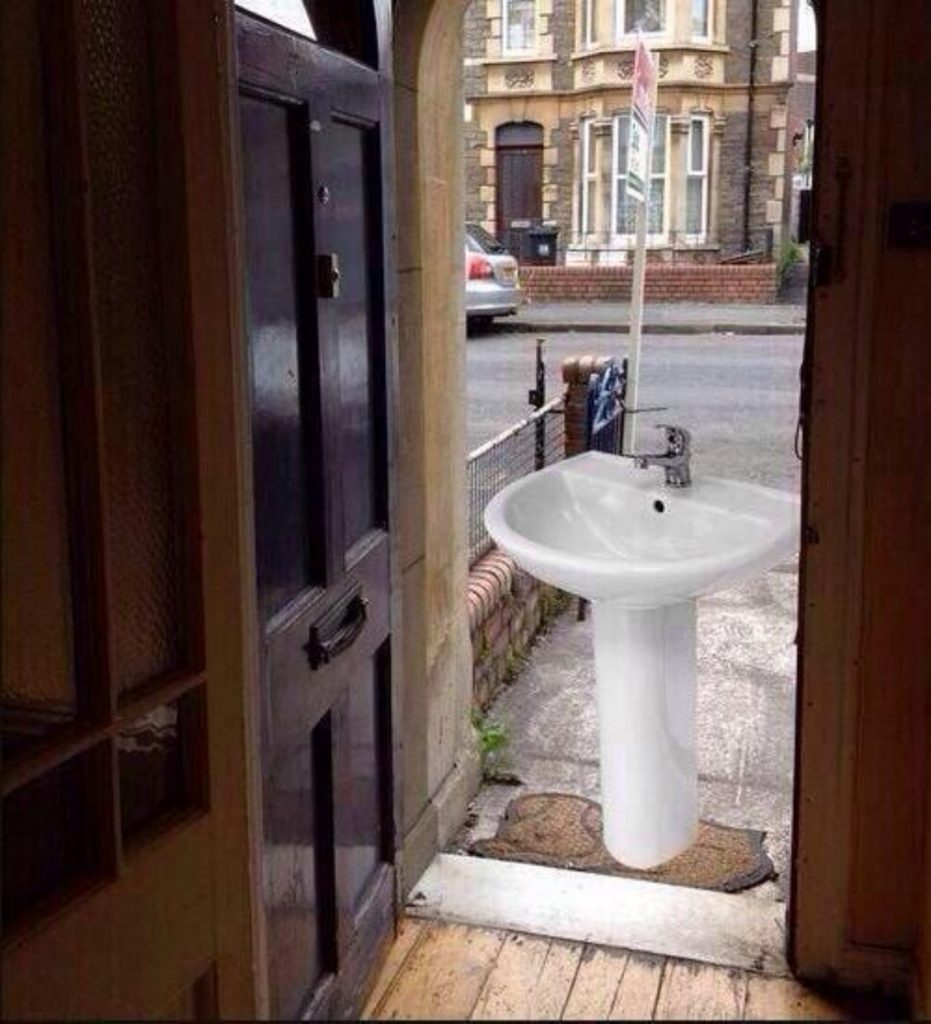 And there was speculation he was on the trading block. Wow.
After that, there was lots of back and forth between two skilled hockey teams determined to give the fans their money's worth. With 7 minutes left, Riikola got all hippy with someone.
Love those old-school checks. And Riikola's was a big one, too, because the Avs were getting it together and looking dangerous. Checks like that can change momentum, literally and figuratively.
More back and forth. More ignoring inconvenient penalties because who wants all that paper work, amirite?
Finally, with just under 5 minutes left, the first line gets a clean breakout and Geno decides to demonstrate leaderships.
Malkin (13) from Kahun (15), Rust (19) – EV – 15:43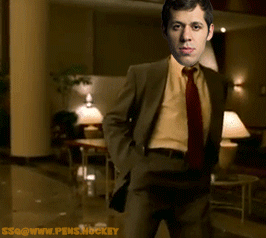 Great play to find the open guy who ended up being the 101st best player ever and showed us why with that shot. Bar-In-Skis!!!
Just over four minutes to kill and the Pens rose up to meet the avalanche of pressure brought by the… other team.
Rust got jittery in the D-zone and popped one out of play to really make sure the last 3 minutes did a number on my sphincter. Thanks, pal.
For a while, it looked like it wouldn't matter. Bodies were flying and the Pens were keeping the danger to the outside. Eventually, though, someone whipped a stick and caught a tip and we were headed to overtime.
I hope some moron somewhere blames Murray for that one. The reality of course was that it was a perfect tip and there wasn't a damn thing anyone could do but admire it. Makar is for real.

OT is getting more and more boring as coaches have figured out how to minimize the frantic up and down and use skating to keep puck possession. Neat.
But shooters can still find their spots, if they work hard enough and McCann is nothing if not a hard working shooter.
McCann (12) from Blueger (10), Marino (18) – EV – 3:19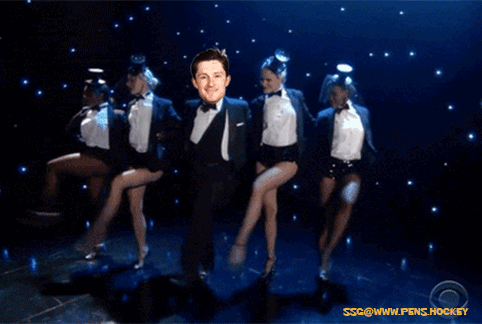 DEUCE
Thoughts:
What a team these guys are. First three line centers with big goals, best winger scoring too, undermanned but never outworked.
18-4-2 against the West, 38 of 48 possible points.
Murray was SOLID. Nothing he could do on the 1st and 3rd goals and got punked by a crazy bounce on the 2nd. He's rounding into form, people.


Loading ...