Leading up to the game the headlines were:
Carolina is 14-1-1 in their last 16 home games
Cam Ward has had great success over the Pens in his career
**Except for that one time in the playoffs
Pens STILL need to make some trades
Sullivan and the Penguins gave less fucks about these headlines than I give about Harambe's grandmother, and proceeded to embarrass the entire Carolina organization. Jordan Staal was quoted after the game saying the Penguins made them look like a high school team, which to be fair they almost are age wise. This was simply a game between a young team that is finding their legs and a team that has been through that stage. If you want to know what the Toronto Maple Leafs would look like in the first round of the playoffs against Washington (if the season ended today that would be the first round match up), it would look exactly like this game. The Penguins made a crucial change to their game following their three game skid, they called up Jake Guentzel and that allowed them to move Chris Kunitz to the 4th line. Since then there hasn't been a defense able to stop them as illustrated by this:
Washington: League leading 2.07 GA/G. Pens score 8
Montreal: 8th in league at 2.49 GA/G. Pens score 4
Carolina: 18th in league at 2.76 GA/G. Pens score 7
In other words, the Penguins with a depleted defense are currently going in to other teams locker rooms like this: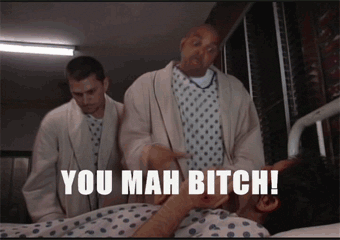 The game started out with a feeling out phase, which has been the case in the last few for the Penguins. Not sure if this is intentional by Sullivan, but the last couple of games the Penguins have started with their foot a little off the gas to get a feel for the other team first, and it has worked. In previous games they were opening up a lot and though they were scoring often in the first 2 minutes, they were often also scored against. Just like in high school, after the feeling out phase Carolina let down her guard and the Penguins slammed her home.
TREVOR DALEY (4) @ 12:31
Daley goal pic.twitter.com/ySbveUhkb0

— GIF Grand Maester (@myregularface) January 21, 2017
Costly turnover by Carolina and Daley most likely got on the terrorist watch list with that blast. The rest of the period went uneventful with Literally Jesus shutting the door, and the Pens would enter the room with a 1-0 lead.

One of the concerns about the new lines was if HBK would be able to start clicking again in the regular season. After a few shifts into the second you could sense the ice tilting in the Pens favor, and then Hawt Carl came through:
CARL HAGELIN (6) Assisted by GAUNCE (2) & KESSEL (30) @ 6:59
Hagelin goal pic.twitter.com/8smt2Cnyt6

— GIF Grand Maester (@myregularface) January 21, 2017
Definitely not the typical goal you see from Hagelin, but it is the type of goal you want to see from any player that hasn't been producing. Get to the front of the net and get shit done. Bonino right there with him, what a headache for Ward. Also, Gaunce with 2 assists in 2 games.
The game moved on and the Penguins started to get their legs completely under them. Rookie of the Year candidate (just kidding, because Toronto would explode) Conor Sheary was at it again:
Conor Sheary (14) Assisted by Rust (9) @ 12:28
A @csheary13 shot trickles in behind Ward for the #Pens third goal of the night. pic.twitter.com/UlxFVY6GS6

— Pittsburgh Penguins (@penguins) January 21, 2017
Last night was Sheary's 82nd game played in the NHL. In his first 44 last season he finished with 7G-3A. In 38 games this year he has 15G-16A.
The thing about being able to roll 4 solid lines is the opposing team doesn't get a chance to breathe. 20 seconds after the Sheary goal it was Chris Kunitz coming down Ward's throat #hockeyporn.
Chris Kunitz (5) Assisted by Fehr (3) & Wilson (8) @ 12:46
Kunitz scores while in the eye of the storm. 🚨 pic.twitter.com/HsenXn0sx8

— Pittsburgh Penguins (@penguins) January 21, 2017
Fehr with his 200th NHL point on the play, and Kunitz scoring the way we have always seen him score. This 4th line is ferocious, even when Cullen is back, it may be known as the old-timers line.
The Pens weren't done however, because a 4-0 lead isn't enough in the Sullivan era. The powerplay specialists went on a powerplay and that is when the powerplay specialists were able to show why they are powerplay specialists:
🎶 I am a real American. Fight for the rights of every man. 🎶 pic.twitter.com/gzZHZqqhLU

— Pittsburgh Penguins (@penguins) January 21, 2017
PHIL KESSEL (14) Assisted by MALKIN (30) & SCHULTZ (24) @ 17:29 PPG
Cam Ward is broken. Unreal pass by Malkin. Thought it would be the assist of the game, but nah… period ends with the Pens up 5-0.
Sullivan was most likely trying to get the league to forfeit the third period to save the team from potential injury. Ron Francis was trying to get the league to forfeit the third period to save the team from moving to Quebec. Evgeni Malkin was trying to put the 2009 ECF flashbacks back in to Carolina's mind:
Yup, that's in. pic.twitter.com/5BNZCGS4dM

— Pittsburgh Penguins (@penguins) January 21, 2017
EVGENI MALKIN (22) Assisted by GUENTZEL (3) & SCHULTZ (25) @ 6:37
Not sure if this is true, but I think the Pens are either 5-0 or 5-1 when lick my Guentzel gets a point. Just relentless hounding by Malkin, probably won't be the last time we see a Russian sneak into an Americans back yard. Less than a minute later Literally Jesus played the role of Jesus, literally, and allowed the Hurricanes a goal, because he giveth and he taketh away. It was Viktor Stalberg short handed if anyone cares. Two minutes after that Bryan Rust blows by the Carolina defense and drives hard to the net, nearly pulling off a nice back hander. The key to the play his Rust not giving up on it and finding his rebound, which he then sends to Crosby… then Crosby did some Crosby things:
Okay, that pass though. 👀 pic.twitter.com/5GB3kCUW4R

— Pittsburgh Penguins (@penguins) January 21, 2017
CONOR SHEARY (15) Assisted by CROSBY (24) & RUST (10) @ 9:05
Bob Errey with the troof here, saying when you play on Crosby's line you better always be ready for the puck. That is what makes Conor Sheary so good on Sid's line, he was right where he needed to be. If you watch the highlight Sheary was going to skate behind the net, but then pulls up because he understands Sid. That puck probably caught four STDs from that filthy pass.
GAME
THOUGHTS:
Not much to say about this one boys, I said in the gameday that if the Pens came out the way they did in Montreal it wouldn't be a contest and it wasn't
I've said it a bunch and this will be the last time, but moving Kunitz to the 4th line and bringing up Guentzel has completely changed the dynamic of this team
Cameron Gaunce is climbing the defensive depth charts. He has been more noticeable than Olesky and Warsofsky. The Ruhwedel-Gaunce pairing has to give the team some comfort
Brian Dumoulin participated in morning line rushes, wouldn't surprise me to have him back next week
Matt Murray with another solid performance, three starts in a row but something in my gut says they will turn to him tomorrow against Boston as well
Two incredible passes by Sid and Geno man, just embrace this skill folks, unreal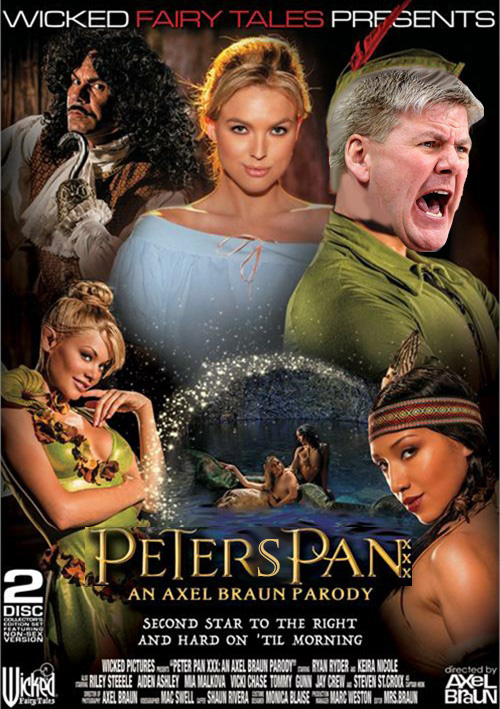 Peters' fairy story goes horribly wrong...Goodnight sweet Carol-jina. Pik-a-Porn
1) "You could just see it come out of the hole." -- Errey (39%, 9 Votes)
8) "Skinner doesn't mind going down pretty easy." -- Errey (30%, 7 Votes)
6) "A lot of wood on it. Or whatever he gets on it to get it through." -- Steigy (13%, 3 Votes)
4) "Aho down low." -- Steigy (9%, 2 Votes)
2) "It can be up, it can be bent." -- Errey (4%, 1 Votes)
10) "They like to blow the zone." -- Gaunce (4%, 1 Votes)
5) "Hagelin finds that 5 hole." -- Errey (0%, 0 Votes)
3) "Why ya blowin it?" -- Errey (0%, 0 Votes)
7) "Daley reaches in the backside." -- Errey (0%, 0 Votes)
9) "Guys taking a chance going in deep and pressing down low." -- Jay (0%, 0 Votes)
Total Voters: 23

Loading ...