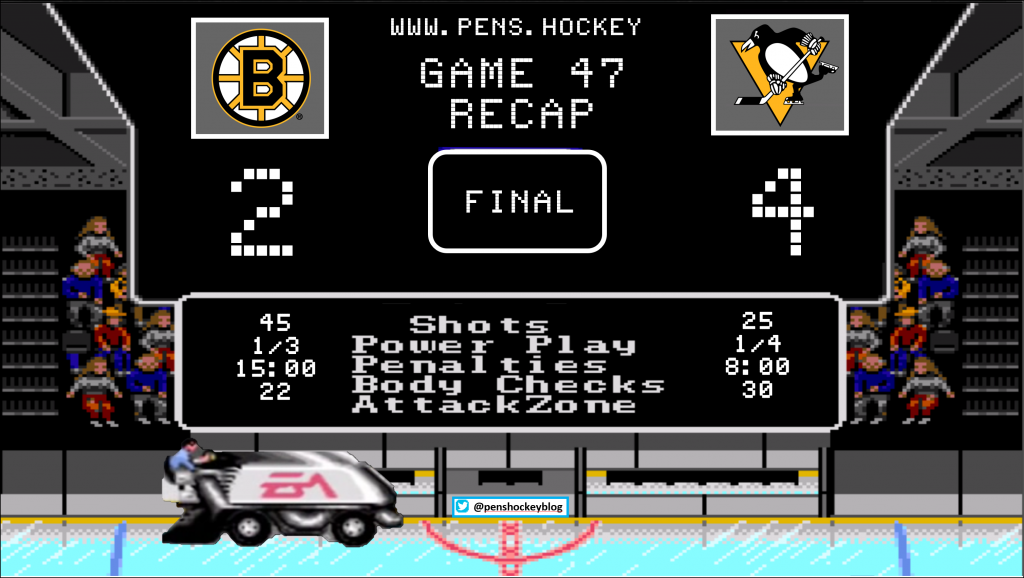 Lots of action to get to, so we'll just jump right in.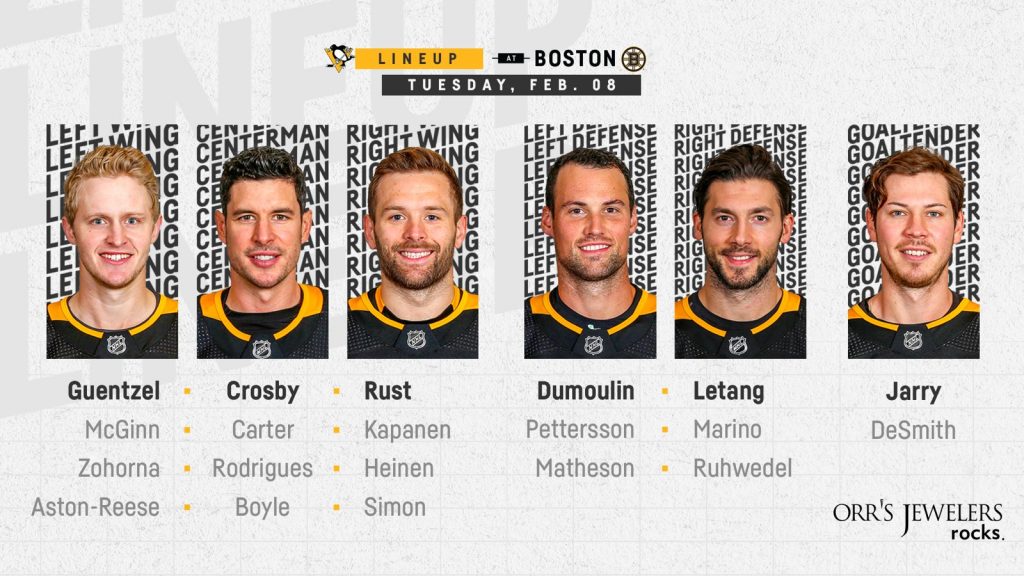 As discussed in the gameday, no Geno due to the 'rona, which means SeeMoan is still pulling on a Penguins sweater.
Also, most of what is about to assault your eyes and your general sense of decency arrives courtesy of our own Artiste, Mr. SouthSideGeno. I've cleaned up what I could understand. And what I couldn't… well, you'll see…

Swayman vs Jarry
Lost the opening faceoff… and Ratfuck gets the 1st SOG. B's forecheck is good so far. Pens can't get it out. Rudeweasel takes a tripping penalty at the 2 minute mark, putting what's usually a great PK unit on the ice.
Hey, I did say 'usually'.

Pasta scores 15 ticks into the penalty. 1-0 Broons. Pens look like how old people screw – sloppy and slow. 4 minute mark and the Pens have obviously forgotten how to hawkey.
5 minutes in, DeBrusk goes off for hooking…that whore. PP starts out well. Then turns into a passing drill.
10 minutes in…not much going on here. Both teams look like they were out late last night.
eRod wants a goal. You can feel it. He's just missing on his snipes. Kap wants a nap. He still kinda sucks right now. Editors Note: Kappy doesn't 'kinda' suck. He totally sucks.
15 minutes in…Pens still in a coma. Broons not much better.
LeTang gets caught pinching after fanning on a shot…Pasta scores his 2nd on a 3 on 1 coming back the other way.

This looks like it's gonna be a long night. Pens are doing a lot of puck watching. Looking silly.
18 minutes in…Pens trying to survive the period only 2 down. We're bleeding out. Thank Chryst that period is over.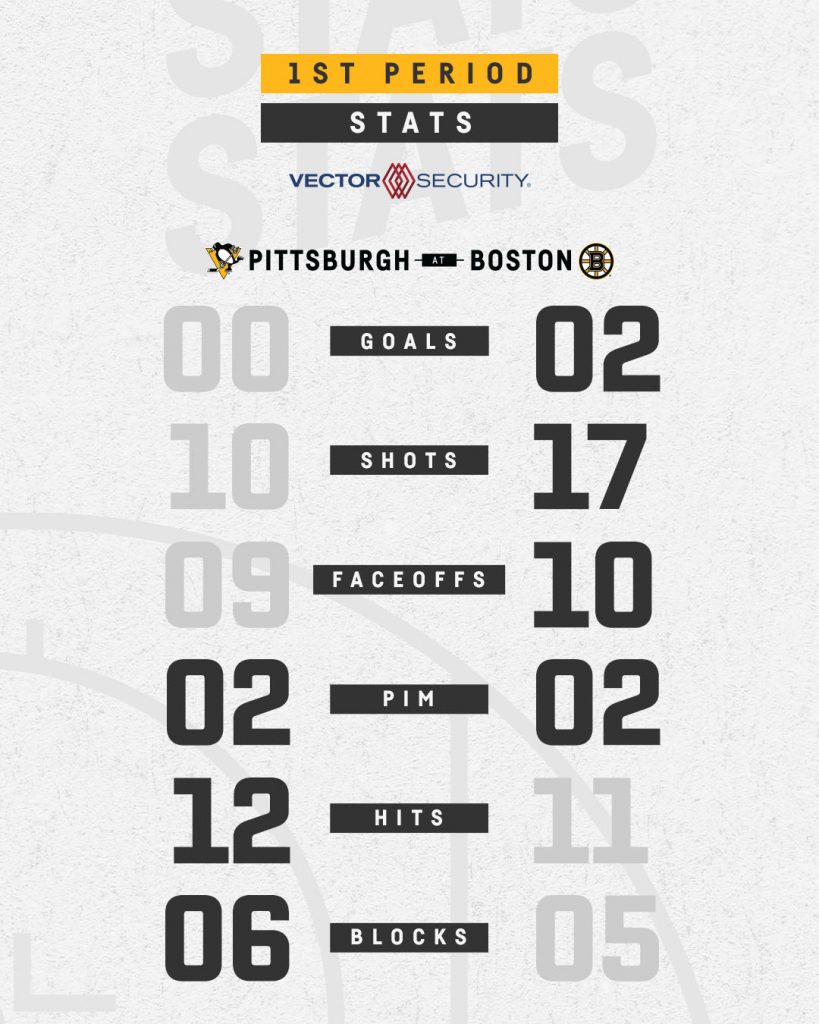 Carter comes out swinging BDE (big dik n.r.g.) putting a Broon or two on their asses. Still, 2 minutes in and the Pens are looking like the intermission didn't help them at all.
Jarry is saving their ass. This could be a 5-0 game right now.
4 minutes in…AND THEN HEINEN takes a pass from McGin off a turnover to score a sweet backhand.
Heinen (10) from McGinn (6), Matheson (13) – 4:18 – EV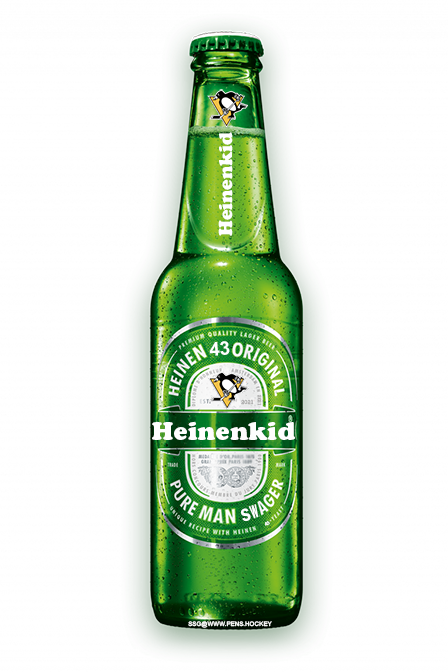 28 seconds later… HEINEN SCORES AGAIN to tie the game. This team is mystifying.
Heinen (11) from Marino (17), Rodrigues (18) – 4:46 – EV
Rust is murdered by some dried up Broon turd. Really looked dazed…hope he's ok.
7 minutes in…Carter murdering people left and right…Pens look much beter. This is more like it.
annnnnnd then they get called for TOO MUCH MAN … so Penguin of them.
PK…looks good so far. Good kill.
10 minutes in…it's finally a game, Pens fighting back, end to end action, FIREWAGON HAWKEY…WOOO!!
12 minutes in…Big Dik N.R.G.(Carter) draws a penalty, it's PP time. Keep an eye on that Ratfuck.
SID gets creamed in the corner and then says FUCK YOU a second later from one knee to tickle the twine and take the lead.
Crosby (13) from Rust (19), Guentzel (24) – 12:53 – PPG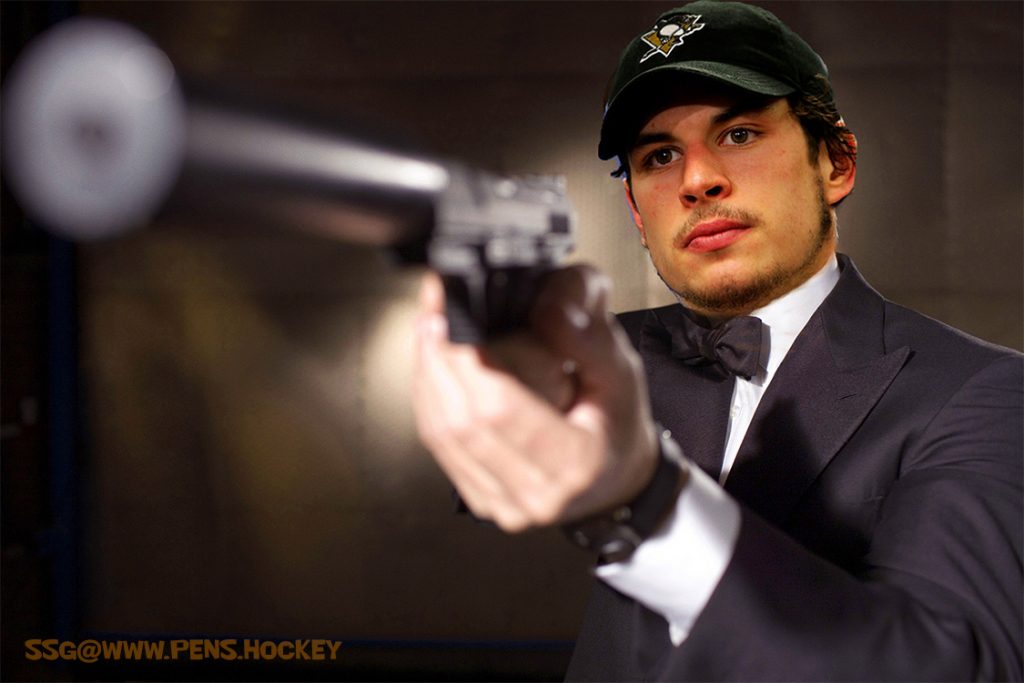 GOLA 499 for Squidly
DUMO saves a gola with Jarry caught out of the net…Broons buzzin now…but they get NOTHING.
Errey shares an 'ole time hawkey' story aboot Ron Duguay scoring a gola using a stick he found in a NY bar the night before a game to end a 30 game scoring drought and Sarah Palin orgasm's 4000 miles away somewhere in the Arctic Circle. Editor's Note: See what I mean? Imagine living inside this noodle…
Lot's of scary chances for the Broons…Jarry saving our asses…3 minutes left in the 2nd.
Long delay at the 2:45 mark to fix the boards in this shitty stadium. FUCK BOSTON. But it works to our favor as da Broons were "coming."
Hall & Matheson square off net front and they both go off for a timeout. Hall is an ugly frog face fuck.
Period ends 4 on 4 … Sid ALMOAST gets 500 with 5 seconds left…butt no.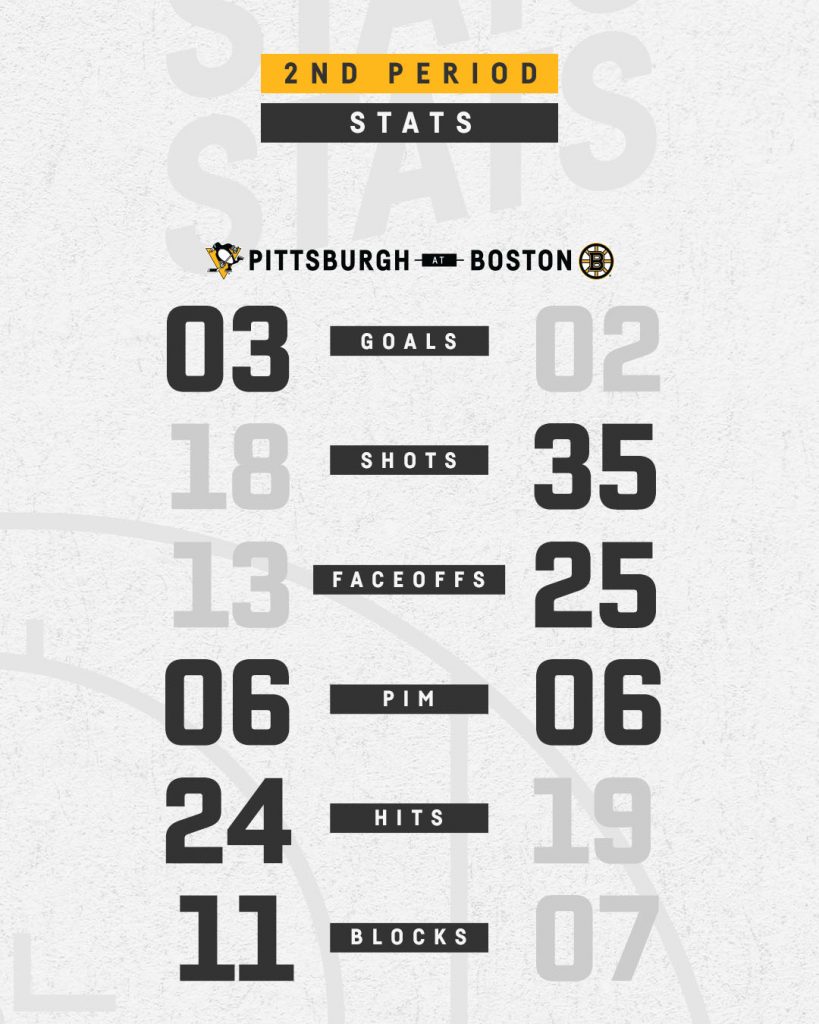 OWN DAT TURD BOIS
Starts up with the Broons going full tilt…Ratfuck trys to keep Sid from getting to the bench for a new stick and the refs pretend it's legal to do this.
Rust gets murdered AGAIN by a a hard slapper to the lower body. WTAF???
2 minutes in the Pens get a PP chance. Great effort from LeTang to save a shorty odd man rush. Marino makes a great effort to go to the goal and goes in hard to the boards, hope he's ok.
Taylor Hall is still an ugly frog faced fuck. Zahorna is having a nice game tonight. I like that kid. Can't teach size.
13 minute mark GREAT shift by the top line but no dice on Rust and Sid's close calls.
7 minutes in…Carter line out swinging dicks. We gotta get the next one. WE could be seeing Matt Murray for the first time on Thursday. Poor Matt.
Jarry just saved our bacon against that prick McAvoy.
Bergeron is murdered by Sid, heads down the ramp. Looked like a knee or maybe a head hit on the boards. No call. Could easily have been an interference call on the skate kiss.
9 minutes in…Sid hits the bar…then takes a crosscheck in the back as retaliation from Gryslich. Sid went back after him and gets to sit down for 2.
GREAT KILL for the Pens. REALLY needed that one. Now WE need the next gola for the heart punch.
12 minutes in…Pens aren't sitting back…Broons are beginning to push…time for them to make a mistake and us to take advantage of it.
15 minutes in Broons really pressing now…Pens seem ok. JARRY ROBS NOSACK-NOTALENT POINT BLANK… "Hockey Card" save of the game 4 minutes left in the game.
2 minutes left… Pens making quick changes, winning the boards…we're doing this.
RUST HITS THE EN TO SEAL THE GAME !!!
Rust (15) from Guentzel (25) – 18:31 – ENG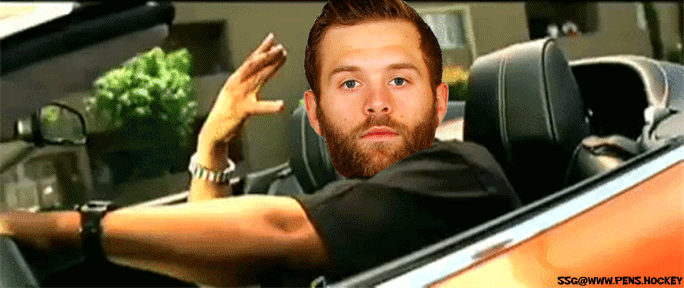 (BEGIN EDITOR'S NOTE) Oh, and then Jarry decided he absolutely, under no circumstances, would allow another goal.
And now we get into the real shenanigans. Marchand was very upset with Jarry because of reasons. OK, one of the reasons was legit – our dear innocent boy Tristan slashed Charlie Brown Coil in the gut – but Marchand, as he's wont to do, went off the deep end.
Bob has the right of it, as usual. Marchand deserves some time away to think about things as a result of that 'play'. But we must remember who's in charge of meting out discipline in this garage league. So we might as well just spin the Wheel and see what Washington Cahnty's own George Parros plans to do tomorrow: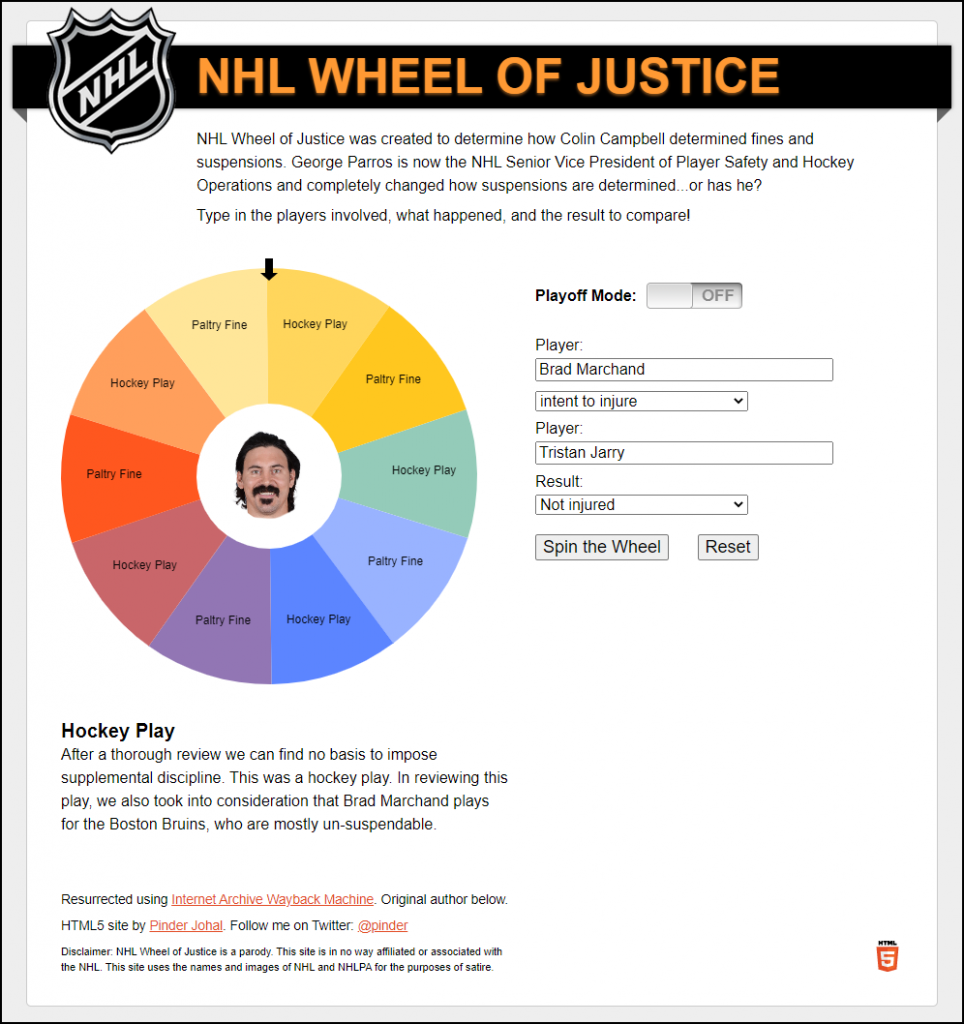 I can't say that I'm surprised. (Also I legitimately got that result on my only spin and it was too good not to include).
Marchand is garbage, full stop. He is a great hockey player, which must be why Sid likes him and seemingly ignores/excuses bullshit like this. But this SHOULD end up being his 8th suspension. I don't have the list of people who have the most suspensions handy just this moment, and it's too fucking late to do the research, but I'm guessing 8 is a helluva lot more than most players who have ever played in the NHL. As a point of reference, it's fully 8 more than Sid, Geno, Letang, Guentzel, Rust and likely every other player on the Penguins roster, past and present. In fact, my first ever blog post featured this person quite prominently: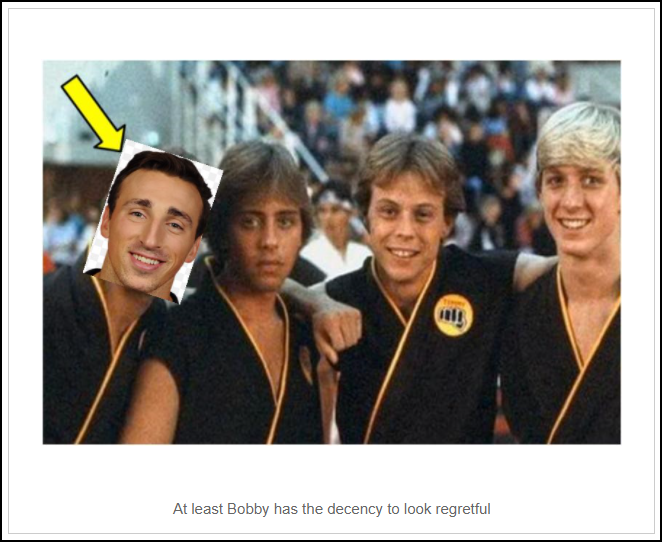 Holy shit there are some gems in there. I used to be a helluva writer. But I digress… (END EDITOR'S NOTE)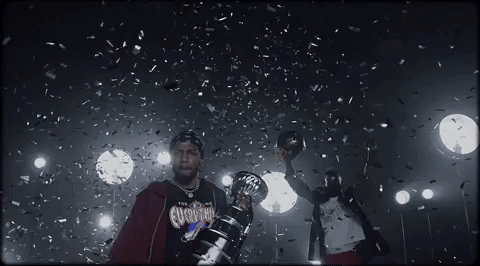 Thoughts:
GREAT W
FUK DA BROONS
Hall is STILL a frog faced fuck face.
RATFUCK MUST DIE…wait till next time yinz motherfuckerz
The boys came back from 2 down, on the road, in a place they traditionally suck collective ass, and won going away, and looking good doing it.