The Penguins enjoyed a brief stop at home last night for their game against the Canucks before they set out on a 9 day, 4 game Canadian roadtrip (the team has 4 days off between the Toronto game tomorrow and the Edmonton game on Tuesday, during which they will probably return home).  The two hot topics coming into this game revolved around who would replace Justin Schultz and would Matt Murray start, the answers to those questions was predictable:
Who's ready for some hockey? pic.twitter.com/gCoRI7ezp2

— Pittsburgh Penguins (@penguins) October 16, 2018
Sully sticking with the Brassard on wing experiment for another game while he tries to cure the snakebites on Crosby's wrist, stupid attempt by Sullivan really, if he was smart he would just realize Crosby is old and warshed up.
The game started off like every other game, with an opening faceoff. The Canucks were getting the better of the chances early on but DeSmith was able to keep it scoreless. Around six minutes in the Canucks got their second odd-man rush of the game, but a solid defensive play by Oleksiak and a quick transition resulted in Guentzel and Crosby heading the other way on a two-on-one of their own. Jake carried the puck and thought about passing it to Sid, then remembered reading my recap from last game explaining how the team passes too much, you could see him mouth the words "he's right, fuck you Jobu I'll do it myself"
JAKE GUENTZEL (4) Unassisted @ 6:24
https://twitter.com/penguins/status/1052339647614001154
Guentzel with a perfectly placed shot that finds a hole tying him with Kessel for the team lead in goals. There isn't anything you could possibly want more than a young Jake Guentzel having enough self-confidence to shoot this puck instead of passing to Sid on this play. Playoffs included the tally is The Snakes 65th goal (43rd regular season) in 164 professional games.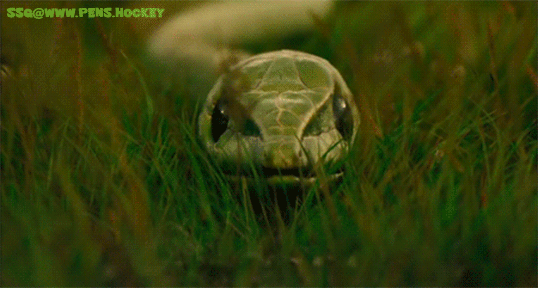 The Penguins would enjoy the lead for two minutes before Ben Hutton evened things up after some board play:
https://twitter.com/Canucks/status/1052339561534300167
DeSmith has a seizure as soon as the puck goes behind the goalline and the whole play goes downhill from there. Defensively the Pens did a pretty good job marking their men, you even see Johnson go to the far post to cover that angle. Hornqvist is a tad late getting back to Hutton, but a standing DeSmith makes this save all day, really not sure why he went into scramble mode the way he did.
With the game tied both teams took some looks but the bounces just weren't there for the Pens. At one point a broken play resulted in Sid having an open net and somehow the puck didn't go in, it's the second time this season that Sid has faced a down and out goaltender and the puck has refused to go in. Dudes probably going to score 15 goals during this road trip.
As the period moved on the Canucks tilted the ice much like we've seen every other team do in the opening frame, they were doubling the Pens shot totals and getting really good chances. With under three minutes to play the Pens were in a familiar situation, looking for their goaltender to bail them out, with a familiar outcome.
Great pass by @TimScha11er, great finish by Sutsy! pic.twitter.com/WgLvTIiiR7

— Vancouver Canucks (@Canucks) October 16, 2018
I like this gif because at the beginning you see 4 Penguins on DeSmiths right with 4 Canucks, easy math, nothing bad happens. At the end of the gif you see zero Penguins on DeSmiths right with 2 Canucks, also easy math, bad things happen. DeSmith once again dropping down as soon as the puck goes behind the goal line, I haven't noticed this in his game before but it was very prominent last night.
Ghe final 90 seconds or so would go scoreless.
Here are your numbers after the 1st. pic.twitter.com/zqYaiL6S3O

— Pittsburgh Penguins (@penguins) October 16, 2018
Another period, another 5 shot effort to start a game. It's tough to continuously harp on the defense when only three players on the team (Kessel, Guentzel, Letang) have more than one goal.

Take the ten minutes that occurred between the Hutton goal and the Sutter goal during the first period and that's what the entire second was like. The Pens as a whole put together a rather solid effort in the team but couldn't get anything to go their way. I was pleased to see Malkin drop back for a punching Oleksiak not once but twice during the period. Other than a few minor coaching points the period was about as thrilling as seeing a political tweet.
The Pens Twitter staff felt the same and didn't include end of period stats.
Take the review of the second period and place it here. The Penguins were trailing by one but honestly didn't look like a team that cared either way. It's October, and I'm not expecting guys to give up their bodies on low scoring percentage blocks (looking at you Torts), but the overall compete level just isn't there. Part of me thinks it's because this team is a group of seasoned veterans that understands what October means, and after seeing a teammate go down with an injury perhaps that reminder is even more prominent in their minds. Part of me thinks the schedule hasn't allowed the team to get in much of a groove with multiple three and four day breaks already, not that I am complaining but it is something to consider; New Jersey for example started their season after the Pens and in Europe and have played just 1 less game. The truth is it is most likely a combination of these factors among other things, and who can blame the team for not getting excited about playing out of conference/division Canadian teams.
As the final 5 minutes started to click down the second line decided they would continue supplying the pulse, Malkin to Kessel, Kessel looking shout all day before Hot Carl sneaks in the back door with just the tip:
CARL HAGELIN Assisted by KESSEL (4) & MALKIN (8) @ 16:46
https://twitter.com/penguins/status/1052371348910235648
Just a perfect pass by Phil, he waits just long enough to sell shot and freeze the 'tender. It was good seeing Haha get on the scoresheet, dude has been flying this season and doing a lot of really good things defensively.
With the game tied Daniel Sprong got a late game shift, after the game he mentioned in an interview that he didn't know the third period had 20 minutes. Hr made a good play down the wing and put the puck on the tape of a Penguin breaking towards the net, but that was Jamie Oleksiak so nah.
The buzzer would sound and the Pens earned a point, earning 60% of a seasons points isn't a terrible strategy.
OT started with Sid, Jake and Letang. The trio circled, got some looks, ran out of gas, went for a change and gave the puck to Boesser. Boesser has a really good shot. GAME.
https://twitter.com/Canucks/status/1052375285050605568
---
Thoughts:
DeSmith made some key saves to keep the team in it throughout the game but it wouldn't surprise me to see Murray in the next game
Brian Dumoulin played his best game of the season
Brassard, Sprong and Maatta all finish the game with zero shots. Kris Letang had the most shots for the team with 4
Jack Johnson posted a team worse -2, but also contributed a team high 4 blocks and 3 hits
The hardest part about writing anything about this team right now is that they completely lack an identity. Granted we have 77 games to go for them to establish this, but at the moment the team cannot put together two consecutive shifts of similar hockey
Dominik Simon with less than 7 minutes of ice time while line mates Sprong and Cullen were near 9… you have to wonder when Sullivan is going to scratch a forward for Grant.


Loading ...