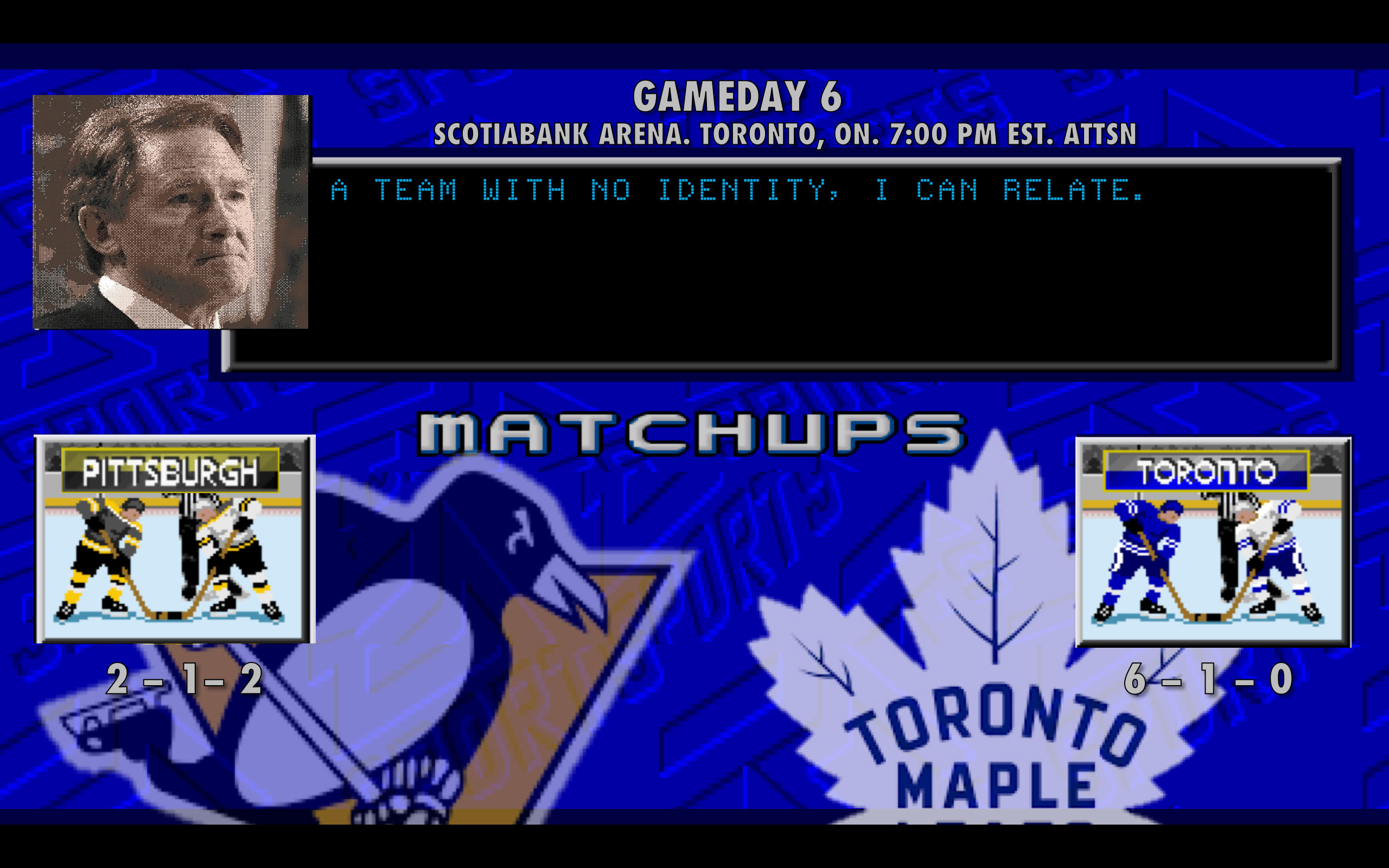 I'd like to start this gameday post by highlighting the fact that we've hit the 6% completion point of the 2018-19 regular season.  I know facts are passé in our society today, but we still have a long god-damned way to go before yinz can start lining up on your local bridges, so…let's reel it in a little bit.  Okay? Okay.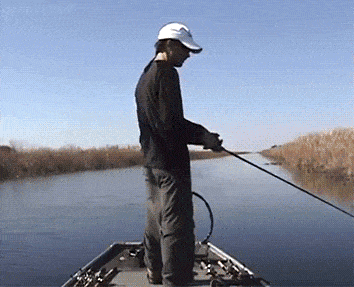 As mediocrely as things have been going for the Pittsburgh Penguins thus far, things have been nearly 100% peachy for the Toronto Maple Leafs.  They've won five in a row and six of their seven games by virtue of scoring the most goals in the League at 33, eight more than the Carolina Hurricanes in as many games played.  The top six in scoring features four Maple Leafs: Auston Matthews (also leading the League in goals, with 10), defenseman Morgan Reilly, Mitch Marner, and new hire John Tavares.  Old buddy Kasperi Kapanen isn't far behind Marner and Tavares, which has been making some Penguins fans wistful for his return, as if they'd rather have him than the guy for whom they sent him to Toronto (Phil Kessel), like that would somehow make Daniel Sprong irrelevant or straight-out disappear.  This, while still waiting on holdout William Nylander, who is apparently planning to wait for the other shoe to drop before signing a new contract with the hottest team in hockey.
The bad news for the Maple Leafs starts much the same as it does for the Penguins: in the defensive zone and in goal.  After Reilly, the most notable defenseman they have is Ron Hainsey (another former Penguin) who is paired with Reilly so that really answers why they both have a +7 and the rest of the defensemen are a combined -9… no you didn't read that wrong, Ron Hainsey is on the top pairing.  They've allowed the fourth-most total goals and total shots in the League, and their combined save percentage is just a shade (0.6%) better than Pittsburgh's.  Their League-best 15.3% shooting percentage is almost guaranteed to drop; last year's leaders ended up at 10.7%.  Just like we shouldn't overreact to how the Penguins are doing, no one should overreact to Toronto either.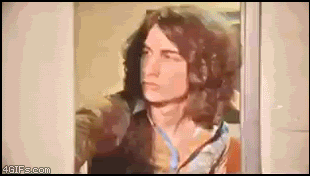 Still, the Maple Leafs and their fans have a considerable amount of hope, more so than they've had in many years.  After all, they've been in the playoffs for two straight years after making the playoffs just once in the prior eleven seasons.  That 2003-04 season was also the last time before last year that they'd cracked 100 points in the standings.  It was also the end of a six-year stretch of playoff appearances wherein the Leafs made it as far as the Conference Finals twice, losing to the Sabres in 1999 and the Hurricanes in 2002.  Those pre-lockout Leafs were laden with big time 1990s names like Mats Sundin, Ed Belfour, Joe Nieuwendyk, Gary Roberts, Owen Nolan, Alex Mogilny, Tie Domi, Brian Leetch, Ron Francis…if that team had been assembled a decade prior they would have won Cups forever.  Such as it was, they were all in their 30s, and there weren't enough good young guys to sustain the Leafs post-lockout.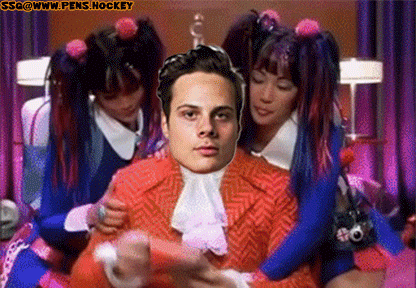 That 2004 team was the second-oldest in the League.  If you exclude the two especially old guys on the roster (Hainsey, 39, and Patrick Marleau, 37), this year's Leafs is the youngest roster in the League.  In this way it's fun to consider them somewhat similar to the Penguins of the immediate post-lockout period; in 2006-07 the Penguins had the youngest roster in the League, and the next two years they were in the Stanley Cup Finals.  Having a young, talented roster is certainly going to boost your hopes for the near future, but for the Toronto Maple Leafs to get far they are going to have to get better defensively and make it through the gauntlet of seasoned, equally thirsty teams in the rest of the NHL.  If they can't do that, they're not going anywhere.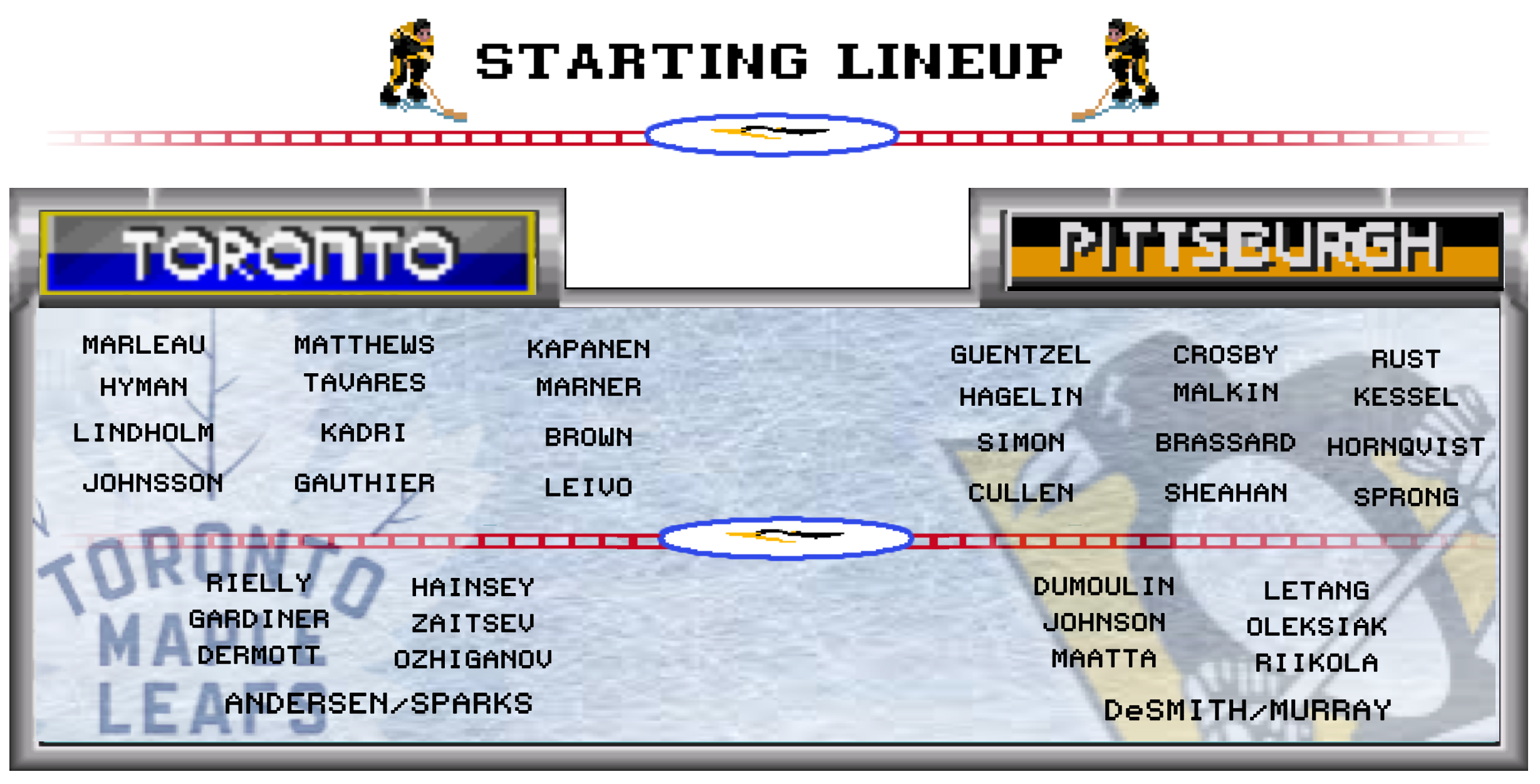 Penguins head coach Mike Sullivan continued to tinker with his forward lineup and defensive pairings, lending further complication to an already helter skelter situation.  Bryan Rust now moves up to the top line with Sidney Crosby and Jake Guentzel, Phil and Geno will perhaps be hanging out again, and Derick Brassard goes back to center with Dominik Simon and Patric Hornqvist.  Juuso Riikola had a maintenance day yesterday so we ended up with both Jamie Oleksiak (with Olli Maatta) and Chad Ruhwedel (with Jack Johnson) getting some practice time, but who's to say what, if any of this, will be utilized in the game tonight. The Leafs have a guy named Ozhiganov, that can't be real. Nazim Kadri was recently reported to be "ticked" after Lars Eller was asked what he thought about the Maple Leafs center strength before the Caps took on the Leafs, to which Eller basically responded we just played against Crosby and Malkin, nothing else measures up.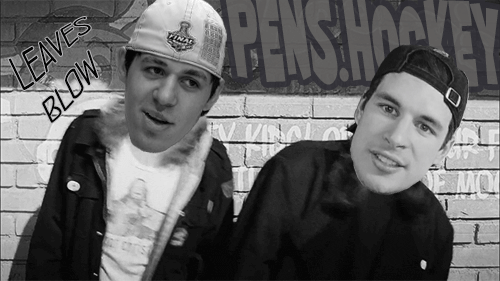 The early part of the season (yes, we're still just three weeks in) is a typically good time for tinkering and experimenting, but if there have been any changes to the system Mike Sullivan has been utilizing with the team over the last couple of years, it is not apparent in the way the team has been playing.  They haven't shown any of the puck-attacking aggression we fell in love with a couple of years ago, and it's just been balls-to-the-wall in both ends.  I wanted to share a graphic from one of the guys I follow on Twitter, Sean Tierney (@ChartingHockey):
PDO breakdown

NJD rocking a league-high sv% because, you know, Keith Kincaid. pic.twitter.com/CX5quOdVRD

— Sean Tierney (@ChartingHockey) October 17, 2018
I'm not a fan of the title "Fun" in the zone the Penguins presently and firmly occupy.  At least it's not like the "Unlucky" zone they spent most of the first half of last season, at least in the sense that the shooting percentage is much improved.  But…"fun"? I'm sorry, but there's nothing fun about how the Penguins have been playing.  Mind you, I would be saying this even if they were undefeated or winless, but this type of hockey is not "amusing, entertaining, or enjoyable" so much as it is harrowing, or "acutely distressing." I'm hoping over the course of this road trip they'll move up on this cartesian plane and stay to the right.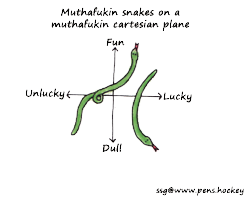 So far in this young season we've witnessed the Penguins compete against the Capitals, underestimate/ not prepare for the Canadiens twice, compete against Vegas, and play down to/underestimate Vancouver. Tonight will be a decent mental measuring stick of where the team truly is consciously, the know who the Maple Leafs are and they know that the Maple Leafs hold Pittsburgh as the Gold Standard for center depth in the league. If the Pens come out tonight with a compete level we've seen in their two wins that will go a long way in telling us where they are mentally. If the Pens come out like they did against Montreal then we will have our fair share of "Crosby is done," "Sullivan is on the hot seat," "trade Phil" headlines in the next week. Should we have these? No. But this is Pittsburgh and there is nothing else to complain about except a team with 6 points in 5 games in a season that is 6% complete. Last October the Maple Leafs were going to win the Stanley Cup after starting, wait for it, 6-1-0. You don't win cups in October Toronto. The Penguins don't win cups because they have two great centers. They win have won cups because they've had a defense that can step up when those centers are eventually shut down in the playoffs. Trust us, dear Toronto, we've seen Crosby and Malkin get shut down in the playoffs, Matthews and Tavares aren't any different. The regular season is one thing, the playoffs are another, and I'm not so sure Ron Hainsey as a top pairing defender is the path to success.