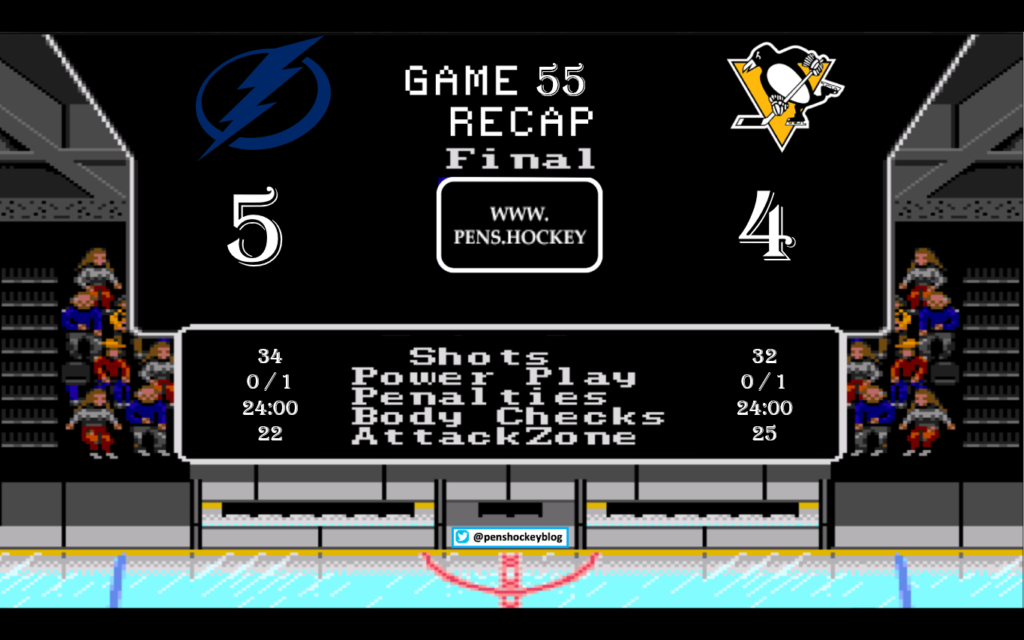 Before we do anything else, let's take a moment to recognize Sid's historic accomplishment. He started his 916th regular season game for the Pittsburgh Penguins, becoming the all time leader, passing Mario Lemieux. That means for about 1800 games, we have been blessed to watch two of the absolute greatest players to ever play the game do it in Pittsburgh colors.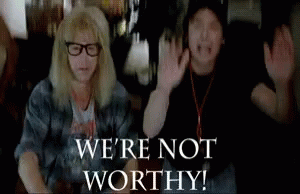 Game on!!!
Anyway, the Lightning wore their all black PJs tonight and they were NOT impressive, unless you're a big fan of basically all black.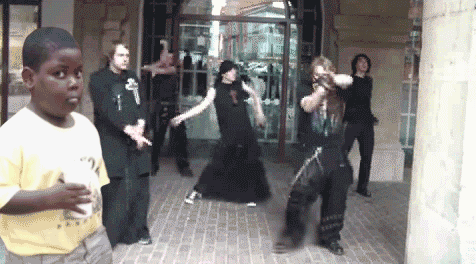 The new look first line is actually an old friend, 59-87-17. Nice to see the energy of Rust up with Sid and Jake. Sure, Byoogie will be fun there on the right, but not until Geno is back in action.
The game started out pretty uneven. Lots and lots of whistles. There were flashes of greatness early on. Sid and the boys had a couple of great shifts, as did Byoogie, The Phil! and Son of Pear, who, I just learned, still plays for the Penguins. (again, I am forskinning foreshadowing)
Up and down, not much going on, until the 4th line decided that popping cherries was so much fun that they'd make it a 3rd straight first Penguin scoring.
Garrett Wilson (1) from Blueger (1), Cullen (10) @ 13:36
Just a solid play all around, and actually the second great opportunity on that shift, as Cullen almost did the same thing for Blueger moments before. Olli with a solid play on the wall to knock it away from Kucherov, then Cullen with a quality stick lift and great outlet pass to Blueger. Two on one with Head-man back and 4th liners coming in. Could have gone either way, but Blueger showed great patience and waited for Head-man to fall limply to the ice before laying some perfect sauce over to Wilson who slipped a no-doubter through the Vaseline.
Not long after, the Pens were making a great rush up ice and had numbers. Sid with a great pass to Rust who promptly… frked a donkey, passing it directly to Head-man who didn't let his PJs bother him and promptly started a 2 on 0 rush which Yanni saxed right behind OfSmith.
Letang was pinching, sure, and Pettttteerrrrssssson fell down because ice is slippy, but Rust just can't make that pass. Gotta get that deep. SO DEEP. Just like she said.
Minute later, Pens couldn't clear the net front, as the Fighting Finns were just not fighting. Riikola was left to deal with two bolts of Black Lightning alone because Maatta decided that one good play a period was apparently his limit. Chad Ruhwedel, call your agent.
Stats after one:

More unevenness from the Pens to start the 2nd. And if I had a bourbon for every time Errey said 'the Penguins defense got caught' I'd already be passed out and well on my way to death from asphyxiating on my own vomit. Speaking of vomit, Jerkin Johnson isn't any better when you stand Dumo next to him, unfortunately. And I'm not sure if Pettttteeerrrssssson was making Letang worse or vice versa. Whatever is going on, that blueline sucks, I know that much for sure. If only we had a reliable, play making defenseman…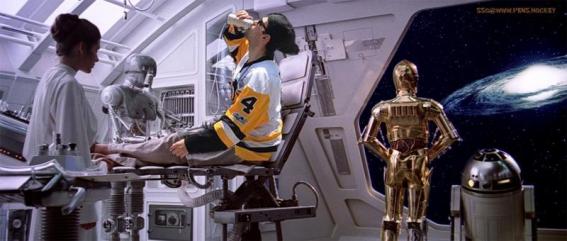 Things happened and Head-man hit the iron. More things happened and then Maatta nearly did his good thing of the period but also caught the iron. Happily on the same exchange, Sid draws the penalty. So yay, the PP takes the ice and away they we…. FUCK.
League 'leading' 12th shortie against, and we couldn't even blame Geno for this one. Can't yell too much, but Letang's job on that play is to stop that cross-ice pass. Ugh.
On the ensuing face off, B-Jugs smooshed a dude in the squash with his twig, so bye-bye PP, which is obviously just as well. So much just as well that McCannDoItAll did it again, because 4 on 4 is his JAM.
McCann (10) from Rust (13) (4 on 4) @ 8:31
That boy has a SHOT. Remember, he was taken 24th overall by Vancouver. Just because their GM is a toolbag and sold him off for a pile pucks or whatever crappy deal he likely made doesn't mean McCann wasn't a good player. And from what I'd read about the deal with the Panthers, Grampy Jim INSISTED on McCann being part of the deal.
Then people got annoyed. And Ol Blue must have made fun of Erne being Bert's 'roommate' so they decided to have a little man dance. Wheeeeee.
So then the best thing in the game happened. Tyler Johnson wiped out Sid along the boards and Sid took exception and … well it's hard to describe, but basically Sid turned Johnson into a turtle. He looked like your Uncle Big Ben holding down Cousin Eddie at the family reunion after his 12th Natty Light gave him beer muscles.
On the ensuing 4 on 4, B-Jugs entered Penguins Lore by performing Ye Olde Hidden Puck trick, so perfectly that Errey got so excited he spilled his bourbon while he was painting the walls, probably. Pens with a glorious chance, but The Phil! just couldn't get it through.
Still 4 on 4 at the next face off, the students became the masters.
Rust (15) from Guentzel (25) (4 on 4) @ 15:04
Just text book working down low and the hardest working guy on the team gets rewarded.
Shortly there after, Jerkinov Johnnyboy did the best thing he's done all season… got kicked out of the game for 5 minutes. Literally addition by subtraction.
Stats after two:
Pens really owned this period. They played as a unit, all over the ice. They supported the puck. They out chanced the best team in the league. They played hard AND managed to get the Lightning off their game. Just watching Lil Tyler Johnson following Sid around trying to pick a fight the whole rest of the 2nd was proof of that. And Sid LAUGHED at him, like he should. Brilliant.
Once again, the Pens open the period looking messy and out of sorts. But they managed to keep their junk outta the fire for while. At least until 5 minutes in when Tampon showed why they're so good.
Of course it was Lil Johnson. Ugh. Imagine his chirping after that. Perhaps it will get Sid fired up.
JT Miller with a laser. Shit.
Horny fucking with Erne. Shit.
Then Sid decided he WAS fired up. That knocking over Vaseline with a shot earlier wasn't going to be enough. So he goes into the corner and just rapes Old Man Girardi, stealing his cookies and sending a perfect feed to Pearson who wasted NO TIME putting it behind Vaseline.
Pearson (9) from Crosby (39) @ 15:22
BTW, that line was Pearson – Crosby – Kessel. Sully using the Lineblendernator 2000 to great effect tonight. Of course, B-Jugs paid for these lines with potentially his tricep turning into a …. uh… sixcep? Here's hoping it wasn't too deep, which is most certainly NOT what she said…
Anyway, the Pens fought back hard, but not having Malkin, Horny or B-Jugs really made it pretty tough.
GAME.
Thoughts:
At the end of the day, the Pens just lost their 4th in a row. Woof.
Jack Johnson is really, really bad. Surely Sully can't carry his water all season and something will be done. But I wonder…
McCann is fast and has a nice shot. He's a mix of Hags and Pearson and also is always SMILING. Team needs that positivity right now.
Murray was the backup, so he'll be in next game. Thank Jeebus.
Schultz BETTER play next game.