After what seemed like a week off following the Vancouver game the Penguins were in the hotseat of Canada getting ready to play the hottest team in the league, figuratively; Auston Matthews and Mike Babcock aren't getting many swipes on Tinder with those mugs. The build up to this game was basically a bunch of people flirting around about who the best player in the NHL is. Somehow Matthews was thrown into the conversation and that's just silly, yeah the guy has 16 points in the first 7 games during his third year… he also isn't even a point per game career player, give your balls a tug. The kid is good, but just because he is wearing a Leaf on his chest doesn't make him jump a few tiers in "the best of" conversation. While we are talking about the Blue Sweater Effect, the NHL Twitter handle sipped the Kool-Aid yesterday as well
For years Sidney Crosby and Evgeni Malkin have been the game's best center duo, but that may be starting to change… https://t.co/6wMIYyfh0f

— NHL (@NHL) October 18, 2018
Shall we look at the tape on this? In their first season playing together (2006-07) Sidney Crosby finished with 36 goals, 84 assists and 120 points while Evgeni Malkin netted 33 goals, 52 assists for 85 points.  Crosby is currently a 1.29 points per game career player, Malkin is not far behind at 1.19. In contrast, Matthews is a 0.97 point per game player and Tavares is sitting at 0.933. This means your "new best center duo in the league" will eventually play a game without either of them getting a point… I wonder who that would happen against? The "Tavares was on the Islanders" argument is garbage, he was still flanked by better goal scorers than Pascal Dupuis and Tyler Kennedy. Malkin as the top line center on the Islanders with Eberle on his wing? I'm willing to bet Geno's numbers go up on that line. Matthews and Tavares are two very good players, but the Penguins didn't become known for their center depth in 2006-07 when Crosby and Malkin lined up for the first time down the middle. They became known for their center depth when they used that depth to reach the Stanley Cup Finals two years in a row. You don't get labeled "best duo" by a journalist and it suddenly becomes true, you earn it, and  it takes a lot more than a week of good regular season hockey games.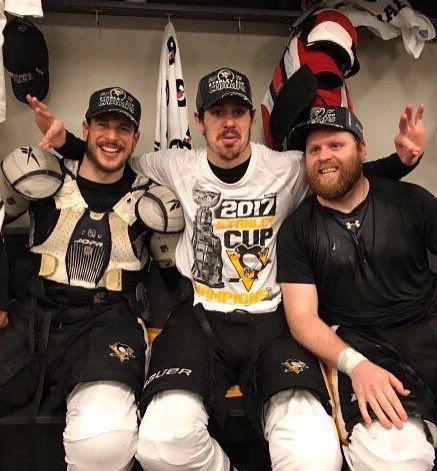 The Penguins lined up just as they practiced the day before, with Matt Murray back in the crease
Let's do this.

Welcome back, @mattmurray_30! pic.twitter.com/vZfLL4ELG3

— Pittsburgh Penguins (@penguins) October 18, 2018
One of those 184 responses to the above Tweet was "Ruhweadel should be in instead of Riikola," yikkkkeeeessss. Okay this might be the longest prerecap intro ever so lets get into it.
To start, I love how Toronto handles the National Anthems, just an organ ripping through them one after another, no bullshitting around (no disrespect to Jimmers, major disrespect to everyone else). Matthews won the opening faceoff and the arena went wild prepared to celebrate the victory. The game quickly settled down and the Penguins were doing this weird thing where they played like a hockey team. Despite carrying the majority of the chances it was hometown hero Johhny T getting the "oohs" and "awes" early as he figuratively (sorry ladies) undressed Letang:
John Tavares doesn't care who you are. You will be dangled #Leafs pic.twitter.com/9xkbnnLADN

— Omar (@OLW93) October 18, 2018
Murray with a stellar "do you even lift, bro?" save.  Malkin wasn't to be outdone by Tavares and nearly put the Pens up by one a few seconds later
Well that was close #Leafs #Pens pic.twitter.com/w5mANmGMtm

— Omar (@OLW93) October 18, 2018
It was at some point around this time that Sullivan made a swap and placed Sprong on the third line with Simon and Brassard and dropped Hornqvist to the 4th line with Cullen and Sheahan. It was also during this time that Sullivan was somehow able to get his third line out against the Leaf's top pairing, setting up offensive domination for the rest of the period. Nine minutes in the Leafs took a Stormy Daniels personal favorite too many men penalty and the Pens used 6 seconds of the powerplay
EVGENI MALKIN (2) Assisted by LETANG (4) & CROSBY (5) @ 11:42 PPG
https://twitter.com/penguins/status/1053067351187439617
Really no clue what Andersen was doing here, if you look at the beginning of the clip his stick is where it should be. As Geno throws the puck on net Freddie boy moves his stick exposing that small area where the goalie pad ends and the blade of the skate begins. Pens center duo: 2 points, Leafs center duo: 0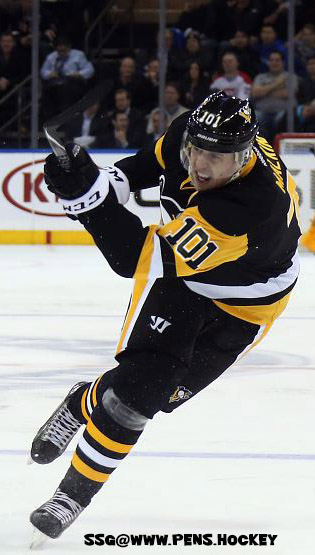 The Penguins would continue pressing as they averaged about 2 shots to every 1 from the Leafs, and when the Leafs did break through Murray was standing tall.
What a pass by Marner, but what a stop by Murray #Leafsforever #Pens pic.twitter.com/75jdThmhnG

— Omar (@OLW93) October 18, 2018
I'm pretty sure Brian Dumoulin played the remaining 6 minutes of the period and he had at least 3 scoring opportunities. Unfortunately none of them would go in and the Pens would end a perfect road period with a 1-0 lead.
Solid stats. Good job, team. pic.twitter.com/CkZjQtnOdh

— Pittsburgh Penguins (@penguins) October 18, 2018
The Pens were averaging 6 shots per first period in the first 5 games of the season, they recorded half of their season total in this period. Toronto with one block in the period also gives a nod to wise shot decisions by the Pens, 17 of 18 attempted shots were on net, yes please.

There was some noticeable jump in the Toronto players to start the period, almost like Mike Babcock threatened them with a strip show if they started slowly or something. Despite the visual in your head and being pinned in their defensive zone for large chunks of time the Penguins remained as cool as a cucumber and packed it in, when the armor broke Matt Murray was there. When needed, Matt Murray was there in a big way:
MURRAY! MURRAY! pic.twitter.com/YnVhjfyvjO

— Pittsburgh Penguins (@penguins) October 19, 2018
The Penguins were able to get their chances as well throughout the frame but nothing was going by Mr. Andersen. After keeping the Pens in their defensive zone for about an hour the Pens took an icing and nearly got called for a delay of game penalty for stalling the upcoming faceoff, instead they got to the circle and Hyman prematurely penetrated Oleksiak's stride, drawing a tripping call. The powerplay was balls for the most part, then Matt Murray handled the puck in the FORBIDDEN ZONE
ZONE
ZONE
That probably played out better in my head.
Jack Johnson was in the "news" yesterday when Kingerski featured him in a poorly written attempt to debunk fancy stats, it isn't shocking that a guy that couldn't manage a bank account can't figure out what Corsi is. Anyways he actually did something (somewhat productive) in this period
https://twitter.com/penguins/status/1053085766719561740
After the Murray penalty there was a brief 4 on 4 period of hockey and wowzers was that fun. Nobody scored but the Pens managed to gain momentum. Around this time the newly created Cullen-Sheahan-Hornqvist line started making a name for themselves with some hard work in the offensive zone. Despite both teams best efforts the period would end as it started with a 1-0 lead for the Penguins.
Here's a quick look at the numbers as we wait for the 3rd period to start! pic.twitter.com/zjWJ2eur9G

— Pittsburgh Penguins (@penguins) October 19, 2018
At one point in the period the shots were 11-3 for Toronto, they finished 13-11 for Toronto as the Penguins rebounded perfectly. Also, 16 blocks through 40 minutes is some big time defensive playing.
Heading into the third period with a one goal lead probably didn't sit well with many Pens fans. As the period moved on Mike Sullivan shortened his bench by basically eliminating Daniel Sprong and Dominik Simon from the lineup, both deservedly so after some less than stellar efforts in the second. Another thing Sullivan started doing early in the game, and it became apparent as the third moved on, was the matchup of the Cullen-Sheahan-Hornqvist line against the Leafs top line. The Pens trio rendered Auston Matthews and company useless, constantly pinning them in their own defensive zone. You see Toronto, this is why two star centers don't equal Stanley Cups, it took Mike Sullivan less than 25 minutes of game time to find a combination that eliminated the top line. There is no doubt in my mind that that trio would effectively shut the top line down in a 7 game series. With the top line out it was up to Tavares against Malkin and Phil, and as irony would have it the best chance the line had was halted when a back-checking Phil Kessel stole the puck off the stick of Tavares. In typical Babcock fashion he pulled the goaltender with just over two minutes left to give his team a chance to tie it. Nazim Kadri attempted to carry the puck into the zone but Carl Hagelin had other plans and disrupted the puck carrier, the puck went to the boards at mid-ice where Geno would battle for it. After getting to the puck an overzealous Kadri fights Geno off the puck and whacks it back to a defender that wasn't there, and into the net to seal the deal:
EVGENI MALKIN (3) Unassisted @ 17:53
Wait for it… Wait for it… IN! pic.twitter.com/xFf3mcLCB4

— Pittsburgh Penguins (@penguins) October 19, 2018
Play the game the right way and you will eventually get bounces. This is a great play by Hagelin, and look at this closing speed: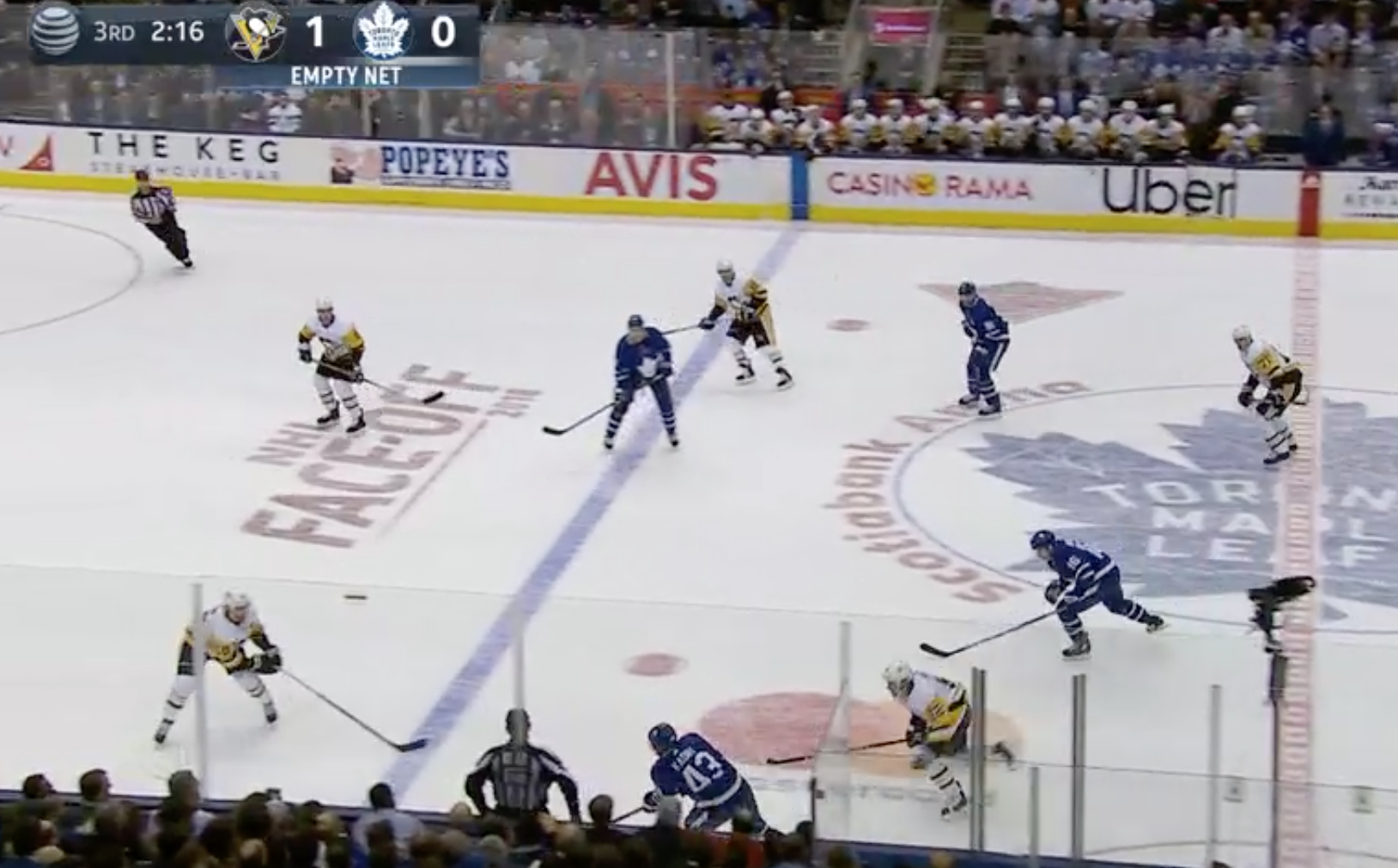 Kadri can either attempt to carry it in against Dumoulin, who by the way continued his ridiculously good play throughout this game, or dump it in and play the 6 on 5 advantage odds. Instead, in less than a second Hagelin closes a 5 foot gap and forces a turnover: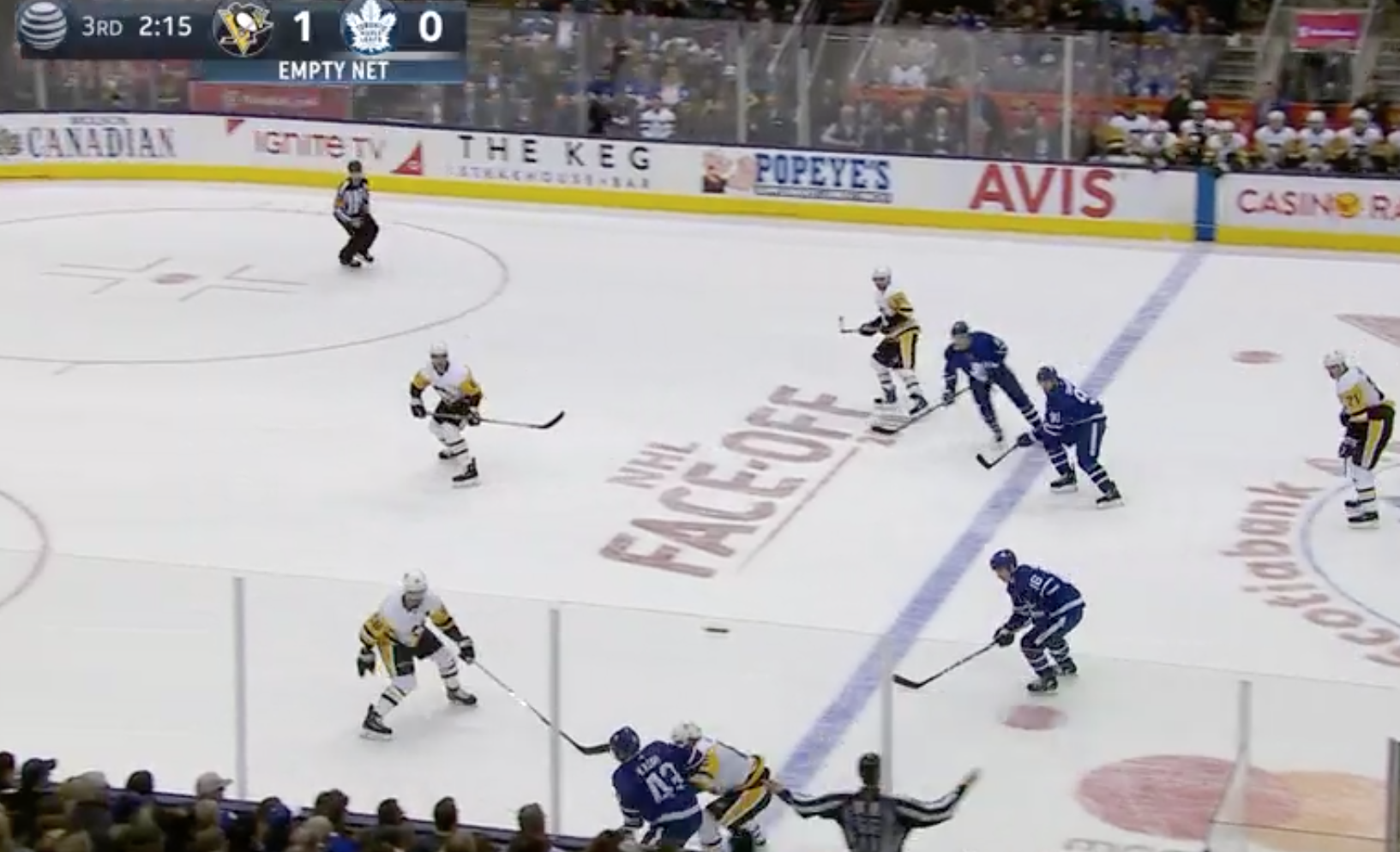 He won't get an assist on the scoresheet, but Hagelin has been making a ton of similar plays this season that are flying under the radar.
When you accidentally score. @emalkin71geno pic.twitter.com/UniHwRcjLw

— NHL GIFs (@NHLGIFs) October 19, 2018
Now down by two and yet to beat Murray Babcock decided pulling the goalie again wouldn't hurt. The Leafs got three or four looks but Murray wasn't having it. The puck came to Geno at centerice for a chance at the hattie, but the selfish Russian dished the puck to a wide open Kris Letang who puts in his 100th career goal
KRIS LETANG (4) Assisted by MALKIN (9) & RUST @ 18:52
KRIS LETANG NETS GOAL #100 OF HIS CAREER ON THE EMPTY NETTER!#LetsGoPens pic.twitter.com/VycyNtOE2B

— NHL Daily 365 (@NHLDaily365) October 19, 2018
Letang joins Paul Coffey as the only two defenders to score 100 goals in Penguins history, Thanks Letang. Penguins duo: 4 points, Leafs duo: 0 points. First point of the year for Rust.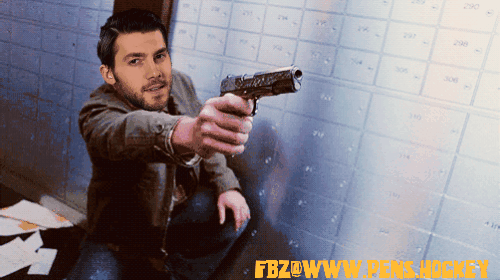 The Leafs would not score in the remaining 68 seconds, and Matt Murray would record his 7th career shutout, which is somehow good enough for 4th all-time as a Penguin.
https://twitter.com/penguins/status/1053118073958481921
---
THOUGHTS:
When they needed it most, the Pens clamped down and played a playoff style hockey game. Any worries that have been carried in your gut the first 5 games should be somewhat assuaged right now.
Mike Sullivan simply out-coached Babcock in an away game to get the matchups that essentially took Matthews out of the game. Unbelievable job.
Will people celebrate Murrays shutout as long as they would've complained had he let up 4? After the shutout Murray's save percentage went up significantly to .893 on the year, and you don't need me to tell you that he look locked in last night. According to NHLN Murray's 38 saves breaks a 50-year-old record held by Les Binkley for most saves by a Penguin goalie during a shutout in Toronto.
The center depth for Toronto finished the game in the negatives, down the middle they went Matthews (-1), Tavares (-2), Kadri (-2).
Simon and Sprong finished with 8 minutes, everyone else was between 14-19. Overall I thought Sullivan did a good job shortening the team to 3 lines and using Brassard as a winger in the third.
Guentzel, Simon and Brassard finished the game with 0 shots. Letang (6) and Johnson, Hagelin and Cullen (5) were the leaders.
Malkin was the team leader in blocks with 4
Riley Sheahan plays better when given more responsibility. As soon as the Cullen-Sheahan-Hornqvist line started getting ice-time Sheahan was noticeable. I wouldn't be surprised if we eventually see a Brassard-Sheahan-Hornqvist third line.
Why are there four days off before the next game on a roadtrip?? See you Tuesday I guess!


Loading ...