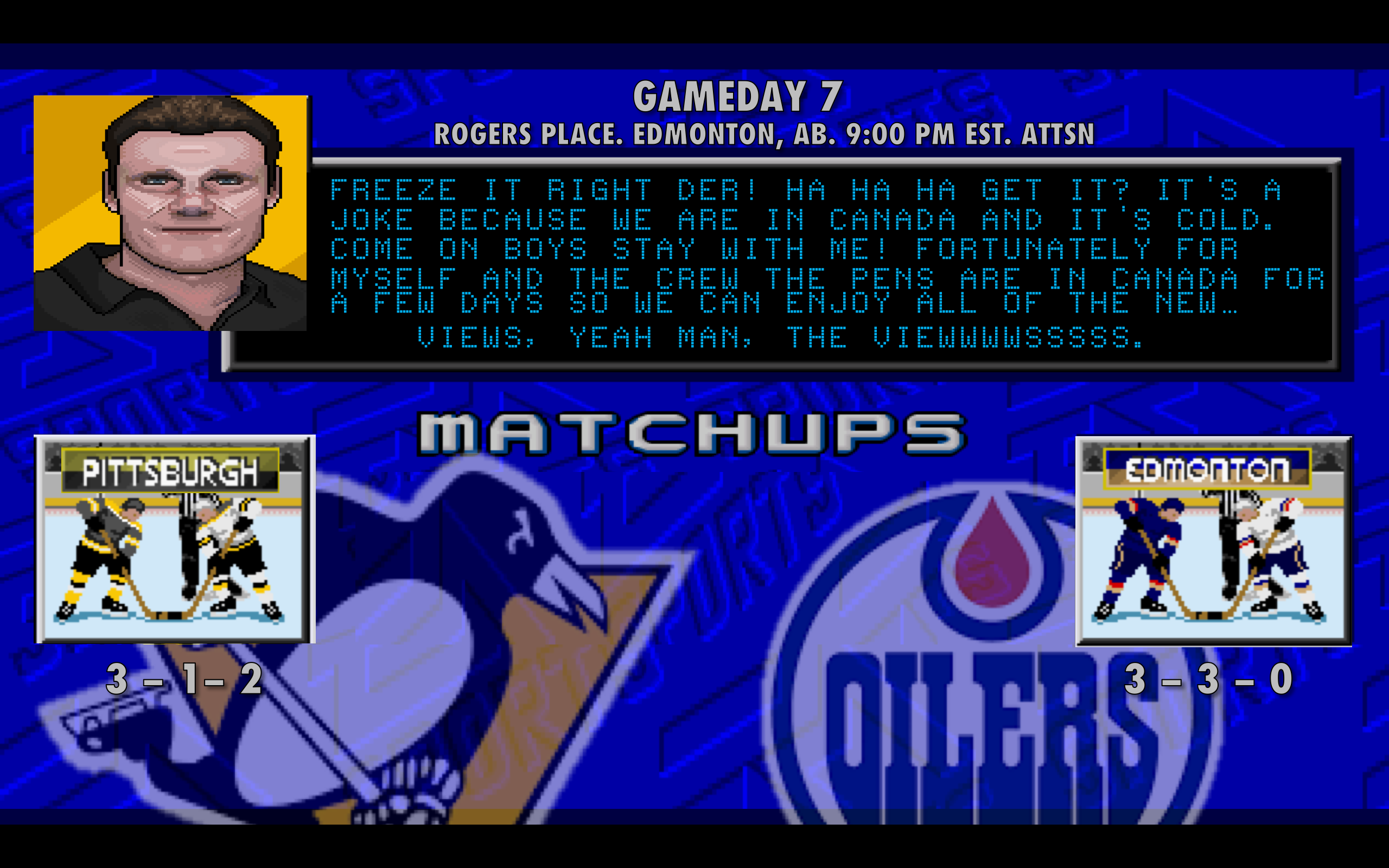 It's the Pittsburgh Penguins' annual Western Canada road trip! Always a fun time for the die-hard-yet-stay-home Penguins fans who are able to stay up past 11PM to see the Penguins play the three Canadian Pacific Division teams on the road.  Good thing they're getting it out of the way nice and early this season.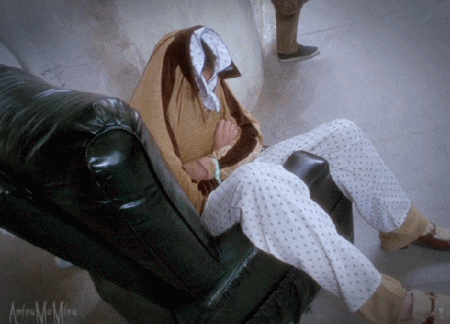 Tonight's match will also mark the fifth time the Penguins will face Connor McDavid and hear all the commentary about how McDavid has taken the torch of League's best player away from Sidney Crosby.  It's pretty easy to say stuff like that when one guy is nearing the end of his prime and the other is just getting into it, but I like to look at the start of McDavid's career in comparison to how Mario Lemieux's, because both of those once-in-a-generation guys started their career surrounded by nobodies, while Sid had talented guys to play with and mature with pretty much right away.  For Lemieux, it wasn't until the 1988-89 season, his fifth in the League, that the Penguins emerged from the basement of the Patrick Division to make the playoffs with some useful players who could actually do something without Mario on the ice.  For McDavid and the Oilers, there's been no such luck thus far.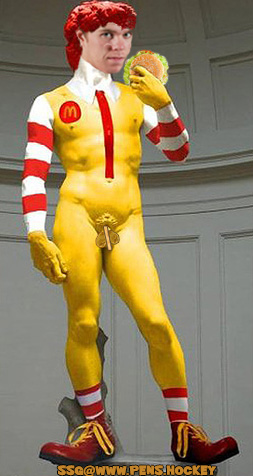 As a matter of fact, it took the Oilers until their tenth goal for Connor McDavid to not be involved in the scoring.  Since defenseman Darnell Nurse broke the egg with his game-winning overtime goal against the Winnipeg Jets, McDavid has been involved in two of the three goals the Oilers have scored in the two games afterwards.  In other words, McDavid has factored in eleven of Edmonton's (second-to-last in the League) thirteen goals, which is not ideal for a team with arguably the best player of this generation.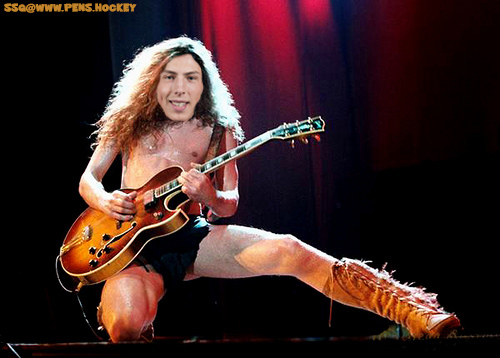 McDavid and linemate-but-should-be-center Ryan Nugent-Hopkins have accounted for eighteen of Edmonton's 37 points, almost 50%, and somehow their fellow linemate Ty Rattie only has two points on the season.  That is almost miraculously bad, which I guess makes sense when his nickname is McJesus.
The only other player on the roster who might be worth the contract he has is Nurse, turning 24 on February 4, who played his first full season last year after a couple of years of health problems.  Edmonton leans heavily on their top four defensemen of Nurse, Oscar Klefbom, Kris Russel and (snicker) Adam Larsson, but Nurse is the only one of the four who really helps the team in all three zones.  Nevertheless, Nurse is not the most notable defensemen in the 23-to-25-year-old range, which includes Morgan Reilly, Hampus Lindholm, Matt Dumba, Shayne Gostisbehere, Jacob Trouba, Rasmus Ristolainen, Josh Morrissey, and Aaron Ekblad.  I could have listed more guys, but to his credit Nurse is fifth amongst that cadre in time on ice per game, so…I guess that's good news for him?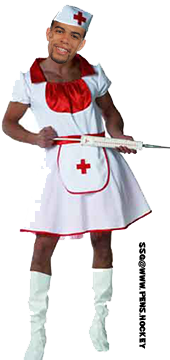 Of course, the man with the plan (or lack thereof) that has led the Oilers to this dark and miserable state is general manager Peter Chiarelli, whose autobiography will likely share the same title as The Office's Michael Scott's book, "Somehow I Manage…" Really, somehow Chiarelli is still in position as GM for the Oilers, as this is now his third season "leading" the team.  You know how players who win the Cup, even if they're depth players, get overpaid by teams looking for that experience, as though winning a Cup somehow changes that player into someone who can help inspire their new team to become Cup winners? (Think guys like Tom Kuhnhackl, Carter Rowney.) Apparently the same applies to everyone involved, including GMs.  After winning the Cup with the Bruins in 2011, Chiarelli made the genius stroke of ridding the Bruins of Tyler Seguin, who scored forty goals last season and thirty in four of his five seasons in Dallas while acquiring a bunch of guys who were incapable of replacing his productivity (most notably: Loui Eriksson) and are now all no longer with the Bruins.
Boston shit-canned Chiarelli in 2015 and the Oilers thought he would be the right man for the GM job.  He inherited a really bad Oilers team that managed to snap up their fourth first overall pick in the draft (to acquire McDavid), Taylor Hall, and what was a generally talented and balanced team.  But then he decided that he couldn't afford Hall long term and swapped him with New Jersey for (snicker) Larsson.  While Larsson is an okay defenseman, Taylor Hall almost single-handedly carried the Devils to the playoffs last year and won the Hart Trophy as League MVP for his efforts.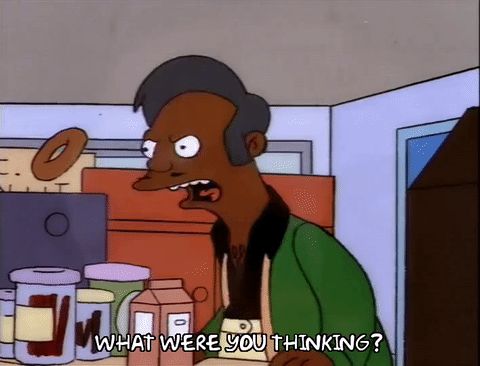 In just a couple of years, Peter Chiarelli went from one team, trading a former second-overall pick, to another team, trading that same year's first-overall pick. Long story short, Chiarelli is a terrible judge of value and talent and has no business being general manager of any team.  I'll be shocked if he's still in his position by this time next year.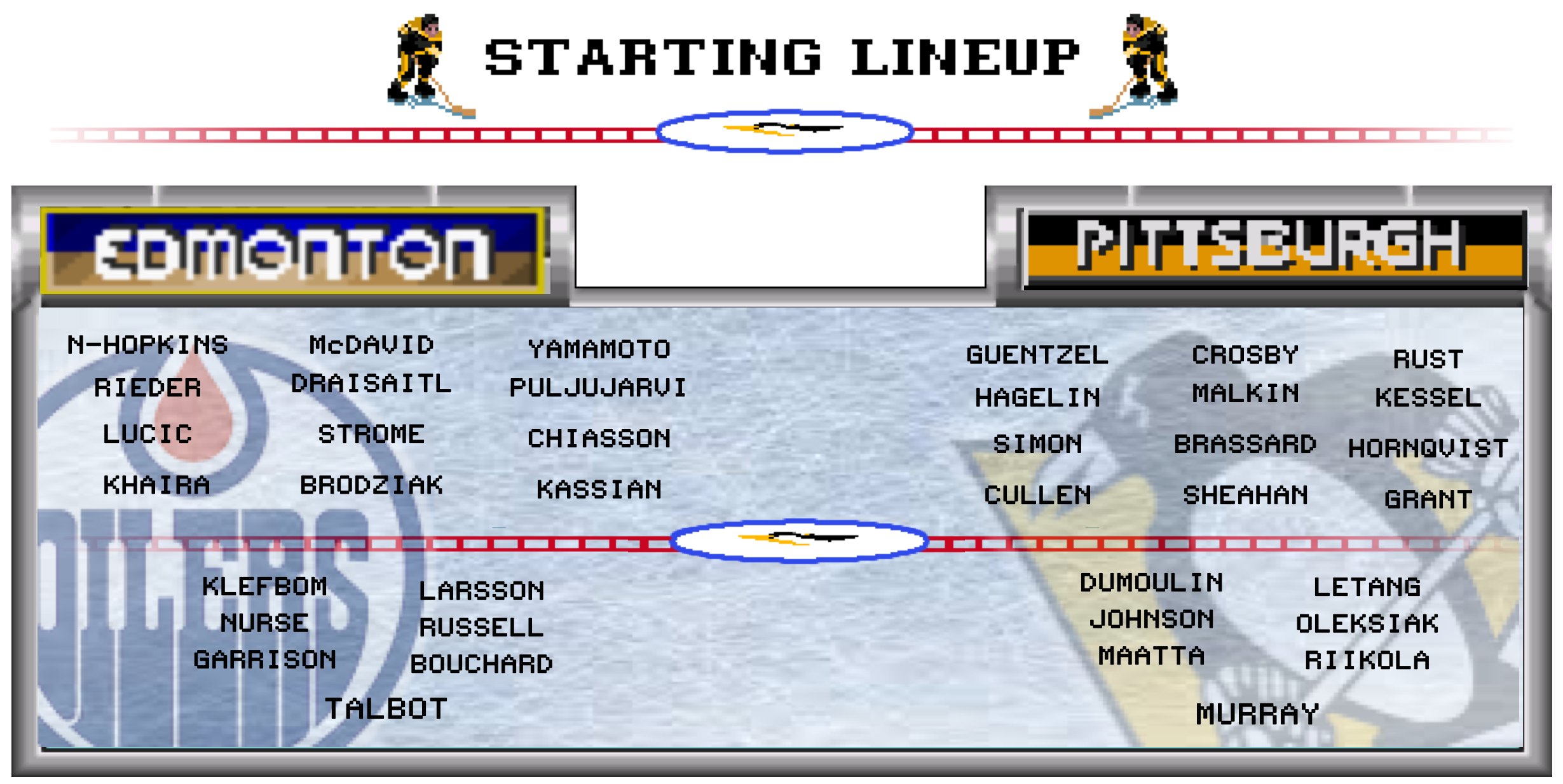 It's too bad for McDavid, who is in the first year of an eight-year, $12.5M/year contract, who is surrounded by a bunch of guys who are way overpaid (Milan Lucic, Larsson, Kris Russell) and is still a long way from getting out of their contract mess.  They're already right up against the cap, and they really have no UFAs of note to swap out by the time the trade deadline comes around in February.  (Both of their goaltenders on NHL contracts, Cam Talbot and Mikko Koskinen, are UFAs, and then the rest are amongst their lowest-paid players.)  Their farm system is not a symbol of hope either; while they may have some good defensive prospects, they need help in goal and on their wings, and that's not looking likely to come for a few years yet.  Back to McDavid: he has a no-movement clause which doesn't start for four seasons, so if he's still around by then (which is no guarantee so long as Chiarelli's the GM), maybe the picture will be better for the Oilers.  But right now, and for the near future, there isn't a lot of hope to be had.
The Penguins spent their weekend in and around Banff National Park in Alberta, which is a lovely place I hope to visit someday.  While the 3-0 defensive gem against the Maple Leafs was very nice (keeping the League's heretofore best offense in check and boosting Matt Murray's confidence), the Metropolitan Division is a big-time logjam with (as of this writing) six teams with either 9 points (Carolina) or 8 points (everyone but the Islanders and the Rangers) in the standings.  These interconference stretches aren't usually treated with as much concern as intraconference or intradivision matches, so it will be good to see the Penguins play some consistent hockey here.  While the Oilers don't seem to know what they're up to, the following two matches (against the Calgary Flames on Thursday and the Vancouver Canucks on Saturday) feature, a little surprisingly, the teams in second and third place in the Pacific Division here in the early going, so the Penguins will want to be sure to take them seriously.