It's over. It's finally over. After months and months of hype and build up the Stadium Series battle of Pennsylvania is finally over. Many Penguins fans are currently saying goodbye to their first born child, as they willingly sacrificed him/her in a prayer to keep Crosby healthy through this game. Many Flyers fans probably feel like they just saw the most recent Tim Burton directed Johnny Depp movie, lots of hype, wasted 3 hours.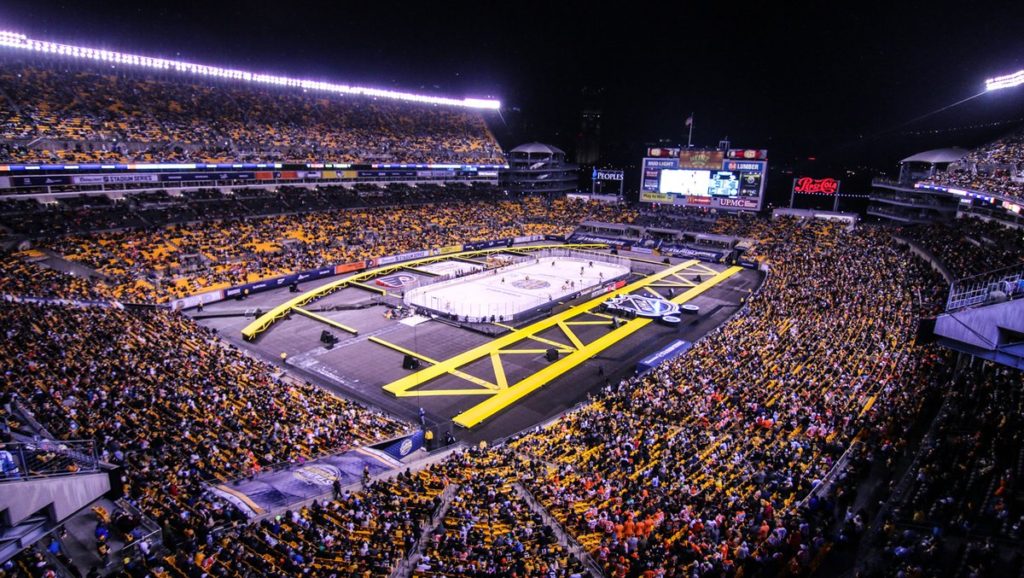 Here's a live look at NBC Sports headquarters in preparation for this game:
You may want to watch that on mute, his laugh is annoying, fucking Pierre.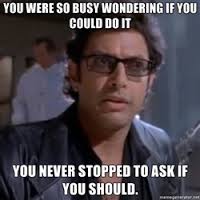 This game had it all though from an NBC perspective. Horrible puns, wrong names called after goals, weather reports, Jeremy Roenick at one point had to report from the top of the stadium to let us know it was windy. As many of us said a silent prayer when he mentioned that he almost fell off the roof a few times, our collective mojo was already spent on Crosby's health. Knowing that Roenick got to the roof in the first period and NBC didn't get to him until the middle of the second is good enough for now.
The teams were finished with their intro walk. The Flyers messed up walking out as Neuvirth turned down the wrong path twice, Philadelphia is used to not having a good leader though. Matt Murray and the Pens came out in step with the beat of whatever inaudible song was playing. Antonio Brown introduced the Penguins to some cheers and boos, it was an opportunity for some yinzers to boo him and blame it on a Flyers fan. Then the game started and holy shit, the Flyers man. After half a period of getting used to the lights, ice, views, etc. the captain was here to send a shot through whatever occupies the place in Flyer's fans chests where hearts should be.
SIDNEY CROSBY (34) Assisted by GUENTZEL (7) & WILSON (13) @ 11:18
34 goals. NHL goal scoring leader.

Sidney Crosby, legend. pic.twitter.com/TbROuiM9Sn

— Pittsburgh Penguins (@penguins) February 26, 2017
What a pass by Guentzel. Completely froze Neuvirth in his tracks. Apparently after the first period the Flyers were overheard asking who this #57 guy is (I didn't make that up), that's how much of an impression he made on them in just the first. The remainder of the first was mostly NBC talking about how the Flyers needed to win this game or their season was done, typical broadcasting. You can't be a paid broadcaster of the NHL and mutter the lines "there are only 6 weeks left in the season and the Flyers trail the wild card by 5 points, if they don't win tonight…" Though I don't think they can do it, it's not because it is impossible, it's because it's the Flyers, but of all fanbases we know you can't count teams out before March.

During the intermission Train played a concert or something, because the NHL completely understands the fans at a Pittsburgh-Philadelphia game. It was still windy. Most of us were expecting to see the Chicago Blackhawks come out of the Flyers locker room for the second period, rude that the NHL had an outdoor game without their host team. The game was starting to get a little chippy, some penalties were being called and the first unit couldn't score but damn, Phil Kessel was just ripping shots. Must of been the wind. Hockey Night in Punjabi was on hand at Heinz, so it's only fitting that Nikki Bonez netted one:
NICK BONINO (9) Assisted by GUENTZEL (8) & DUMOULIN (10) @ 6:44 PPG
BONINO! BONINO! BONINO! From one knee on the power play. 👏 pic.twitter.com/D0yM8w49P6

— Pittsburgh Penguins (@penguins) February 26, 2017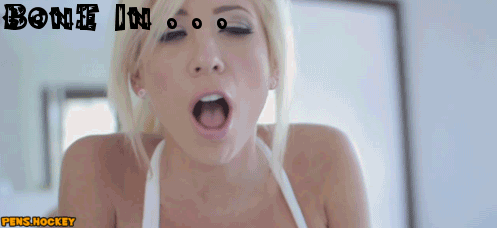 @NickBonino pic.twitter.com/fJWKyx5zLQ

— Hockey Night Punjabi (@HkyNightPunjabi) February 26, 2017
Another great look by lickmyguentzel, and Bonino sent Neuvirth into depression. One of the Flyers red-headed players would eventually score around the 11 minute mark to make it a one goal game. Regardless of how much they suck, years of experience as made us all antsy when we see a superior Penguins team only up by 1 to Philly. The period would end with some snow swirling in the Pittsburgh air and a 2-1 Pens lead.
The third was getting ready to start and Doc and Pierre are blabbering about hard wood or something, and that Columbus and the Rangers won so now Pittsburgh has to win or something. It's cute that the Flyers and NBC both thought this was a playoff game. 2 minutes into the third period the man that has played in 1348 NHL games but never outside showed us once again that age is just a number.
MATT CULLEN (10) Assisted by FEHR (5) & KUHNHACKL (5) @ 1:50
Cullen from yesterday: "It's such a fun thing. To be a part of it, my whole household is pretty excited. The boys are probably the most." pic.twitter.com/TrWFKn09ts

— Pittsburgh Penguins (@penguins) February 26, 2017
What a player. I used to think the Flyers fans called Shane Gostisbehere "Ghost Bear" mainly because they weren't smart enough to pronounce his name. Now I realize it's because those are the only two elements he has. On the Cullen goal, he played the role of ghost, standing in the crease like he was wondering if he left the oven on. 5 minutes later he played the role of moderately tamed bear, as he scores on the powerplay from the point and makes it a 3-2 game. Overall, he probably is a good defender, so the Flyers will find a way to trade him.
Because of the wind, not sure if I've mentioned the wind yet, but due to the wind it was decided the teams would switch ends midway through the third. Sullivan didn't seem too thrilled with the idea but also seemed like he didn't care, Dave Hakstol was hoping they would switch ends without a stoppage in play so he could run a sweet play he designed on his bubble hockey table. As noted by our blogczar, Dave Hakstol looks like a kid that just received a blank check and is impatiently waiting to run to the bank.
NBC is hyping up how this game is coming down to the wire as they say the teams will be 1 goal away with 10 minutes left. The game comes back from a commercial and Pierre is still talking about the wind and how the teams will be switching sides soon. Then the Penguins decided to take care of business.
Ruhwedel's celebration is top of the line. pic.twitter.com/IKxPQ9bAhL

— Pittsburgh Penguins (@penguins) February 26, 2017
CHAD RUHWEDEL (2) Assisted by MALKIN (36) @ 14:06
Doc with a classic "It's Ian Cole with the goal!!!!! It's Chad Ruhwedel with the goal!!!!!"  Oh what's that, you couldn't see the puck go in in that gif? Yeah, nobody could because that was the live TV angle they used for that goal. People online saying the aerial cam wasn't that bad are the same people that are going to jump on the next Beetle Anal Extraction Juice Superfood craze. Regardless, the puck went in, a lot of people in the stands didn't know Ruhwedel was a Penguin and thought the Flyers scored.
The teams would switch sides but since the wind wasn't a factor of the game it didn't change the outcome of the final ten minutes and that would do it.
GAME
THOUGHTS:
Matt Murray (23-7-3) moved within one win of matching the @penguins' single-season record for most by a rookie goalie (Gary Inness 1974-75). pic.twitter.com/ERKAnstj2k

— NHL Public Relations (@PR_NHL) February 26, 2017
From the Hockey Writers, this was a list of the top ten rookie seasons for goalies: 
Hainsey was solid in his first game. Imagine being Hainsey for a second. The best player you've ever played with his probably Rick Nash in 05-07, and now within 3 days you leave the Hurricanes and join the Penguins, on the ice with Crosby and Malkin in the biggest NHL rivalry in an outdoor game. Pretty crazy for him. It is extremely refreshing to see a Penguins defender bigger than the goalie for once, he isn't going to flat out impress you ever, and that's okay. That's what he was brought in for.
Man, all that money spent on Madison Square Garden renovations and the Rangers prefer playing on the road.
The uniforms by both teams in this game were well designed. When the camera was actually not moving it was a great game to see. The Penguins jerseys grew on me more than I thought, it was just refreshing seeing something other than Black or Blue. Loved the yellow buckets too. I don't want to see them again, but they worked well in this setting.
Penguins wrap up their 6th 10 game block of the season, finishing games 51-60 with a 6-1-3 record while suffering over 30 man-games lost in that period. Impressive. Here is a breakdown of the Pens season in terms of 10 game blocks:

Games 1-10: 7-2-1
Games 11-20: 5-3-2 (THIS TEAM SUCKS!!!!)
Games 21-30: 8-2-0 (SHIT THEY'RE GOOD AGAIN)
Games 31-40: 6-2-2
Games 41-50: 6-4-0
Games 51-60: 6-1-3
That's some solid and fairly consistent hockey for a team that played into June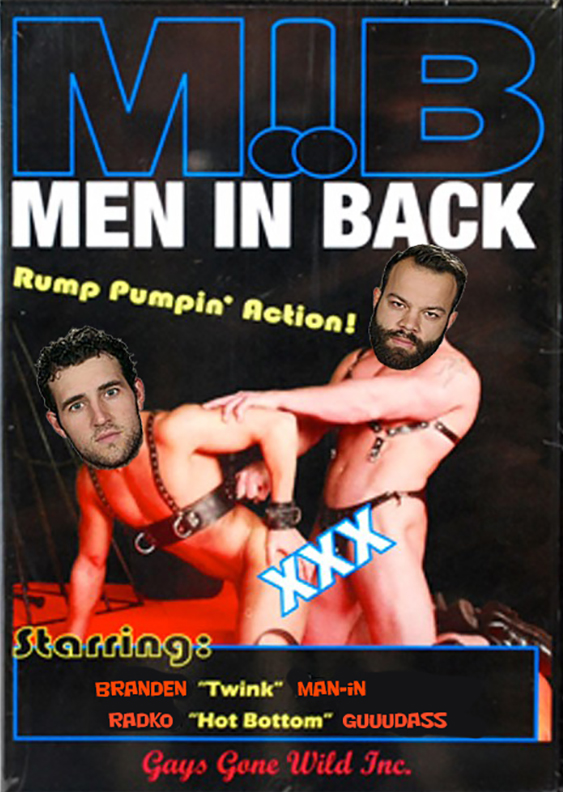 PHLYURS caught on "NBC Guy-Cam" ...blowin in the wind. PIK-a-PORN
9) "I know you're always a 'wood is good' representative." -- Doc (34%, 10 Votes)
1) "You can help a guy with his stick, but not like that." -- Eddie Olczyk (21%, 6 Votes)
8) "It's not comin from any one direction, it's all over the place." -- Pee Air (21%, 6 Votes)
4) "Wood is good." -- Doc (10%, 3 Votes)
7) "Everybody comes together." -- Eddie O (3%, 1 Votes)
10) ""He had the full lunar eclipse there in front of him" - Pee Air (3%, 1 Votes)
5) "Flyers continue to probe here." -- Doc (3%, 1 Votes)
2) "Push back hard in the Philly end." -- Doc Emrick (3%, 1 Votes)
3) "He was pitch forked right between the legs." -- Doc (0%, 0 Votes)
6) "Bodies are flying everywhere." -- Pee Air McGuire (0%, 0 Votes)
Total Voters: 29

Loading ...