The Blue Jackets have had a very Tale of Two Teams seasons this year as they go from Corsi machines and dominate teams to looking like a bunch of AHLers at random. Most of the concern in this game was that the Penguins would come in looking fatigued after such a high intensity affair the night before. The Penguins were rolling into tahn with a 4 game winning streak and a chance to sit on top of the Metro at nights end, the Jackets just wanted to take a swing at the king.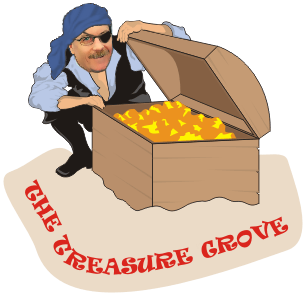 All-time, most points/game by Russian-born NHL players: Malkin (1.18), Ovechkin (1.12), Bure (1.11), Mogilny (1.04), Kovalchuk (1.00), Datsyuk (0.96).

— Bob Grove (@bobgrove91) February 18, 2018
If Malkin was American or Canadian he would be a household name in NHL conversations.
Four of the last five, and five of the last nine, regular season GP between Pens & CBJ were decided after regulation. Pens won 3 of the 5 decided after regulation, including 2 in shootouts.

— Bob Grove (@bobgrove91) February 18, 2018
Columbus lives and dies by getting the extra point you say? Never would've thought that.
Pens are 14-3-1 in their last 18 GP and have won 4 straight, tied with Arizona for longest current NHL win streak.

— Bob Grove (@bobgrove91) February 18, 2018
"tied with Arizona for longest current NHL win streak," what the hell did I just read? #TocchetPower
Among former college players who have skated for Pens, Kessel is 19th in GP (224) and sixth in points (195).

— Bob Grove (@bobgrove91) February 18, 2018
Must not be a long list if 224 GP is 19th all-time
In the second GP of back-to-backs, Pens were 0-4 in the first 4 GP this season and 5-1-2 since.

— Bob Grove (@bobgrove91) February 18, 2018
Remember after the 4th set of back-to-backs when people were jumping off the bridge saying "at least the Steelers are winning and the Pirates didn't trade McCutchen in the off season."
Nobody was surprised when the Pens announced their starting lineups, Jarry getting the start as Murray gets his first game off of the month. No other switches needed when you've won 4 in a row.
Same lineup as last night, but with a goalie swap.

The puck drops at 6:00PM ET. pic.twitter.com/NUAb4uo23F

— Pittsburgh Penguins (@penguins) February 18, 2018
The Penguins didn't start the game the way we expected them to given their high intensity game the night before, instead Jake Guentzel was busy making super sweet behind the net bank passes to the blueline and Riley Sheahan was busy silencing the home crowd.
RILEY SHEAHAN (7) Assisted by OLEKSIAK (5) & GUENTZEL (13) @ 1:41
Challenge it all you want… That's a PENGUINS GOAL! @rsheahan15 puts the #Pens up 1-0 on Pittsburgh's second shot of the game. pic.twitter.com/EV9ZZjpQYd

— Pittsburgh Penguins (@penguins) February 18, 2018
This is such a great play by Jake Guentzel as he carries the puck behind the net with his head up, looks over the situation and then makes this casual bounce pass to the point.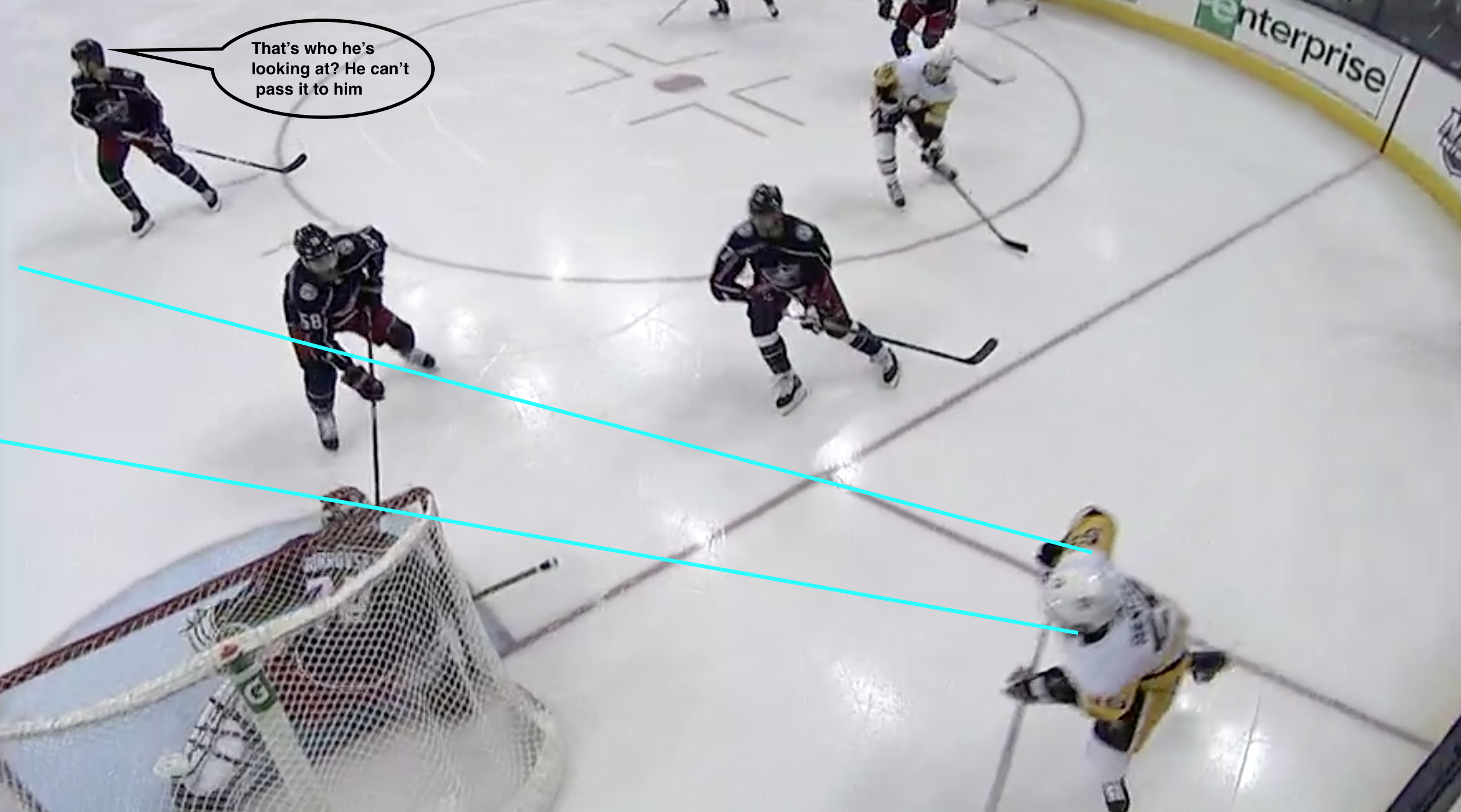 As you can see above as soon as Guentzel gets the puck he scans what is in front of him and locks on to Oleksiak. He is defended perfectly by Columbus, so he gets creative: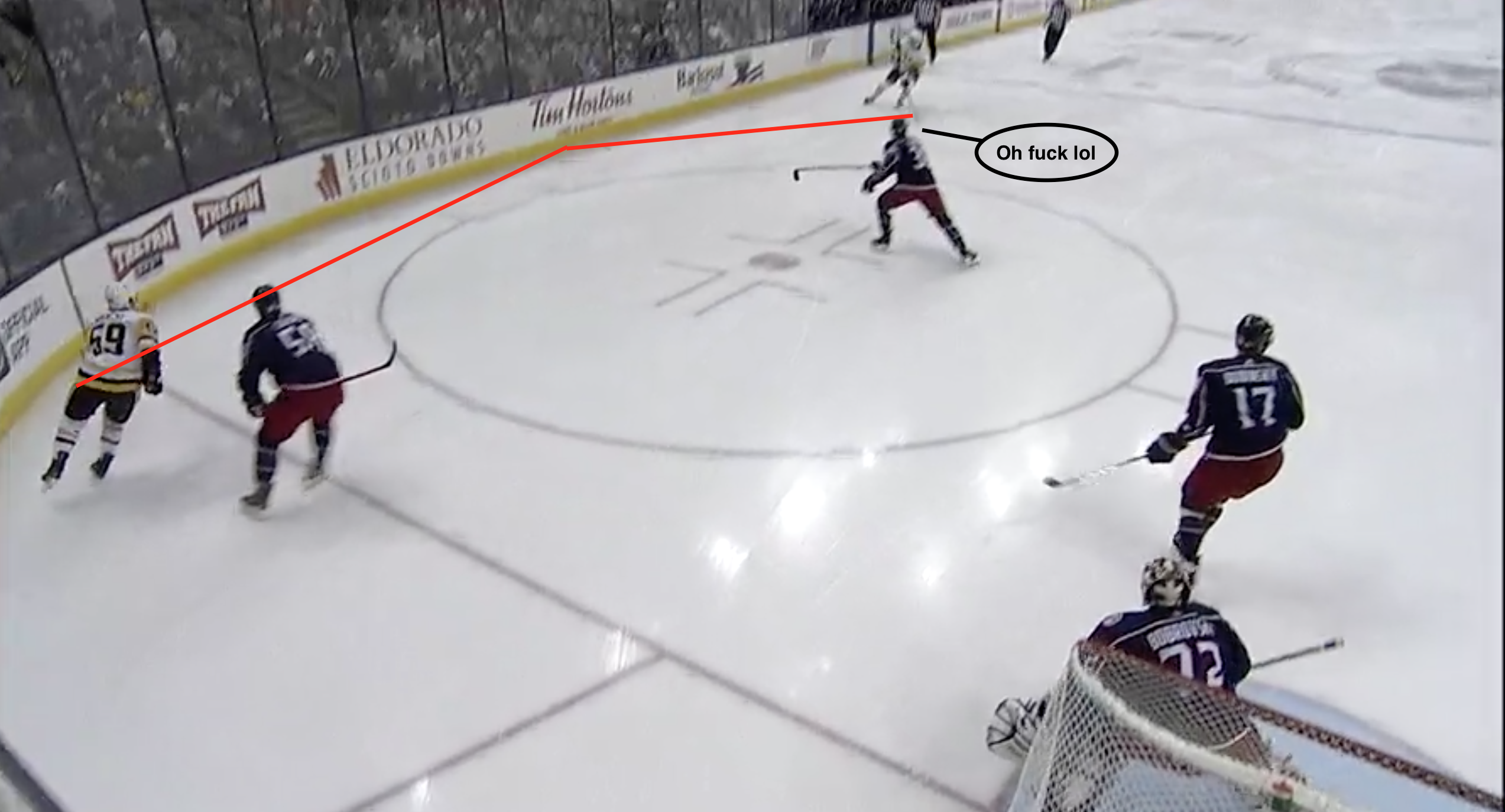 Not only does the pass get through but the puck lands on Oleksiak's forehand while he is stepping into it allowing for a quick weight redistribution and a shot in a nanosecond. Just a great display of skill by Guentzel.
The Blue Jackets would nearly tie it up 3 seconds after the goal but Jarry was there to stop a point blank slap shot. Columbus continued pressing the issue and the Penguins were starting to look like the team that played the night before, that is until Evgeni Malkin got on the ice. Geno busted into the offensive zone which attracted every Blue Jacket to him so he just casually drops a no look pass to Brian Dumoulin…
BRIAN DUMOULIN (4) Assisted by MALKIN (37) & RUST (22) @ 6:57
Dumoulin's cannon > Columbus' cannon pic.twitter.com/XAz6kxsvL7

— Pittsburgh Penguins (@penguins) February 18, 2018
Dumoulin with a blast that hit a Jacket on the way gives him his 4th of the year, prior to this season Dumoulin had 2 career goals in 163 games. I can't wait for Geno to cool off a little bit, have that drop pass not connect and hear the Section 220 Wankers complain about it.
Just like the first goal the Blue Jackets responded with more pressure and following a sloppy breakout the Jackets (see: Panarin) transitioned quickly and turned it in to a 2 on 1 and a goal.
just taaaaap it in pic.twitter.com/8TMvALSfp4

— Columbus Blue Jackets (@BlueJacketsNHL) February 18, 2018
Panarin with yet another goal against the Penguins, pretty sure he has 36 on the year against Pittsburgh. With the crowd back into it the Penguins were the ones that decided to start playing this time and for once it started to look like we would see some back and forth hockey. Eventually the Pens were able to get their breakout rolling and the third line was able to give some time and space for Riley Sheahan.
RILEY SHEAHAN (8) Assisted by GUENTZEL (14) & OLEKSIAK (6) @ 11:29
Can't stop. Won't stop.

Sheahan doubles down and tallies his second goal of the game. pic.twitter.com/JluleFDV3c

— Pittsburgh Penguins (@penguins) February 18, 2018
The third line is starting to look like most teams second line which is exactly what Rutherford was looking for when he acquired Sheahan. For the record Nick Bonino had 9 goals and 20 assists in his first season with the Penguins before becoming a cult hero because of his beard and a goal call.
The Blue Jackets once again started pouring it on the Pens but Tristan Jarry managed to stay tall helping his team escape a first period where they were completely outplayed with a two goal lead.
Here's a look at your #PITvsCBJ stats after the 1st period. pic.twitter.com/upoTRA965i

— Pittsburgh Penguins (@penguins) February 18, 2018
3 goals on 6 shots, a 50% shooting percentage is something that the 1993-94 team was notorious for.

The Penguins started the second much the same way they played the first, rather hesitant and a little flatfooted. The Blue Jackets tried to take advantage of it but they just couldn't get anything going and when they did Tristan Jarry was there. The Penguins started to pick up the tempo and even though it was nowhere near what we saw the night before it was more than Columbus could handle. The Malkin line was giving Columbus fits and then the top line got to work. Another innocent drop pass to the defense with a shot on goal from the point and Mr. Aston-Reese playing garbageman
ZACH ASTON-REESE (4) Assisted by HUNWICK (4) & LETANG (32) @ 9:29
Four goals in his last four games.@zreese11 is a net-front menace. pic.twitter.com/6dSDqchQz9

— Pittsburgh Penguins (@penguins) February 19, 2018
ZAR is playing some kind of hockey right now, don't forget he had that other goal taken away from him because Letang threatened to shave his head or something. He just has perfect positioning as he is facing the puck when it is shot and is then able to find it in his feet and put it home. How annoying are the Penguins going to be when they have ZAR and Hornqvist in front of the goaltenders face for 2 out of 4 lines?
Following the goal Columbus once again tried to pressure but the Penguins weren't giving much up in terms of shots and instead started pressing their foot harder on the neck of the Jackets. Every time Columbus would rush down the ice the Penguins would break up the play and turn it into a scoring chance. Columbus had a powerplay somewhere in there and Riley Sheahan had the best scoring opportunity during it. Columbus looked completely dejected after throwing everything they could at the Penguins and still being down by 3 when the horn sounded to end the second.
Here are your #PITvsCBJ numbers after period ✌. pic.twitter.com/KWTDFQzrKK

— Pittsburgh Penguins (@penguins) February 19, 2018
The Penguins with another cool 6 shots in the period while the Jackets got 3 more than the first with a second period total of 13. The Blue Jackets have been on a roll recently of getting 50+ shots on goal in games and still losing. Tristan Jarry was a big reason why this game was a three goal game through 2 periods.
This is just the fourth road GP in team history in which Pens had 12/fewer shots and 4/more goals through 2 periods. Last one: Dec. 12, 1998 @ St. Louis. Pens had 4 goals on 10 shots through two periods and won, 4-3.

— Bob Grove (@bobgrove91) February 19, 2018
The Blue Jackets came out of the gate in the third with the hopes of getting a quick goal early on and building some momentum. Two minutes into the period they accomplished phase one of their plan to take over the world after some sloppy defense by the Pens.
Wenny's sixth of the season pulls us within two pic.twitter.com/fCgvgKLHiu

— Columbus Blue Jackets (@BlueJacketsNHL) February 19, 2018
The Penguins responded with a few good shifts but Columbus continued getting more scoring opportunities than the Pens. The Penguins eventually stopped looking like they didn't want to be there and started getting shots on Bobrov. The Jackets wouldn't go away easily however but Jarry was standing tall to keep the game at two. With about 7 minutes left the Penguins were finally able to start getting some sustained pressure after the Sheahan line had a really good shift. Two minutes later on their next shift the Columbus Artillery was welcomed to Geuntzelvania
JAKE GUENTZEL (19) Assisted by MAATTA (18) @ 14:09
As good as it Guentz 👌 pic.twitter.com/xX2WlWqmPu

— Pittsburgh Penguins (@penguins) February 19, 2018
This is a goal that a constant Vezina finalist cannot give up in a two goal game. That isn't taking anything away from Guentzel and honestly it was probably his decision to tee it up instead of carry it down low like every other Penguins player ever in this game that threw Bobrov off.
Per https://t.co/mwKC1Hluwx, that Guentzel goal is the 14th goal on a slap shot by Pens this season. Only 4 teams have fewer.

— Bob Grove (@bobgrove91) February 19, 2018
The majority of the Columbus fans left following the goal, no clue if the Blue Jackets version of Dan Kingerski complained about attendance levels. Along with their fans the Blue Jacket players also gave up in the final minutes and you know what dat means, yah? Dat only means one sing, yah. Da Penguins wents into Columbus, yah, and dey lefts with
DA DEUCE
---
THOUGHTS:
There are a few games in hand but the Penguins are currently sitting on top of the Metro as they continue to look just as scary as they did last season before the playoffs started
Tristan Jarry made a lot of really good saves and finishes the night with a stellar 35/37 (.946 sv%) after not playing for the Pens since January 17th. Rumor was the Red Wings were shopping Mrazek for just a 3rd round pick, I'm not sure JR goes for anything right now to replace the tandem of Murray and Jarry
Crosby played the quietest 19:12 of 2018 so far, contributing just one shot on goal
The Penguins just completed a 6 games in 10 day set that saw them play 3 away games and 3 home games. That is a lot of travel (Dallas, St. Louis, Columbus) with just one day off between games. Despite this the team went 5-0-1 in those 6 games winning the last 5 in a row. This play brings their February record to 7-1-1 with 3 games remaining, the next of which is not until Friday at Carolina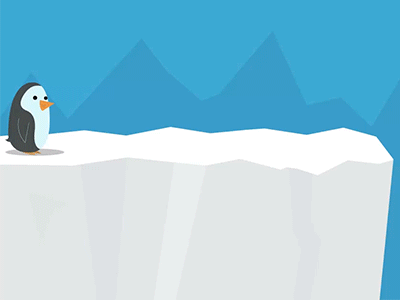 Loading ...