The Penguins had the impossible task of revving up their engine at 5:00 instead of the usual 7:00 to play Buffalo. As predicted by everyone that saw it was a 5:00 game and the Sabres were starting Liam Neeson in goal, the Pens got off to a slow start. Just like old times though, Danny B would be able to guide his team to a lead and then watch as each wheel slowly fell off forgetting to hit the brakes. There's something fun about Dan Bylsma being back behind a bench in Pittsburgh with a big lead, almost like we've seen that third period play out many times before our eyes.
Well we knew the Pens wouldn't have much jump and apparently Buffalo knew that too. After Brian Dumoulin failed a clearing attempt the Sabres found Ryan O' Reilly down low who put a perfect shot in on Murray to give them an early lead. Mr. Wilson would later drive down the ice with an impressive burst of speed and beat Nilsson however after review it was determined we don't know what the fuck we're doing:
We're just going to leave this here for reference. 👀 pic.twitter.com/WV3tgYMMLT

— Pittsburgh Penguins (@penguins) March 5, 2017
On a powerplay with 5 minutes remaining the Sabres dump the puck in and Murray tries to play it by sky mailing it through the zone. Unfortunately for Murray white men can jump and it turned in to a quick 2 on 1, resulting in Brian Gionta scoring. I feel like Gionta is a myth at this point and I've seen him retire 4 times. Down 2-0 isn't a terrible spot to be in for this Penguins team, nevermind, turnover to Jack Eichel with 2 minutes left. Good ole American boy kid isn't going to miss that one. 3-0 Byslma after 1.

If there's one thing we know about a Dan Byslma coached team, it's that once you put the brakes on them they can't figure out another way. Huge move by Sullivan benching Murray and throwing Fleury in net. There have been a few times this season where I have felt this should've been done, and it's good to see him finally do it. Fleury held the fort down early, and then Justin Schultz decided he likes winning:
JUSTIN SCHULTZ (11) Assisted by KESSEL (38) & MALKIN (38) @ 7:45
Schultz's 11th goal of the season ties a career high set in 2013.14. The guy is on fire. 🔥 pic.twitter.com/t3IJuTyYwJ

— Pittsburgh Penguins (@penguins) March 5, 2017
Malkin is on another level right now and other teams know it. He grabbed this puck around the Pens blue line and was given so much time and space out of respect for what he might do. He still stopped on a dime and found Kessel across ice, who patiently waited for Schultz. Never thought I would read that scoring line 3 years ago. 38 assists for Kessel and Malkin, frk yeah.
With one goal in you could feel the Pens mounting an attack, but Buffalo had their chances too:
Fleury stretches it out and stops Evander Kane on the breakaway. 👏 pic.twitter.com/g8A9dc5XvM

— Pittsburgh Penguins (@penguins) March 5, 2017
With 8 minutes remaining the Sabres took a penalty and it was the Malkin Show:
Geno's goal extends his home point streak to three games (3G-2A). He has points in seven of his last nine home games. pic.twitter.com/g8tIEG2yso

— Pittsburgh Penguins (@penguins) March 5, 2017
EVGENI MALKIN (29) Assisted by SCHULTZ (33) & HORNQVIST (20) @ 13:42 PPG
Malkin has scored a lot of powerplay goals from that spot this season, mainly because that shot is just ripped from there. Any save a goalie makes on that is by closing their eyes and hoping it hits them. Period would end with the team trailing 3-2.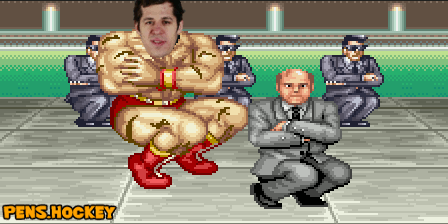 History is a funny mistress. In the Dan Bylsma era we came to understand that a 1 goal third period lead usually resulted in a loss. In the Mike Sullivan era we have began to understand that a 1 goal 3rd period deficit results in a win.
As time clicked away it seemed that maybe Buffalo had built themselves just enough cushion in the first to sneak away with this one. Then with less than 5 minutes left it all came crashing down:
JAKE GUENTZEL (8) Assisted by SHEARY (19) & BONINO (16) @ 16:14
Nice deflection, @jakenbake20! pic.twitter.com/AJttTsTwul

— Pittsburgh Penguins (@penguins) March 6, 2017
The puck was initially deflected off of a defenders stick before Guentzel made contact with it, so major kudos to that hand-eye coordination. The play went under review, and the saving factor was that it was called a goal on the ice. After further review the officials realized they made a mistake in the first period so this one will stand. I haven't found a still frame horizontal view of the goal yet (because why would the NHL have cameras in the right place) but it will be interesting to see where he made contact with the puck. Regardless, unreal set of hands.
Tie game and The Paint Can is rocking, and it would explode one minute later when "horrible pick up by the Pens" Schultz would send a pass through the haters.
CONOR SHEARY (18) Assisted by SCHULTZ (33) & DUMOULIN (11) @ 17:04
It's great to have you back, @csheary13! pic.twitter.com/yKDnTmVigW

— Pittsburgh Penguins (@penguins) March 6, 2017
Some people have said Conor Sheary benefits from playing with Sidney Crosby, well no shit, so would Helen Keller. Conor Sheary also benefits from playing hockey with a great hockey IQ. Getting to open spots within 10 feet of the net and burying pucks is never going to go out of style. Unreal vision by Justin Schultz.
The Sabres would get a late powerplay but Fleury said fuck off through his soul-patched grin. It's incredible how much better he looks without the gloom of indecision hanging over his head. Evander Kane would break his stick and then play the puck to draw a penalty with less than 10 seconds left. It's a story we witnessed countless times over the years, a Byslma team would get an early lead that they lose, and then empty the tank to make you think they had character while still falling short.
GAME
THOUGHTS:
Justin Schultz man. 11 goals and 33 Assists. Nobody thought at the beginning of the season that a Letang injury in March would be masked by Justin Fucking Schultz.
Evgeni Malkin is playing some incredible hockey right now, he cannot be contained and it is a joy to watch an underdog not good enough for the top 100 play this way.
4 goals and not a point from Sidney Crosby, hello depth you beautiful bastard.
Mark Streit, ladies and gentlemen:
Streit tonight:

57% puck-possession, 65% scoring-chances for, top competition: O'Reilly, Eichel, Kane.

Safe to say he's fitting in well.

— Jesse Marshall (@jmarshfof) March 6, 2017
Mark Streit's opening night stat line:

62% puck-possession. 75% scoring chances for. Top competition: Kucherov, Johnson, Drouin.

— Jesse Marshall (@jmarshfof) March 4, 2017
Ron Hainsey is performing better than Maatta/Daley too. So far GMJR is looking golden coming out of the deadline
Huge game by Fleury, perfect example of why JR wanted to keep the depth. Not sure you pull Murray in this game if you have Chad Johnson backing him up. I love the call by Sully to pull Murray, great leaderships on that one, really woke the team up.

"When a naked man is chasing a woman down 5th Avenue with a butcher's knife and a hard-on, I figure he isn't out collecting for the Lemieux Foundation." Dirty Sheary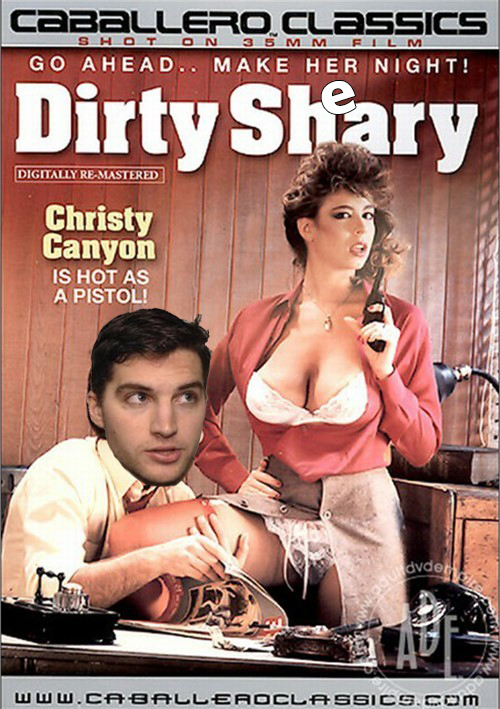 Ya gotta ask yerself, am I feeling lucky? Go ahead punk…PIK-a-PORN
3) "It's a little red, it's a little white, it's a little pink. I saw a lot of pink" -- Errey (48%, 11 Votes)
10) "Don't tell me size doesn't matter, Steigy." -- Errey (17%, 4 Votes)
11) "This has got to be a hard thing for the Sabres to swallow." -- Steigy (9%, 2 Votes)
5) "He's a big guy, and there's no question: big is good." -- Errey (9%, 2 Votes)
16) "Hagelin is in the box." – Steigy (4%, 1 Votes)
7) "Hornqvist had that stick lodged in between the legs of Eichel." -- Steigy (4%, 1 Votes)
6) "There's the deposit we were lookin for." -- Errey (4%, 1 Votes)
2) "He's just a big, big individual. Wow, look at the size of him in there." -- Errey (4%, 1 Votes)
18) "How bout that release?" – Steigy (0%, 0 Votes)
17) "No more play cause Nilsson gobbled it up." – Steigy (0%, 0 Votes)
19) "Hagelin whacks it in the Buffalo zone." – Steigy (0%, 0 Votes)
15) "He's so good at changing directions and burrowing underneath those big guys." – Steigy (0%, 0 Votes)
14) "It looked like it was goin in the big ol'e 5 hole." – Errey (0%, 0 Votes)
13) "O'Reilly sticks it in the short side." – Steigy (0%, 0 Votes)
12) "They're too tight. You can FEEL IT RIGHT NOW." – Errey (0%, 0 Votes)
1) "Here comes Evander Kane. He is hot." -- Steigy (0%, 0 Votes)
9) "When you're down here, you feel it." -- Errey (0%, 0 Votes)
8) "Did he have the scissor hold on the stick?" -- Errey (0%, 0 Votes)
4) "It's black or nothing." -- Potash (0%, 0 Votes)
20) "Sabres trying to get it out of their own end." -- Steigy (0%, 0 Votes)
Total Voters: 23

Loading ...