Tonight the Penguins play host to former head coach Dan Bylsma and the Buffalo Sabres before embarking upon their annual Western Canada road trip.  This is the second of three matches between the Sabres and Penguins this season; the Sabres eked out a 2-1 shootout win at home in November, and the teams will meet again in Buffalo on March 21.  The Penguins ought to be feeling good about themselves, having dispatched the Lightning 5-2 on Friday, but Buffalo will be hoping to climb back into the playoff race as they sit six points behind the Islanders for the second Wild Card seed.
Unlike other teams that have had high lottery picks of late (the Edmontons and Torontos of the League), Buffalo has not made the kind of strides that those teams have already made…maybe because no one still wants to play in Buffalo.  Jack Eichel was billed as the 1b to Connor McDavid's 1a, and in an injury-shortened season this year he has managed to keep up with team points leader Kyle Okposo who has a twenty game lead on Eichel.  With 40 points in 43 games, Eichel would figure to be in the top 20 in the League if he had stayed healthy.
While the win-loss record may not suggest is, goaltender Robin Lehner has had himself a decent year; he's just behind Matt Murray in save%, he's a little better than Edmonton's Cam Talbot in relative goals allowed% (based on League average), and he's having a better year than Carey Price in goals saved above average.  Long story short, the Sabres have at least one decent goalie in Lehner, have a decent backup (Anders Nilsson), and if they could upgrade their defense and/or stay healthy (they had long injuries to Dmitri Kulikov, Josh Gorges, and Zach Bogosian as well) they may be a worthy opponent in a year or two.  For now, they're still struggling to keep up in an already weak Atlantic division.
(Speaking of defense, Rasmus Ristolainen is the same age as Olli Maatta and is way better.  I think there was a missed opportunity for a trade when Bylsma went there.  He likes Maatta, right?)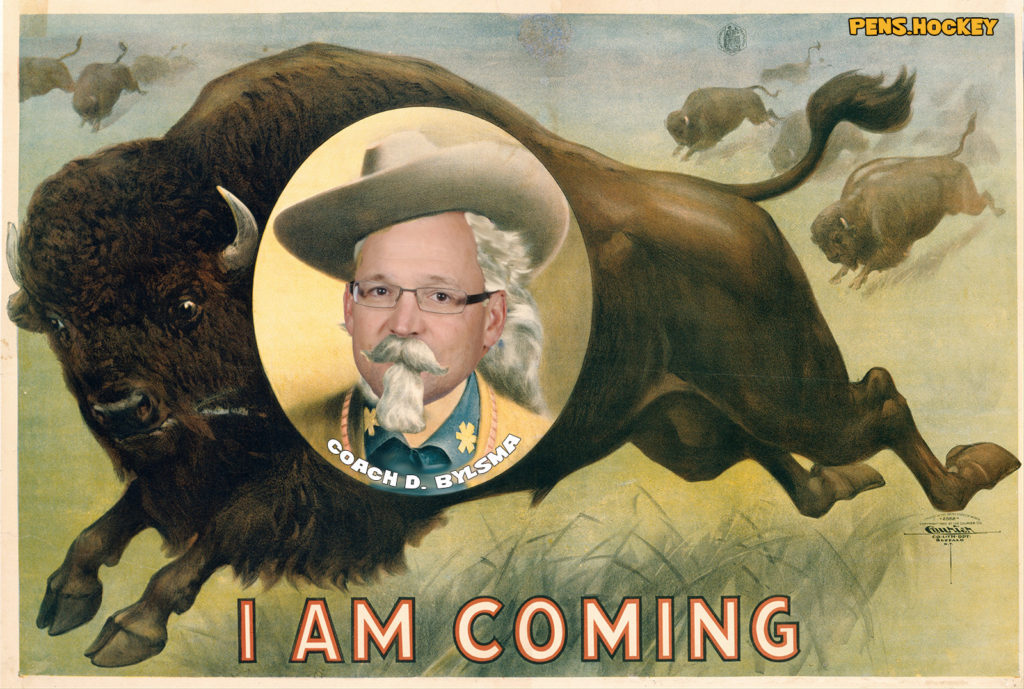 It might be too easy to pick on him here just after the trade deadline, but Kulikov was supposedly a diamond-in-the-rough for anyone interested in him and his $4.3M contract.  He had some decent years for the Panthers, but then payday came and he got paid by the Sabres.  He has not nearly lived up to his contract, and that he's missed half of the Sabres games this season hasn't helped any perception that he's worth the bucks he's being paid.  Good news for Buffalo is that it was a one-year deal, and if they want to re-sign him it'll likely be at a big discount…matter of fact, any team that signs him ought to do so at less than half his current contract.
These are the lines that the Penguins went with in their previous game, and also seemed to be the main focus during yesterday's practice. We finally got an in depth insight to Kris Letang's injury, as we found out he is more than day-to-day but not long term. I am not hungry right now, but also starving. Conor Sheary looked a bit rusty in his return last game but I still expect him to play next to Sid. I would love to see a Guentzel and Kunitz switch.
I personally hate Buffalo because it took me way to long to fit their fourth line into this graphic thanks to them having guys with 25 letter long last names. Looking up and down their lineup it is impressive that Bylsma has them at .500 hockey, because their lineup looks like a bunch of misfits. In fact, if you want to know what the Vegas Golden Knights lineup is going to look like with the addition of a better goalie, this is it. The Sabres are doing their best to catch the Pens on the injury front, and right when they get within 8 points of the playoffs they lose top liner Kyle Okposo, but at least they got often-injured Evander Kane back: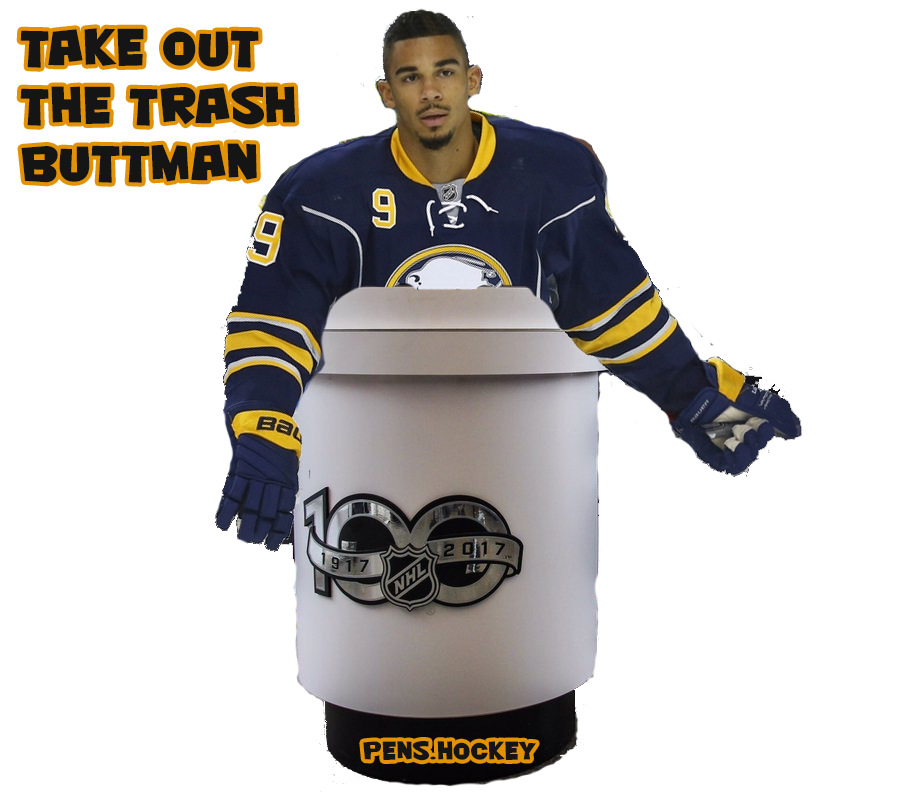 This is a 5:00 game, because why the hell not it's a Sunday? It is also on NHL-N and Root so double check your listings before hitting that record button. The Penguins had a great performance against Tampa Friday night, and these games against the non-playoff teams are where the Pens can start picking up points. In 10 of the 14 remaining games in March ( counting today) the Pens play teams that are either in the playoff mix or within 4 points, with the exception of Buffalo twice, New Jersey, and Vancouver. Grabbing 8 points from those four teams could prove to be huge, especially considering 5 of the remaining 10 games are against teams fighting for a wild card spot.
It's a little early to hear about a starter, but it doesn't really matter. The Pens will have 2 days off before starting a 5 game Canadian road trip that ends in Philly (I know, they aren't in Canada). If the Pens can get to their game and grind these bitches down it should be two points for them.