This one was talked up as being the game of the month, sorry for pumping that on you all. Perhaps for Boston fans that haven't had much to cheer for since winning the cup in 2011 it was. A term I don't really like is "measuring stick" game, I understand the concept but measuring any team (or player) on one game against another team is just silly. Regardless people love using the terminology and if we are going to adopt it then there is no other way to put it other than the Pens don't measure up. Does this make sense? No. That's why it is a stupid term. The Pens didn't measure up in this game on this night. If the two teams played again tomorrow the score would have to be the same if it was a true measure of where the teams are.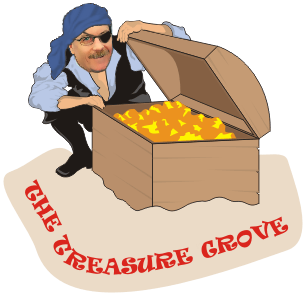 Pens have lost 6 of their last 7 regular season GP @ Boston (1-5-1) and have not won a reg season game there in regulation since April 20, 2013 (3-2).

— Bob Grove (@bobgrove91) March 1, 2018
So what you're saying is we shouldn't get our hopes up for this one.
Brassard is just the third Pens' F who played junior at Drummondville. Joins Rene Corbet and Andre Roy.

— Bob Grove (@bobgrove91) March 1, 2018
Great find here by Grover. Brassard was #61 for the Drummondville Voltigeurs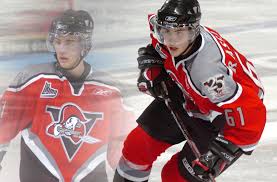 Only 2 active D with fewer than 700 career GP have 20+ GWG: Ekman-Larsson (26), Karlsson (24). Letang 1 GWG from joining them, plus he had kind of a big GWG in June of 2016.

— Bob Grove (@bobgrove91) March 1, 2018
Letang has 35 games left to play before he hits the 700 mark.
Malkin did not have a goal Tuesday. Bum.

— Bob Grove (@bobgrove91) March 1, 2018
Grover throwing the shade!
Off the opening faceoff the Bruins stormed down and did something and then it was the Pens turn, and less than a minute in we had a pretty good feel of what was in store when Olli Maatta found this hole in Rask
OLLI MAATTA (6) Assisted by MALKIN (41) @ 0:35
Malkin → Maatta → 🚨 pic.twitter.com/BBPW4aWbfu

— Pittsburgh Penguins (@penguins) March 2, 2018
Just a perfect shot by Maatta here though it is a little unfortunate that Hagelin doesn't get an assist on the play considering he was the main reason the team got the puck into the zone in the first place. Olli now has 6 on the year which ties his career second-best season.
The Bruins would continue pressuring and just 70 seconds later Rick Nash came storming down the boards against Matt Hunwick which is a matchup made in heaven if you're a Bruins fan.
The madness began with this Nash-Krejci connection. #NHLBruins pic.twitter.com/fkUWqT0BDy

— Boston Bruins (@NHLBruins) March 2, 2018
This goal took a lot of replays to digest it all and here is the final report. Matt Hunwick gets the blame because of his name and all the negativity following him, could he have had his stick in the lane better? Perhaps, but while being beat it seems his positioning isn't terrible right before the pass: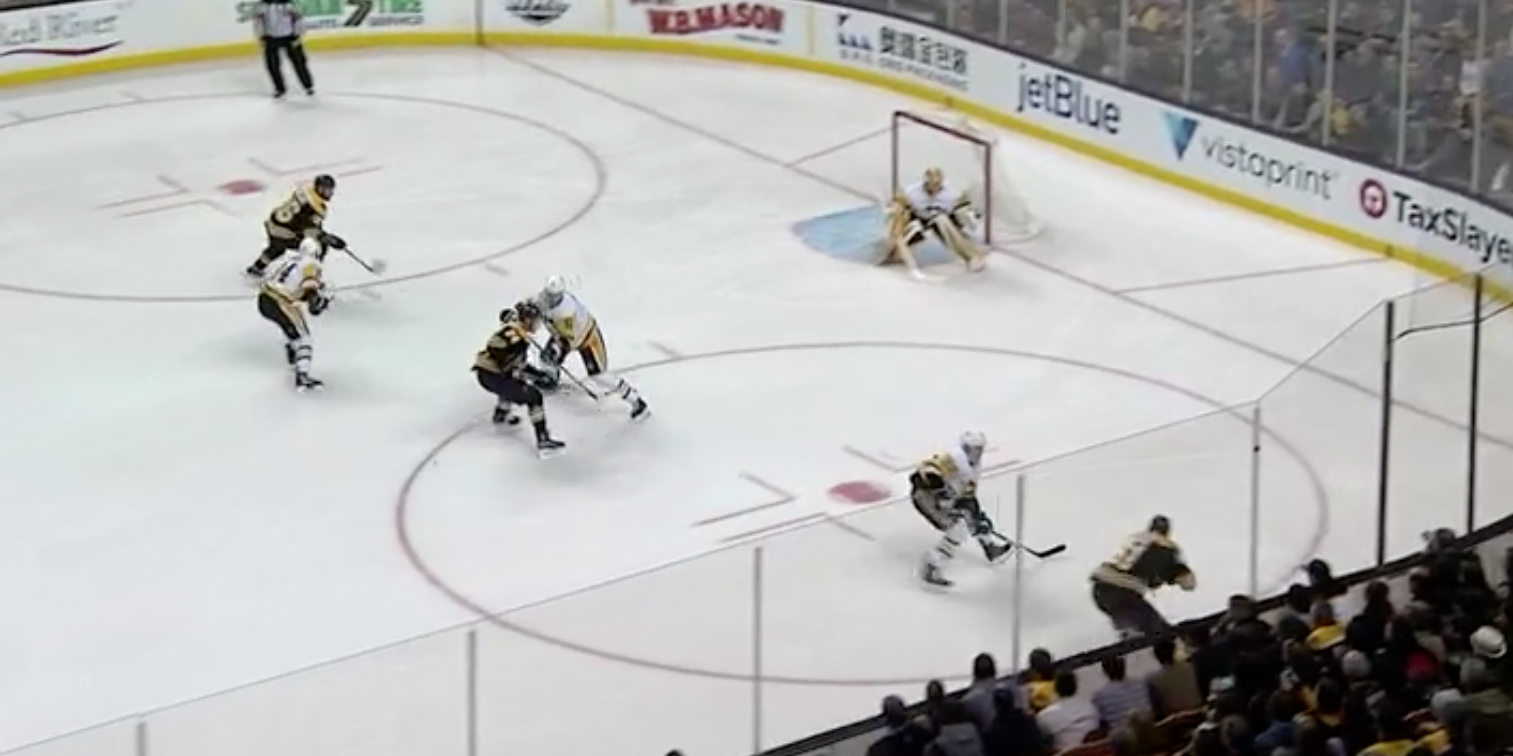 Secondly we all jumped to blaming Kuhhackl for not covering his guy but the blame actually falls elsewhere: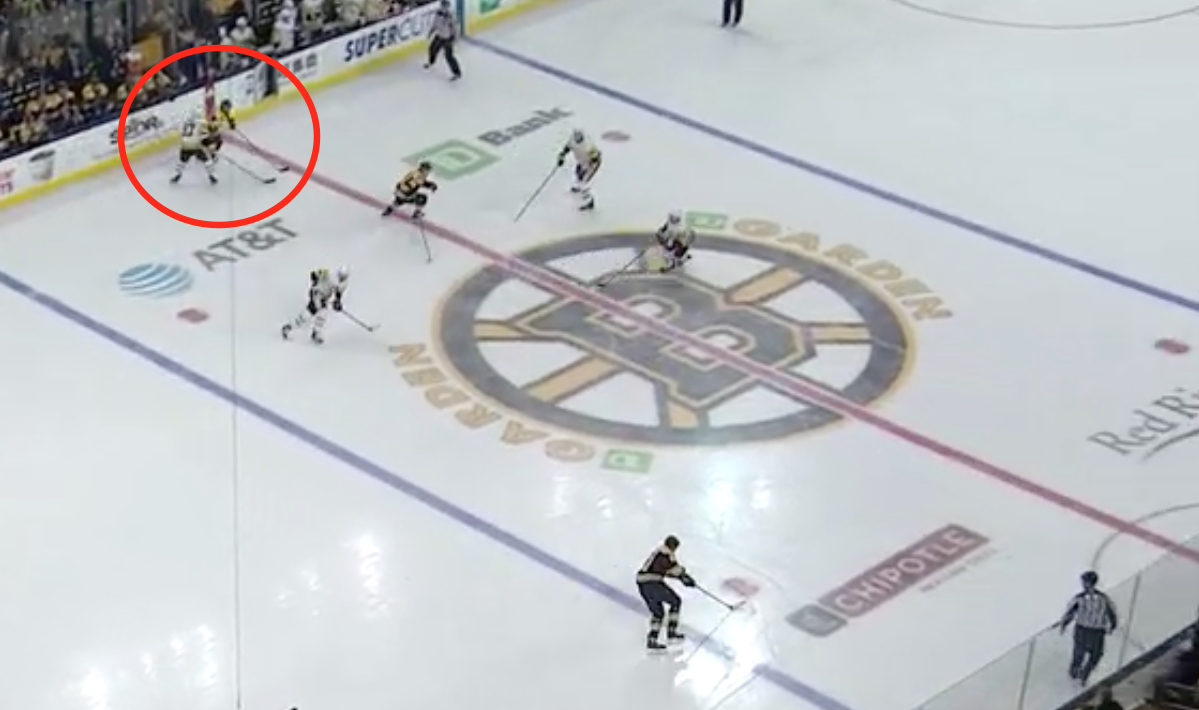 The Pens got caught in a sloppy change and that man was actually Crosby's, in fact the effort by Kuhnhackl to almost get there is admirable. In the above image you see Crosby skating with the eventual goal scorer all the way to the bench and then…

Sid goes off, Kuhnhackl jumps on but Krejci wisely moved to the center of the ice that was given to him. Tough to blame Sid for making the change but if that was Matt Hunwick the torches would be lit so we have to be fair.
Not even a minute later the Bruins are throwing a shot on goal that gets deflected up into the air and actually lands on DeSmith's back. DeSmith has no clue where the puck is as it rolls down his back and into the goal…
This one had just enough juice. 🍝 pic.twitter.com/5uY8AQDjVu

— Boston Bruins (@NHLBruins) March 2, 2018
Now that they were trailing the Penguins wanted to respond but instead Evgeni Malkin gets called for a holding penalty or something and the Bruins were going to the powerplay. The Bruins had really good movement on the powerplay that got the Penguins to move out of position and Rick Nash found himself alone in front of the net:
Two games at @tdgarden, two goals for 61. #NHLBruins pic.twitter.com/VLQ7qbKvbk

— Boston Bruins (@NHLBruins) March 2, 2018
I understand that the team is trying to figure out the penalty kill after losing Cole but having Oleksiak and Hunwick out there is not a good plan. Like, at all. For starters as the Bruins completely spread out both Oleksiak and Hunwick collapse to the center, in the still below there are three Penguins within a 10 foot triangle; this is probably not a good strategy when you only have 4 players on the ice. Also notice that 3 of 5 Bruins are now behind the Penguins defense: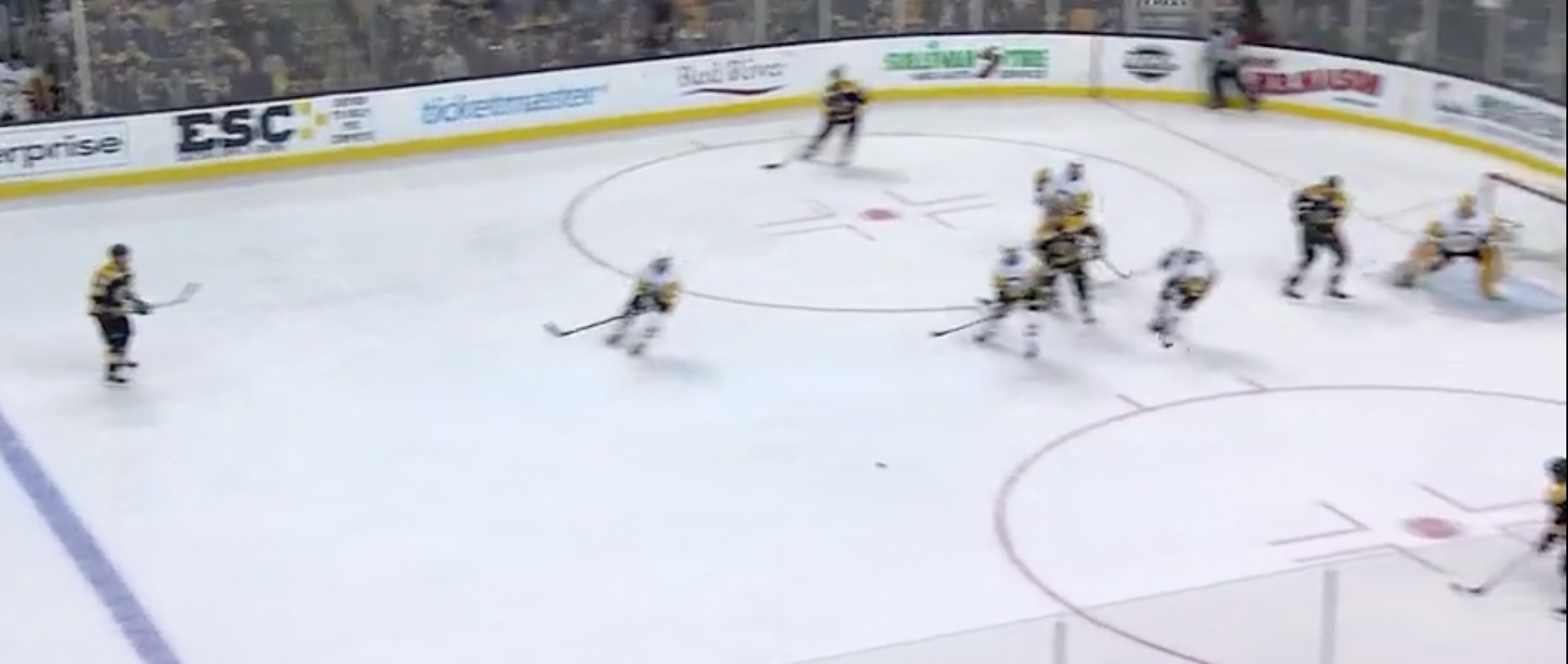 So the pass is completed from the point, Hunwick makes a jump towards the receiver and Oleksiak finally realizes someone is behind him, this is also known as way too easy: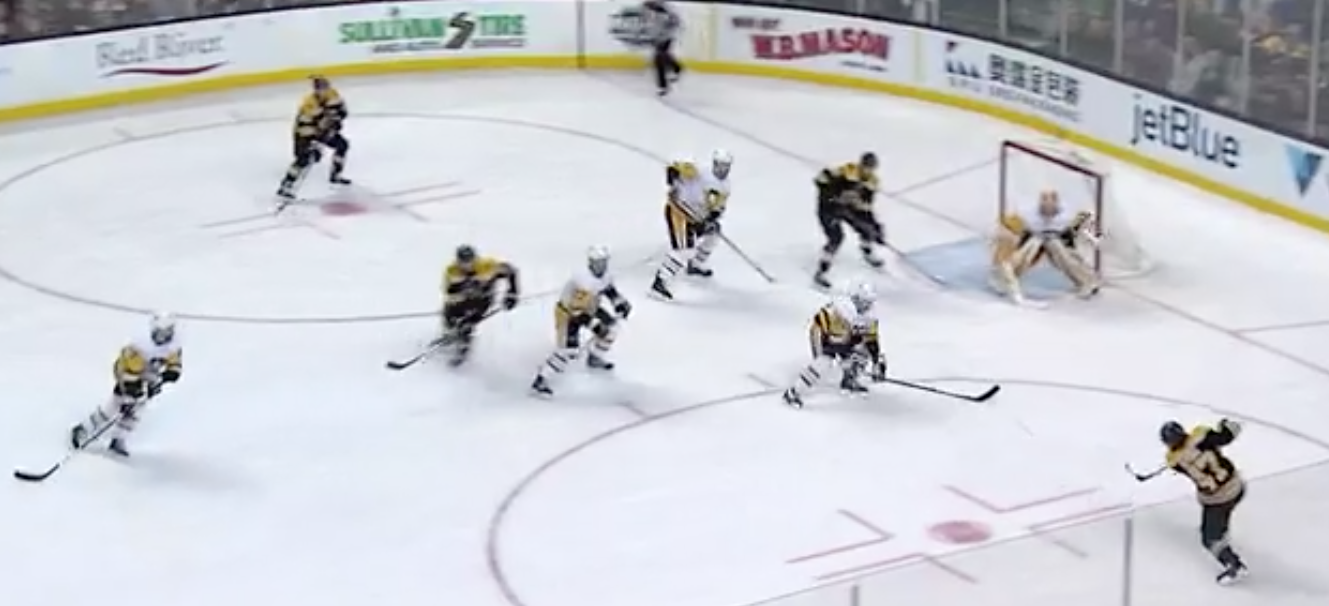 Despite the 3-1 lead and the promises from Penguins Twitter land that the game was over the team kept pushing, and eventually a puck got sent in behind the goal that Zdeno Chara had an easy play on. The problem was Patric Hornqvist was heading towards Chara like a bat out of hell and big bad Chara got nervous and misplayed the puck. Hornqvist said thank you very much and say hello to my little friend, you know him quite well:
PHIL KESSEL (27) Assisted by HORNQVIST (16) & MALKIN (42) @ 9:27
Phil Kessel scores his 27th goal of the season from a near-impossible angle. pic.twitter.com/SQFGgEu38C

— Pittsburgh Penguins (@penguins) March 2, 2018
This is why Patric Hornqvist got the contract he did. Just an underrated play by him and all he did was skate towards a guy. Kessel with the finish and Rask looked as good as DeSmith even though everyone is saying he is having a Vezina caliber year.
I forgot to mention that following the third goal Sullivan pulled DeSmith for Jarry as a move to tell the team enough is enough. It paid off in spades when Tristan continued playing like he was in Florida and let a weak one in on David Backes 3 minutes after the Kessel goal:
.@Giostyle21 picked up his 300th career NHL assist on this @dbackes42 snipe. pic.twitter.com/oJIBYXFXL0

— Boston Bruins (@NHLBruins) March 2, 2018
No excuses here, Jarry has to make this stop. In the image below I boxed in the area Jarry is protecting with his body and you can easily see why this puck went in. Instead of challenging the shooter Jarry is still in the blue paint which is not ideal as he is relying on reflexes alone to take away the exposed left side of the net.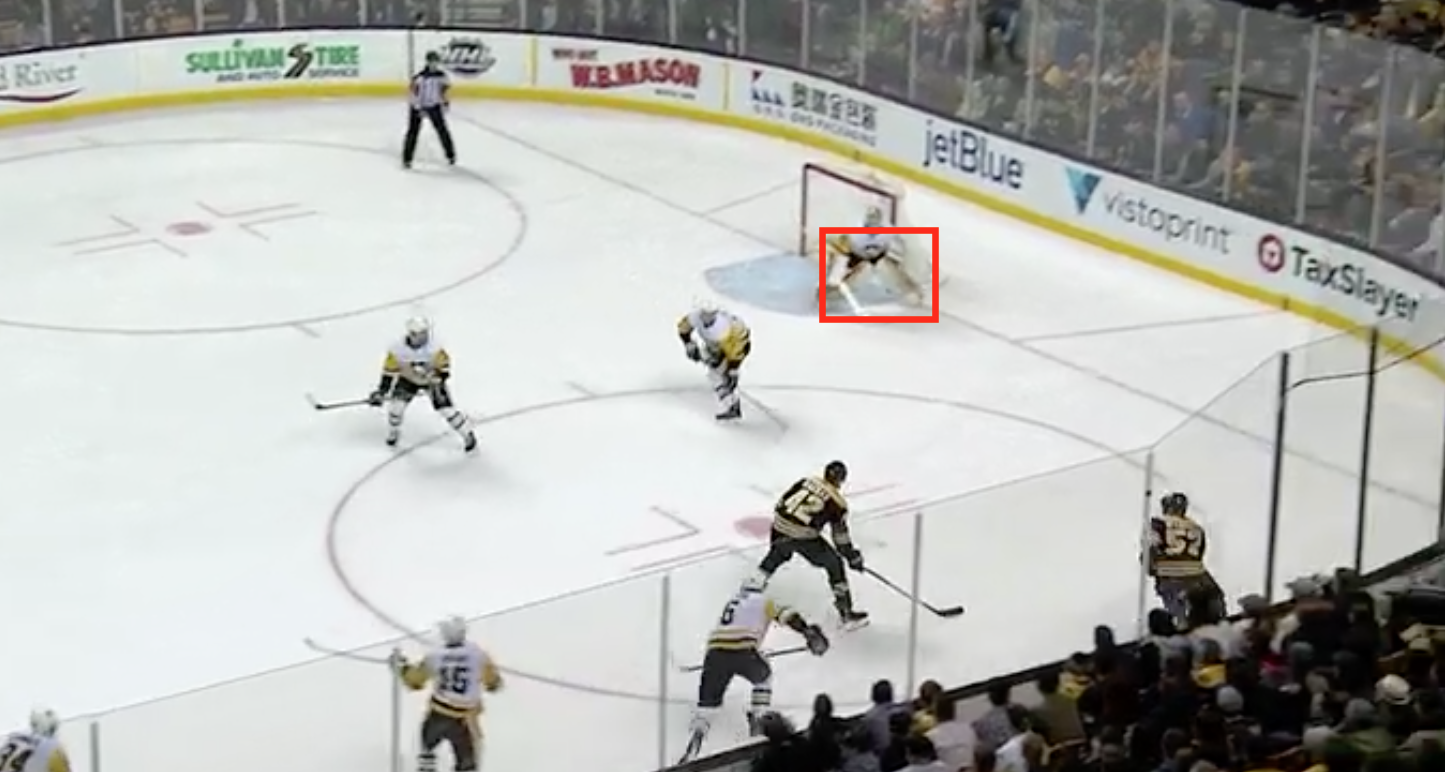 The Penguins decided they weren't really going to play for the next four minutes and the Bruins threw everything on net, next thing you know another one is getting by Jarry and it is 5-2:
.@ToreyKrug's blast finished off our scoring in a wild five-goal first. #NHLBruins pic.twitter.com/tMjXA17o58

— Boston Bruins (@NHLBruins) March 2, 2018
If you want to know what a goalie lacking confidence looks like, it is being completely in the blue paint on a shot from the point: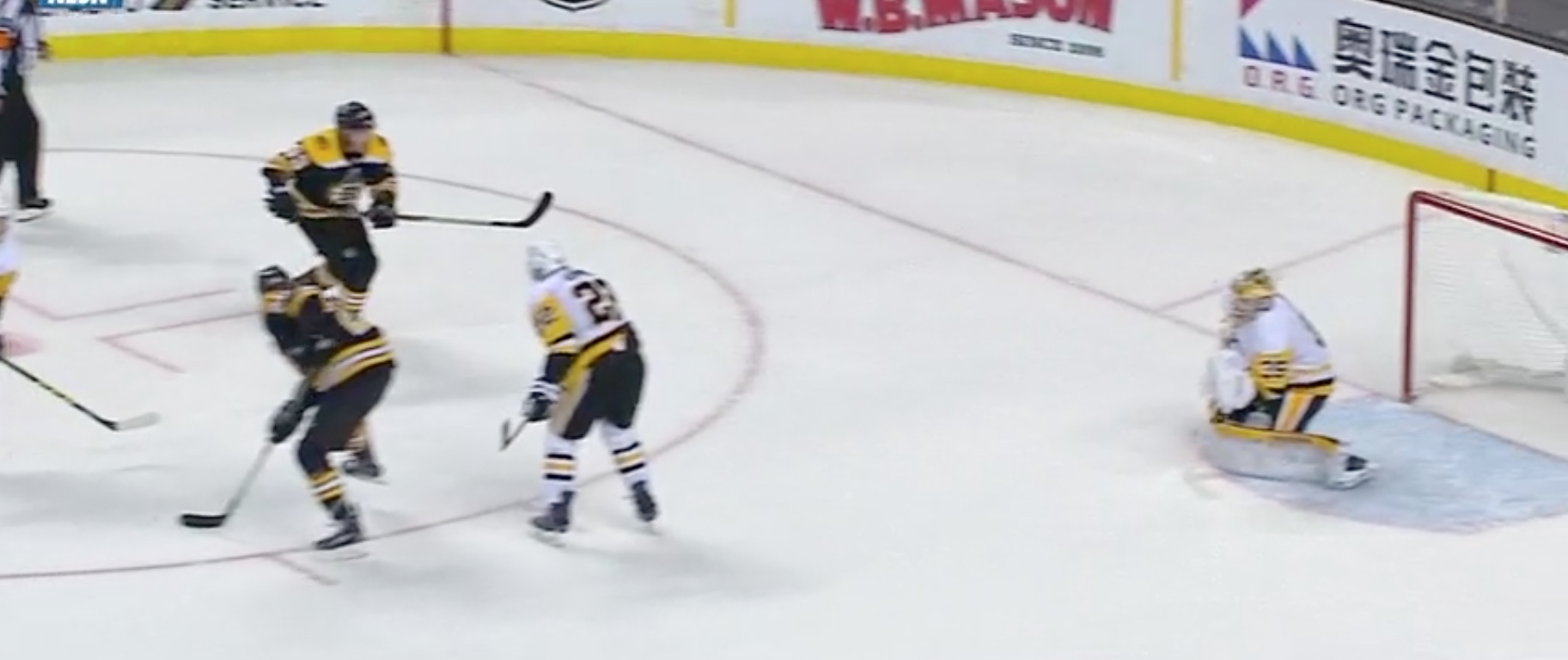 It seemed like we were going to end the period with the 5-2 score but as time was ticking down the Bruins try for one more shot on net that was blocked by Riley Sheahan and she banged she banged right down the ice and blew one right by Rask with 2 seconds left:
RILEY SHEAHAN (9) Assisted by HIS DAMN SELF @ 19:57
More of this. We need more of this. pic.twitter.com/2wheLSL6CN

— Pittsburgh Penguins (@penguins) March 2, 2018
Just a great play by Sheahan to accelerate following the block and then have the awareness of the time remaining in the period. Surprisingly neither team would score in the remaining 2.8 seconds and after 47 minutes (not an exaggeration) the period would end 5-3.
Here's a look at your #PITvsBOS stats after 20 minutes of play. pic.twitter.com/bRxMZGEHsN

— Pittsburgh Penguins (@penguins) March 2, 2018

The Penguins decided only getting 7 shots on goal in the first wasn't enough of a challenge so they decided to take an early penalty in the second. This was a good strategy because the penalty kill suddenly sucks and the Bruins erased Sheahan's late period heroics
.@JDebrusk ➡ Holden ➡ Krejci 🚨 pic.twitter.com/LW1CGAFaUo

— Boston Bruins (@NHLBruins) March 2, 2018
The Pens managed one shot on net over the course of the next 9 minutes of hockey, because that will get the job done. Finally the team got a powerplay chance and they were all over Boston but the puck just wouldn't go in. As fate would have it the Bruins would get another powerplay opportunity and David Krejci would cap off his hattrick
This redirect from @Giostyle21. 👌 pic.twitter.com/5SqmGn2QC9

— Boston Bruins (@NHLBruins) March 2, 2018
Like everyone else in the world Schultz and Maatta forgot about Gionta as he sneaks in behind both defenders,  the bigger issue being Krejci snuck in behind too which seemed to be a trend in this game. If you are new to hockey here is a tip, you should never let any offensive player between you and the goal, let alone two players. The penguins continued playing without any sense of purpose and the Bruins took advantage one more time before the period would end.
Big Zee ➡ @pastrnak96 pic.twitter.com/31jLL9sgYi

— Boston Bruins (@NHLBruins) March 2, 2018
Absolutely carving up the Penguins defense.
The Bruins match their 14 first period shots while the Penguins finish the period with 8.
Oleksiak a -4 and Hunwick a -2 by the time the period was over. This is a problem because 3 of the goals were powerplay goals meaning Oleksiak was out for 4 of the 5 even strength goals. I'm not jumping on the Hunwick hate train but it is pretty fucking obvious that this pairing is absolutely awful together.
Unfortunately for everyone involved the third period had to be played. Not really sure what happened in the first few minutes because I was typing up the words you just read about the second period, then I looked up to see Olli Maatta scoring again.
OLLI MAATTA (7) Assisted by KESSEL (45) & BRASSARD (21) @ 5:15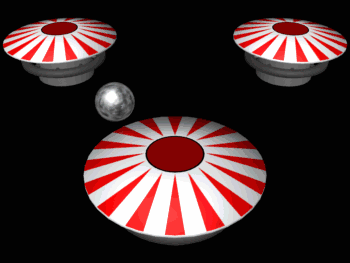 Olli got 2 goals in this game, so there's that.
There would be no other goals scored in this contest. Despite what some may feel the game still remains a game, worth 2 points in the standings. At the end of the night the Penguins didn't lose points for their poor performance and they rightfully didn't gain any either. Obviously getting beat up one side and down the other will leave a bad taste in the mouth but would you rather this little skid happen now or the last week of March? Perhaps this team that was soaring so high just a week ago needed a little reality check. The back-to-back champions were starting to win games at will and maybe they needed a little dose of what it is going to take to win a third in a row, and that is no nights off. The Bruins delivered the message tonight, now it is up to the Penguins leaders to read it and respond. Personally this loss could not have come at a better time in the schedule for the team.
---
Thoughts:
Reports are there was a heated team meeting in the lockerroom following the game with all of the team leaders taking turns addressing the room
Getting really tired of people thinking Ian Cole makes a difference in this game. Let it go. It's a cold day in the world when I agree with Mark Madden but as he said "If Cole plays he blocks all 8 goals and Pens win 3-0."
No Murray, Rowney on the fourth line, Sullivan adjusting to the new lines. I wouldn't worry too much about this game to be honest. The way the team responds is the most important thing to come from this
Sullivan corrected his Sheahan problem by double shifting him at center and wing. This dropped Sheary off of the charts as Sheary, Rowney and Kuhnhackl were the only forwards finishing with under 9 minutes. The next lowest was Guentzel's 12:59 so we get a pretty good picture of where Sully stands with those players
Again, it is March 2nd. If this game has you depressed then I'm not sure how you survived 8 rounds of playoffs in the last two years. Let this game serve as a wake up call to the team and judging by the postgame reports it should do just that. I'm still not worried, as this game did nothing but show us that the team won't just be handed the Stanley Cup. Much wow, news flash!

#HPP double-header today.  First, from the Boston game last night: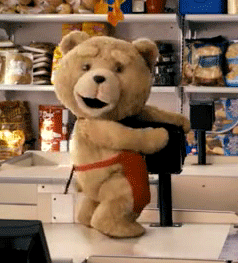 Loading ...
Second, the best from games 51-60.

Loading ...