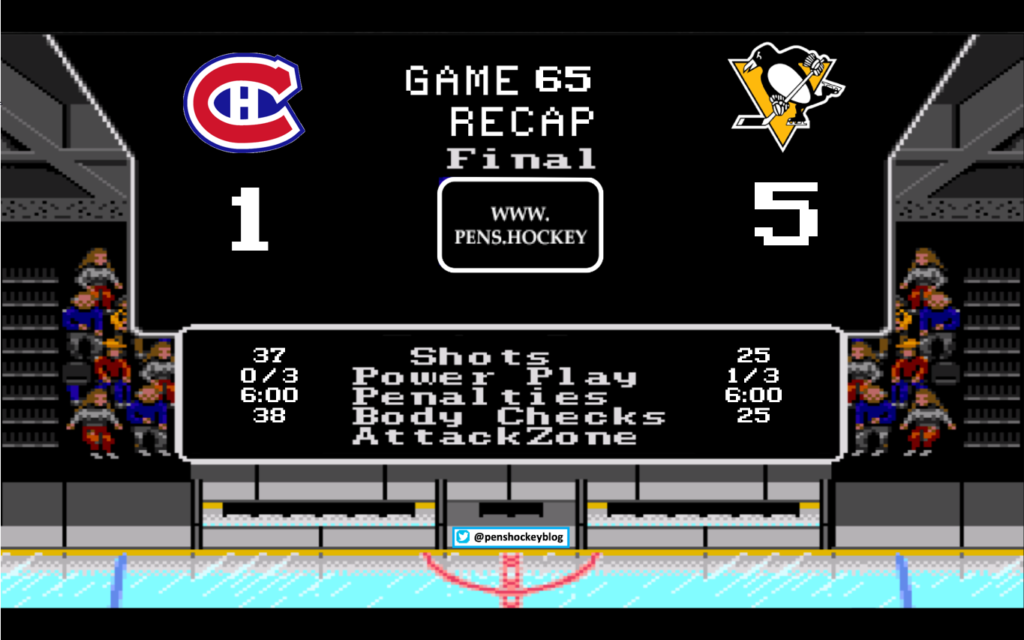 Second of a back-to-back after a pretty deflating defeat at the hands of, ugh, Buffao, so look for the boys to be pissed. I know that after spending more than the GDP of Haiti on a trip to Buffalo and seats 11 rows behind the Pens bench and watching them fumble away a sure two points, I was pretty pissed. Full disclosure: I didn't watch the good parts of this game which, apparently, is not a requirement for doing the recap on this site. If you don't like that rule, start your own site. I hear www.penis.bidet is still available, probably cheap.
Starting lineup:
Sully knows this team goes through Sid. Sully also knows McCann is a sparkplug. Seriously, watch him for a little while. If he's not concentrating on the play, he's SMILING. Like, all the time. Almost to the point that you worry if he's all there, but then he does that bat outta the air play a couple games ago and you realize he's actually just enjoying himself. Maybe he wears a vibra-jock or something, but whatever it is, his joie de vivre seems infectious. Yes that was French and yes, that means I'm fancy.
Time to settle in an… wait, what? Goal in first shift? First shot? We'll take it.
Crosby (29) from Guentzel (28), McCann (11) – 0:21 – EV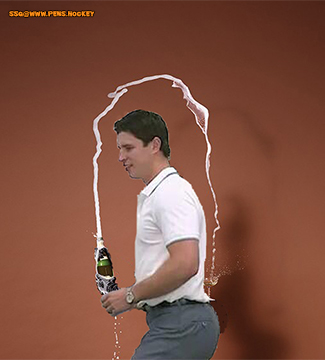 Are you frking kidding me? Sid causes the turnover but what a play by McCann to see a lane right back to Sid. And the give-and-go with Snek was a thing of beauty. Top it off with the puck-luck of post to Price's skate to back of net, and you have to think that was a good omen. FORESKINNING: it was.
Just over 4 minutes later, after PeeTree rudely pushed over itty bitty whittle Dom SeeMoan, the big dawgs were on the PP, and remember that if you shoot the puck, good things can happen.
Malkin (21) from Crosby (52), Kessel (44) – 4:38 – PPG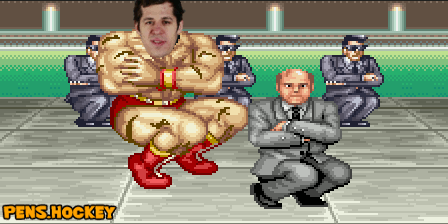 I love when Geno gets worked up and calls his team out and then does this. By the way, that was the third shot of the period, second goal. 66% is a quality shooting percentage. I wonder what the highest shooting percentage in a period EVER was? Hmmmmmmmmmmmmmm…..
Some back and forth occurred. As is wont to do in hockey. I have no idea because I was seeing a very funny comedian in Buffalo. Ryan Hamilton is a funny guy. He said this one thing about this stuff that he did and I nearly spit out my drink but I didn't because I need my drink in my belly to be happy.
Anyway, faceoff time, and don't you just miss those goals off of faceoffs? Seems like so long since we had one. Sid agrees.
Guentzel (30) from Crosby (53) – 8:51 – EV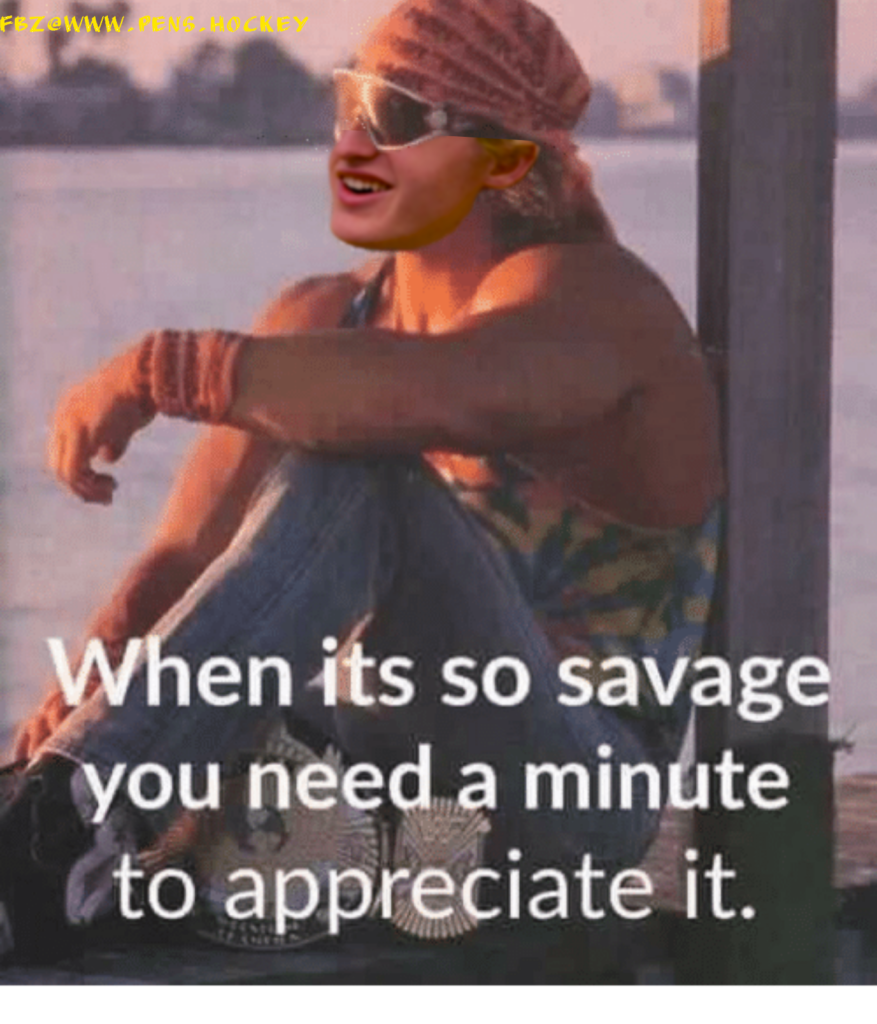 Guentzel his the 30 goal mark, becoming just the 4th person not named Crosby or Malkin to accomplish that since 2005. Can you name the others? DON'T CHEAT OR I WILL KNOW.
Also, 4th shot, 3rd goal. 75% shooting for the period. And the recently voted 'Goalie-I'd-Most-Want-To-Start-Game-7' by his peers with a .250 SV%.
The rest of the period literally nothing happened. Stats after one:

Pens apparently picked it up in the 2nd, I mean, at least I think so. Same comedian said that thing about the one time he did this crazy antic and isn't it funny how relateable it is? It totally made me think of that time I did a thing and boy oh boy did I laugh. I may have even guffawed.
Around the time I was guffawing, Sid was busy securing 4th in the league in points.
Guentzel (31) from Crosby (54), Gudbranson (7) – 6:24 – EV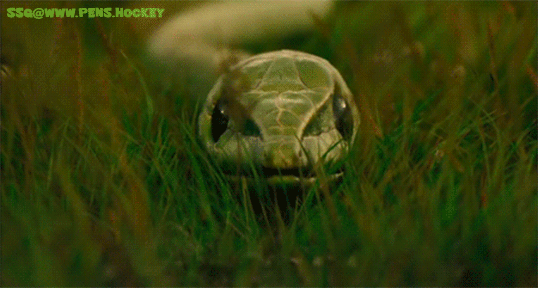 Saw another clip of this showing another deft passing play by Sid to get that to Jake. And Jake just uses his killer instinct and shot, wasting no time.
Brenda Girlagher did a thing and it was 4-1 Pens. I missed it because I was nearly pissing myself because Ryan told a story about a time where this ZANY thing happened and I could hardly breathe and… well, you had to be there.
Stats after two:
Skating, jumping over boards, more skating, laughing, smiling. I did see some of this period, so of course nothing happened. It made me think of that joke Ryan said earlier… the one about life that just really made you think…
Anyway, NOTHING HAPPENED. Nobody did anything good or bad. Until it was too late for it to matter.
McCann (14) from Pettersson (18), Guentzel (29) – 18:36 – ENG
McCann just has a nose for the net. So nice to see.
More importantly…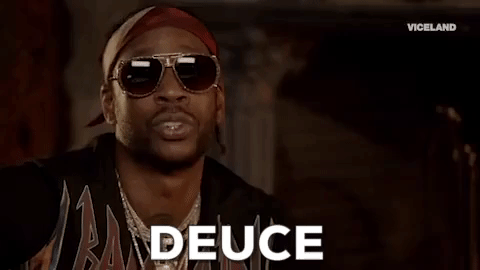 Thoughts:
Sid carried this team. He has all year. If not in the MVP discussion because of points, he should get his first Selke. He just DOMINATES.
Sid passed Ovechkin for 48th all time, 1,199 to 1,197. Last time he was ahead of Ovie was 2011.
Sid moved into second place all time in Pens goals with 440, second only to Lemieux's 690. It's plausible that Sid could own all the Pens records if he can stay healthy. Let that sink in.
The others to hit 30 goals: Kunitz, Kessel, Neal – each did it one time. Sid and Geno have done it 6 and 7 times, respectively