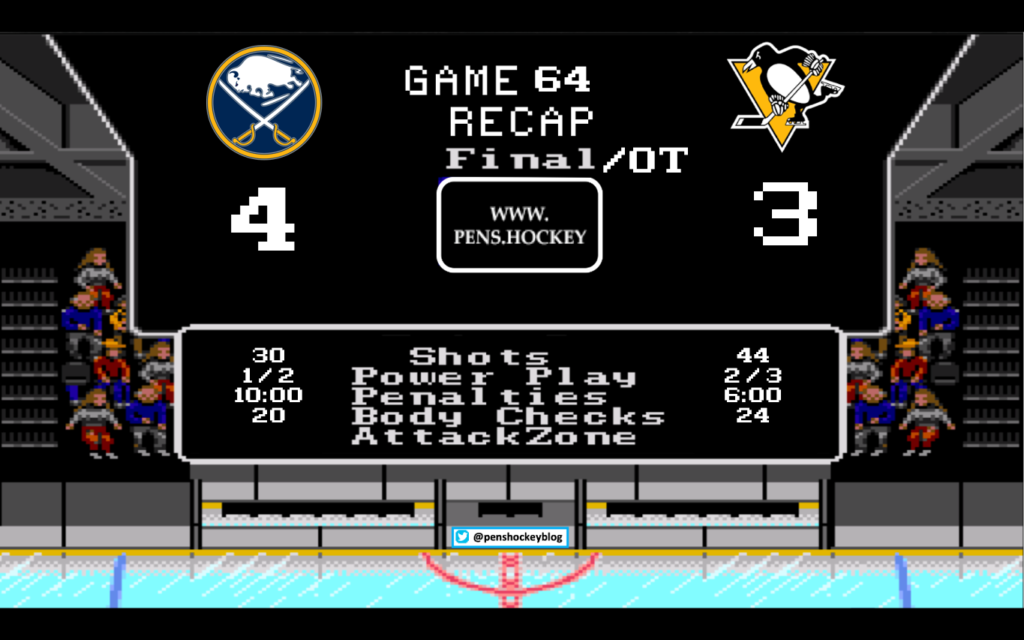 Going into tonight's game there were more questions about the Penguins than I think one game could possibly answer. The defense has been absolutely decimated by injury. Goalie play has been spotty at best. Phil hasn't been able to find the back of the net, even if it was woven together by Oscar Mayers. Horny's scored one goal in 2019. Rust is out and Sully's trying to figure out how he can manage Sid's time to around 52 minutes a game. It will also be interesting to see if Geno can manage to stay out of the box for doing lumberjack impressions.
As for Buffalo, there's nothing to say about the Buffalo Sabres so I decided to find something interesting about the city of Buffalo. But as I suspected, THERE'S NOTHING GOOD ABOUT BUFFALO. I did find out however that no person is allowed to throw stones, SNOWBALLS or MISSILES in public or private where people are gathered. I really hope that Sully made the boys leave all their missiles at home.
Kessel gets the first quality shot about a minute into the game but put it right squared in the chest of Ullmark. After that we see both teams going back and forth for a few minutes just really feeling each other out. Pretty soon Buffalo gets the puck in the Pens end and Petterson gets possession along the boards in deep. Now I don't what in the hell he could have been thinking, but instead of playing the puck along the boards down behind the net, he instead decides to try and squeeze a pass over to Crosby in front of Murray. This serves up a gift to Eichel who wasn't quite as stunned as the rest of us, and of course he finds the back of the net. 0-1 Bad Guys.
After that the Pens waste no time heading down ice and gain the zone. B-Jugs with possession, spins, snaps, GOAL.
The 3rd line continued to have a strong period. Horny made his presence known with a nice steal, but no dice on the shot. Around the 9 minute mark Wilson took a penalty in the neutral zone for playing hockey within the rules and we all know how much the zebras frown upon that. Of course Connor Sheary would score on the ensuing powerplay because the Gawds really love to troll us like that.
Play went on, Gudbrandson let us know that he's on the team by shooting the puck to no avail. Geno loses his head and takes a dumb penalty but the refs decided that making it a 4 on 4 would right the wrong of their earlier blown call. Play goes on and ZAR gets crosschecked to the ice while trying to get a shot on net infront of the crease. The ref at the blueline decided, "What the hell, I might as well call it" …since no one else seemed to want to do it. That marked the end of the 1st period and the 2 minutes of powerplay to start the 2nd. 2-1 Bad Guys

Pens start the 2nd with a full 2 minute Powerplay on fresh ice and when those 2 minutes were up they got a C- for effort. Players did things and then finally Father Time aka Cullen showed up and flung one at the net from the high slot that nearly trickled in. Horny tried shoving one in and got a solid B for effort. Pens continued to keep the pressure on strong and getting some decent looks but this Ullmark character kept finding the puck in his glove.
Murray put on a pretty incredible display of his goaltending ability with a save on Mr. Scott Wilson. Geno went on to fire off one of the missiles he snuck in with him but Ullmark channeled his inner Hasek and snagged it. Hunwick would take a penalty on Sid but the ensuing powerplay was as useless as our old pal whose wasting someone elses time in a box.
After the Hunwick penalty Mr. Scott Wilson felt like he was being ignored and went out looking for blood and blood is exactly what he got. A four minute double minor was awarded, thank you Mr. Wilson.
The Pens decided that they had enough of the bullshit that their first powerplays had produced so they got to work early. Schultz fires a bullet, Horny redirects, GOAL!!!! The weight has finally been lifted.


After the start of the second half of the double minor, SNEK gets destroyed but Sid decides he'd settle it by driving one home with a fade away wrister.
That goal ties Sid with Jagr for 2nd on Pens all-time goals list with 439.
Stuff happened, period ends 3-2 Good Guys.
Pens came out to start the 3rd playing a pretty conservative game. About 5 minutes in Sid creates a quality chance followed by Phil getting about 138 opportunities in a row. Same shit but just a different day for Phil.
More things happen. Phil shows Malkin his best Kasparaitis impression while flopping across the ice. Murray makes a huge save on Mr. Scott Wilson down on the other end. More up and down the ice went on and the Pens were getting quality chances. The refs couldn't have any of that so they made Horny sit in the box to think about science and stuff. Sabres come out with an all out onslaught in front of Murray. During the scrum Petterson tried to get some redemption for spotting them their first goal by keeping the puck out of the net. The PK ends triumphantly and Horny figured out how to shut up the Flat Earthers. Time seemed like it was standing still for the next 4 minutes until Montour decided to tie the game up from the blueline with 2:30 left in regulation. Murray had to make a few big saves as time ticked away. End of Reg 3-3
"For the first time in United States history a white man is illegally charged with possession."
-Rad (yuh, that's right, Rad ; )
Sheary did something again right after the worst job reviewing ever. Thanks for nothing Trono, bitheth.
Game.
---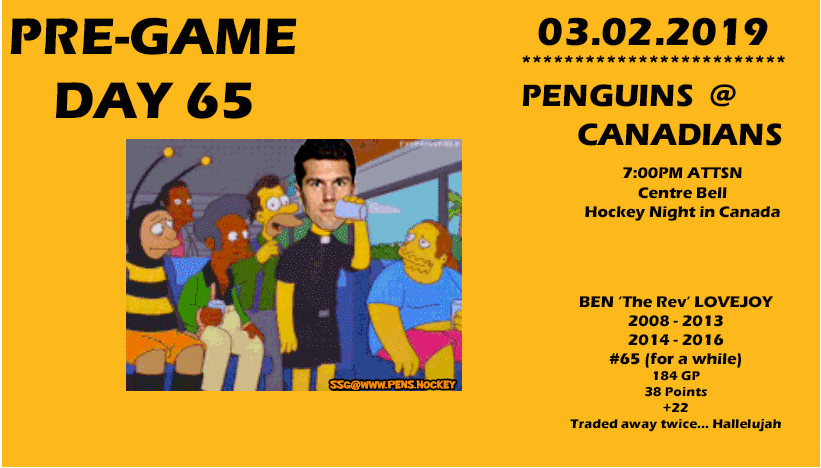 Fuk Les Canadiennes de Montréal. Just wanted to make that clear, froggiez.
Oh, it's HNIC so fuk Grapes too. Ya know wut…it's a shame cause the guy can be really funny when he's not even trying, but he spends moast of his time just trying to be a DIK. So fuk him.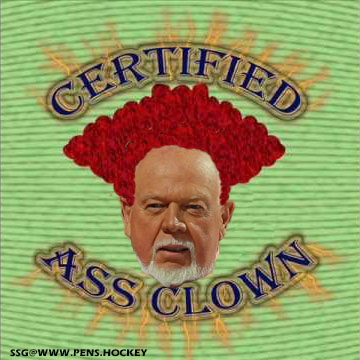 The Habs are ok this season, I guess. I doan really waste much time studying them cause…French Canada. Currently they are in 4th place in the Atlantic and holding onto the first WC spot with 75 points. Max Domi is their leading scorer. G 22 / A 37 …that's 59 total points for those of you who don't wanna take off yer shoes. (Ung ; )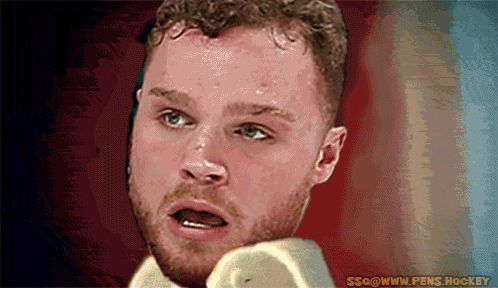 Domi also leads the team in penalty minutes with 78. Classic case of no dik?…be a dik! Fuk him too. Erreybuddy's favorite Canadian to hate, Andrew Shaw, is right behind Domi with 59 penalty minutes and he's ready to scrap almost errey night. Maybe we get to test out our newest weapon player BigDikRik on him tonight?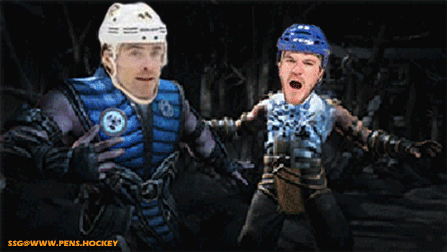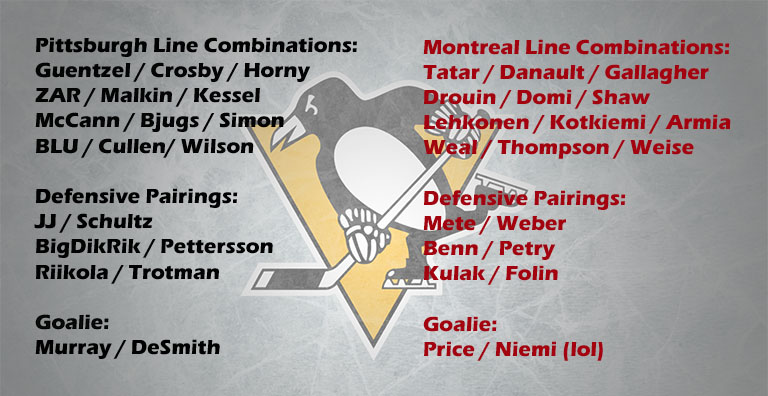 BOTTOM line is WE need to own these jagoffs tonight. Duce on the HABS.
WE ARE SOOO WINNIN THIS THING


Loading ...

Loading ...