Preface: After going in to edit this post I realized this may be the biggest pregame section I've written, I will not apologize, get a coffee and enjoy some Penguins history on a Sunday morning.
A Saturday game at 5 PM to allow time for the outdoor game between the Capitals and Maple Leafs took place yesterday in Pittsburgh. It was also the annual charity bag night, congratulations to everyone that helped the Pens raise a ridiculous $2.5 million in less than an hour. Yesterday was also the 70th birthday for the legend himself, Mr. Lange
View from the press box…

Happy birthday Mike Lange! 🎈 pic.twitter.com/OHZ0SgXMEF

— Pittsburgh Penguins (@penguins) March 3, 2018
Man, what a gift he is. As if the charity bag event and Mike Lange's birthday weren't enough this game fell one day after the 25th anniversary of what was then known as a Pittsburgh Miracle, when Mario Lemieux flew from his last chemotherapy treatment hours before to Philadelphia to play his first game since being diagnosed on January 12th. Lemieux was determined to play in the game and didn't tell any of his teammates, he just showed up at the team hotel at 4 pm (after his flights from Pittsburgh were delayed forcing him to set up a private charter flight) unannounced and ready to go. Fitting that this recap is for game 66, his return was a great moment in hockey history as he received a standing ovation from the Philadelphia fans as he steps on the ice at the 1:37 mark in the video below.
Fucking chills city population you bro. Can you imagine being a player in that lockerroom that has no clue Lemieux is playing until he walks through the door?? Lemieux would go on to score his 40th of the year in this game after not playing since January… before his cancer announcement Mario was enjoying his best statistical start to a season as he was on pace to match Gretzky's 1985-86 record setting 215 point season. At the time of his diagnosis Mario had a ridiculous  39 goals and 67 assists in 40 games. After losing two months Lemieux finished the season with 69 goals (nice) and 91 assists for a casual 160 points in 60 games. Mario made is return to Pittsburgh 7 days later and the crowd showed their support: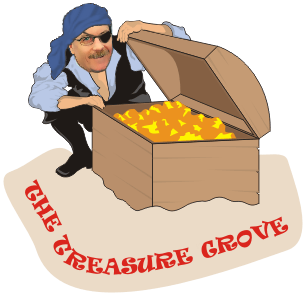 Rust, who has missed 11 GP, has drawn 18 penalties this season. Crosby and Malkin combined have drawn 24.

— Bob Grove (@bobgrove91) March 3, 2018
Good thing the Pens get all the calls. I asked Grove if this is lower than usual for the two stars, he said he didn't have the exact numbers in front of him but believes Sid alone drew 27 a few years ago. Pretty interesting when you think about it, it isn't like the rest of the league started playing Geno and Sid lighter. I'm not a big ref conspiracy theory guy, but I can also imagine a conversation between the league and the officials that went something like "a threepeat is bad for business so lighten up on the calls."
Sheary has 1 shot in his last 3 games and 8 shots in his last 9 games. He has 1 goal in 21 GP; his last home goal was Dec. 27 vs. CBJ.

— Bob Grove (@bobgrove91) March 3, 2018
He was better as Sheary. Sucks as Sherry. Obvious solution to the problem.
Among Pens' F, highest % of attempted shots that reach net: Hagelin (65.7), Sheahan (65.6), Kuhnhackl (65.3), Malkin (64.4), Hornqvist (63.3).

— Bob Grove (@bobgrove91) March 3, 2018
Pretty surprising to see Malkin with such a high percentage.
Maatta has 19 even-strength points this season, his best total since a career-high 22 as a rookie.

— Bob Grove (@bobgrove91) March 3, 2018
This is a story that really hasn't gotten enough attention over the year. Everyone was so quick to shit on him last season and in the playoffs, now he is returning to form and everyone just forgets to say anything.
The last time Pens hosted NYI @ 5:00 was Feb. 25, 2001. They rattled off 6 unanswered goals, 2 by Lang, in a 6-1 victory and chased DiPietro in the process.

— Bob Grove (@bobgrove91) March 3, 2018
Robert Lang and the 2001 Penguins, they played the Capitals in the first round that year and no surprise to any of you it only went 6 games:
What a steal by Straka. The Pens would handle the Sabres in the second round, another series ending with a memorable OT goal, this time in game 7.
The Pens would go on to lose in the conference finals to New Jersey in 5 games. That would be the last series for Jaromir Jagr in a Penguins jersey, and the team failed to make the playoffs for the next 4 years. After finishing 42-28-9-3 in 2001 the team reversed their record finishing 28-41-8-5 the following season, their first of 4 consecutive losing seasons with less than 30 wins.
The next time the Penguins would be in the postseason it would be against the Ottawa Senators following a regular season where the team was carried by a young Sidney Crosby and Evgeni Malkin, who chipped in 120 and 85 point seasons, respectfully. The 3rd highest point total on that team was Mark Recchi's 68. I'll never forget the pure joy felt when the team won their only game in that series. They haven't missed the playoffs since, and they've picked up some hardware or three along the way.
Now that my trip through Penguins history is complete I guess we should talk about the game that you're here to read about…
Right before the game started the starting lineup was released and even though Sullivan didn't change the lines up in practice the day before he decided he would switch things up in this one:
Ready to take on the Isles. pic.twitter.com/1hmE9L7FSB

— Pittsburgh Penguins (@penguins) March 3, 2018
Rowney out for Simon, Simon put on the third line and Sheary takes Rowneys spot. Ruhwedel in for Hunwick and the defensive pairings completely changed to spread the wealth so to speak. Needless to say these were welcome changes if for no other reason than it is nice to see the coaches not pull a Bylsma and stick to the plan.
The Islanders played the night before and with this being a weird 5 pm start time their timing was off more than usual. This coupled with the fact that their starting goaltender was making his first NHL start since 2016 told the Penguins that they needed to come out with a ton of shots. Well, they did that, and we will get to that, but it was the Islanders taking advantage of questionable start choice Tristan Jarry:
Just kidding, it was more like this

Okay back to the actual goal
Heads up play here by newly acquired Brandon Davidson to notice Jarry slipping and to just fire it on net.
If you see the goalie scrambling, get the puck on net. pic.twitter.com/yAc6EVOln4

— NHL GIFs (@NHLGIFs) March 3, 2018
Who wore it better? pic.twitter.com/Q1hCxHJ3tM

— ja5 (@j_a155) March 3, 2018
Following the goal it was almost all Penguins, around the 10 minute mark the shots were 10-1 Pittsburgh but none of the 10 had gone in and the 1 from the Islanders did. The Penguins received a powerplay opportunity midway through the period and despite several good looks they couldn't beat the Vezina candidate. By the time the period was over the Pens had thrown 19 shots on Gibson (not the one from Pittsburgh) but they just couldn't get any by him.
Here's a look at your #NYIvsPIT stats after 20 minutes of play. pic.twitter.com/LaY95cMwcm

— Pittsburgh Penguins (@penguins) March 3, 2018

The second period was a lot like the first. The Penguins threw about one hundred million or so shots on net and the Islanders had like 5, the only difference is Jarry didn't fall. It was obvious at this point that the Pens "all day video session" on Friday was focused on one clip:
With 8 minutes left the Islanders had 5 shots from their forwards and 7 from their defenders for a game total of 12 to the Penguins 32 yet still had the lead because of that whole random goalie thing
The Penguins make random no name goalies look like Henrik Lundqvist.

And they make Henrik Lundqvist look like a random no name goalie. pic.twitter.com/2lQ9PdBMom

— Penguins Jesus (@PenguinsJesus) March 3, 2018
The Penguins were completely dominating the game with chance after chance and finally got the break they needed when Cal Clusterfuck goes off for boarding Ruhwedel. The Pens powerplay had some good looks but the Isles were able to clear the zone. On the next regroup Kessel gathers some speed through center and dishes it to Geno on the blueline (clean entry: check), Phil continues skating so Malkin does the smart thing and chips the puck to him (in scoring position with numbers: check) and Phil does what he does by waiting until the last possible second to send the puck to the eventual goal scorer:
PATRIC HORNQVIST (18) Assisted by KESSEL (46) & MALIN (43) @ 18:04 PPG
SOUND THE HORN(qvist)! 🚨

Patric Hornqvist has three points (2G-1A) in his last four home games. pic.twitter.com/STjfT1Rwoi

— Pittsburgh Penguins (@penguins) March 3, 2018
Just a nasty play by Phil to possess this puck through traffic and still be able to make the pass. Underrated simple play by Malkin to realize Phil was entering the zone with speed.
Jake Guentzel would get a breakaway in the final seconds but time ran out before he could get a shot away and we were heading to the third tied at 1.
Stats after ✌ pic.twitter.com/1DEspdzoj7

— Pittsburgh Penguins (@penguins) March 3, 2018
The Pens outshoot the Islanders 18-7 in the period after outshooting them 19-8 in the first.
Tie game, third period playing against a team that played the night before, normally I would say this was the time for the Pens to attack but considering their shot totals I didn't know what Sullivan would tell the Pens to do other than keep pressuring. The Penguins did in fact continue doing what they were doing and much like the first period it was the Islanders getting some puck luck after a desperation play by Tavares somehow knocks the puck to an open Anders Lee who puts it in and gives the Isles a 2-1 lead 5 minutes into the third.
Now trailing the Pens turned up the gauge even more and nearly tied the game a few minutes later but this Gibson dude continued to play like he didn't want to wait two more years for his next start. Following the near miss Dumoulin made a horrific turnover that resulted in a 2 on 1 for the Isles that Eberle luckily put off the crossbar. It was around this time that some questionable no calls started to show up in the game, then I recalled that the officiating in the Boston game was rubbish as well. I thought to myself "what is the deal?" Then I remembered it was March and uncle Gary has passed the memo down that refs should enter playoff mode. The fact was the Pens had already had 2 powerplays with one being successful while the Isles had only 1, the next one was going to New York.
Despite this the Penguins kept throwing shots on net and suddenly hitting 50 shots in the game didn't see out of reach. Time was ticking down and it was looking like the Pens might lose because of goals scored from the goalie tripping and a fluke bounce. Then Phil Kessel, bless his soul, circled the puck up top and made a nasty dish to the crease to Derick Brassard, and just like you do on Brazzers he finished the job
DERICK BRASSARD (19) Assisted by KESSEL (48) & SIMON (8) @ 11:29
Big Game Brass strikes for the first time in black and gold. pic.twitter.com/PVCvnqRm9D

— Pittsburgh Penguins (@penguins) March 4, 2018
This is just a goal scorer's goal. It all starts with Brassard making the drive to the net and then the great vision of Kessel to feed this puck through. This was Kessel's 400th career assist and it was glorious,  I mean look at this: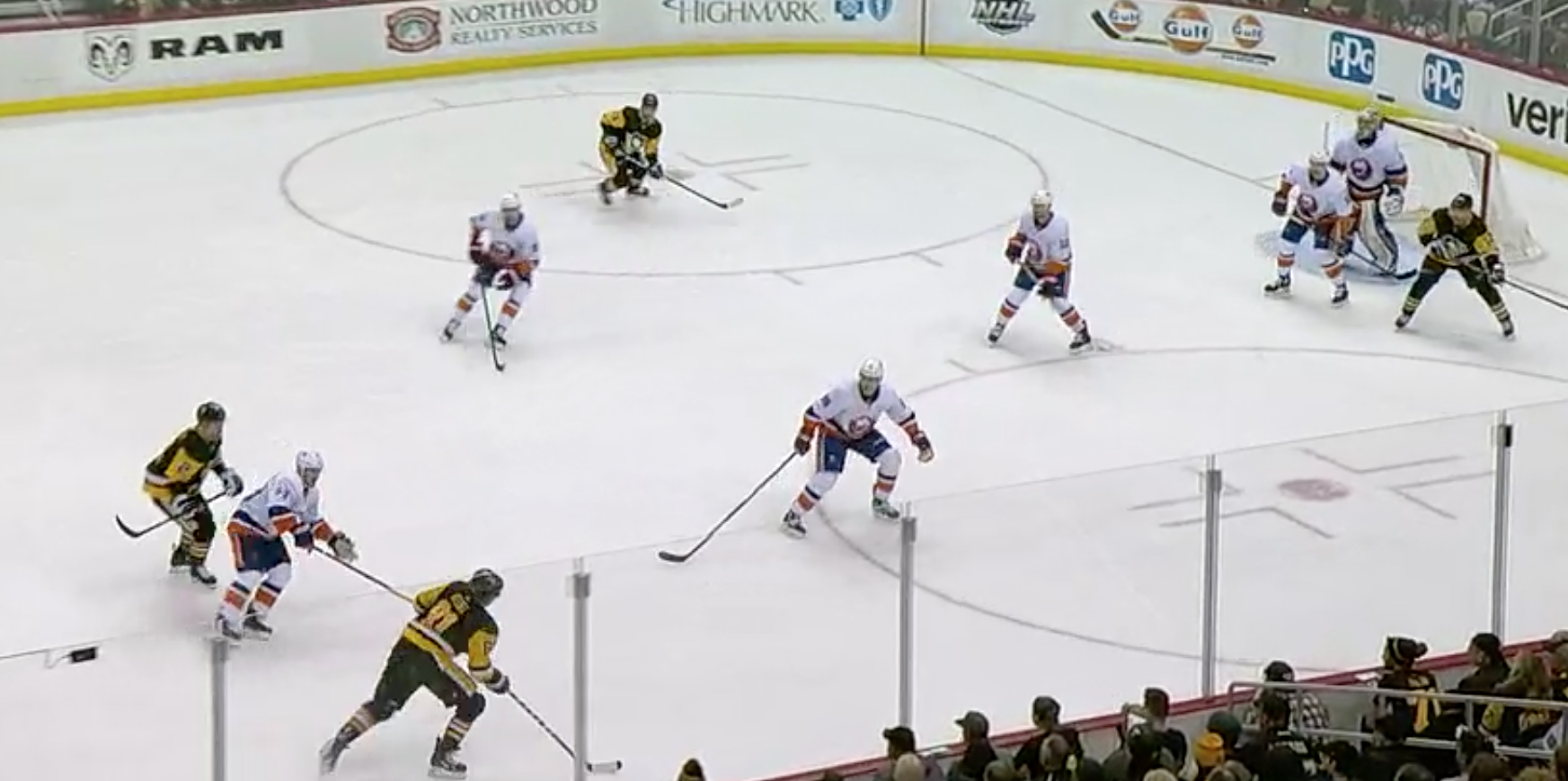 This is when Kessel and Brassard make eye contact, this is also a pass Phil could've made but it would've required him put some air on it to avoid the stick in the passing lane, so what does Phil do next?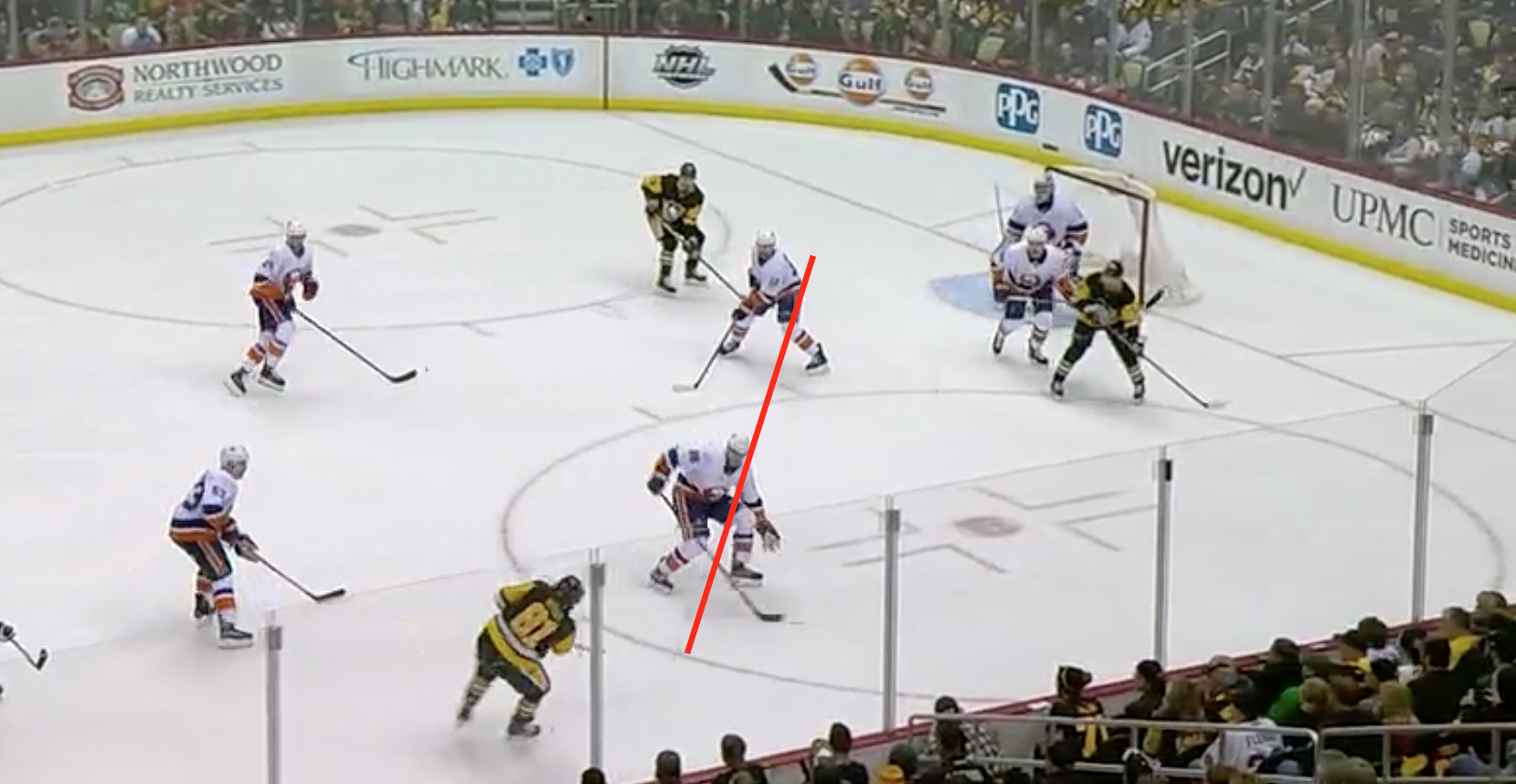 I had to slow this video down and watch it over 80 times and no I am not kidding you, this puck went through both Islander players legs and then got to Brassard. Are you freaking kidding me?? Brassard shows his hockey IQ by continuing is route towards the goal, he was probably like why didn't you pass it to me Phil, you no like me? Despite his nickname there isn't anything on Brazzers that will get you off as quickly as that pass. Now that we've broken it down watch it again and try to keep your hand out of your pants
Brassard's first goal as a Penguin. pic.twitter.com/ID7ML3fcYo

— NHL GIFs (@NHLGIFs) March 4, 2018
The remaining 9 minutes the Penguins were looking for the death punch and the Islanders were still getting away with shit. With less than 2 minutes left I had the feeling that the Islanders would be getting a powerplay in either the last minute or in overtime. The Islanders put up a final push in the last minute by Jarry managed to stand tall and this thing was heading to overtime.
Here are your #NYIvsPIT stats after 60 minutes of play. pic.twitter.com/HnOSWyuWpm

— Pittsburgh Penguins (@penguins) March 4, 2018
Just your casual 45 save performance by a guy nobody knows.
The Penguins started with Brassard-Crosby-Letang and though they had some looks they didn't get the job done. Then jumped Kessel-Malkin-Schultz and the NYI broadcast guy said "it's almost unfair, the Isles stop the Crosby line and now have to deal with this." During the shift Kessel did his signature carry it out of the zone to pick up speed while Malkin made a change, Kessel sent the puck up and there came the call… for too many men. It was the tickiest of tackiest too many men calls you will ever see as Malkin already had one leg over the ice.
4-3 powerplay, look out. The Pens go with Kuhnhackl-Sheahan-Dumoulin for the majority of the kill and they take away passing lanes and shot alleys like champs, when the odd shot got through Jarry was there and before the Isles knew it the powerplay was over. Now it was time to finish things off as the Penguins get a Crosby Schultz 2 on 1. The puck on Sids stick and he is staring Schultz down the whole time, when is he going to pass it?
This is going to be sick!
He's staring Schultz down…. here comes the tap in!!!
Come on Sid pass it Schultz is ready!!!BKbbLB!L!!!
SIDNEY CROSBY (21) Assisted by SCHULTZ (15) & LETANG (34) @ 3:48
Sidney Crosby: the hero Pittsburgh needs. pic.twitter.com/I4gYOguWFI

— Pittsburgh Penguins (@penguins) March 4, 2018
The 50th shot of the game for the Penguins caps off what we call
ACQUIRING THE DEUCE
---
Thoughts:
Chad Ruhwedel was good in this game, but it was also a game against the Islanders that the Penguins dominated. In my opinion, he earned a start in the next few games but I will hold all judgement until he plays 3 or 4 in a row.
I thought the defensive pairings looked a lot better with Oleksiak and Ruhwedel on different lines.
Sids OT winner ties him with one Evgeni Malkin for the franchise lead with 12 OT winners, as Lemieux is third with 11
Sullivan finally got to roll 4 lines even if he juggled positions here and there. Sheary finished with the lowest TOI total with just 8:13, Kuhnhackl was second with 9:11 and their center Sheahan finished with 14:39. I would have no problems if Sullivan continues to use similar totals as both Sheary and Kuhnhackl received enough icetime to get a feel for the game (Kuhnhackl had 4 shots while Sheary had 3) and Sheahan double shifted when Simon needed a break.
The leaders were upset in the lockerroom following the Boston loss, what to the leaders of this team do? Lead by example. Malkin and Crosby had team high 7 shots each.
Following what could've been a horrendous outing based on the first goal I was impressed with how Jarry responded as he finished the game with a .926 save percentage
With the assist on the game winning goal Kris Letang passes Paul Coffey as the all-time leader defensive assist getter to while wearing a Penguins uniform
The Pens and Caps both win and the Flyers lose in a shootout as the three continue to pace the division and get a littttttle bit of breathing room between 3rd and 4th: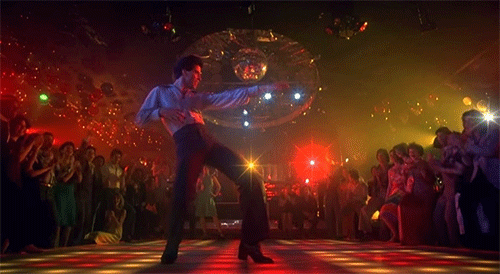 Loading ...