An early brunch against the Flyers has become a late March tradition for the schedule makers and NBC. Before this one got started it was our boy Bob Grove stating what we've been saying all along:
Cole was on the roster but out of the lineup for 14 GP this season, and Pens' PK in those 14 GP was at 83.7%. In 14 GP since he was traded, Pens are at 70.0%. They miss him, but clearly PK struggles have other causes.

— Bob Grove (@bobgrove91) March 25, 2018
SAY IT LOUDER FOR THE PEOPLE IN THE BACK
With that here is our daily dose of treasure: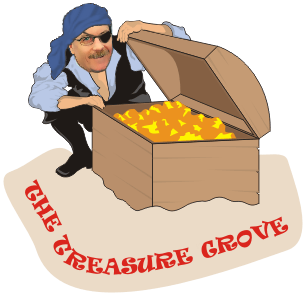 The Pens have won 4 of the last 13 home games in which they scored first vs. Flyers.

— Bob Grove (@bobgrove91) March 25, 2018
Note to Pens, don't score first.
Brassard has points in 5 straight GP (1-4-5). His last 6-game points streak came Feb. 10-20, 2015 with the Rangers (0-8-8).

— Bob Grove (@bobgrove91) March 25, 2018
I'm all here for Brassard scoring some huge goal in the playoffs and people flipping to being huge fans of him instantly. Poor guy hasn't been given a fair chance all because Ian Cole was lost when he was acquired… it doesn't make any sense.
Over the last 3 games, opponents have had 19 power play shots (in 10 chances) vs. 6 power play shots (in 6 chances) for Pens.

— Bob Grove (@bobgrove91) March 25, 2018
Pens still averaging 2 powerplay chances per game just like they were in February.
Lyon will be the fifth different starter Pens have faced in their last 7 GP vs. Flyers, joining Mason, Neuvirth, Elliott and Mrazek.

— Bob Grove (@bobgrove91) March 25, 2018
Got Goalies?
The first time these teams ever met in March was in Quebec City on March 30, 1968, when Flyers' home GP was moved there after the roof blew off the Spectrum. Leo Boivin and Earl Ingarfield scored and Les Binkley made 23 saves in a 2-0 win.

— Bob Grove (@bobgrove91) March 25, 2018
True story, our own @SouthSideGeno was Les Binkley's babysitter.
The Penguins got out to the start the Flyers were hoping for as they looked like they were still enjoying their afternoon naps. The Flyers were all over the Pens early and it didn't take long for them to send the wake up call behind Murray.
.@sanheim17 you rock, don't ever change. #PHIvsPIT pic.twitter.com/UsYtnh3ekG

— Philadelphia Flyers (@NHLFlyers) March 25, 2018
This was the perfect goal for the Murray haters to criticize the glove hand once again. Not to burst their bubble but the puck did change direction: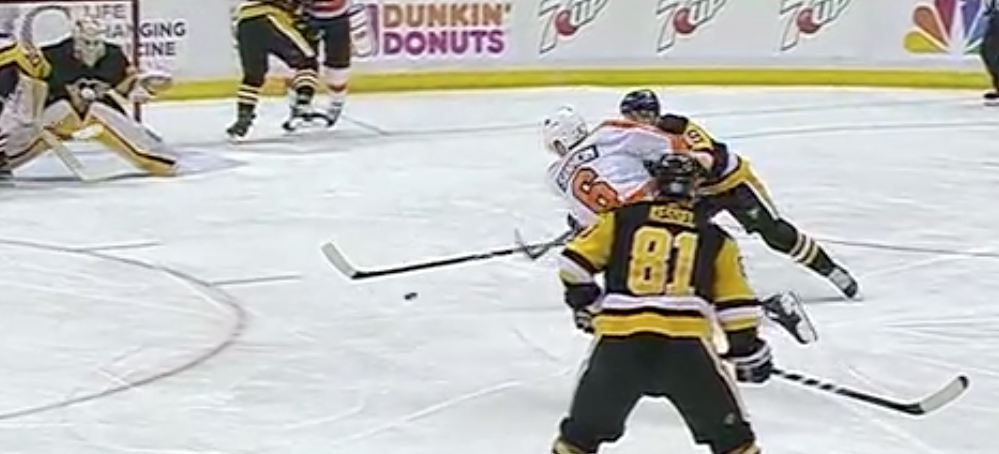 Brassard gets a piece essentially turning the flight of the puck into that of a knuckle ball in baseball, yes there was a lot of distance after the deflection but it still becomes unpredictable. Definitely easier to say "he should've caught that" if you've never attempted to "catch that."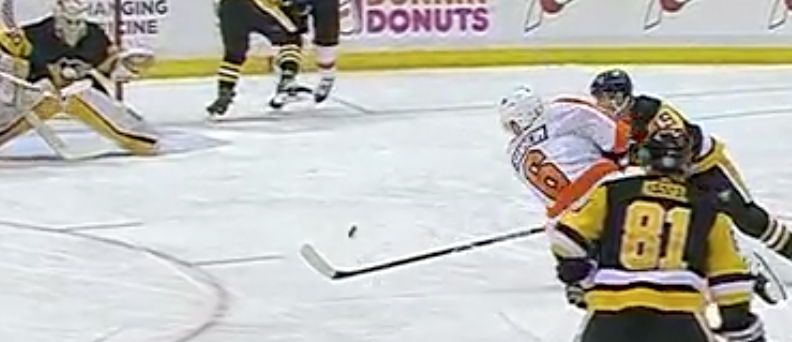 The goal served as a reminder that the Penguins had a game to play and they finally started to work against the Flyers attack. Eventually the puck finds Conor Sheary in the neutral zone and he miraculously doesn't fall down as he goes for the high risk lob pass on fourth and inches, unlike the Steelers he completes it
DERICK BRASSARD (21) Assisted by SHEARY (12) & KESSEL (54) @ 9:38
"Big Game Brass" pic.twitter.com/wdsA5FtUBT

— Pittsburgh Penguins (@penguins) March 25, 2018
This line is scoring every game and people on Facebook are still saying Brassard wasn't worth losing Cole, I love this new in love with everyone on last years team attitude social media has created.
Once the Pens got the tying goal they decided they could pull back a little bit which was a mistake and 2 minutes later the Flyers were back in front.
And we've got ourselves a nice little 👏-💣 here. #PHIvsPIT pic.twitter.com/T0nGnTrq4H

— NHL (@NHL) March 25, 2018
Just your casual 4 on 2 odd man break allowed, unlike the last one this is completely on Murray and one that has to be saved. The reason he failed was poor positioning right from the start: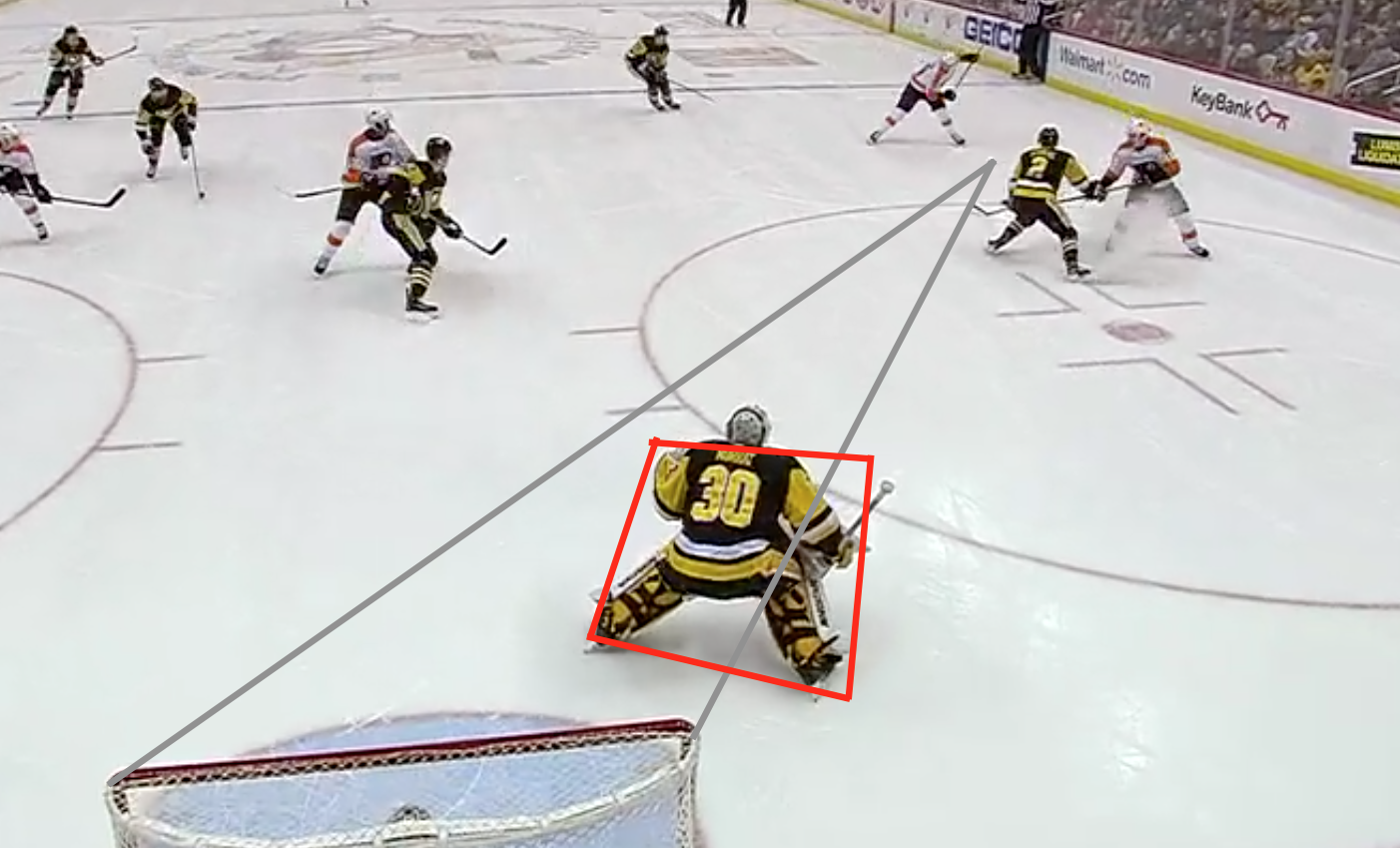 From this view we can see Murray isn't anywhere near being squared up to the goal, my guess is he lost his angle when he decided to be aggressive and come out so far. Now look at the angle he gave from the shooters view: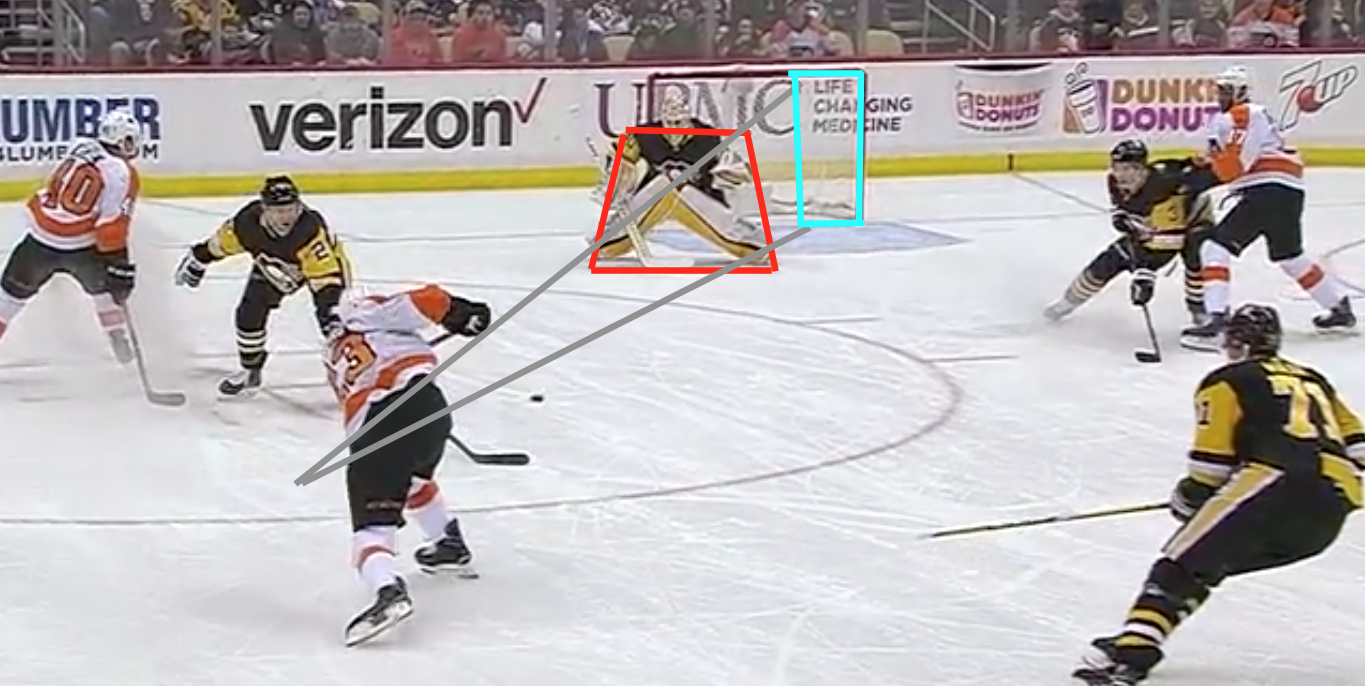 Leaving over a foot of the net exposed is never going to end well, Murray almost got lucky as this shot wasn't that good but it was just far enough over that he couldn't get to it in time. Shortly after the goal the Flyers got the chance to put their foot on the Pens throat with a powerplay chance after Dumoulin hooked up Couturier but the penalty killers stood strong. After coming out of the box Couturier took a penalty of his own but the penguins failed to capitalize on the chance. With 12 seconds left the Flyers just couldn't control themselves as te one red headed guy, no not that one the other one, no the other one, took a cross checking penalty mainly out of jealousy over Hagelins glorious flow. The Pens wouldn't convert in those 12 seconds but would be carrying over a good chunk of time on the fresh ice.

With almost an entire powerplay on a fresh sheet the Pens wasted no time setting up shop as soon as Sid won the opening draw, Schultz to Kessel to Hornqvist tie game.
PATRIC HORNQVIST (24) Assisted by KESSEL (55) & SCHULTZ (17) @ 0:37
SOUND THE HORN(qvist) 🚨 pic.twitter.com/ovZJbvupTw

— Pittsburgh Penguins (@penguins) March 25, 2018
If you want to know what the team thinks of Hornqvist consider that Phil Kessel with the puck on his forehand opted for this pass knowing Hornqvist could make something of it. What a move by Horny who knew what he was doing as soon as he saw the puck coming his way.
The Penguins took the momentum and started pouring it on the Flyers shift after shift and the building was starting to feel like the playoffs again. After two minutes of constant pressure the puck made it to Agent 101 and he added another kill to the list:
EVGENI MALKIN (42) Assisted by SCHULTZ (18) & DUMOULIN (11) @ 2:37
Tic, tac, toe drag… Five-hole. pic.twitter.com/AvfTX0Iyd3

— Pittsburgh Penguins (@penguins) March 25, 2018
Filthy toe drag cittttaaayyyy, what a move.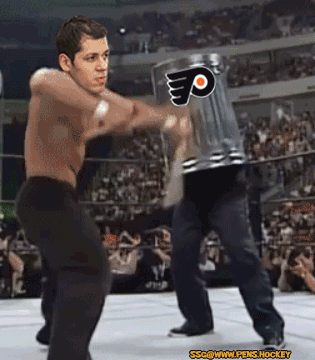 The Flyers would pull their no name goalie and replace him with Petr Mrazek following the Malkin goal which resulted in the Flyers getting back to their game. The Penguins didn't stop with their momentum and we were treated to see these two take round after round against each other. With 15 minutes left Brassard was called for high sticking and the Flyers had the opportunity to tie the game again. Unlike their first opportunity they would cash in this time and we were tied at 3.
Congrats to Jordan Weal on his 1st 3-point game 👏 #PITvsPHI pic.twitter.com/hHYspqXF3b

— Philadelphia Flyers (@NHLFlyers) March 25, 2018
18 seconds after the goal Dumoulin was called for crosschecking and the Flyers once again had a chance to silence The Paint Can. This time the penalty killers held on and 5 on 5 play resumed with less thana  minute left in the period. Neither team would do much with that amount of time and we were heading to the third tied at 3.
Here are your #PHIvsPIT numbers after 40 minutes of play. pic.twitter.com/m9ilBYbXJE

— Pittsburgh Penguins (@penguins) March 25, 2018
32 shots allowed through the first 40 minutes is never ideal though 9 of those came from the 3 powerplay opportunities making the even strength shot total 23 which is better.
Tie game to start the third, the Flyers had 3 powerplay chances to the Pens 2 so the next call would most likely go in the Penguins favor; these were my thoughts heading into the third. These were Crosby's:
CAPTAIN CROSBY, IN HIS ELEMENT!

Sid's point streak versus Philly is now at four games (2G-6A). He has more goals against the Flyers than any other team (38). pic.twitter.com/woWQxFitaI

— Pittsburgh Penguins (@penguins) March 25, 2018
SIDNEY CROSBY (26) Assisted by SCHULTZ (19) & GUENTZEL (25) @ 0:17
Sean Couturier was one time touted as the best defensive forward in the league after shutting down Malkin in a playoff series. Sidney Crosby just took the 6 foot 3 inch 211 pound forward for a fucking ride with just one hand on the puck. Unbelievable show of leg strength from Sid here and then a perfect snipe to top it off… man Philly has to hate Sid. With his dominant play in the last couple games I think it is becoming clear that Crosby has one thing on his mind: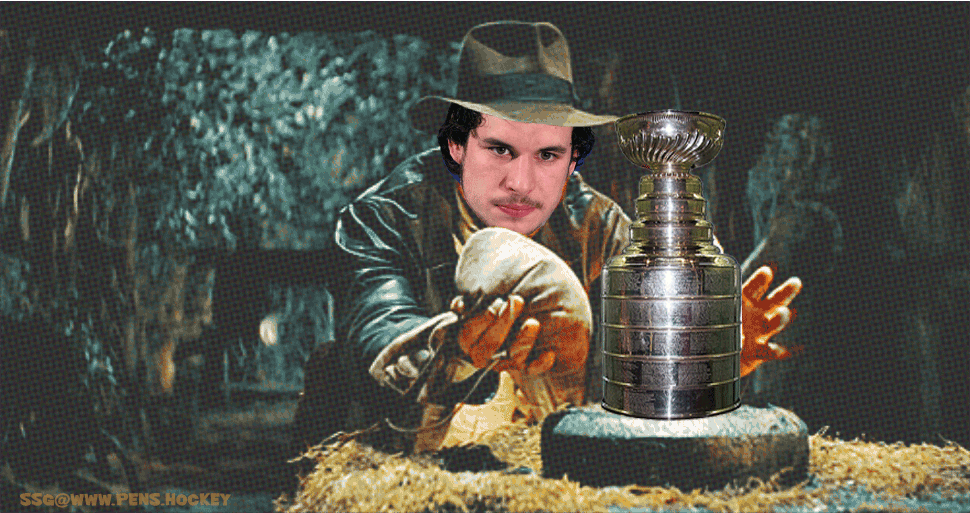 The Penguins practiced their third period lead strategy and it was working as they successfully jammed up the Flyers in the neutral zone over and over. It became apparent around the 5 minute mark that there would be no more penalties in this game as the refs were content with just letting them play. 15 minutes ticked down to 5 and the Pens were still hanging on but just couldn't find that insurance goal. The Flyers would pull Mrazek with a little over 2 minutes left and Malkin had a chance, though a very small one, to immediately end the game. Instead the puck went wide and the Flyers extra attacker became an immediate problem for the Pens as they couldn't figure out how to match up. As the final minute approached Kris Letang decides he will take a shot at Wayne Simmonds in front of the net, while he leaves his post to do this the puck his sent on net, goes to the man behind Letang and ends up in the net with 43 seconds left.
GIF Rewind: Couturier's late goal earns Flyers a crucial point in Pittsburgh –https://t.co/E6K87FoqKv pic.twitter.com/MnpyO3bbHn

— Sons of Penn (@SonsofPenn) March 25, 2018
In all honesty the jabbing with Simmonds wasn't the problem for Letang on this play, here is the initial jab while the puck is away, nothing wrong with this as he is letting Simmonds know that he is there.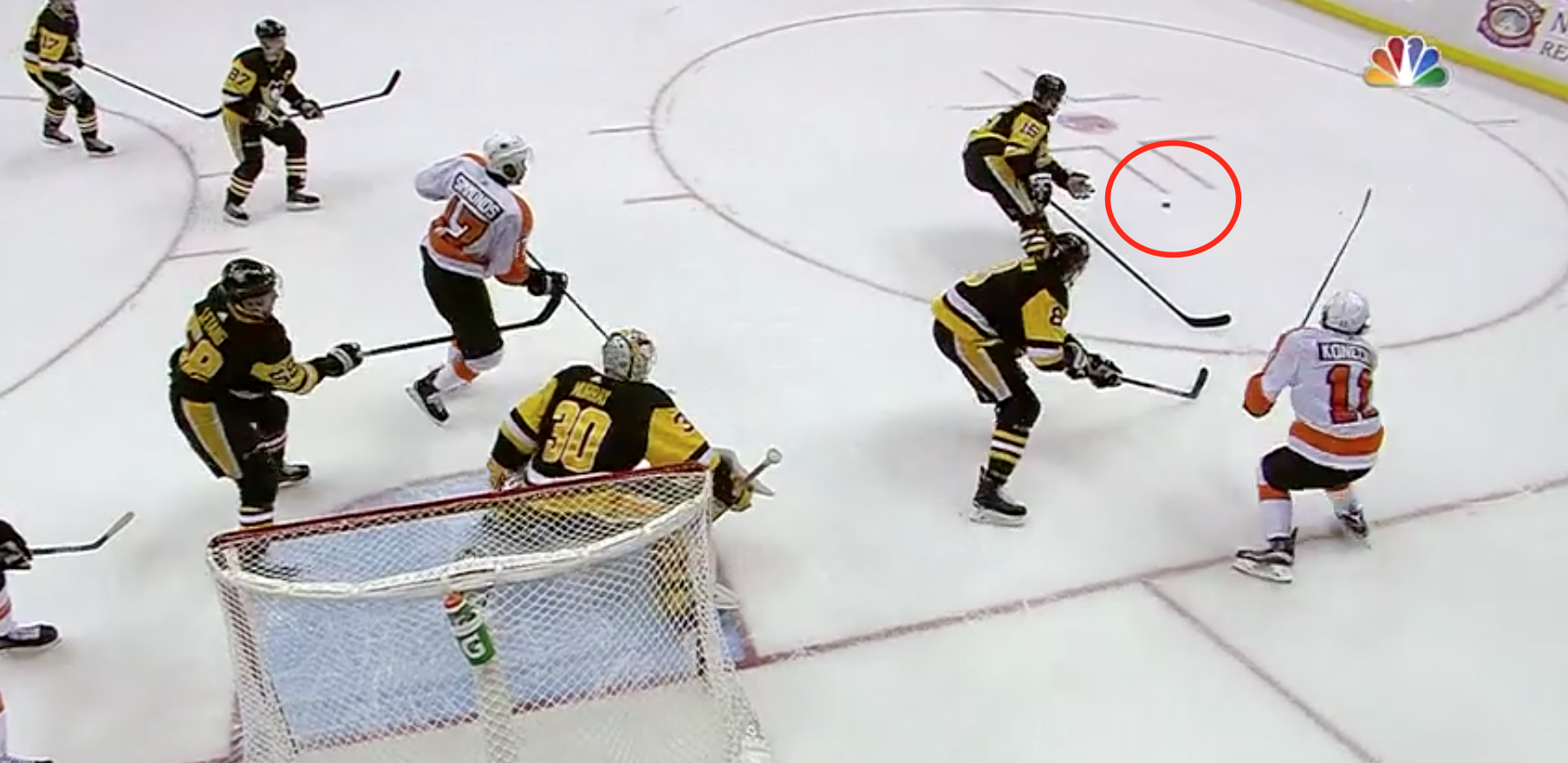 This is the second one while the puck is heading to the shooter, though it's a tad immature a lot of players make this move and Letang's eyes are on the puck so whatever, this didn't result in the goal. 
Where Letang truly messes up is when the puck gets by Rust who went all in with an attempted block, and Letang uses the only thing smaller than his brain to try to block the shot: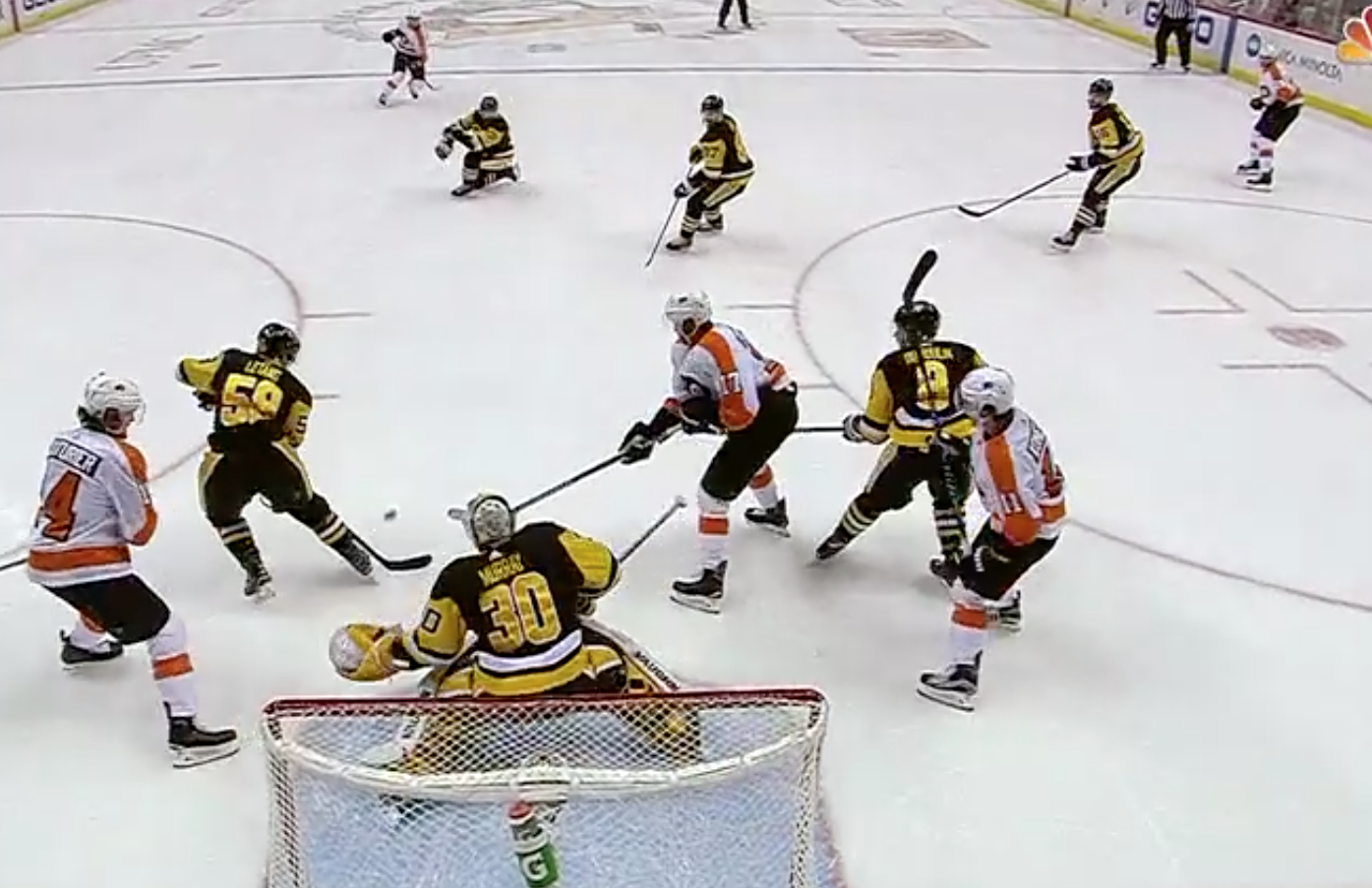 This is why the goal was scored, you have to put your body in front of this puck, there aren't any other excuses.
So for the second time between these two teams we were heading to overtime, oddly enough the other game that took extra time was also tied at 4. The Penguins were completely in charge of the overtime period as they went right for the throat from the beginning. They also remembered to cover all three Flyers in the first minute which prevented  any long breakaways. The Flyers finally got the puck down into the Pens zone but the Penguins created a turnover:
Voracek looked to be held before being taken down in the corner prior to the Penguins' game-winning goal. pic.twitter.com/shVIyC7HqG

— Sons of Penn (@SonsofPenn) March 25, 2018
Definitely a missed call here but again, with the powerplay advantage already in Philly's favor and the playoffs soon this not being called is hardly a surprise. The Pens would turn that puck the other way, it looked to be a broken play until Letang throws a puck on net that creates a juicy rebound, and Crosby is flat out determined to reach it first. He grabs the puck and sends a quick pass right to the blade of Rust.
BRYAN RUST (13) Assisted by CROSBY (57) & LETANG (39) @ 2:25
SUNDAY FUNDAY! pic.twitter.com/aRujHQxXTe

— Pittsburgh Penguins (@penguins) March 25, 2018
Sidney Crosby we are not worthy. Jesus what a pass, and also incredible ability by Rust to recognize what Sid was doing and get in good enough position to get enough of this puck. The Flyers hung out on the bench for awhile to see if there would be goaltender interference…
Here's the entire sequence before the game-winner. pic.twitter.com/s0OKdFDdtg

— Sons of Penn (@SonsofPenn) March 25, 2018
It looks like Rust moves Mrazek, it also looks like Mrazek moves a little too easily. Was this something the refs are watching after the news broke last week the goalies are being coached to sell the interference? Who knows, who cares, the Flyers get their 13th charity point of the season which is all they wanted so they don't challenge the goal, the Penguins sweep the season series and open a small lead for second in the Metro thanks to the
DEUCE
---
THOUGHTS:
"MATT MURRAY SUCKS" while turning in a .911 save percentage, "THAT'S NOT THAT GOOD RAD!!!!"…. it's 0.03 better than MAF last year in 38 games. I highlighted Murray's biggest mistake in detail above, and I have a potential post coming out after some comments by @J-bot got me thinking, but man this shit is getting old quickly
This was just Murray's 100th career start, his current career numbers are 65-26-8 with a 2.55 GAA and a .918 save percentage
Crosby with a touch over 20 minutes to lead forwards, Letang with 23 to lead the defense. Overall the new defensive pairings resulted in a closer time disparity between the 6, this includes the Oleksiak-Letang pairing which may have resulted in Letang getting less minutes (3 of his 23 minutes was short handed time). If Oleksiak on his line results in more games under 25 minutes then sign me up.
A playoff series with the Flyers might be exactly what the Penguins need to get their minds right for a long run.
Updated standings:
The win gives the Pens 92 points, the maximum Carolina can get is 91 meaning Pittsburgh could lose out and finish 5th at worst. Florida is sitting with 83 points in 73 games played, making their maximum 99 and the Pens magic number 5 points.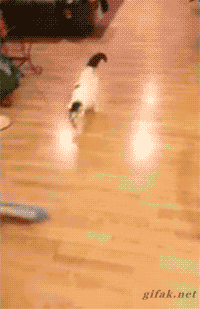 Loading ...