The Penguins went into Detroit and much like everyone in Detroit lost everything and left with nothing. Here's how it went down.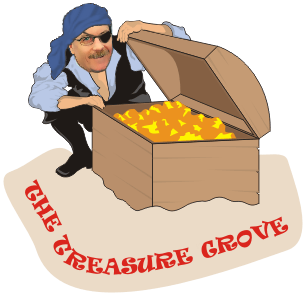 Sheahan's average TOI on the PK w/ Pens (2:41) leads the team and is a career high. Only other teams w/ forwards leading in PK average TOI are Florida (Sceviour & Mackenzie) and Vancouver (Sutter).

— Bob Grove (@bobgrove91) March 27, 2018
Does this say more about Sheahan's PK skills or the lack of trust in any defender?
Hornqvist has 4+ shots in 9 straight GP (50 total), the longest such streak of his career.

— Bob Grove (@bobgrove91) March 27, 2018
Hornqvist has been playing some of his best hockey in March not only with scoring and helping out his line but also with getting in the middle of things and stirring the pot. He may be the heartbeat that gets the team ready for the playoffs.
Sheahan leads Pens in faceoff win percentage (54.4), nearly 4 points better than his career high of 50.6 last season with Wings.

— Bob Grove (@bobgrove91) March 27, 2018
Crosby is third on the team with a 52.3% (Rowney is 2nd with 52.9% but has taken considerably less draws than Sid). After that the team is behind the 8-ball as Malkin is sitting at a 44% and Brassard is 46.9%. This is why we will see Riley Sheahan sneak onto the ice for defensive zone faceoffs in the playoffs like we saw Cullen do last year.
Pens' all-time plus-minus features 3 current players in top 7: Murphy (+102), Ulf (+76), Schultz (+56), Stackhouse (+53), Maatta (+53), Kjell Samuelsson (+51), Letang (+48).

— Bob Grove (@bobgrove91) March 27, 2018
Remember when Justin Schultz for a third was a win for Edmonton? After 3 years with the Pens and a +54 rating Schultz is still a -24 on his career thanks to a -78 in his 4 years with Edmonton. Larry Murphy though, 336 games played for the Pens, 78 goals and 223 assists for 301 points, damn.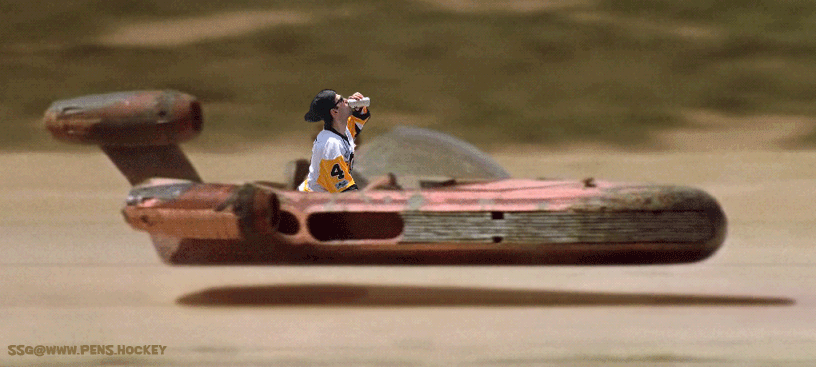 It was hinted at over the course of the last few days and made official right before the game as it was announced that Zach Aston-Reese would be returning to the lineup.
Welcome back to the lineup, @zreese11! pic.twitter.com/fXEQPSqSYK

— Pittsburgh Penguins (@penguins) March 27, 2018
The other switch was the flip-flop of Rust and Hornqvist once again as Sullivan continues to toy with things.
There was some slight hesitation on my part as I wondered if the Penguins would step on the gas early in this one considering the Wings played the night before, the answer was quickly provided.
SIDNEY CROSBY (27) Assisted by GUENTZEL (26) @ 0:37
Go Sid Go!

GOAL! SID! GOAL! pic.twitter.com/JsBsuTi7we

— Pittsburgh Penguins (@penguins) March 27, 2018
Straight up Sullivan playbook right here, force the turnover, get the odd man break, deliver. There was a delayed penalty as Rust was hauled down right when the turnover occurred otherwise this could've been a 3 on 1. Of course with the way Crosby is playing right now this was essentially a 2-0 with an empty net, no offense to Howard.
The Penguins did not fall into a cocky shell which was nice to see and they continued pressuring the Wings. There were multiple chances for the Pens to score but they apparently hung out with Tyler Kennedy as no shots made it on the actual net. 7 minutes in momentum was halted when Bryan Rust took a tripping penalty but the penalty killers were aces. Zach Aston-Reese was teamed up with Tom Kuhnhackl as one of the forward duos and they were excellent together, not to be outdone Sheahan almost had a shorty.
Following the kill the Penguins would get a powerplay of their own but it was the definition of balls. The failed attempt actually took some air out of the Pens and Detroit started getting more and more shots on net. Eventually the puck went behind the goal and everyone on the Penguins decided they weren't going to pick up Kronwall.
Around the horn to Kronner for career point 400. #LGRW pic.twitter.com/XUnzYNk5kf

— Detroit Red Wings (@DetroitRedWings) March 28, 2018
Bob Errey was quick to point out that this has been an issue for the Pens as they seem to get lost watching the puck below the goal line and completely forget that other players exist. 

Plays like this don't fall on one player as this is an overall communication breakdown that needs to be addressed before the games really start mattering.
Following the goal the Penguins landed a few shots on net but nothing really to note and the period finished the way it started in terms of goal difference.
Numbers after the 1st period of play. pic.twitter.com/JruDmAkIiX

— Pittsburgh Penguins (@penguins) March 28, 2018

The first half of the second period was about as thriving as Detroits job market.
Then Sidney Crosby thought he scored, on further review it was determined that he didn't. Personally I think everyone knew the puck crossed the line but there wasn't video evidence to prove it so whatever. After that the Wings received a powerplay when Oleksiak high sticked someone and drew blood, the refs only gave the Wings a 2 minute powerplay and Bob Errey defended them saying it is a "gray area." It's actually a pretty simple rule, if there is blood of any kind, even if the player bit his lip, it's a 4 minute penalty plain and simple. The Wings would get the Pens penalty killers jumping around like hookers on payday and it was a 2-1 game after Martin Frk faked the frk out of everybody.
Fransy on the PP. #LGRW pic.twitter.com/ceTFcqp0Vu

— Detroit Red Wings (@DetroitRedWings) March 28, 2018
That is one of the nastiest fake shot passes you will ever see, right to the tape, just a prayer for Murray at that point. The Pens responded with an Asians dick worth of effort and before we could get mad the Wings were scoring again.
#RedWings on the score sheet. #LGRW

🚨: Kronwall (4) Nielsen (16) Glendening (10)
🍎: Helm (17, 18) @Dylanlarkin39 (43) @Frky91 (13) @Hicksy_2 (1) Jensen (14)
🎥: https://t.co/vbsBpyY39U pic.twitter.com/Mr90cdlsVT

— Detroit Red Wings (@DetroitRedWings) March 28, 2018
Dumoulin caught in a tough situation here where he can either block the shot or give Murray a clear view of the puck, he opts to jump out of the way and it is the wrong decision; note that this is not the same as Letang on the Philly tying goal last game because Letang was actively trying to block the shot with his stick, here we see Dumo get out of the way. A point shot that is missed by the defenders and a deflection. Three times I almost always give the goalie the benefit of the doubt, powerplays, backhanders, and deflections. Powerplays and backhanders can get criticism if the play is squarely on the goaltender, getting upset over any deflection is a waste of your time. With that said lets go to Twitter.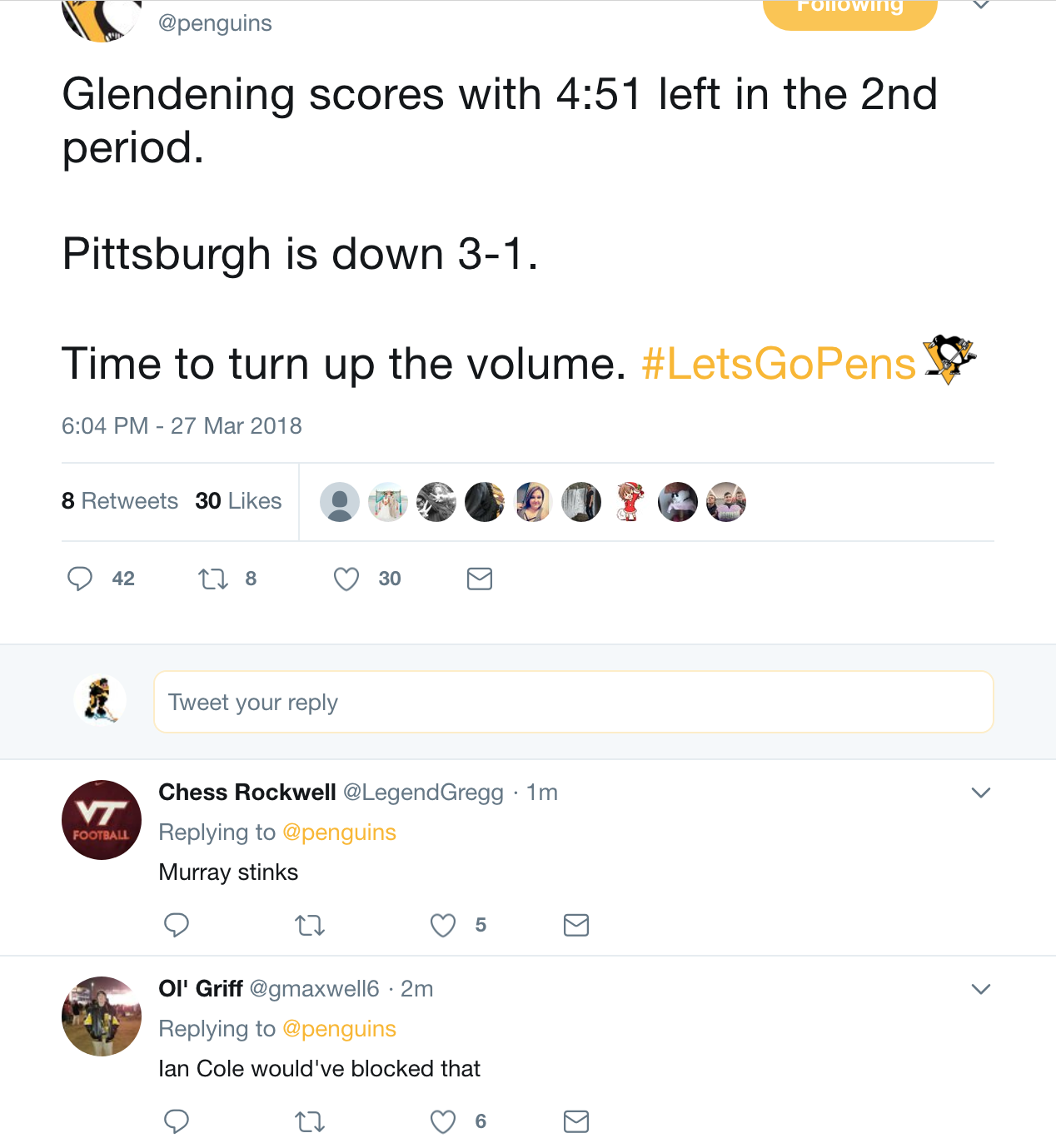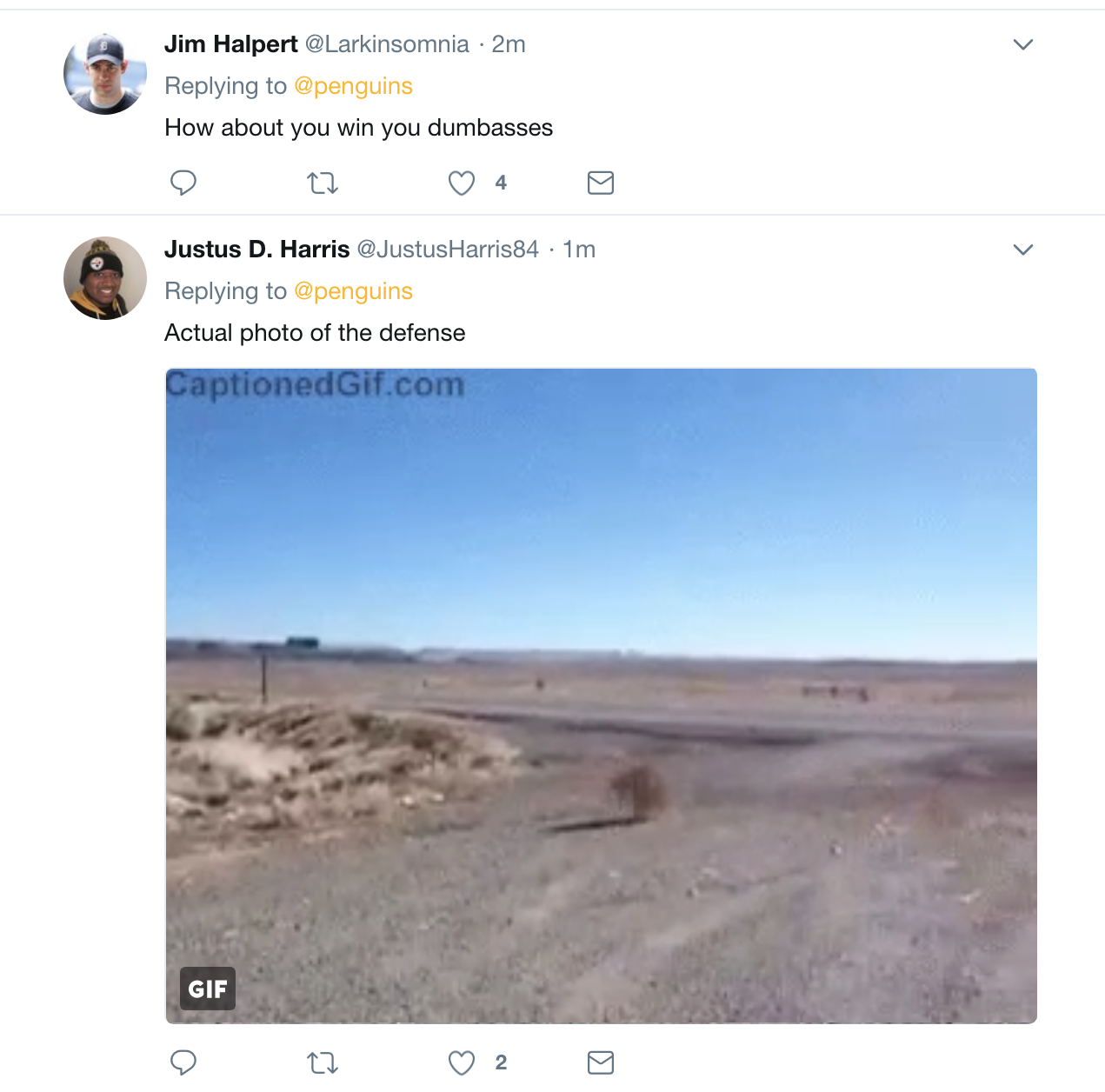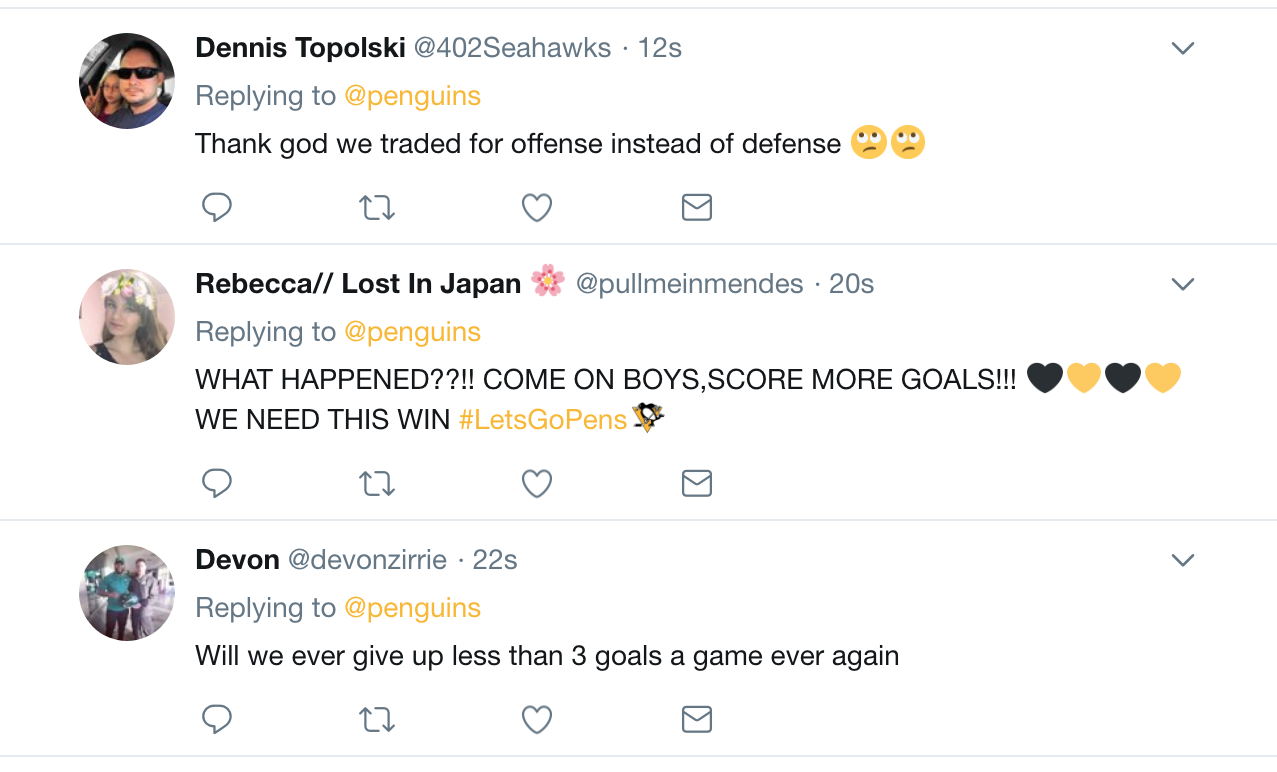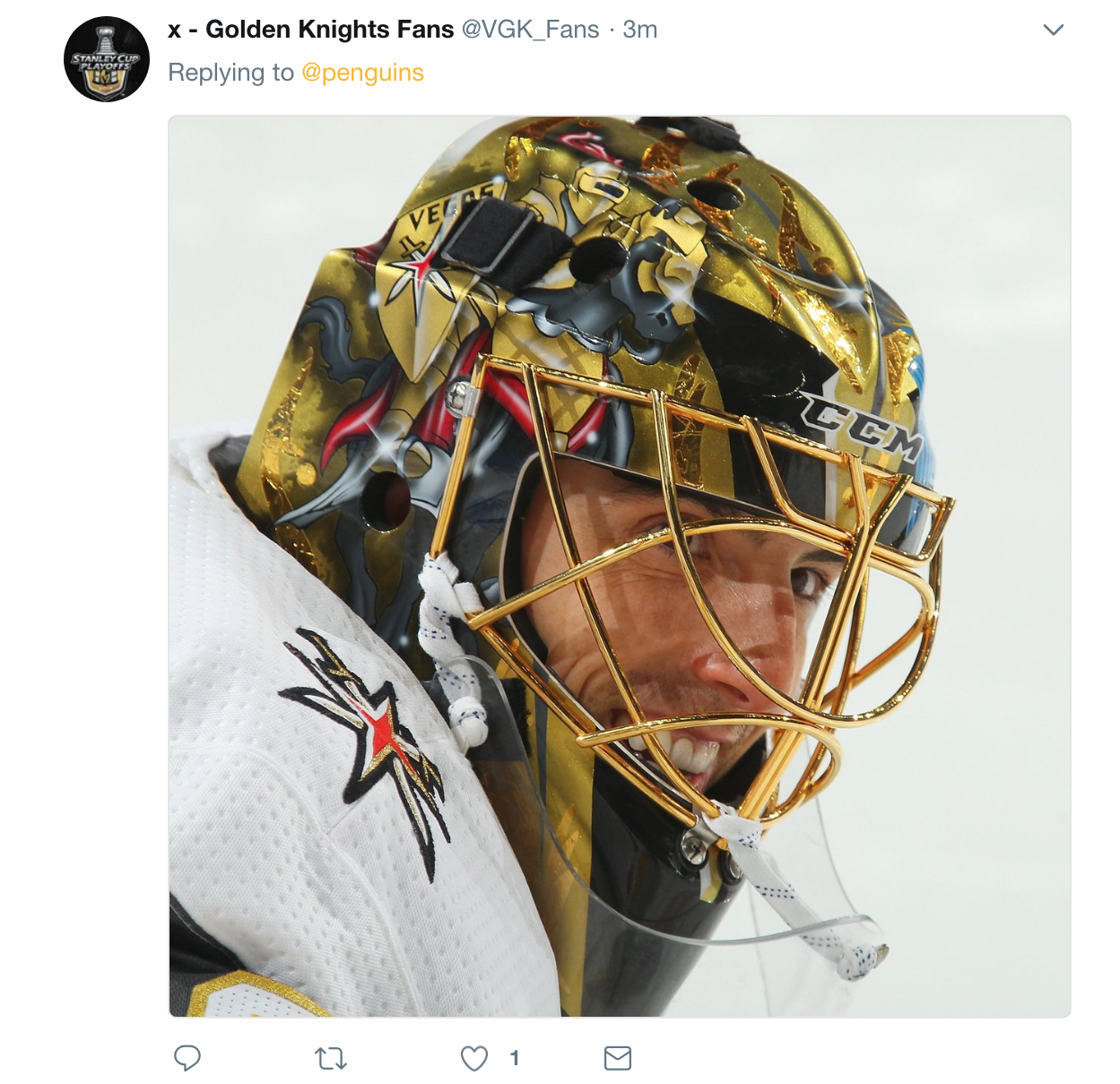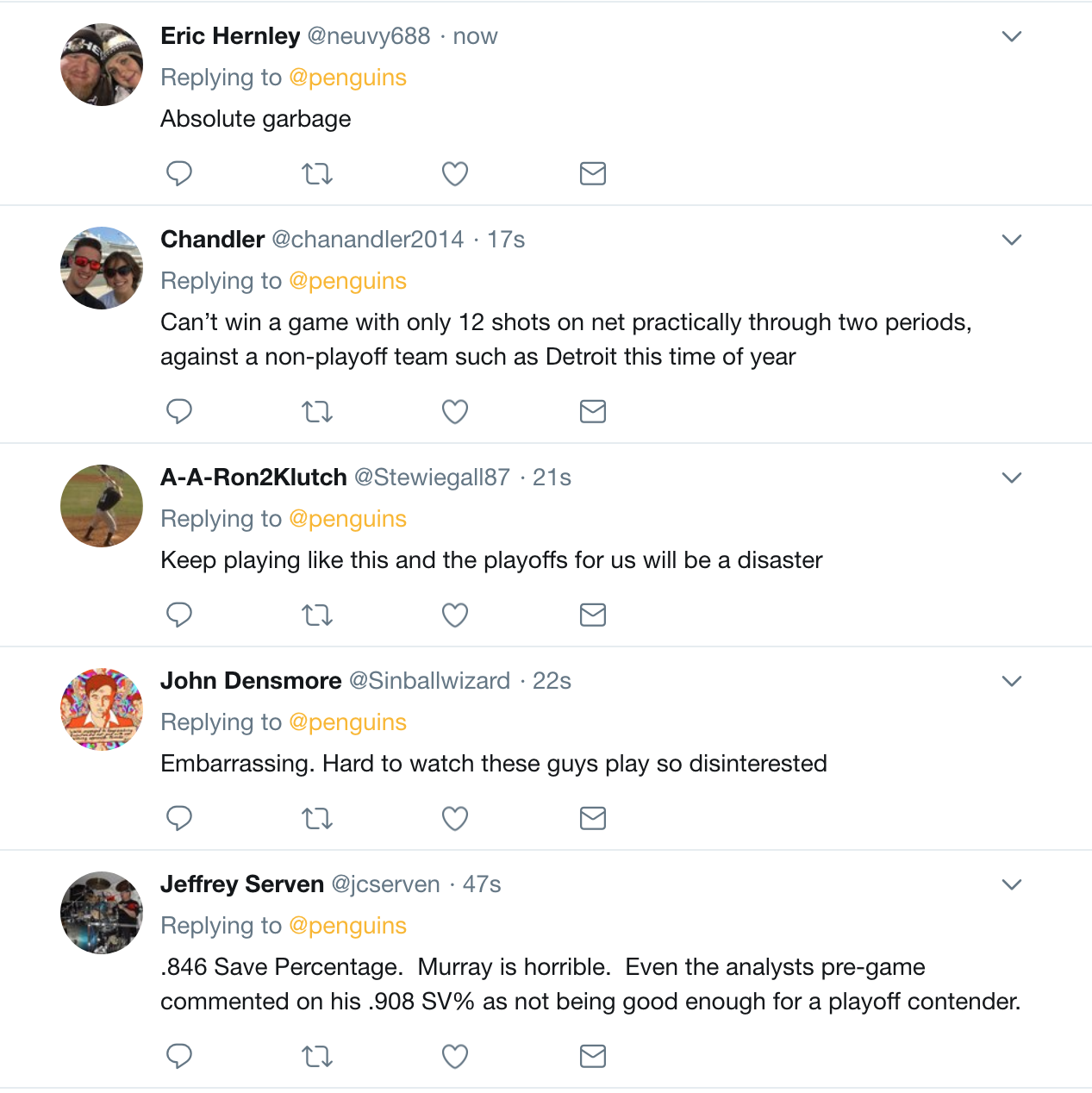 Well by George Jeff, if the analysts that pick the Capitals to win the cup every year said it then it must be true, it simply must.
The Penguins would try to get a goal before the period came to an end but it wasn't happening and they would once again head to the third period trailing a failing team.
Numbers after ✌ pic.twitter.com/RJV1TukOkQ

— Pittsburgh Penguins (@penguins) March 28, 2018
6 shots in the first and 6 shots in the second after allowing 10 shots in the first and 10 shots in the second. 12 shots on goal is not a good plan fellas.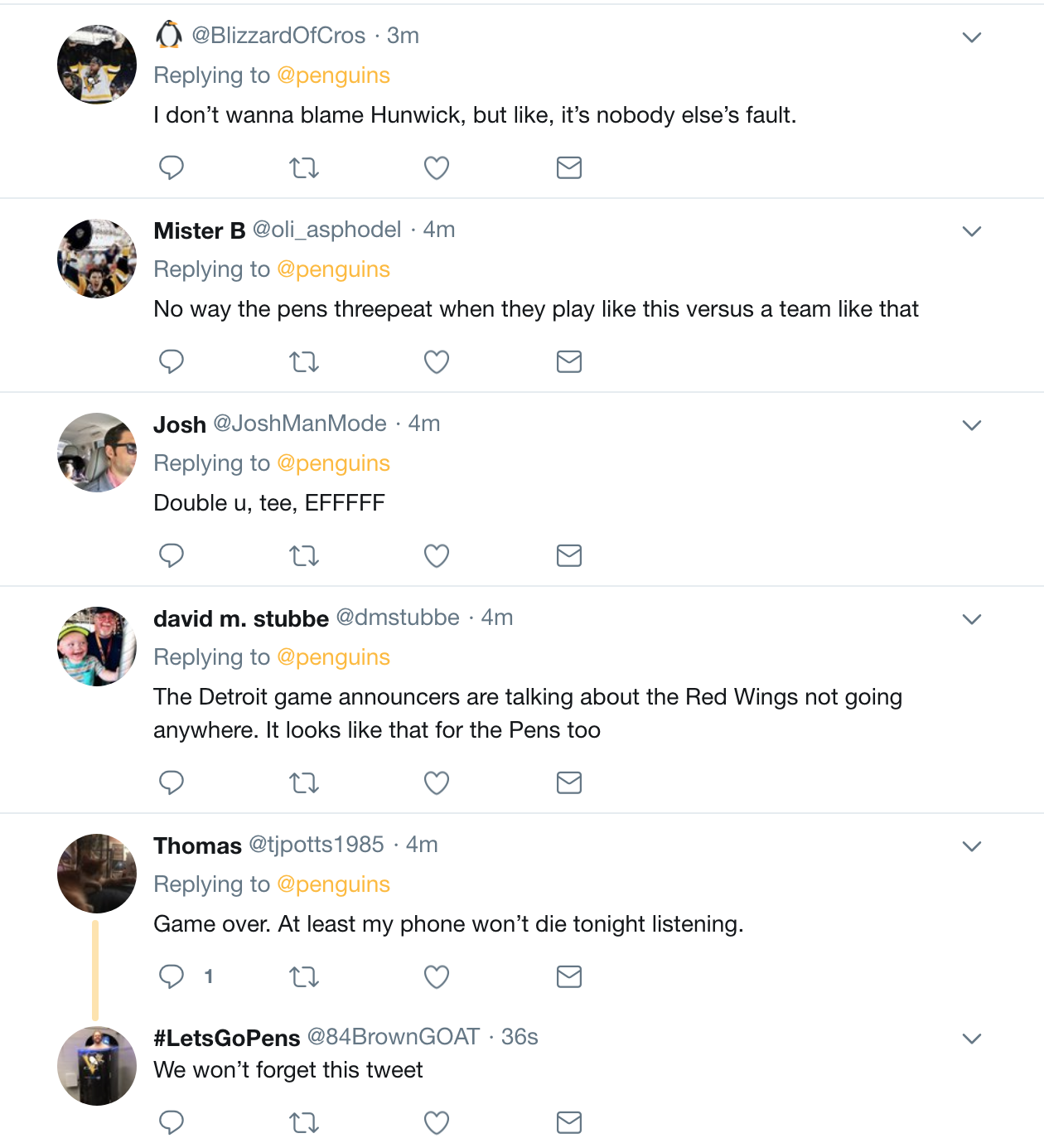 lol to that first comment. No way Pens repeat without Letang is probably something Mister B said last year. Josh needs to learn that commas aren't used in abbreviations. Sick burn by Dave. Someone tell Tom you can get like 5 phone chargers on amazon for a buck.
If the Penguins wanted to get any points out of this game it would require a solid third period start. They were given an early powerplay chance and any thoughts of a comeback were answered by the effort given on that man advantage. The team was not interested in playing hockey in this game and it became evident following the powerplay when Helm scored after the Penguins decided defense was optional.
Helm in the danger zone. #LGRW pic.twitter.com/SCTFAuSgTM

— Detroit Red Wings (@DetroitRedWings) March 28, 2018
Can somebody backcheck? Nah, okay cool.
Here is a play by play of the following fifteen minutes:
Penguins skate into zone, set up, shoot into group of red guys, blocked
Penguins skate into zone, set up, shoot into group of red guys, blocked
Penguins skate into zone, don't set up, shoot wide
Penguins skate into zone, set up, shoot into group of red guys, blocked
Penguins skate into zone, offsides
Penguins skate into zone, set up, shoot into group of red guys, blocked
Penguins no nevermind turnover
Penguins get a shot on net, easy save
Penguins skate into zone, set up, shoot into group of red guys, blocked
Penguins skate
Penguins skate into zone, set up, shoot into group of red guys, blocked
Sullivan makes the then comical move of pulling Murray with just under 4 minutes left, 30 seconds after that decision it paid off.
KRIS LETANG (7) Assisted by MALKIN (51) & HORNQVIST (18) @ 16:44
-insert gif here just kidding nobody cares-
Malkin with the attempted pass that found its way to Letang and he actually put it on net.
The following faceoff saw the Sheary-Sheahan combination out for the Penguins so Sullivan left Murray in net until that line was off which I found hilarious, it's the little things. Murray then headed to the bench when the top line was ready and Luke Glendening found the empty net to make it 5-2.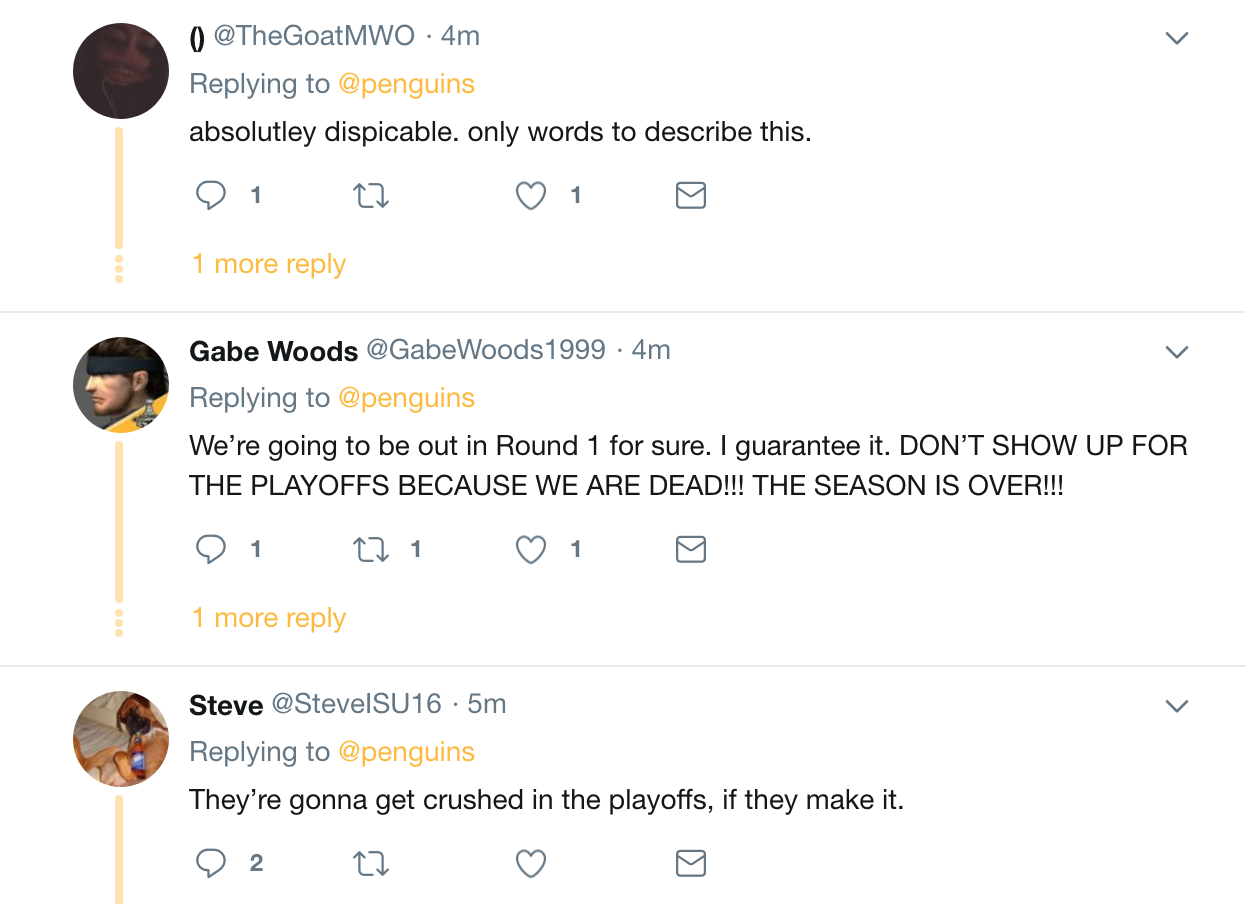 ---
THOUGHTS:
Brassard left the game at the end of the second and didn't return. In a perfect scenario Brassard has a minor injury and is held out of the next 4 games, the Pens go 4-0 winning each game 5-1 and then drop the final game of the season in Brassards return just to fuel the Facebook columns.
Tough to hang any of those goals on Murray. Tough to have a brain and actually say Ian Cole prevents them. If Team Canada played with the lack of attention to defensive detail that the Pens just played with they too would lose.
Crosby with his 84th point of the year, ATTSN had a nifty stat:

Pretty good company their Sid.
Zach Aston-Reese looked really good in his return to the lineup making himself noticeable every shift which earned him a few promotions throughout the night. Reese paced the team with 4 hits and 2 blocks.
I used the wrong "their" up there on purpose just to see if you would go and comment before reading the rest. Check yo'self.
With Malkin (93, 3rd), Kessel (85, 1oth) and Crosby (84, 11th)  the Penguins are looking to become the first team with 3 players in the top 10 since 2003-04 aka since the salary cap was put into place


New Jersey wins, Columbus wins, Philly gets their 14th loser point of the season and all of a sudden the Thursday night matchup in New Jersey just became must watch television:
Remaining schedules:

PIT: NJ, MTL, WSH, CBJ, OTT = 3 playoff bound division teams
CBJ: CGY, VAN, DET, PIT, NSH = 2 playoff bound teams
PHI: COL, BOS, NYI, CAR, NYR = 2 playoff bound teams
NJ:  PIT, NYI, MTL, NYR, TOR, WSH = 3 playoff bound teams
Thursday night is going to be very telling for the Penguins as it is their final regular game of the season. The Pens then play the 31st and 1st (Montreal (home) and Caps (home), have a 4 day break, then finish with CBJ (away) and OTT (home) on the 5th and 6th. Of the four teams listed above the Pens have the toughest remaining schedule and calculating magic numbers is useless because they play both Columbus and New Jersey. Obviously if New Jersey and Columbus win out the Pens need some magic to make it, but if the Penguins win each of those matchups (NJ and CBJ) and drop the rest they finish with 96 points. At that point if all other teams win out in the Metro: CBJ 99, PHI & NJ 98.
Now everything turns to Florida and their 85 points in 74 games played. Their remaining schedule is hell: TOR, OTT, BOS, CAR, NSH, BOS, BUF, BOS. Boston 3 times, plus Nashville and Toronto? In the above scenario the Pens finished with 96 points meaning the Panthers would need 11 points out of their remaining 8 games which would require them to win every game against teams not named Boston and then get 1 point out of one of the Boston matchups. It isn't impossible, but it would be one of the most miraculous finishes to the regular season in recent memory if it happens.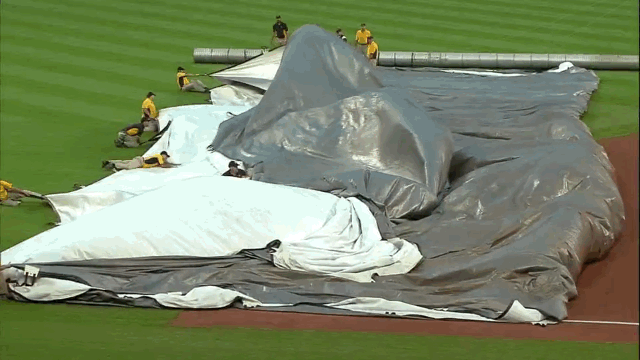 Loading ...