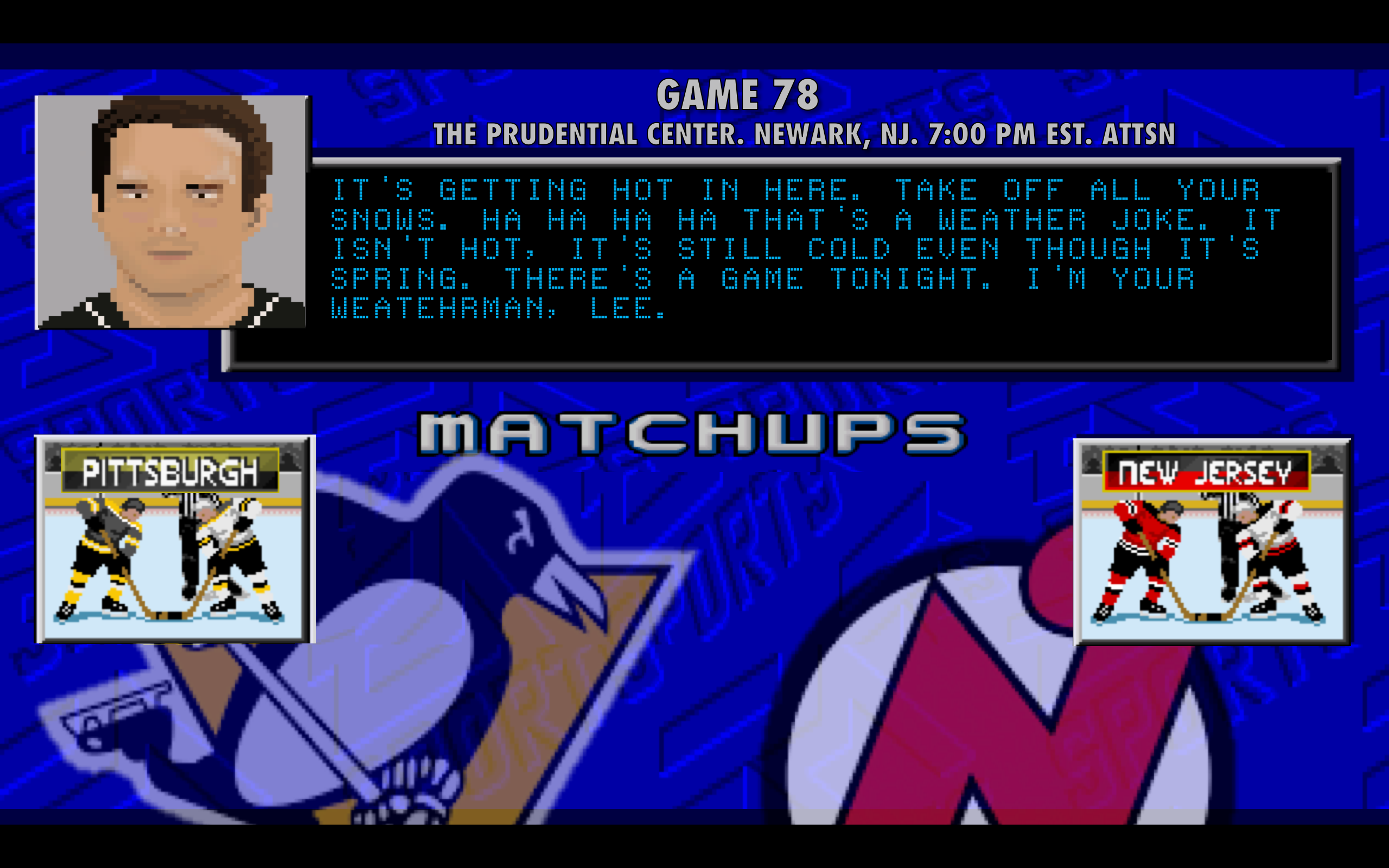 I hope everyone has been enjoying the winter that never ends! We're two weeks away from playoff hockey, and in all likelihood the Pittsburgh Penguins will be in that discussion.  They are still in the running for first in the Metropolitan Division, but it's going to take winning out and the Washington Capitals losing out for them to have a shot.  Sunday's matchup against the Capitals should be riveting, but for now we have a Thursday night game against the Devils.  Yippee!
A long running trope within the Penguins community has been that March has been, well, "of the Penguins".  Since the first playoff run of the Crosby/Malkin era in 2007, that has pretty much been the case:
2007: 25 points, 1st (Cup winner: ANA, T-8th)
2008: 20 points, T-4th (Cup winner: DET, T-2nd)
2009: 22 points, T-1st
2010: 19 points, T-7th (Cup winner: CHI, 27th)
2011: 18 points, 9th (Cup winner: BOS, T-10th)
2012: 23 points, T-1st (Cup winner: LAK, T-5th)
2013: 30 points, 1st (Cup winner: CHI, T-15th)
2014: 17 points, T-13th (Cup winner: LAK, T-3rd)
2015: 16 points, T-15th (Cup winner: CHI, T-8th)
2016: 22 points, 1st
2017: 19 points, T-8th
2018: 16 points, T-12th
There's a couple of things I'd like to point out here:
Having a good March doesn't always equate to postseason success, but the only major outlier in this eleven-year span is Chicago's Cup run in 2010, and they also have the second-worst record in March for a Cup winner when they were tied for 15th in 2013.  The average ranking for a March record for the Cup winner is 8th, 5th if you take out that 2010 outlier, and five of the ten Cup winners met or beat that threshold.
Pittsburgh's average ranking over that eleven-year span in March is 5.5.  The best the Penguins can do, with two games left to March, is 20 points which would be good for 7th.  I'm not willing to work out how far they could drop, but 27th is not likely.
Special teams, particularly the penalty kill, seems to be of major concern to the cynics amongst Penguins fans.  A quick glance at the team's special teams performance over that time suggests that things aren't as bad as they could be.  For the month of March in 2008, they had a -2 special teams goal differential (including shorthanded goals for and against), and right now they're -1.  Here's a breakdown of the power plays and penalty kills of the Penguins and Cup winners over the same time frame as above.
2007 – power play: 9th (ANA: 2nd); penalty kill: 6th (ANA: 9th)
2008 – power play: 20th (DET: 9th); penalty kill: 16th (DET: 11th)
2009 – power play: T-16th; penalty kill: 2nd
2010 – power play: 15th (CHI: 24th); penalty kill: 3rd (CHI: T-9th)
2011 – power play: 29th (BOS: 21st); penalty kill: 16th (BOS: T-7th)
2012 – power play: T-22nd (LAK: 20th); penalty kill: 13th (LAK: 5th)
2013 – power play: T-18th (CHI: T-18th); penalty kill: 14th (CHI: 27th)
2014 – power play: 19th (LAK: 5th); penalty kill: T-15th (LAK: 9th)
2015 – power play: 21st (CHI: 11th); penalty kill: 9th (CHI: 20th)
2016 – power play: 24th; penalty kill: T-21st
2017 – power play: 5th; penalty kill: 14th
2018 – power play: 14th; T-28th
Right now the Pens' power play is exactly average compared to previous Cup winners, but the penalty kill?…not so much.  The Penguins' penalty kill is worse than the worst team's rate on this list, the Blackhawks in 2013.  The average penalty kill ranking of Cup winners is roughly 12th.  Ultimately, the big question is: will any of this really matter once the playoffs start?
Nevertheless, the Penguins aren't in bad shape in the grand scheme of things.  I just wanted to insert some positivity into the pessimistic atmosphere that seems to be the prevalent attitude around the community.  I said it yesterday in the comments on the recap, but there's a sense amongst the fans that either (a.) these Penguins are going out in a first-round sweep despite tearing it up in January and February, or (b.) they're gonna turn a switch on (as though there's a switch that needs to be turned on) and win the Cup despite playing mediocre hockey for a month.  I wanted to shine light on the lie that teams can lallygag through March and win the Cup (those 2010 and 2013 Blackhawks got away with it), but teams can and have done it.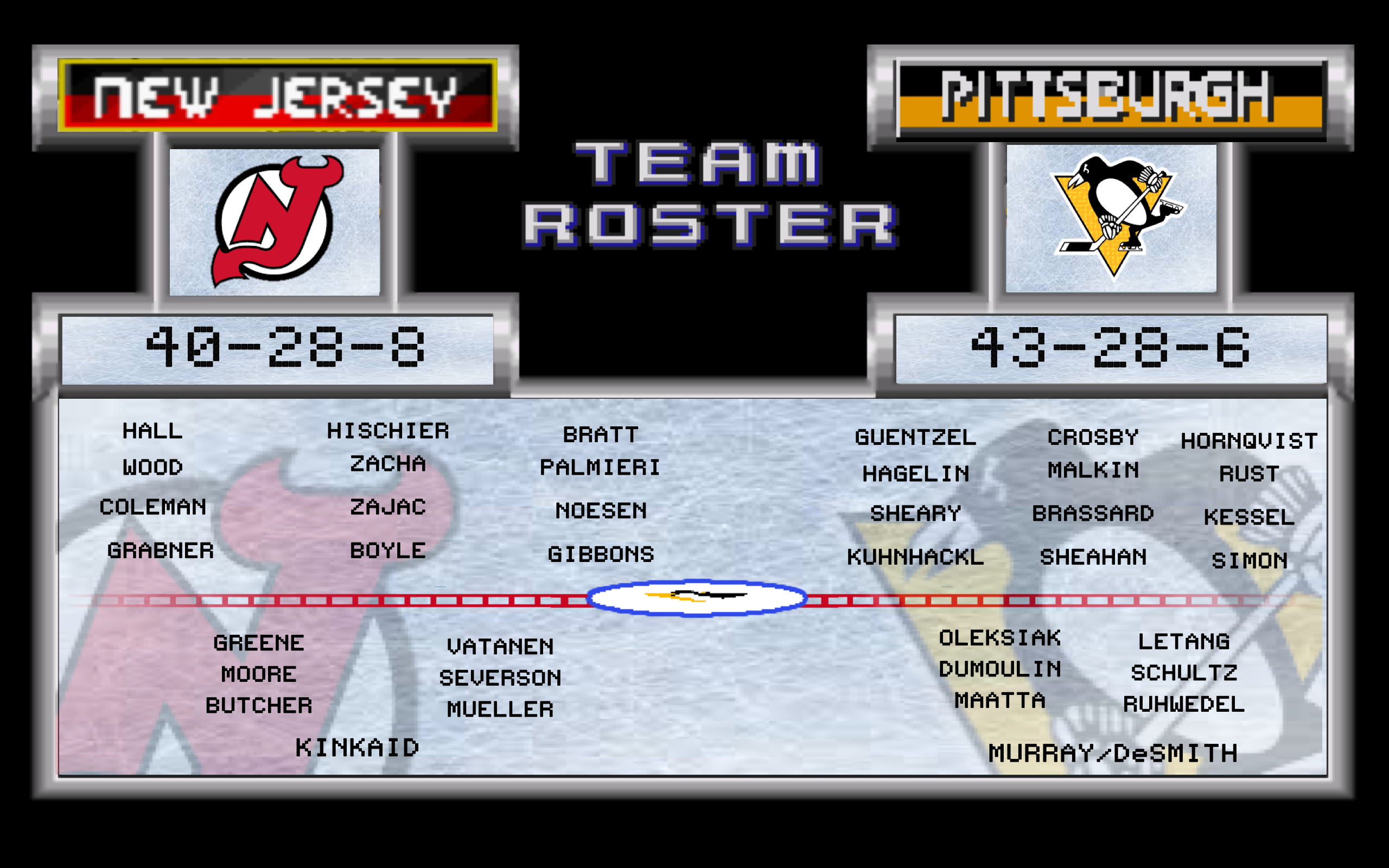 ---
On to tonight's game.  The Devils are sitting in the second wild card spot and need to keep ahead of the Florida Panthers, who are three points behind the Devils with two games in hand (before Florida's game Wednesday night against the Toronto Maple Leafs).  Over their last ten games, the Devils have kept the same pace as the Panthers (7-3-0), and the remaining schedule for New Jersey looks arguably easier than Florida's; New Jersey has three games against playoff-likely teams (PIT, TOR, WSH), while Florida has Toronto last night, the Bruins three times(!), and Nashville.  It's New Jersey's spot to keep, so they're not going to be pushovers tonight.
The Penguins have gone 5-3-2 in their last ten, which isn't exactly .500, but as we've seen, they're not instilling a lot of confidence.    However you look at it, they've gone back and forth winning and losing in their last ten, so since they lost their last game against the Red Wings, I guess we should expect a win tonight?
I would like to leave you with a paraphrased quote from Rick Pitino, during his brief and terrible stint as head coach of the Boston Celtics: although so many of you who miss him so much and lament the penalty kill's woes since then, Ian Cole is not walking through that door.