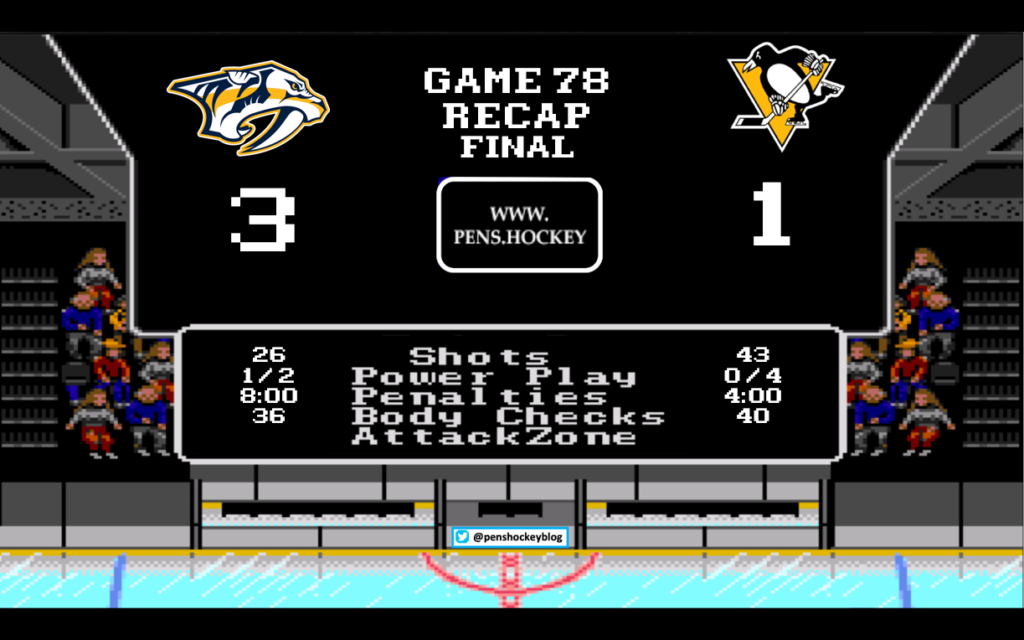 Both the Pens and Preds had been off since Monday, yet it has felt like an eternity since every game that our fellow metro comrades have played that we've basically had to flip a coin to figure out who we'd want to win. We would welcome back our old friend Maatta to the lineup.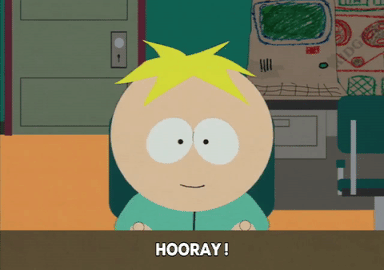 We would also get news that Geno, Letang and ZAR were all skating in practice which could only be signs of good things to come.
After yet another phenomenal rendition of the National Anthem by our beloved Jeff Jimerson, the Pens came out to center ice with the mindset that they didn't give a shit how Erreyone has hyped up their defensive play and were going to try to expose them for what they really are. All in all it was a good strategy except they forgot that the hawkey gawds would be watching this game and 25 seconds into it they would let them know by having an Irwin shot from the blueline get redirected by Smith which bounced off the ice and passed Murrays stick side. The Preds twitter team has ZERO gif skills, so after scouring the ol' interweb for minutes on end, this was the best replay I could come up with.
Pens would get shit going about 5 minutes in with B-Jugs starting it off with a backhand attempt that Rinne shut down and Simon would follow up with an attempt that didn't get past, but allowed the line to set up. They continued to get great looks and put the puck to the net but Rinne was standing tall. Preds nearly get a delay of game when Bonino flipped the puck off a pubic hair ontop of the glass. About 9 minutes in Guentzel tackled some douche just to the side of the cage. Stillers might try to see if he's available to play OLB.
A minute later Sid gets one of his best 4 attempts of the period here
Forsburg would get called for an interference penalty, Sid was not being shy during the PP getting many good looks but nothing was happening.
After the Preds got the kill, Pens got a 3 on 2, Horny put the shot right between Rinnes numbers. I wish I had better editing skills because there were a couple of shots worth noting from the Pens where Rinne gave up HUGE rebounds but there was no one there to clean up. This would be a common theme as the game would play out. And while I'm a little off course, "Calling Phil Kessel, Bring Your 'A' Game STAT.
Later in the period, there were opportunities from Wilson, McCann and Schultz but nothing came from them. Pens would get a faceoff in the Preds zone with .8 seconds left, pulled MMX and nothing happened. End of the 1st period. 0-1 Bad Guys

So this is how the 2nd went. The Pens would get a powerplay 21 seconds in because Arvidsson was handing out LSD (get it, tripping. It's so much funnier when I explain it.) Sid got a bunch of shots at Rinne but we kept getting the same results. Wilson layed a big hit after the powerplay ended that went something like this.
Eventually a faceoff would take place where Sully would would switch Schultz and Johnson but even though the faceoff was won by Sid and the stars were aligned for Johnson to take the shot., it all fell apart in the end.
Play kept going on because that's what happens in the game of hawkey, but just like the Energizer Bunny, it kept going and going and going. Finally play came to a halt when Blueger decides to take a penalty. So he went to the box and the ol Preds powerplay decided that this would be a great opportunity to extend their lead by Arvidsson scoring yet again.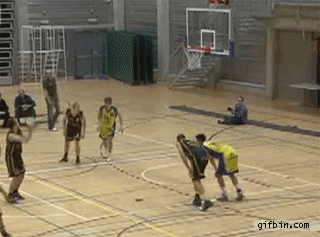 After that, Horny makes a diving play at center ice to get his stick on the puck and somehow get a perfect pass to SNEK who had a clean breakaway but would shoot the puck wide of Rinne. That play should have been the turning point of the game. If Snek gets that past Rinne, the Taint would have gone absolutely insane and Gawd only knows the onslaught that would have ensued. End of 2nd: 0-2 bad guys
So the 3rd period started, about 5 minutes in someone takes a hooking penalty on Sissons. The Preds get a short handed breakaway attempt, but Murray cames up very large. Horny had a point blank shot that went straight at Rinne. After the powerplay, B-Jugs tried a shot of his own which would be stopped. That would not be his last attempt though.
Now with 4 minutes left in the game and the Pens with controll of the puck, MMX stayed in the net. Why you might ask, gawd only knows. Soupcan would go on to score with 2:32 left in the game.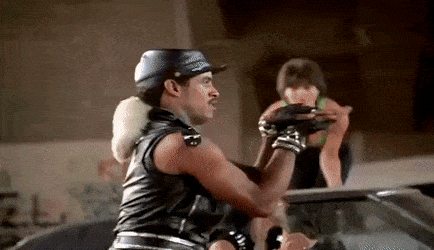 Murray gets pulled, B-Jugs scores. 3-1 Bad Guys