The Penguins took their game to New Jersey last night for a game that had a lot of meaning for both teams. Before the game it was announced that the Penguins have called up Josh Jooris for a regular basis instead of an emergency call-up meaning that they only have 2 call-ups left in the regular season and that Jooris will be on the playoff roster.
If you recall during Rutherford's first year the team mismanaged the cap and the call-ups and the pens blew through their 3 call-ups resulting in them having to finish the regular season with 5 defenders. I'm pretty sure they learned their lesson and that won't happen but that is why you are hearing more about the Jooris call-up than usual. Now you're informed, look at you go.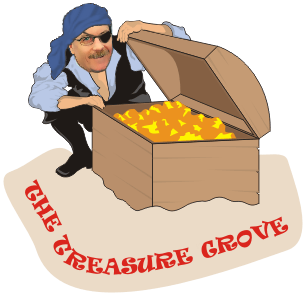 Pens have played 13 GP in March. Among teams who have played 13/fewer GP in March, only 5 teams have more points than Pens (16). Only one of those (Capitals) is in the East.

— Bob Grove (@bobgrove91) March 29, 2018
This is an interesting stat here by Grove, I think the recent losses to mediocre teams have messed with our goldfish memories. The Penguins started out the month 5-2-1 and were 7-4-1 heading into this game which is hardly the doom and gloom record everyone is acting like they have.
Pens had more shots while shorthanded Tuesday (1) than they did while on the power play (0). Had 2 chances on each.

— Bob Grove (@bobgrove91) March 29, 2018
This is #notgood
Oleksiak has taken 8 minors in the last 10 games.

— Bob Grove (@bobgrove91) March 29, 2018
BENCH HIM! These are mostly happening when the team gets pinned in its own zone and Oleksiak's size catches up to him.
Lack of traction: Pens have alternated wins & losses over a span of 10 games; the last time that happened was Nov. 15-Dec. 6, 2008.

— Bob Grove (@bobgrove91) March 29, 2018
checks calendar… checks wikipedia… Pens won cup that year so I'm cool with it.
With Brassard out the Pens moved Sheahan to the third line and also gave him Hornqvist:
Here are the lines for #PITvsNJD tonight! pic.twitter.com/MCpeSxixaz

— Pittsburgh Penguins (@penguins) March 29, 2018
Matt Hunwick also got in over Chad Ruhwedel, Hunwick has a little more speed than Ruhwedel so this made sense considering the way New Jersey was all over them in the last game.
The Penguins got to work right from the opening faceoff and it was clear they were ready to go in this one. There were a few moments of adjustment as the players got used to the new line combinations but overall the team was focused on defensive details and denying the Devils any time in the neutral zone. The Penguins were looking good until about 12 minutes in when Kessel and Malkin couldn't control a bouncing puck at the blueline, the puck seemed to follow Malkin while he was looking for it and it resulted in a New Jersey 2 on 1 with that 1 being Kris Letang.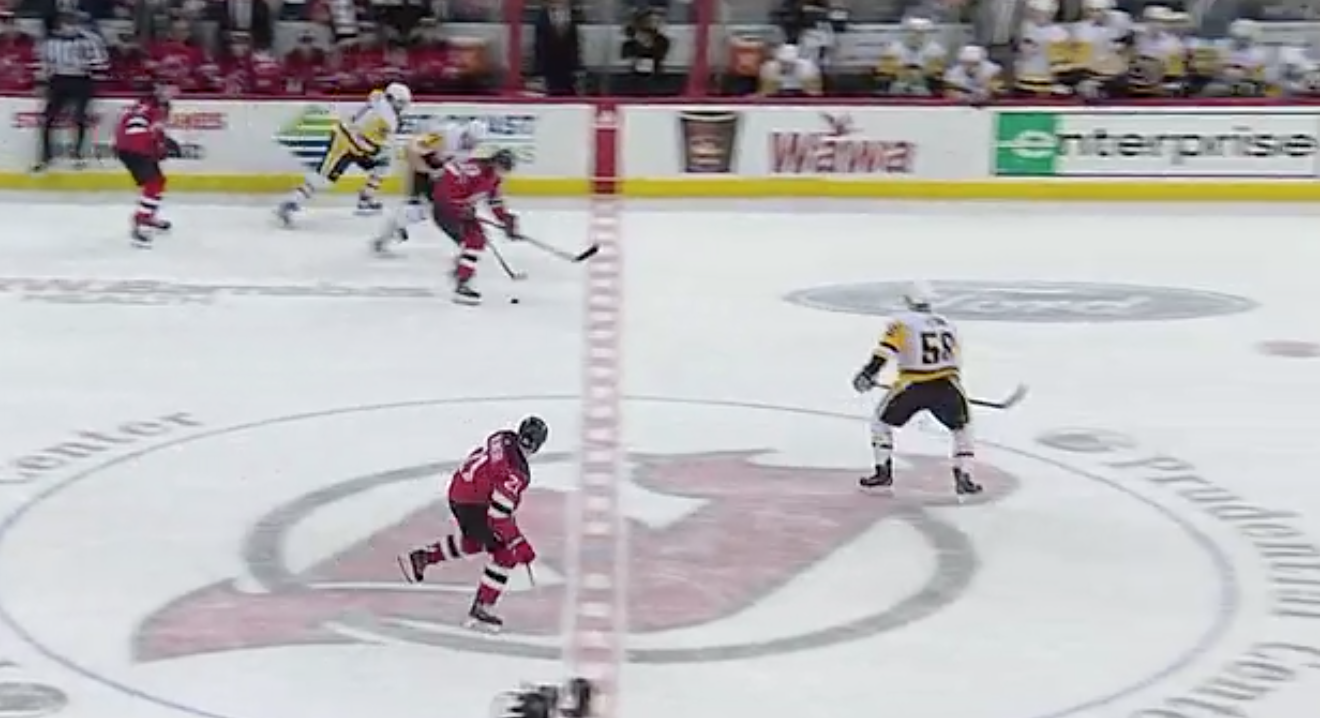 Right after the turnover you see Letang is perfectly positioned between the 2 forwards. Within a split second Letang makes the decision to attack the puck carrier and it was the wrong decision.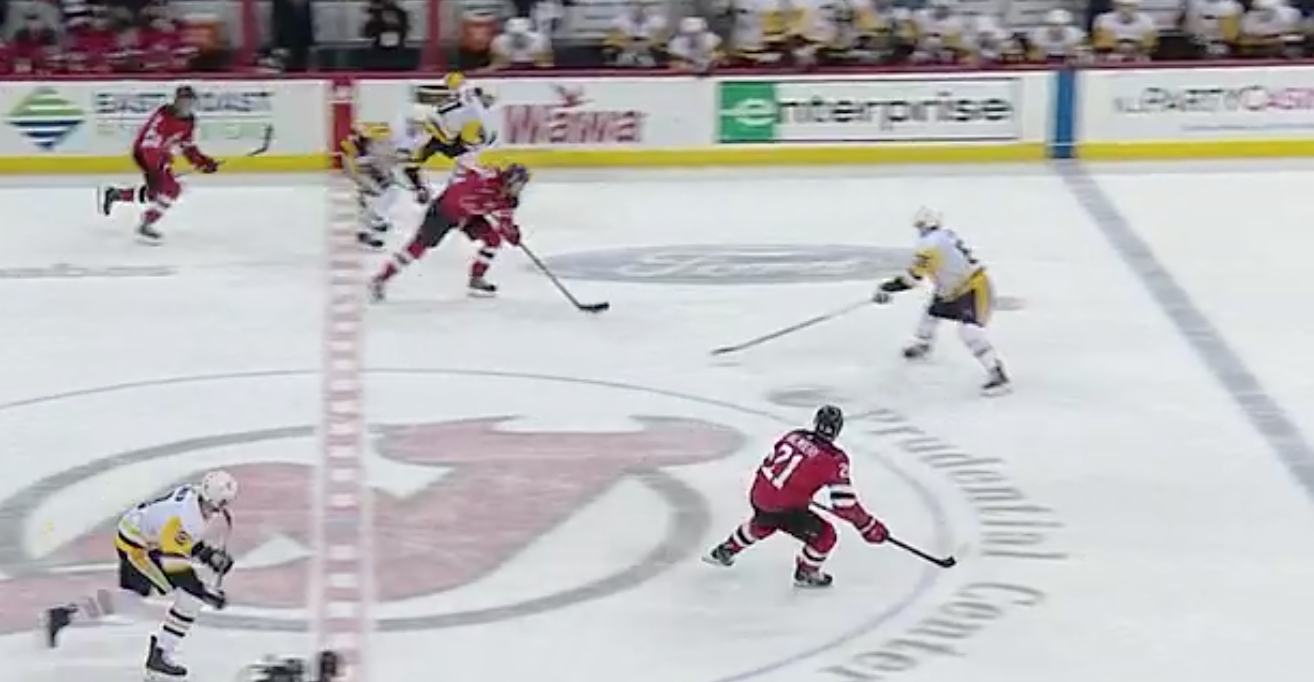 As soon as Letang jumps Hischier makes the pass and Palmieri walks in all alone to give the Devils the lead.
Steal. Dish. Five-hole. #PITvsNJD pic.twitter.com/bkA4xAOdZC

— New Jersey Devils (@NJDevils) March 29, 2018
There was barely enough time for the haters to hit up Twitter and complain about Murray before the Pens were on an odd man break and tying the game.
CONOR SHEARY (16) Assisted by HORNQVIST (19) & OLEKSIAK (11) @ 12:44
Go to the net, score a goal. pic.twitter.com/f5nIvTy29V

— Pittsburgh Penguins (@penguins) March 29, 2018
Perfect response by the Penguins as Conor Sheary may be realizing that he can still score. All jokes aside, Sheary now with 16 on the year ain't too shabby since we've been told he can't score without Crosby.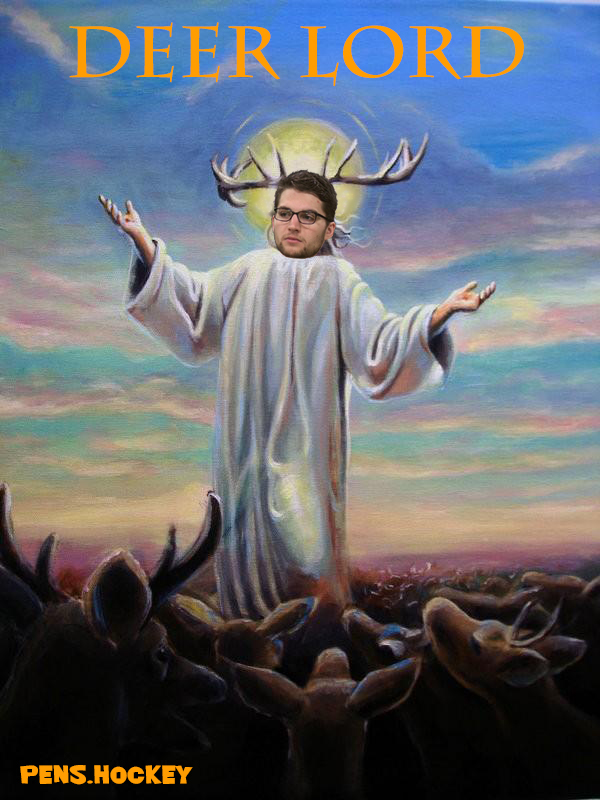 The Penguins put the pedal down following the goal but naturally Kinkaid started to shut things down. By the time it was all said and done there were 12 shots a piece, one goal each, and Matt Hunwick wasn't a liability.
That was a pretty close first 20 minutes. pic.twitter.com/kNwPE7HfNE

— Pittsburgh Penguins (@penguins) March 29, 2018

The Pens started the second period with a passion that caught the Devils completely off guard starting with Schultz ripping one off the post 5 seconds in, the pressure continued until Letang was called for a tripping penalty one minute in. Early in that powerplay the Devils had an A+ look but Murray made a huge save to keep the game tied. Murray would make another big save later on before the kill was complete and once the game went back to even strength it was all Penguins. Shift after shift they brought the pressure and eventually the Devils wore down in their own zone and couldn't clear the puck. Carl Hagelin used that ridiculous speed to get to the puck first and set Letang up to make up for his tripping penalty
KRIS LETANG (8) Assisted by HAGELIN (20) & DUMOULIN (12) @ 6:59
Nobody picked up Letang and he made them pay. pic.twitter.com/2JasEOoqn1

— Pittsburgh Penguins (@penguins) March 30, 2018
Excellent vision by Hagelin as he earns his 20th assist of the year even though it wasn't the cleanest pass. Letang shoots this puck while it is on edge which would've been difficult for Kinkaid to judge but the placement was so perfect that blaming the puck being on edge is just a lousy excuse. This marks the 7th time in his 11 seasons that Letang has scored 8 or more goals.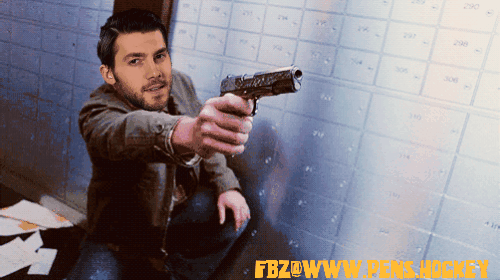 The Penguins continued pressing as they tried to get a 2 goal lead on the Devils but it just wasn't happening. The Devils would get a big 2 on 1 chance after Hunwick was smoked but Oleksiak used his giant status to lay out and break up the cross-ice feed. The Devils started pushing back and eventually it was the Penguins trapped in their own zone, you could feel the Pens getting tired as they were praying for a stoppage. Instead Oleksiak was rung up for interference and the Devils were heading to the powerplay as Oleksiak received his 9th penalty in 11 games.
The first part of the powerplay wasn't bad, then Taylor Hall delivered an absolutely perfect shot
He never saw it coming. 😈🔥 #PITvsNJD pic.twitter.com/MRE9nbT31I

— New Jersey Devils (@NJDevils) March 30, 2018
"Quarter of an inch, Charlie." Nothing you can do about this, Murray had to respect and protect the near side, and the chance of any player picking that post is so slim it was worth the risk. The goal would bring life back to the Devils and suddenly it was the Penguins looking out of sorts as they had to answer every shift to the consistent New Jersey pressure. Luckily for the Pens Murray was standing tall and they escaped the pressure unscathed. At some point Matt Hunwick and Miles Wood got in a fight, Hunwick landed some stiff ones on Wood, he got Wood hard at one point, and then Wood came to an end as he fell down.
No other goals were scored in the period
After glancing at some stats following two periods of play… it's still every bit as close as it was after one. pic.twitter.com/R1jPvKail5

— Pittsburgh Penguins (@penguins) March 30, 2018
The third period promised to be a good one considering the playoff implications for both teams. Within the first few minutes Taylor Hall was coming down the wing and ripped a laser towards the top corner that
shh… Murray snagged with his glove.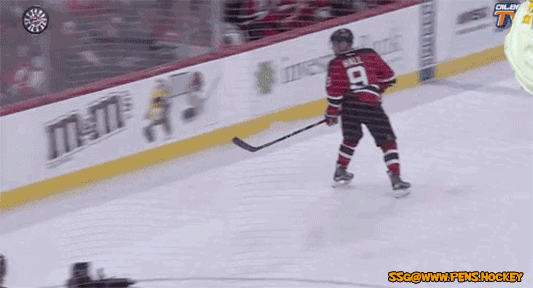 Moments later the Pens had a chance on a 2 on 1 with Schultz and Sheahan, Schultz got the pass away but Sheahan wasn't able to hit the open cage as the backchecker caught up with him.
Seriously though…Imagine making saves like this the day after going on a @ChipotleTweets 🌯 date. 😳 #PITvsNJD pic.twitter.com/4XKAHIkQAI

— New Jersey Devils (@NJDevils) March 30, 2018
Not long after that the Penguins were once again having trouble in their defensive zone and the Devils were making them anxious. Schultz had a chance to clear it out but couldn't get enough on it as Blake Coleman charged the puck and created a lane for himself to the goal. Murray made a great initial save but nobody was there to prevent Coleman from getting a second crack at it and the Devils were up 3-2.
Rebound and good!

Follow #PITvsNJD: https://t.co/ZSLgVR04xH
💻📱: MSG Go: https://t.co/tg62l8kBbN pic.twitter.com/FGYY4ZZURW

— New Jersey Devils (@NJDevils) March 30, 2018
Following the goal the Devils had the Pens on their heels and tried to put the deathblow on the team but Murray just wasn't allowing it. After several missed calls the Penguins were finally given a powerplay opportunity but it didn't materialize into anything more than some impressive keep-away. The Penguins did generate momentum following the powerplay as the game swung once again, just like a playoff game. The Pens eventually get the puck into the zone on a broken play and Hornqvist decides to throw it on net, it's deflected about 15 feet in front of the net and this game is tied:
PATRIC HORNQVIST (25) Assisted by DUMOULIN (13) & SHEAHAN (19) @ 11:26
It WAS Hornqvist! The scoring on the goal was changed. Hornqvist's shot from up high was assisted by Dumoulin and Sheahan. Take a look at the goal here. pic.twitter.com/KFDFQcaAYw

— Pittsburgh Penguins (@penguins) March 30, 2018
Initially when I saw this I thought Sheary deflected it and I still think Sheary deflected it but as of now it gives Hornqvist his 25th of the year. That bounce off of the post then off of Kinkaid is the bounce the Penguins have desperately needed and it couldn't have come at a better time.
The remaining 8ish minutes were basically both teams trying to win in regulation while not being responsible for losing in regulation. It wasn't "sit back and coast for the point" hockey but it wasn't wide open going for it either. A happy medium that resulted in both teams getting their scoring chances. Towards the end of the period Travis Zajak took the liberty of getting the buttend of his stick into Crosby's ribs
Crosby gets all the calls… pic.twitter.com/nto6YKh1N6

— Benstonium (@Benstonium) March 30, 2018
Zajac was shadowing Crosby all game, the two were getting on each others nerves… Crosby went to the bench and planned his revenge.
For the second straight meeting between these two we were heading to overtime.
One more column needs some Pittsburgh gold in this graphic. pic.twitter.com/KROfHHRwfs

— Pittsburgh Penguins (@penguins) March 30, 2018
We all remember the blown coverage that happened the last time these two teams met, ending the game in less than 30 seconds. Off teh faceoff the Devils were in the Penguins zone and Murray had to make a save, the defense broke down and it looked like history was repeating itself. Then Letang blocked a shot from the point and sent it up ice to Crosby and he brought down the fucking house
SIDNEY CROSBY (28) Assisted by LETANG (40) @ 0:19
Sid had a pretty good #OpeningDay

Honestly, how does he do this stuff? pic.twitter.com/RB39we41Og

— Pittsburgh Penguins (@penguins) March 30, 2018
Yeahhhhh this one isn't going to get old anytime soon. It's not that he bats it out of midair. It's that he turns is body in reaction to the ricochet to get into position AND CHOKES UP ON HIS STICK TO PUT THIS THING IN.
Did Sid do that on purpose? 🤔 pic.twitter.com/XXDcBbZI1p

— Penguins Jesus (@PenguinsJesus) March 30, 2018
Get the ever living hell out of here with the negativity, somebody told Sidney Crosby that he can't win a third cup in a row and this son of a bitch is going to do everything in his power to bring it home. While those dreams are delayed for 4 more games, this one was ending with 87 and the
DEUCE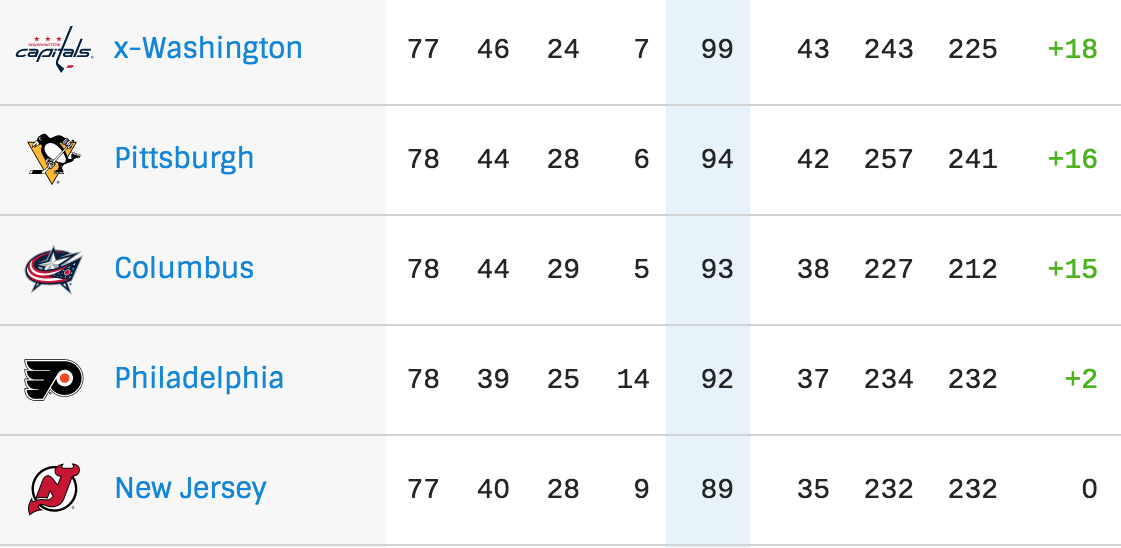 So here we are.Columbus handled Calgary last night so the Penguins avoid switching places with them. The Devils can now max out at 99 points, the Pens are this weekend back-to-back sweep away from practically punching their ticket. Let's goooooooooooo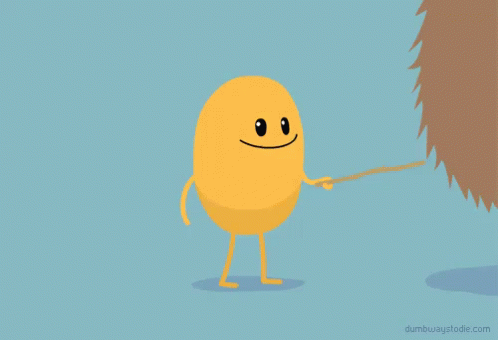 Loading ...
#MAR29 #PITvsNJD OVERTIME#CloserLook at Crosby goal in OT pic.twitter.com/vsPcx4QecF

— John Smith (@NJviDs) March 30, 2018