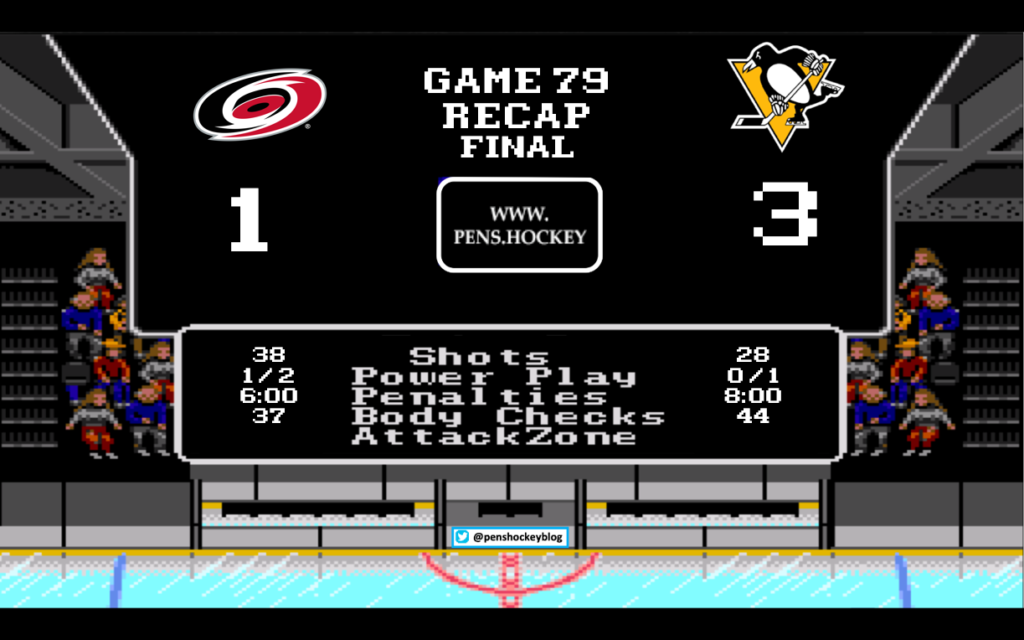 It's a hockey, uh…. suppertime? In Pittsburgh! Seriously, a 5 PM start? It's bad enough that I have to start taking about joint supplements and worrying about proper colon care and now I'm actually EXCITED that a game will be over on Sunday before 8 PM so I can catch up on Murder She Wrote and Matlock. Bourbon, please save me from this fate…
So the Pens were given no breaks yesterday as EVERY other team in the Metro in the playoff race took their two points. In other words, welcome to the Most Important Game Of The Season, part eleventeen. I hope your b-holes are ready and you skipped Mexican this weekend.
Sully flipping Kessel and Hornqvist. Meh. Unlike some people who write for this blog, I don't think Horny needs to be a 'top 6' to be effective. But I'm not 120 years old and don't have an undefeated season playing goal under my belt, so WTF do I even know? In fact, why the hell are you reading this? Probably looking for bad puns and b-hole jokes, not hockey insight. Well, prepare to be disappointed. Or maybe appointed. Frking English, continuing to make no sense…
Regardless of who lined up where, this game was pretty damn important so it was key that the Pens answered the call. If you looked at that picture up top that I spent AT LEAST 5 minutes creating, you already know the answer, but everyone knows it's about the journey so eyes down here, bub!
Pens had it going on from puck drop. Sid won the opening FO, and got the attack rolling, but it wasn't until Hornqvist hit the ice that things really started picking up. He had an energy that simply wasn't to be denied, and 5 minutes in, after a couple of his shifts, the shots were Horny 3 – Carolina 0. Including two GLORIOUS opportunities that just weren't bouncing his way.
Sure didn't stop him from trying, though. Dude would end up with 5 SOG, 3 hits and 2 PIM… in the FIRST PERIOD.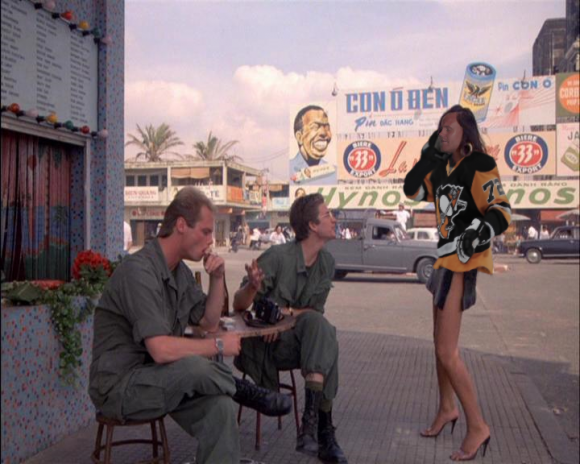 But yeah, he couldn't get anything in. Just like you in high school, it was mostly just smashing into things and swinging his stick around a lot. Luckily, Wilson had been paying attention and decided to put Horny's lessons to use.
Wilson (2) from Cullen (13), A.Johnson (1) – 10:45 – EV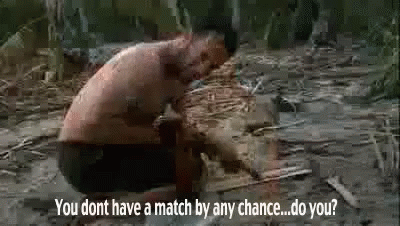 The very definition of a dirty goal, and making Horny proud. Working until the whistle, not caring about anybody's FEELINGS, just jamming that damn puck across the damn line, dammit! Great stuff, nice to see the team get rewarded and nice to see a hard working 4th line reap the benefits of …. well, of all their damn hard work, dammit!
But the grinders weren't done yet, oh no, not by a long shot. Cullen decided to remind the younguns on his line that while mucking and grinding might be the hallmark of their game, the occasional sweet wrister is allowed as well…
Cullen (7) from A.Johnson (2), Dumoulin (20) – 18:45 – EV
Everybody playing their role made this happen. Dumo, playing on his off-side, with the perfect gap and the great stick check. Adam Johnson with the heads-up play to push it to an open Cullen. Maatta reading the developing play and joining the rush to make it a two on one. And Cullen with the veteran look-off-head-fake to freeze MickeyHiney and get him away from the far post for a perfectly placed wrister. All this and in the last 90 seconds of the period, burying any sense of momentum the Canes and their Caniacs may have been hoping to carry into the intermission.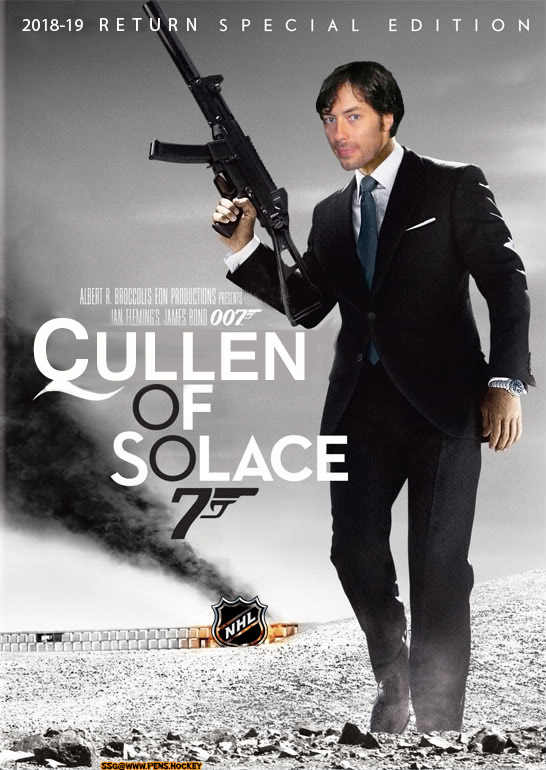 Stats after one:
Pens just owned that period. Hornqvist was in full beast mode. He made a couple of big hits, stole a couple pucks and at one point got his own melon squashed into the boards in a pretty obvious boarding penalty but NHL so, yeah. Turns out he was OK and thank god for that. Sid was also low-key stellar all period.
Also, let's take a moment to admire the form of 'the receiver of the baton' as he makes his way into the off-season:

At 11 minutes into the 2nd, the Hurricanes still only had one shot in the period. The Pens were that dominant defensively. They blocked everything, plugging up shooting lanes. At one point Olli boarded a guy and was PISSED about something. I'm here for #angryolli… someone please find a pic. Dumo was working hard down low and made some great plays on his 'off side'. J.Johnson (sorry I called you jerkface so long and was ready to launch you into the sun, sir) planted poor Ahole in the ice so hard it probably cracked… his Ah-hole…
Sid was wheelin' and dealin', but nobody could finish, but that's OK, because the Canes couldn't do anything anyway. And when they did manage to get pucks on net, Murray was standing tall.
A great road period for a home team that wasn't just protecting a two goal lead – they were looking for more. Canes would eventually get a few more SOG late, but it just didn't matter
Stats after two:
Would the Pens be content with their 2 goal lead, or would they push for more? Just ask Simon and Horny…
Hornqvist (18) from Simon (20), Bjugstad (12) – 0:46 – EV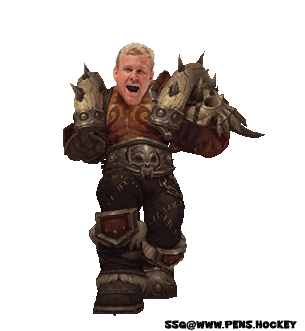 B-Jugs with the heads up play to get it in the direction of SeeMoan, who Did The Thing and tracked it down and no-looked it onto Horny's tape who shook that damn PDO monkey off his back. Now he just needs 2 goals in the last 3 games to get to 20 for his… manyeth-in-a-row season. What a stud.
A few things happened. Carolina got a power play and were able to get a seeing-eye shot through Murray. On their 30th shot of the game. In other words, the Canes pushed, the Pens sat back a bit, but ultimately they got the…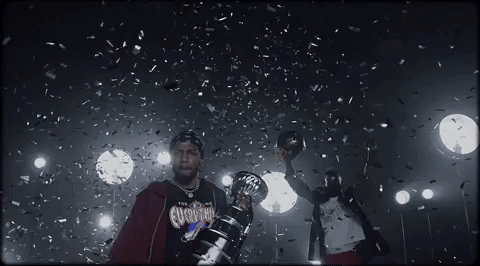 Thoughts:
Cullen with two goals in three games. The fourth line with two goals just before the playoffs. This, my friends, is excellent timing.
Speaking of timing, what a time for Horny to step up. Really need that guy at his best, especially with Geno out.
I was annoyed with Simon. The more I watch his game, the less annoyed I am. He's a playmaker who can't finish which is OK if he's with finishers.
B-Jugs has ice water in his veins. Dude never does anything other than play calm. Love his game.
Murray Saves
After the game, Sully just heaped the praise on Sid, who barely showed up on the score sheet (2 SOG) but was EVERYWHERE. If a few more people could finish, Sid would already have 100 points.


Loading ...

Loading ...