There are a few things you should never want to be when you grow up, off the top of my head I can thing of a serial killer, prostitute for crack, Mark Madden, the Philadelphia Flyers, and a politician. Unfortunately for the Columbus Blue Jackets their parents were off shooting up in some I-70 truck-stop and they have grown up to be the Columbus Flyers. In a game with big implications we saw one team try their best, and the other team say "that's cute" but you aren't here yet. The media touted this as a MUST WIN game (wrong), going as far as saying this will be the Pens game 1 starting lineup (very wrong), us wiser folks not trying to serve kool-aid to our readers simply said it was a litmus test at best. Well the test results are in, and living true to their name Columbus turned the litmus paper dark blue. For those of you unfamiliar with the pH scale and litmus paper, dark blue means you're as basic as a '93 Honda Civic before a Mexican buys it. At the end of the night it was clear that going into the playoffs the Penguins understand the structure of the system that Sullivan has created, and more importantly they realized that that system works against attempted physical abuse.
The game had some great pace to it and it was apparent really early that the Penguins understood what this game meant to them. Before we begin though:
Sure, Pens fans. Keep making fun of Blue Jackets fans for not showing up to support their team. This game only means home ice. #CBJ pic.twitter.com/Vvs3TtEmkn

— 1st Ohio Battery (@1stOhioBattery) April 4, 2017
In case you don't know, 1st Ohio Battery is a nickname for a Columbus Blue Jackets fan club. It's the same fan club it's always been, they just change their name every season to make it sound like there are more of them. Secondly, the game was poorly attended for a pretty big reason:
If you're coming to the #Pens game tonight, leave two hours ago. pic.twitter.com/h8HfsAeqii

— Sam Werner (@SWernerPG) April 4, 2017
Go suck a cannon. Playing in front of less people should've made the Blue Jackets more comfortable, but instead it was the Penguins holding the advantage throughout the period. As will be the story of the entire playoff series, the Blue Jackets were stable until Bobrovi broke, and when the levee breaks mama, you got to move.
CARTER ROWNEY (2) Assisted by Mr. WILSON (17) @ 18:51
WOW-ney. The #Pens take the 1-0 lead. Pittsburgh is 19-4-2 this season when leading after the 1st period and 29-8-7 when scoring first. pic.twitter.com/TFbHwSoj1y

— Pittsburgh Penguins (@penguins) April 4, 2017
The Penguins Twitter team has been approximately 1030084 times better than previous seasons, but they are starting to lose it with these awful puns. This one made dads shake their heads. The goal on the other hand is the exact type of goal you want to see your depth forwards scoring a few games before the playoffs. This goal is scored while Dubinsky covers Wilson and Johnson has Rowney, this is an ideal match-up for Tortorello and not the one he will be trying for in Columbus, as the 4th line will draw Harrington and Quincey. Carter Rowney may be top 3 best stories of the year for the Pens.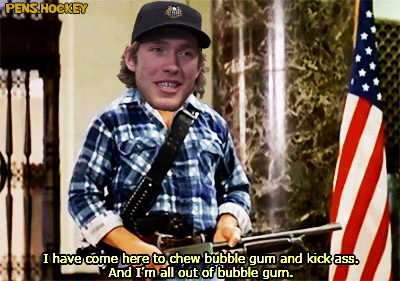 As the second started the post whistle scrums became more frequent as Columbus started to show their inner Philadelphia. Scott Hartnell was running everyone in sight but the Pens did exactly what Sullivan wanted. As Columbus tried to pick up the physicality the Penguins skated faster. As Brandon Dubinsky looked for an opportunity to be a douche to Crosby, Guentzel and Sheary blew by him on an odd-man break. The Penguins came to this game ready to play hockey, and that didn't fit well with the Blow Jobs game plan.
About half way through the period the Blue Jackets were cycling the puck and getting looks. As the puck came to the top they attempt a slapshot that Tom Kuhnhackl blocks. Before anyone can remember that they are supposed to complain about blocked shots Kuhnhackl gets up and races the other way setting up a 2 on 1.
PATRIC HORNQVIST (20) Assisted by KUHNHACKL (10) @ 9:26
Wanna smile? Let's see that Hornqvist goal one more time. pic.twitter.com/rXmss2HaCw

— Pittsburgh Penguins (@penguins) April 5, 2017
Kuhnhackl saucing ankle high. How crazy is it that Hornqvist even made contact with this redirected puck!? Every single one of us was Patric Hornqvist during this celebration. Kuhnhackl doesn't get nearly the credit he deserves, but I suspect he will start to earn more as his career develops.  Patric Hornqvist has now hit the 20 goal mark in 7/7 seasons where he has played at least half of the games, what a player.
Now that they are down 2 the Blue Jackets know they need to make a push, but unfortunately for them Brian Dumoulin said "hold my beers"
His first goal in 150 regular season games.

But we remember a pretty clutch goal from late in the post-season… pic.twitter.com/PMLHbJGnRs

— Pittsburgh Penguins (@penguins) April 5, 2017
BRIAN DUMOULIN Assisted by GUENTZEL (15) & CROSBY (42) @ 12:30
Dumoulin started this play with a keep in on the blue line that was unsuccessfully challenged by Torts. He then drove down the boards and attempted the wrap around, and here we were thinking that Brandon Sutter was the best part of the Jordan Staal trade.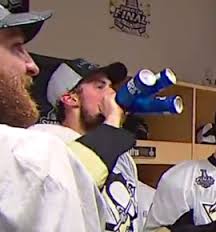 This goal pretty much did it for all hockey related activities out of the Blue Jackets so they started throwing their weight around, throughout the period Bryan Rust, Scott Wilson and Matt Cullen all left for the locker room leaving the Penguins with 9 forwards to finish out the second.
To start the third Scott Wilson was the only one to return from the three that left. We barely had time to realize it though because Justin Schultz deflated any hope Columbus had:
JAKE GUENTZEL (14) Assisted by SCHULTZ (37) & CROSBY (43) @ 0:33
GUENTZ-GOAL with the redirect!@jakenbake20 now has goals in three straight games and 14 points (7G-7A) in his last 12 games. pic.twitter.com/M10vAJXRQ2

— Pittsburgh Penguins (@penguins) April 5, 2017
Crosby and Guentzel both standing in the crease creating a headache for Bobrovi. Simplest formula, get bodies to the net, throw the puck on the net, finish them.
Despite Twitters beliefs the Penguins weren't going to give up 4 goals mainly because the Blue Jackets aren't actually that good. Boone Jenner attempted to send a message to the Captain, who responded with "bitch your name is Boone"
if you come for the king, you best not miss pic.twitter.com/t2yWszAUmf

— Evgeni Malkin's Ego (@EvgeniMaIkinEgo) April 5, 2017
That extra shove afterwards was perfect, pretty sure you could hear Crosby saying "keep the change" with that shove. Jenner didn't even look at Crosby after the shove, he knew he fucked up and retreated to the Jackets bench like the bitch he is. I'm sure Boone told his sister-wife after the game that his feelings were hurt.
The Penguins got a powerplay around the 10 minute mark and gave up the obligatory short handed goal to Dubinsky and Nationwide Arena dropped some streamers. The rest of the period would be about the Penguins shutting the door and they did just that, gaining a 3 point lead on the Jagoffs with 3 games to play.

GAME
---
THOUGHTS:
The Penguins played it off beforehand, saying it was just another game. Afterwards they all admitted that they wanted to treat it like a statement game. They did just that. Limited response to the post whistle garbage, multiple responses with better hockey. Not sure what else you could ask for from this team, but you should be feeling pretty good right now
People were freaking out because Rust was already in a  suit for the jersey presentation, but if they told him his night was done what else was he supposed to do, sit in his sweaty gear for an hour? We will get more information around 10 am today, but don't expect too much information, it is the Penguins after all.
Kris Letang is alive, as he was on ice to present the shirt that wasn't off his back
Matt Cullen also returned to give his shirt to a fan, which is a positive sign since he had an awkward neck/head collision with Hartnell. If they were testing for concussion no way they let him back out there, just kidding it's the Penguins medical team so that is actually plausible.
Chris Kunitz was seen on crutches and Carl Hagelin is still wearing the protective boot, take both of those tidbits for whatever they are worth
In his last 3 games Murray is sporting a 2.00 GAA and a 0.944 SV %, that will get a few jobs done in the playoffs. Murray is at 2.37 GAA and 0.924 for the year.
Does anyone know of a place where we can buy bulk streamers? I want to buy streamers and give to Pens fans invading Nationwide Arena so they can throw them when the Penguins win.
WARNING, WARNING,  …DANGER WILL ROBINSON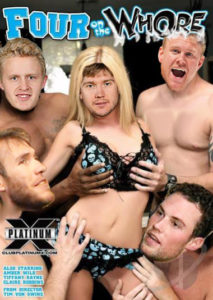 Comblowus Ohio...we shot it in yer hair...PIK-A-PORN
9) "On the bench right now, the Penguins are using this new iPad, and they're looking at…things." -- Errey (28%, 10 Votes)
7) "Bang them a little harder, get on their D" -- Grove (25%, 9 Votes)
10) "Kessel tryin to come in that backdoor." -- Steigy (22%, 8 Votes)
5) "When they have speed and they bang and they finish." -- Caufield (11%, 4 Votes)
6) "It never hurts to plant a seed on Bobrovski." --Steigy (6%, 2 Votes)
3) "He's rewarded again guys, on the backside." -- Errey (3%, 1 Votes)
2) "Bonino rubbed out in the corner by Johnson." -- Steigy (3%, 1 Votes)
1) "He puts one softly into the goal mouth." -- Steigy (3%, 1 Votes)
4) "Schultz has got his head up." -- Errey (0%, 0 Votes)
8) "Murray coming up large." -- Steigy (0%, 0 Votes)
Total Voters: 36

Loading ...