The Pittsburgh Penguins round the corner for the final road trip of the season, three games on the road starting tonight against the New Jersey Devils.  The Devils haven't given the Penguins much to worry about this season, losing all four of their previous meetings by a cumulative score of 19-10, and New Jersey is just ahead of Vancouver and Arizona for the League's fourth-worst record.  It will be ironic to play against a team with a healthy Beau Bennett in the lineup when he was injured so often for the Penguins.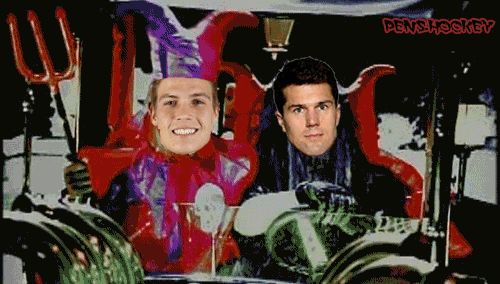 The big news yesterday, in case the rock you live under only gets Internet on Penguins' gamedays, is that Kris Letang is out for 4-6 months to have surgery on a herniated disc in his neck.  Letang hasn't had much health luck in his career, but the Penguins wouldn't have won the two Cups since 2009 without him.  Pittsburgh's all-time win% with Letang is 61%; he means everything to the Penguins both offensively and defensively, and Pittsburgh just doesn't have an answer for his absence.  The entire team will have to pick up the slack in his place.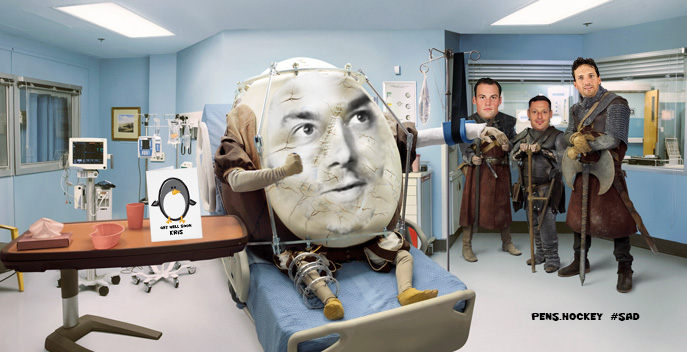 This will be particularly hard on Justin Schultz.  Prior to Letang's injury, Schultz was playing 19:14/game and had 0.7 points/game; since then his ice time has increased to 23:40/game, his production has dropped to 0.5 points/game, and he's accrued almost as many penalty minutes as he had before Letang was out.  Just watching Schultz lately you can tell that he's not cut out to be a workhorse like Letang; see the SHG Pittsburgh conceded against the Blue Jackets.  This season, Schultz's mean on shifts/game is 26:
When Schultz has played 27 shifts or more, the Penguins are 17-13-4, Schultz has 5 goals, 18 points, and 22 PIM
When Schultz has played 26 shifts or less, the Penguins are 31-10-1, Schultz has 7 goals, 31 points, and 10 PIM
The good news is, assuming Trevor Daley and Olli Maatta are 100% (not 95% or 90%), Schultz will be given a break where one can't be afforded to him right now.
I must sound like a broken record at this point but injuries are the biggest issue for the Penguins heading towards the playoffs.  The loss of Letang isn't necessarily a dealbreaker, but the Penguins must be absolutely 100% healthy for the duration of their playoff run for them to be a threat for the Cup.  There is that little margin for error.  That's what losing a guy like Letang (or Crosby or Malkin or Murray/Fleury) means to this or any team at this time of year.  The stars must all align, and the Penguins will already be down one. Is this time to throw in the towel? well that would be the easy thing to do but: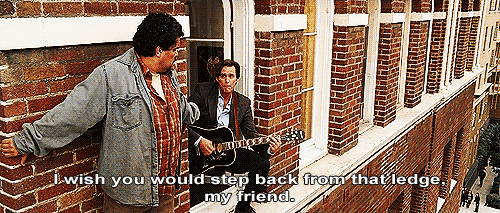 No joke, that dudes name is guys-dick. When they came to immigration services, "what is your origin?" "well we came from that guys dick." Also the 4th line center is not named notmyfault, but dailyfaceoff.com didn't have a 4th line center for the Devils at the time so it is truly not my fault. Bryan Rust has been labeled day-to-day and it is not known if today will be a day he plays, but either way what do you say we put him at "nay" and leave it blank on the display. The lineup could see some major changes or it could be more of the same. The Penguins could easily opt for Cameron Gaunce to play as a 7th defender today in an attempt to spread the minutes of the defense in the final 3 games instead of replacing Rust. With their final 2 games being back-to-backs I would assume Murray starts 2 of the remaining 3 so that would make him start this one, but so far predicting the starting goalie has been useless. Now that the lineups are out of the way and there is literally nothing else to talk about with the New Jersey Devils I want to dive into my view of the Letang situation.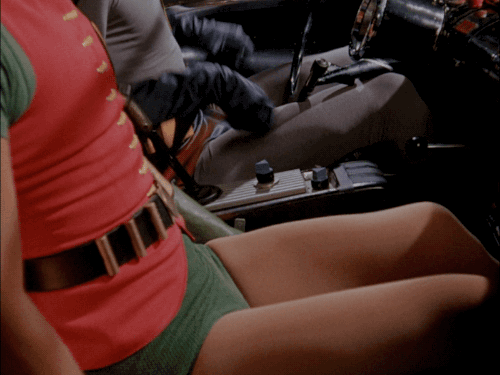 WARNING: THE SEASON IS OVER. IT'S BEEN A GREAT RIDE. THANKS FOR THE MEMORIES. RAD IS GOING TO RANT NOW.
The general mood going through Penguins world right now is that the chances of repeating are slim to none. Rob Rossi has straight up said they won't win, Mark Madden as usual said "I don't think they win" that way he can manage to back his fat ass out of it later, and Mike Milbury said the Pens don't get out of round one on NBCSN. So you know what, fuck it. If the people that get paid to cover this team don't have the testicles (or vaginas, those things take a bigger pounding than testicles do, afterall) to put their neck on the line then I will. So mark it down right now, that pens.hockey said on April 6th, 2017 that the answer to the question "can the Pittsburgh Penguins repeat as Stanley Cup champion in 2017?" is 
YOU BET YOUR FUCKING ASS THEY CAN
Stop reading now if you want, because here's the scoop Jack; last season in February guess who said the Pittsburgh Penguins wouldn't make it to the playoffs…. yeah you know who. Then after their beyond all odds run in March to storm into the playoffs guess who said the Pittsburgh Penguins wouldn't be able to exorcise the demons of the New York Rangers at Madison Square Garden…. yeah you're on a roll. SO THEN the Pittsburgh Penguins go in to face the mightiest Capitals team ever assembled that year and GUESS WHO said the Pittsburgh Penguins would not be able to beat them….yeah them again plus Meesh #neverforget. Then the media decided to turn, they decided the Penguins were unbeatable, so the Penguins had to go and do the most Pittsburgh thing possible and nearly lose to the Lightning, and wouldn't you know it the media turned again and said the Penguins could never win game 7. SO GUESS who thought the veteran leadership of the San Jose Sharks would be too much. So you know what I think? I think it's a hell of a lot easier to say "no" to a question instead of believing in the team you support. It's hard to win a Stanley Cup, the odds are always against you, so it is easy as a reporter to predict the most likely outcome, it's a way of protecting your fragile ego. You have a 15/16 chance of being right and a 16/16 chance of not having a spine. You aren't doing your job covering a sports team if you are going for the easy answer. If you should've learned ANYTHING last season at all it was that
you should not bet against these Penguins. 
Full props to Dan Kinkerski (@budmoonshine) for being on the same page with that feeling. Go ahead and fill the comments up with your negativity, call Rad a psycho, but first tell me, when Marc-Andre Fleury and Matt Murray couldn't play in game 1 last year were you one of those that said the Penguins stood no chance? Good call, bub. Were you the one writing the team off when Trevor Daley broke his ankle and the Penguins would have to rely on "shitty" Justin Schultz, man your crystal ball is flawless. You wanna know what the team did in the face of that adversity? They rallied around Trevor Daley's mother's deathbed wish of seeing her son raise the Stanley Cup, and when they clinched Sidney Crosby made sure that Daley got the cup first. Trevor Daley, a teammate to this group for 3 months, made them try that hard. So do you think that this team is just going to pack up their shit because one of their best friends and teammates of 10 years is all of a sudden sidelined? You're out of your fucking mind. Here's your hot take, too hot for anyone that is afraid of a few dislikes on social media: if the Penguins win the cup, Sidney Crosby hands it to Kristopher Letang first and every piece of shit that didn't have the balls to admit the team had a chance yesterday will be licking the nuts of every second of that moment.
So don't give me your negativity. Don't try to push the easy answer on me. The Penguins have been without 3 of their top 6 defenders since January in the hardest goddamn division in the league and have GAINED GROUND. Losing Kris Letang is a huge loss, everyone knows that, but packing it up right now and quitting on this team before they've even played a single post season game is so cowardly you should be ashamed of yourself.
So the Penguins lost a franchise defender. Quick name me the franchise defender that the Blue Jackets have to swing that series. Times up. Round two. The Capitals have to overcome their own demons of always losing to the Penguins while also not having a franchise defender. What Shattenkirk?? The fucking Blues had Shattenkirk and Pietrangelo so you will have to go hump another tree with that boner. Will it be an easy series sans Letang, of course not. The Penguins lost Letang to suspension in game 4 of that series last year, so that was an easy win for the Capitals except they lost.
The road to the Stanley Cup takes a lot of twists and turns, if it was fucking easy then it wouldn't be the most coveted trophy in the world. Losing Kris Letang is a huge blow, but it isn't the final blow. The final blow occurs when the ref concludes a hockey game that marks the 4th win by one team out of 7. That's the only thing that determines when a season is over. Mike Sullivan has earned your trust by now, he has coached this team to a 50 win season without Letang for the majority of it. Don't throw in that towel yet. Don't flake out now just so you can say "I told you so later." It isn't about being right. It's about believing in the team you support until that final buzzer goes off, that's why you're here, that's why you live for Penguins hockey. So do me a favor, don't fall for the media traps, they've been telling you the Capitals have won the cup for 7 fucking years in a row. Here's what you should do,
Grow a spine, hang some balls on the end of it, and say "yes they can win" because guess what Sally, that's what the Pittsburgh Penguins are saying in the locker room.