First thing's first, let's clarify the playoff picture.  Tonight's game between the Pittsburgh Penguins and the Columbus Blue Jackets is about  99% likely to be a preview of the those two teams' first round series.  With a five point cushion on the Penguins, if the Washington Capitals win two of their last four games, the Capitals will clinch the #1 seed in the Metropolitan division, leaving the Penguins and Blue Jackets to scrap it out as the #2 and #3 seeds.  Washington's last four games: at Toronto (which could also be a playoff preview), hosting the Rangers (who have no motivation to win at this point), at Boston (another possible playoff preview), and hosting Florida (which is out of the playoff race).  There's still a chance Pittsburgh could squeak into the #1 seed, but that chance hinges on Washington not getting more than two points out of those four games. Which basically means this guy will get a brother: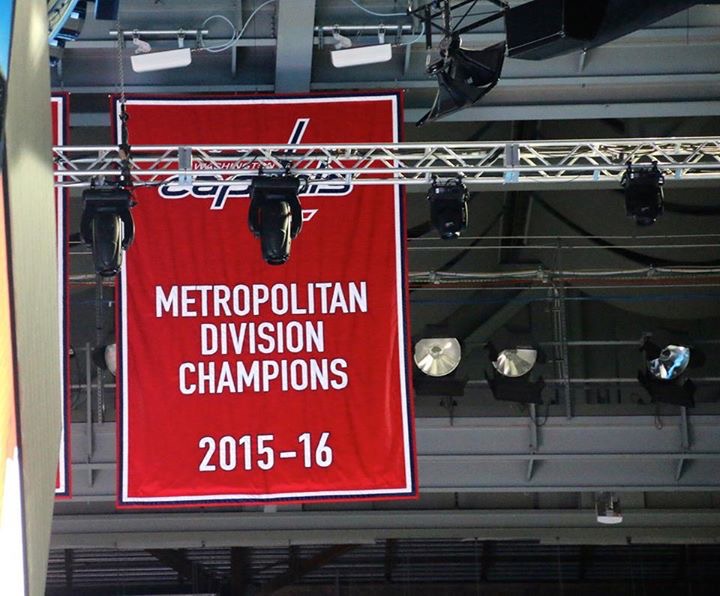 Of course, the Penguins are still missing a handful of key players, many of whom have been in this "just wait until the playoffs" limbo for months.  Trevor Daley and Olli Maatta have been skating around the practice rink for weeks, Kris Letang and Carl Hagelin have visited the Springfield Mystery Spot, Chris Kunitz received an early April Fool's joke from the Rangers and he'll be out indefinitely, and Evgeni Malkin is being held out seemingly just for shits and giggles at this point.  To call this a true playoff preview is to understate the importance of those players, should they be available to play, and their impact on the Penguins' lineup.
WARNING: SSG HAS PROVIDED AN EXTREMELY DISTURBING GRAPHIC BELOW SCROLL QUICKLY IF AT WORK: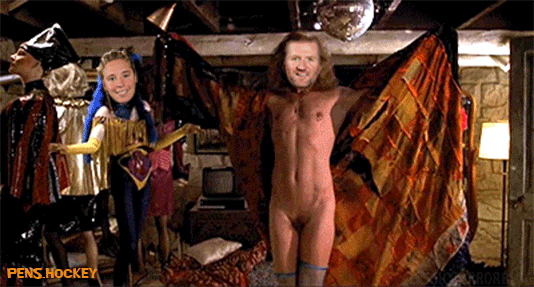 To further illustrate this point, the Penguins are 1-2-0 against Columbus this season, none of those games featuring a fully-healthy Penguins lineup:
In December's 7-1 pounding, the Penguins were without Daley, Letang, and Tom Kuhnhackl.  They also didn't have Jake Guentzel called up at this point, and had Eric Fehr.
In their 3-2 OT victory on February 3, Pittsburgh had a fully-healthy defensive squad but no Malkin, still had Fehr and no Guentzel.
Finally, in the 2-1 OT loss on February 17, no Schultz, no Maatta, Guentzel was called up and Fehr was still around.
Ultimately it doesn't sound like the Penguins will be at 100% by the time the playoffs come around, but I think we can live without Chris Kunitz more than any of those other five guys who are presently out.
Barring a late mini-collapse by the Capitals, we'll be getting even more familiar with the Columbus Blue Jackets.  My message to them, and their fans, is both clear as day and super subtle: See You iN The playoffS!
Unlike Mark Madden I'm going to tell you right now that just because someone doesn't start in this game it doesn't mean dick for the playoffs. Daley and Maatta can't play until the conclusion of the regular season due to their LTIR placement, so that already fills MM with hot air. We all know Evgeni Malkin is going to play in the playoffs, so who gives a shit if he plays tonight. Look at these lineups. Now look at this:
If anyone says the Penguins current defense that starts this game cannot beat this Columbus team in 7 games then they obviously haven't looked at the 6 defenders for Columbus. Add in Maatta/Daley or both and the only hope Columbus has is Sergei Bobrovsky. My point here is lets pump the brakes on calling for a Columbus 2-0 series lead if the series starts in Columbus. Quincey and Harrington stopping Amish Power and Thril isn't something I would put money on.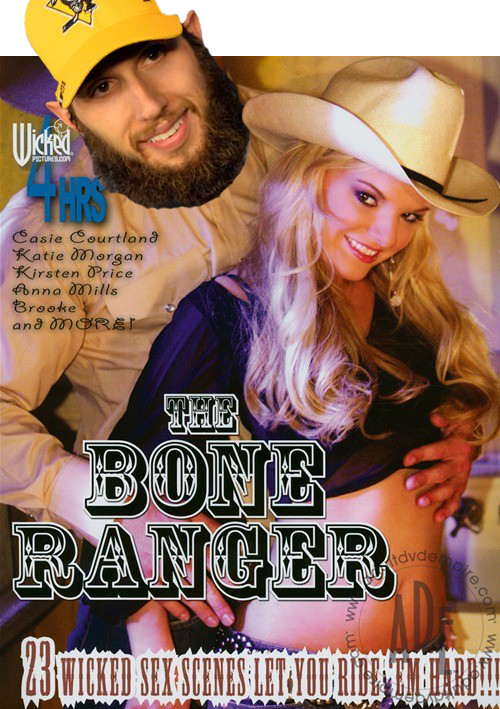 I'm not expecting Malkin back but out of all of the injured players he would be the one that does play in this game. Letang hasn't practiced yet so I don't know why anyone would assume he plays, and as said above the other 2 can't play even if they wanted to. Carl Hagelin doesn't need to play since he is off netting game-winning goals while on the IR. So what does this game actually mean? 2 points in the standings and potentially home ice in the playoffs. What does that mean? Not nearly as much as people want you to believe. Regardless of what social media tries to tell you, tonight is a regular season hockey game, and a 192-2 Penguins loss still results in a 0-0 series heading into game 1. This team has an interesting fanbase, one that loves to make mountains out of mole hills, so don't sip the kool-aid. Remember how the Penguins sucked on the road last year and stood no chance in a 7 game series in round 1 against the Rangers since they didn't have home-ice? Or perhaps you recall when the Penguins would never be able to beat the Capitals since games 1,2, and 5 would take place in DC. Tonight is a test for the Penguins coaches to get one good look into match-ups and who to put out against who. Nothing more. Of course we would love to see this: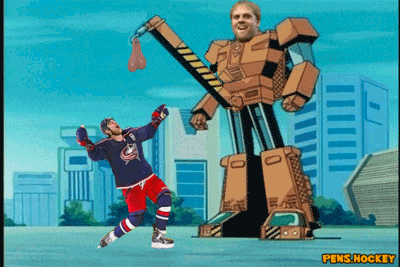 If Sullivan uses his last change properly and gets The Top Line out against the Harrington-Quincey pairing good fucking night. The best match-up Tortorello can go for is the 2nd line against whatever pairing Ruhwedel is on. Once again I like the Penguins odds, and if there is a team in the East that Pittsburgh can beat in a series without Letang it is this one. But don't get carried away tonight. It is April 4th. This is not the most important game of the month against Columbus. This is game 79. The only guarantee in tonights game is if the Penguins win they will not drop streamers from the ceiling.