This recap is going to have a different flow than usual so I'm jumping right in
The Penguins came out like they played the night before, the Capitals came out like they didn't. The best news of the period was the decision by Barry Trotz to protect Holtby from further Penguin harassment and start Grubauer instead. 6 minutes into the period the Capitals were getting on the board first courtesy of TJ Oshie.
7 goals in his last 9 @TJOshie77! #CapsPens #ALLCAPS pic.twitter.com/8OkZKDNOCd

— Washington Capitals (@Capitals) April 1, 2018
The shot just squeaks between the arm and body of Murray certainly one he will want back, most likely he was assuming Oshie would go high glove side and was cheating that way. Oshie with his 18th goal of the year and just his 9th even strength goal, not bad for a guy making $5.75 million per year.
There would be no other goals in the first.

The Penguins started to look more dominant in the second period, they just couldn't string together enough passes through the tightly packed neutral zone to get an effective attack going. Eventually the Caps took advantage of a Penguins turnover
Double digit goals for the first time in his career! @orlov_09 #CapsPens #ALLCAPS pic.twitter.com/vigufLheur

— Washington Capitals (@Capitals) April 2, 2018
Probably the worst goal Murray has allowed in a while as he completely misjudged everything about this shot. Orlov did curl the puck a bit to change the angle of the shot but this is a 10/10 must save for Murray.
There would be no other goals in the second.
Here are your #WSHvsPIT numbers after 40 minutes of play. pic.twitter.com/9H6ptd2NG0

— Pittsburgh Penguins (@penguins) April 2, 2018
A slim hope was held by the Pens faithful that they would crush the Capitals dreams in the third, instead the period opened with Tom Wilson getting a double deflection goal
T(WH)IP! #CapsPens #ALLCAPS pic.twitter.com/AIJeXvZmnI

— Washington Capitals (@Capitals) April 2, 2018
No clue what T(WH)IP means. Someone actually complained about this goal like Murray (or anyone in the world) expected Wilson to deflect this. NBCSN then went on this crazy rant about how Tom Wilson is having a career year and becoming the top 6 forward the Caps want him to be. Wilson currently has 13 goals and 20 assists while playing on the Caps top line. That's the same amount of goals that Bryan Rust has in 7 less games, Rust is 7th on the Pens in goals. Wilson's 33 points would rank 8th on the Penguins but sure, he's an amazing top 6 forward or something.
The Penguins kept pushing but Grubhub was holding the fort down. Eventually the Pens broke through after Sullivan finally switched Kessel and Hornqvist
PATRIC HORNQVIST (27) Assisted by MALKIN (54) & HAGELIN (21) @ 16:15
A net-front menace and our favorite agitator, Patric Hornqvist. pic.twitter.com/pnev0xt84F

— Pittsburgh Penguins (@penguins) April 2, 2018
Hornqvist was driving the Capitals absolutely insane the entire game so it was only fitting that he cashed in. Capitals fans view Hornqvist like Pens fans view Wayne Simmonds. If there was anything Hornqvist proved in this game, it was that he alone can draw the attention of both defenders and the goaltender, which is fantastic.
The Pens would pull their goalie but then Brooks Orpik fell a little too easily after exchanging jabs with Hornqvist, the Pens took the only penalty in the situation and that would do it.
Shortly after Evgeni Malkin ran into TJ Oshie, flipped Oshies stick off of the playing surface and a scrum broke out. After that scrum Malkin started mouthing to Evgeny Kuztnetsov, Geno was pissed because Kuznetsov was yelling at him from the bench. The fire that Malkin left the ice with was very reminiscent of 2009 Evgeni Malkin after game 2 of the Stanley Cup Finals when the Penguins went down 2-0 to Detroit for the second straight year.
https://youtu.be/BachubpP-QU
I think we all remember what happened after that.
Anyways, the Capitals wouldn't score on the powerplay and the game would end. Enjoy your division champs banner, we've certainly enjoyed your last two. Honestly I feel like the Capitals are focused on the Penguins in the postseason and wouldn't be surprised to see the Flyers beat them in 6.
GAME
---
THOUGHTS:
So now I want to dive into some things that have been circulating for a while and some that were brought up last night. For starters, this team has qualified for the Stanley Cup playoffs, the reason they are called the Stanley Cup playoffs is because anyone that qualifies has a chance to win the Stanley Cup. Seeding became irrelevant when the LA Kings won years ago. Play leading into the playoffs can be predictive, but all it takes is one hot goaltender to ruin any momentum built in March.
I'm going to do this by dissecting hot takes.
The Capitals PK is creating a blue print to deal with the Penguins.
The blue line stance is impressive.

— Dan Kingerski (@TheDanKingerski) April 2, 2018
The Blue Print Moonshine is talking about is the trouble the Caps gave the Penguins in gaining the zone. Though it was effective the Penguins still finished with 12 powerplay shots and 2 posts. If that is the blueprint other teams are going to take I will not complain.
Caps were stout on defense. Perfect in the neutral zone game. If they play like this in the playoffs with this hot goaltending, there's no reason we should be bounced early. We said that last year and all the years before but this team needs to believe bc were good.

— Steven Butera (@BACKSTROMONEY) April 2, 2018
So to clarify all it will take for the Caps to beat the Pens in the playoffs is if the team is PERFECT in the neutral zone and the goaltenders continue playing with a .973 save percentage. NBCSN was all over the Capitals neutral zone play last night and I will admit, it was good. It drove the Penguins crazy and resulted in some sloppy exchanges. You know what else did that? The Ottawa Senators in last years playoffs. If you think 1 regular season game where the team just exposed their only plan on stopping the Penguins is enough to predict playoff success then switch to baseball now. This was the only way Trotz knew how to handle the Pens and it was executed perfectly, it also gives Mike Sullivan 60 minutes worth of game film to dissect and come up with an attack plan, which so far he is 8-0 in series when doing so. For the record,  perfect neutral zone and .973 save percentage would win every series, ever. The problem is teams can't sustain that and if you had a gun to your head and had to choose the Caps playing that way in 4 of 7 games or Sullivan finding a way to break the Pens out which are you choosing?
It's not about flipping a switch. This #pens team lacks identity of last two clubs, which won in very different ways (2016: speed/possession; 2017: counterpunching.) This one trades too many chances and isn't hard to play against.

— Rob Rossi (@Real_RobRossi) April 2, 2018
This is the best news of the day, you will recall that Rossi also said the Pens have "no chance" in winning the cup without Letang last year. The identity of "counterpunching" was born in the playoffs last season. Identities can be born in the playoffs. What numbnuts here doesn't understand is that these identities are often labeled either during the playoffs or after they conclude and we are reflecting on the year. Nobody went into last April saying "the Penguins counterpunch identity is going to win the cup." The lack of being labeled is an advantage for the Pens in my opinion because each opponent will take different strategies, just like last year, each series took a different style of Penguins hockey to win and the Penguins were capable of adapting which was, and still is, their identity.
"The Penguins won't win because their road record sucks"
The Pens are 16-20-4 on the road, last year they were 19-15-7 and the Predators were, gasp… 17-20-4.
Regulation road records are about as useful as judging playoff success as Mrs. Hope's tarot card readings. Back-to-back games with travel, late nights getting in or same day flights all factor in to regulation road records. In the playoffs it is different. Teams get comfortable, they stay for a while and their routines aren't messed up. While we are here can we stop with the whole "the Penguins aren't that good" shit? The Washington Capitals just claimed the division last night, in game 80 of 82, because they had to beat the Penguins who apparently aren't good. A schedule that has/had 19 back-to-back situations coming off of a second consecutive postseason that lasted into June and the Penguins were 3 points out of the division lead until game 80 concluded? That definitely sounds like a shit season if you ask me. I was expecting the Pens to be a Wild Card team this year, everything above that is completely impressive for this group if you ask me.
"Murray's .908 save percentage won't win playoff games!"
This is one of my favorite from the Murray haters. One of the best parts of this wild claim is when you look at these stats from last years regular season, since they predict playoff success:

a .909 save percentage and a 3.02 GAA with an 18-10-7 record… these are the stats that were put up by the man that won the first two series last year in the playoffs. His name was Marc-Andre Fleury, he beat the Capitals in 7 games while having a .909 regular season save percentage.

I don't know how to tell you this but… Murray is still having a better year than MAF did last season so if you don't mind I will continue with the truth, and that is that regular season stats don't translate to the postseason. Any comparisons between Murray and MAF this year are pointless, MAF is having the best season of his career, I'm happy for him as we all should be, but it doesn't mean he would be having the same year with the Pens. But while we're here, and since I got this response on Twitter: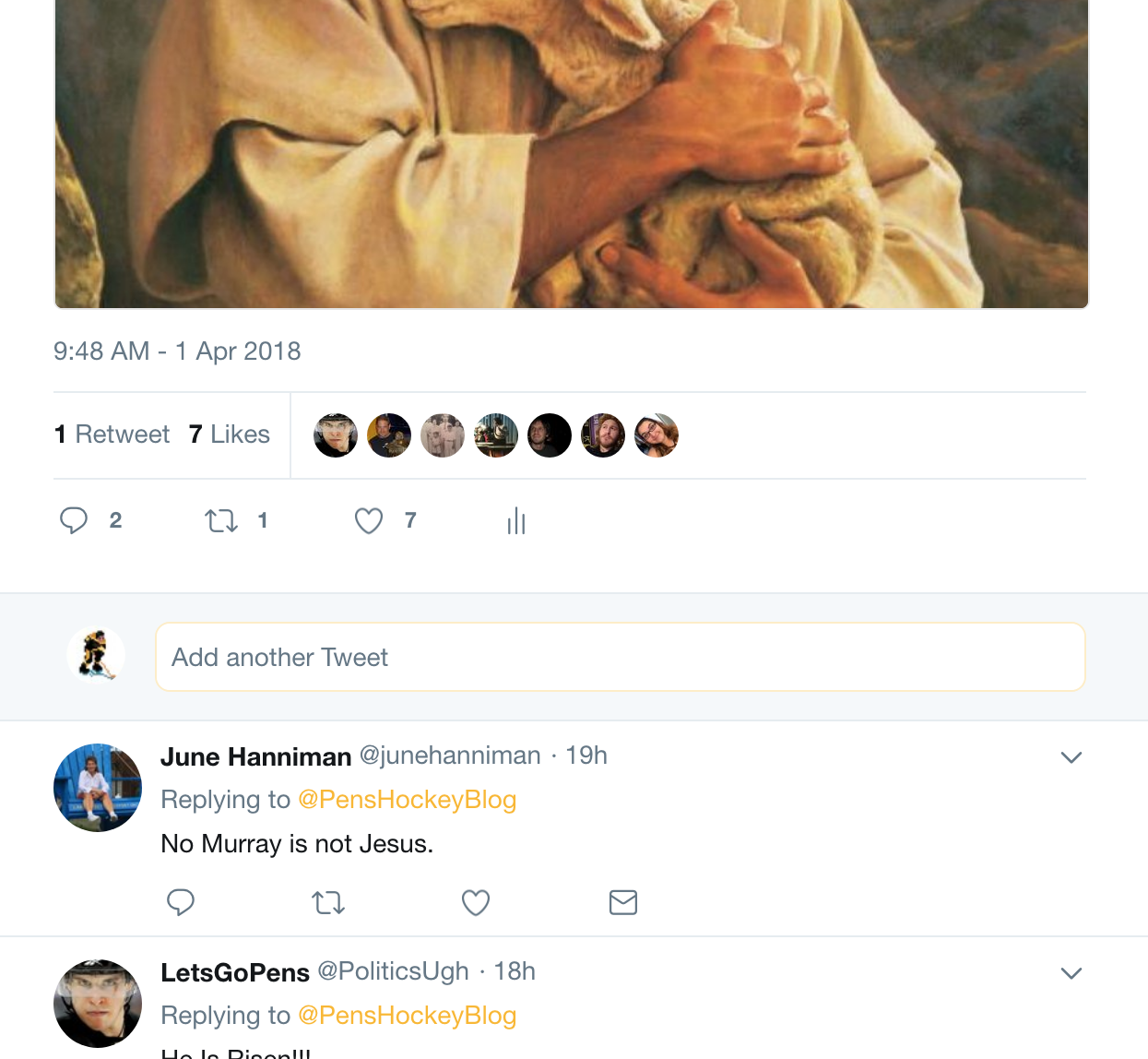 I will counter with these stats in the playoffs, which is after Easter, which is when Jesus returned:

June, if he isn't Jesus then he is pretty damn close.
---
The bottom line is this. The Penguins have won more Stanley Cups than any person on Twitter spewing out opinions. Mike Sullivan has used his team and solved more blueprints than Bud Moonshine. Evgeni Malkin and Sidney Crosby have carried more teams on their backs than Dejan has attempted threesomes. This team has overcome more criticism than Mark Madden has chicken tenders. Vomit out any opinions you want about this team. Use any regular season stat that you wish. The Pittsburgh Penguins have won the last two Stanley Cups, they have a chance to win the third, and they don't give a damn about your regular season criticism. This team is going for something historical and instead of being overtaken with excitement we are being treated to hysterical rationalizations as if these people didn't learn last year that you cannot predict the Stanley Cup playoffs. This team is on the cusp of history, you can either be a negative pussy that wants to bitch about everything or you can enjoy this ride, cheer your ass off and believe in this team because Sidney Crosby knows what this opportunity means, and you best bet your ass that he isn't bitching about Murray's save percentage. As the rational fans you are (I know this because you're still reading) it's time to pull up the pants, give the balls a tug, and get ready for another post season, because until they are eliminated the Penguins have their eyes on one prize and it is time we all start to