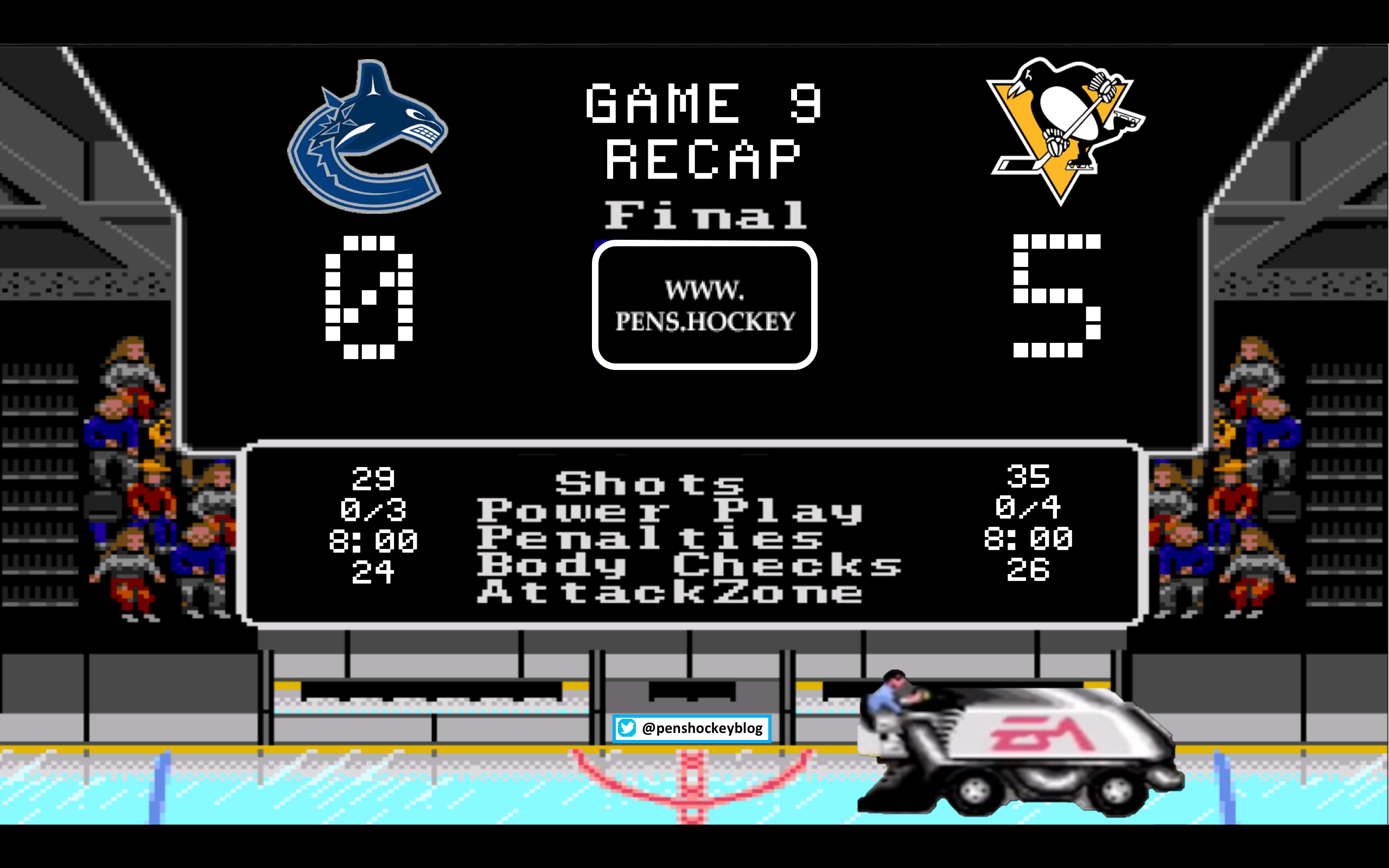 The Penguins were in Vancouver last night to wrap up this 12 day Canadian road trip. After three games and eight practices on the roadtrip Mike Sullivan apparently decided to have some fun last night with the lineup. Derick Brassard was held out of the game due to a nagging lower body injury, apparently he carries his confidence in his dick. Cough Drop Riikola was also scratched again in favor of Ruhwedel and Murray was given the night off after playing 118 minutes of shutout hockey.
Lined up and ready to play.

The puck drops at 10:00PM ET.#LetsGoPens pic.twitter.com/UaU1wrYkfv

— Pittsburgh Penguins (@penguins) October 28, 2018
The 4th line in this game reminds me of some peak Ray Shero/Danny B level lines, except they are not being used as the second line. Touching and classy move by the Vancouver organization to hold a moment of silence for the victims of the Pittsburgh shooting while showing the Pittsburgh seal on the screen. I've wrestled with how to handle this post in wake of such tragedy but ultimately decided that people come here for hockey coverage and that's what I will do. We are all on this planet together and together we can make it better. Our hearts go out to the victims and their families, I've witnessed the receiving end of that phone call too many times and my heart cries for them.
Vancouver had all the jump to start the game and it honestly looked like the Pens were about to get blown out of the water. Time after time the Canucks got looks on goal by sneaking players in behind the play. Less than two minutes in Elias Petersson blew by the D and was coming in on goal when DeSmith went for a poke check and tripped him. Was it intentional? Kudos if it was because it most likely saved a goal. The Pens PK was strong and honestly the Vancouver powerplay looked less threatening than the team did at even strength. Even strength hockey resumed and it was more of the same but the Pens finally got some looks. Markstrom absolutely robbed Malkin at one point. Oleksiak would go off for holding around the ten minute mark and the PK unit was strong again. Don't look now but the Pens PK is currently 4th in the league with a success rate of 88%.
Jack Johnson made a nice play in open ice at some point in the period
Crossing the blue line with the puck? Jack Johnson says no. pic.twitter.com/ibK3LuUG9j

— Pittsburgh Penguins (@penguins) October 28, 2018
Nothing else happened in the first period.
Here's a look at your Penguins vs. Canucks stats after the 1st period of play. pic.twitter.com/8IiVs6uyuD

— Pittsburgh Penguins (@penguins) October 28, 2018

I decided during the intermission that if the second was the same as the first then I would be autopiloting this recap and going to bed. Twelve seconds in the Pens received a powerplay but it looked dazed and confused.  Once 5v5 began the Penguins started getting some looks on ice as Sullivan started randomly selecting players to fill the first and fourth lines. The second line got a look and it was Phil behind the net who dropped it off to Geno. Geno kept swinging all the way to the point before hitting Maatta. Olli Maatta, who has put together three solid hockey games, put the puck on net and the rebound was right there on a platter like a hotdog in July
PHIL KESSEL (7) Assisted by MAATTA (2) & MALKIN (13) @ 5:50
https://twitter.com/penguins/status/1056385566823120896
Dear young hockey players out there, watch Troy Stetcher (51) for Vancouver. He starts the gif in great position, realizes Phil has slipped away and chases him behind the net which takes him out of position and leaves Kessel wide open. Don't be Troy Stretcher kids.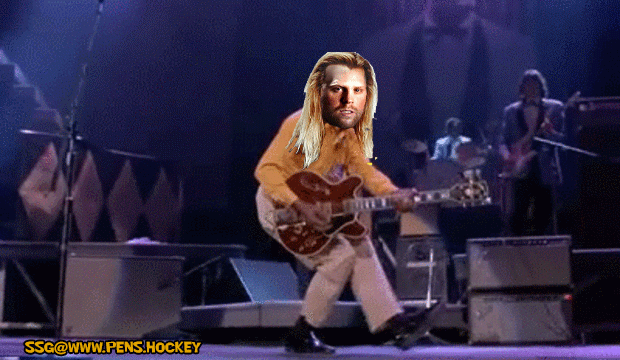 The Pens seemed content with their 1-0 lead and their new found trust in team defense so the game kind of fell into a bit of a lull. Sullivan continued mixing up the lines as we saw Daniel Sprong get some shifts with Sid and he actually didn't look horrible, more on that below. Dominik Simon also got a look with Sid and he did what the coaches have been looking for from Sprong, he made himself valuable. The Pens had just lost the puck in the offensive zone but Simon didn't stop pressuring the Canucks and forced a turnover to centerice at the blueline. The puck ended up on Maatta's tape who quickly fed Guentzel in a game of transition that the Pens are still the masters of. Guentzel with a sick cross ice feed to Simon along the blueline and Simon wastes no second sending a laser of a pass through the legs of a Canuck to a dashing Crosby…
SIDNEY CROSBY (4) Assisted by SIMON (5) & GUENTZEL @ 16:34 
https://twitter.com/penguins/status/1056390732473360385
The feed from Simon was so perfect and so fast Markstrom had to commit for a deflection, but with Crosby on the receiving end he just cradles the puck and finds the opening. Maatta won't get a point on the play but he made the initial entry pass to Guentzel right here:
And after opening up his body to the play (remember, back to the boards to face the play) Guentzel and the Pens are looking like this: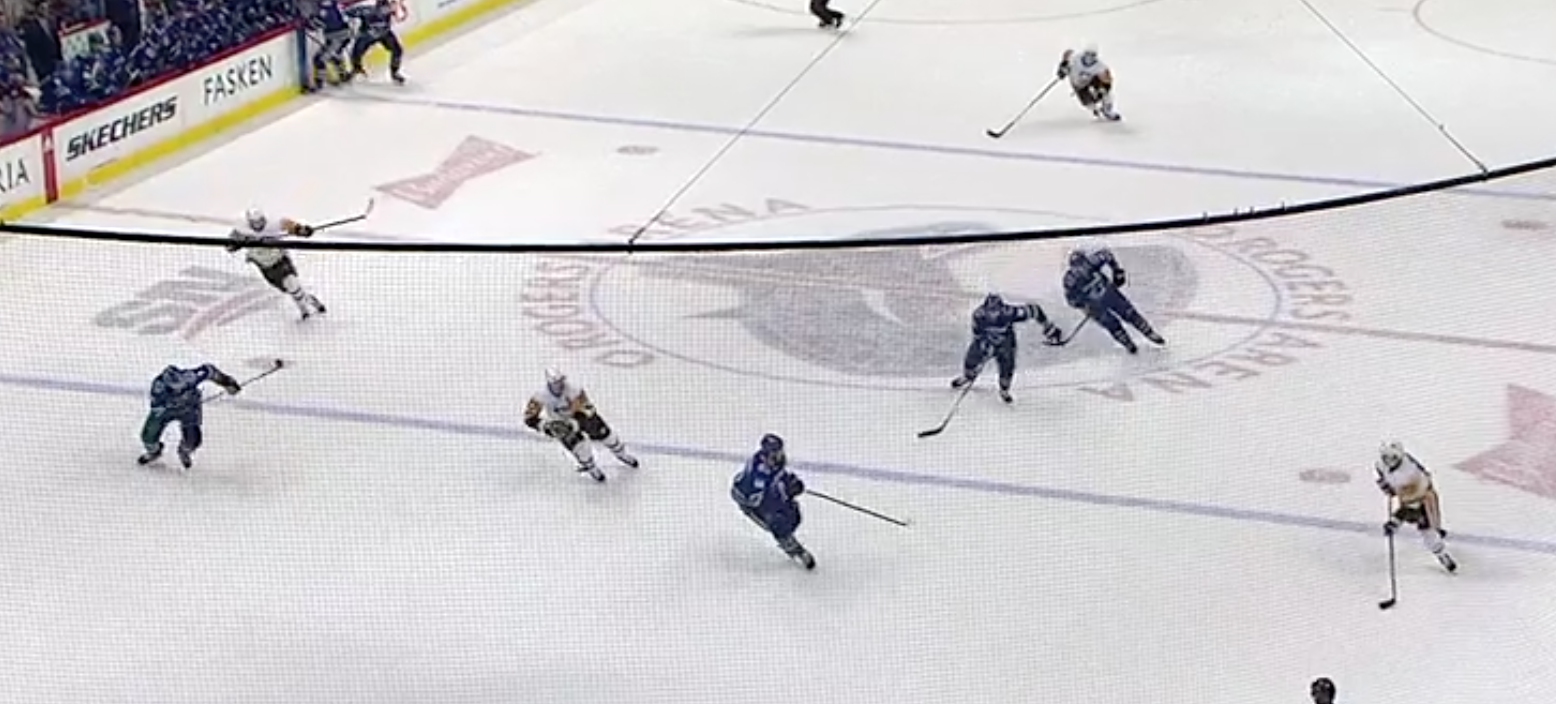 Now here is Simon receiving the pass from Guentzel, before it even gets to him he knows he is sending this puck to Crosby. This would be that hockey IQ we kept hearing Sid talk about in reference to Simon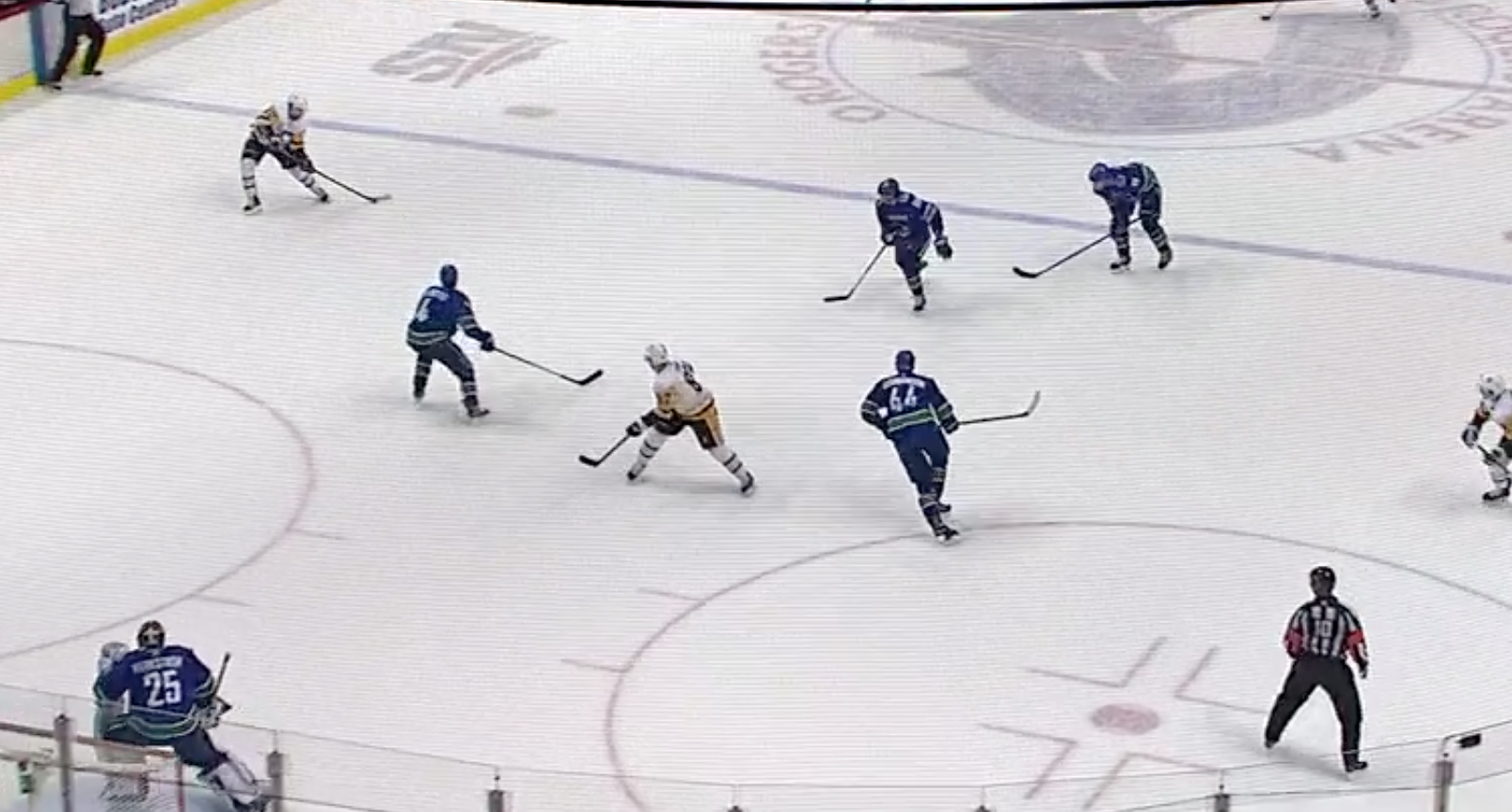 Now this play bounces off a leg or stick probably 80% of the time, but when it works it is damn sexy, what a pass:
This road trip and the battles with Matthews and McDavid seemed to be exactly what the doctor ordered for Sid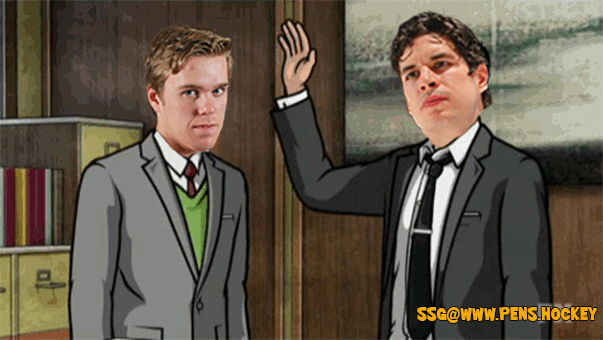 Nothing else went in in the second period as the Pens looked to sweep the road trip.
The numbers are looking good after 40 minutes of play. pic.twitter.com/v8fmcyWQIf

— Pittsburgh Penguins (@penguins) October 28, 2018
The third period opened up with Jake Guentzel taking a hight stick curtesy of Antoine Russel Dominik Simon to the face, Guentzel immediately went to the dressing room and the Pens got a 4 minute powerplay. About 5 seconds into the penalty Letang was called for a trip which was more of a "our bad" call on the high stick so we went to two full minutes of 4v4.
You may have fallen asleep around the ten minute mark and that's okay, nothing had happened of note in the frame, it was after midnight local time and the Pens were up 2. If this was you you were probably shocked to see the final. It all started with, and this is not a typo, a Daniel Sprong backcheck. The Canucks were on a brief 3 on 2 and Sprong backchecked his way into negating the play, as the puck went up ice Sprong stayed on and became a dominant force as the Pens cycled. Malkin set Sprong up at least twice but Markstrom made great saves. The puck finally came to Sprong who at this point was on the ice for about 90 seconds and he sent a perfect saucer pass over four sticks that landed right on the tape of the milkshake maker
EVGENI MALKIN (4) Assisted by SPRONG (4) @ 14:15
Having a hard time spotting the Penguins fans in the crowd?

Let @emalkin71geno help with that. pic.twitter.com/qpZMl2rsXz

— Pittsburgh Penguins (@penguins) October 28, 2018
That angle for this gif shows the pass perfectly, much wow. I rip players apart when they deserve it and I try to give credit when it is due, this whole play starts with Sprong playing defense. Malkin and Sprong had some noticeable chemistry as well which is probably the last thing Sullivan wanted to see considering the strength of the second line and the defensive liability risk that comes with Kessel and Sprong on the same line. Either way, Sprong had a solid game and was noticeable throughout and this shift alone earns him an extended look in my book.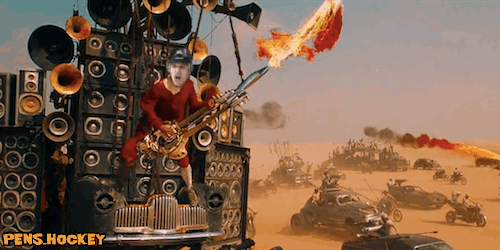 Not even a minute later the second line was out there again. Jack Johnson made a routine clear up the boards that bounced off a broken stick and right to a Canuck. Vancouver suddenly had a 4 on 2 in the Pens defensive zone but Carl Hagelin is just too fast. Hags singlehandedly jumped into the play, got the puck free, and passed it to center ice to Malkin who quickly found Kessel. Kessel entered the zone on the right side and floated one back to Geno and he just made this look too easy.
EVGENI MALKIN (5) Assisted by KESSEL (7) & HAGELIN (2) @ 15:14
Evgeni Malkin, scoring machine.@emalkin71geno has 18 points and is tied for 2nd place in the NHL. pic.twitter.com/XpHFU5YZtm

— Pittsburgh Penguins (@penguins) October 28, 2018
Malkin has 18 points (his best start to a season in his career) and hasn't even been in "beast mode" yet, that is scary for the rest of the league. Another goal created by the second line after a forward makes a great defensive play, sign me up please. Geno with some ribbing of Phil after the game
#Pens Malkin on playing with Kessel: "When he plays great, I play great. When he's lazy, I can't do it all myself." Malkin got jokes. -SK

— Pens Inside Scoop (@PensInsideScoop) October 28, 2018
Word is Cook and Rossi are already spinning this into next years offseason drama.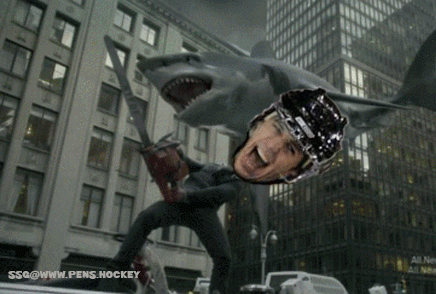 With a 4-0 lead the Pens didn't stop and two minutes after the fourth goal it was the top line out there, this time Oleksiak was making the slick pass to Crosby and come on, it's Crosby on the doorstep we're talking aboot.
SIDNEY CROSBY (5) Assisted by OLEKSIAK (2) & GUENTZEL (2) @ 17:43
Another game, another Crosby goal… and another five-goal free meatball.

Details from @EmporioMeatball: https://t.co/YzOCeOaTBm pic.twitter.com/dVVrXQ5mEY

— Pittsburgh Penguins (@penguins) October 28, 2018
The passing here looks like a powerplay. The Penguins are playing the game right now to where even strength goals look like man advantages. Sid and Geno with two a piece and Phil gets one too, look out world.
There would be no flukey goal in this one and the shutout was preserved… GAME
---
THOUGHTS:
The offense was impressive, but the Penguins detail to team defense is what changed this road trip. The goalies were great but overall as a team the attention to defense was noticeable. Holding Toronto with a 1-0 lead and doing the same in this game with a 2-0 lead while on the road is some impressive stuff
Speaking of the goalies, Murray and DeSmith combined for 178 shutout minutes out of the last 180 minutes of hockey. Not too shabby.
With the Cullen-Sheahan-Hornqvist line looking great and Simon looking comfortable with Sid, Derick Brassard is suddenly looking homeless
Sprong with 11 minutes TOI and 6 shots. I am still hanging with one hand on the side of the boat for this guy after this game. I'm not ready to give up yet.
The Pens are 4-0-1 on the road already, huge change from last years road struggles. They have also earned 14 of the 18 possible points to open the season as they remain the only team with just one regulation loss.  And no, RMNB they aren't "peaking too early," they're just really fucking good.


Loading ...