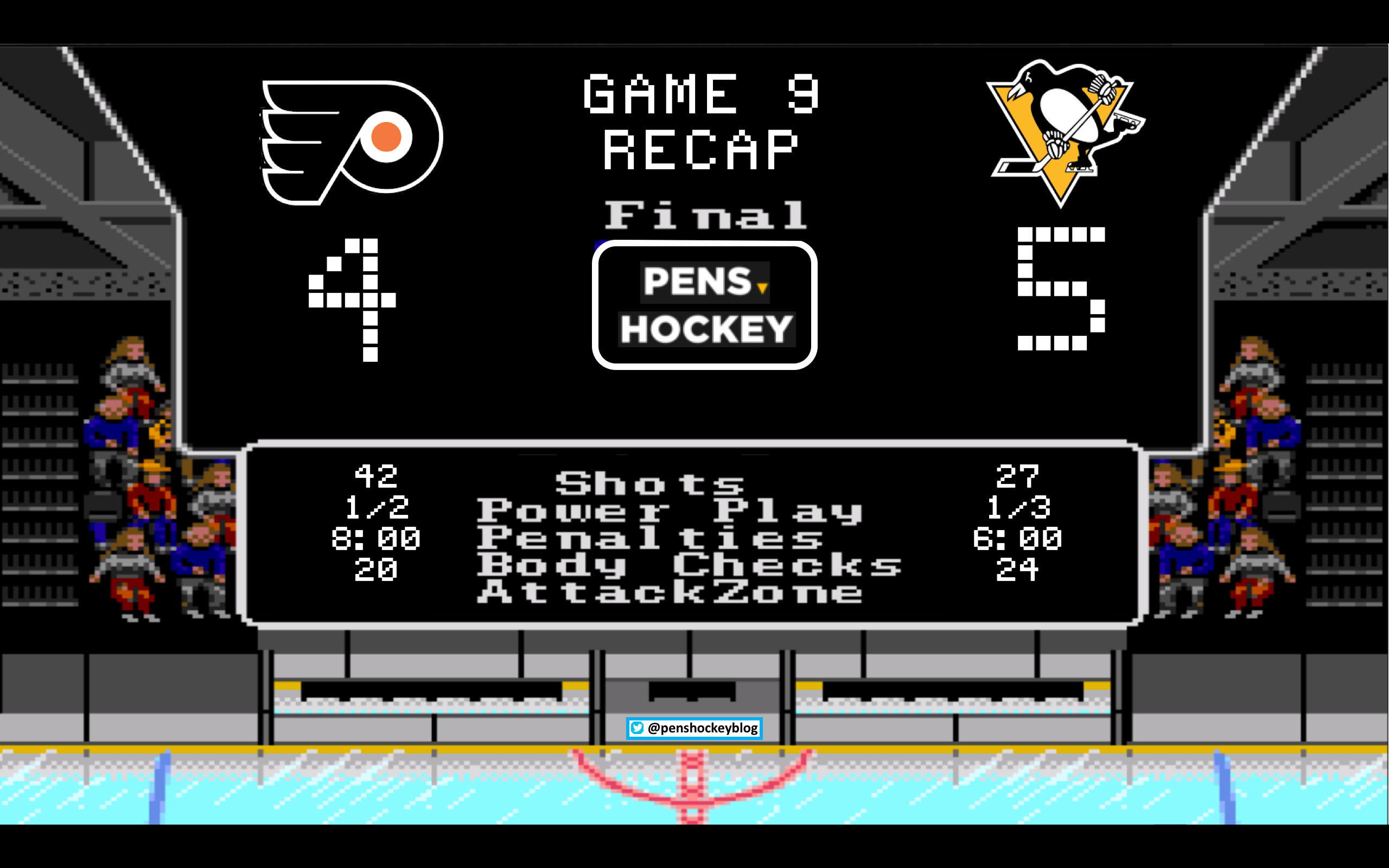 There is nothing better than a win in Philly that puts their fans through a roller coaster of hell. After allowing a 2 goal lead the Pens decided that while in the Wells Fargo Center they would act accordingly and rip off the paying fans. The Flyers outplayed the Pens for long stretches of this game, but when the Pens countered they made it count. Tonight should be the last night without Kris Letang, and it comes at a perfect time as the defense is barely holding on without him. A few days off now before the west coast trip begins on Wednesday will allow some players to get some much needed rest. Before we get there though, let's show what happened in this crazy installment of the rivalry.
Jakub Voracek assisted by Manning & Gudas @ 9:48
This is one Fleury is going to want back. Seems he was a little slow tracking the pass to Voracek and that put him just far enough out of position. The Flyers announcer says the shot was through traffic, but I'm not buying that. Start of a rough night for Fleury.
Wayne Simmonds assisted by Schenn & Gostisbehere @ 13:02
This is a typical goal against the Flyers. The puck takes an unfortunate bounce over Daleys stick and it happens to be at the worst place to occur. Fleury panicked a bit, I didn't feel like the lunging poke check was necessary but it's a hell of a lot easier to make that call from here after watching it 5 times than in the 0.1 seconds he had.
Things were rolling for the Flyers, the fans were reaching climax, the building was loud, it was the perfect time for the nemesis to make his presence felt.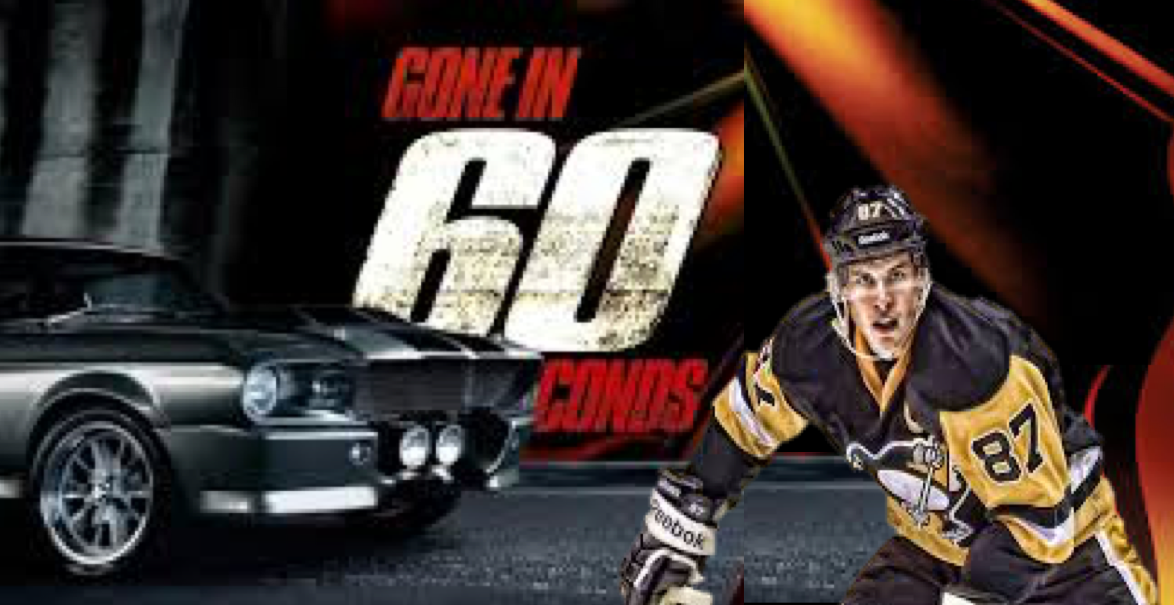 Sidney Crosby (3) assisted by Hornqvist (4) & Wilson (2) @ 15:44
Seconds before this Fleury gets a piece of a shot with his glove, and the puck barely misses. Funny game, that hockey. You'd think for a guy named Mason he'd be better at his angles. Still not sure Wilson knows where Hornqvist came from. Great placement by Sid, and even better leadership. His celebration looks a little bit like he's holding something.
Sidney Crosby (4) assisted by Hornqvist (5) & Kessel (5) @ 16:27 PPG
This power play is something else right now. Oh and that Crosby guy isn't too bad either. Every Penguin touches the puck in this passing play. Justin Schultz has filled in surprisingly nicely for Letang on the first unit.
Matt Cullen (2) assisted by Kuhnhackl (2) @ 16:39
How to silence a room of idiots in less than a minute. Talk about taking over. What a turn around by the Pens, on the road, against a team that absolutely despises them. Old Man Cullen. With time comes wisdom, and this goal was a culmination of hockey wisdom.

Evgeni Malkin (4) assisted by Kessel (6) & Kunitz (4) @ 9:38
This is some great awareness by Kunitz. Not only to stop without hesitation and pick the pass off, but then makes the pass from a knee to Kessel. As stated over and over, Kessels play making ability was never really talked about when he was acquired. Talk about threading a needle, I.AM.SCORE  isn't going to miss that.
One of the best coaching decisions so far this year was breaking up HBK. This Kunitz-Malkin-Kessel line is developing some nice chemistry, and getting goals from Malkin and Crosby in the same game is never going to be a bad thing.
Claude Giroux assisted by Simmonds & Gudas @ 13:16 PPG
Both Daley and Maatta assumed the puck was going to be cleared and abandoned their positions. Gudas was referred to as a sasquatch on skates by Bourque, so we can assume the keep in was luck. Once the puck was kept in Giroux was wide open to bury it. Malkin and Crosby had already scored, so it was only a matter of time before the greatest player in the world scored.
Jakub Voracek @ 15:28 PS
Voracek was awarded a penalty shot after Dumoulin interfered with his breakaway, really bad and out of character play by Dumoulin. I would take my odds on Fleury making that save over a penalty shot.
Both teams have blown 2 goal leads, and we are tied heading into the third. Pretty fun game for the first meeting of the season.
Evgeni Malkin (5) assisted by Maatta (1) @ 8:33
YO! Second positive offensive play by Maatta tonight. Great finish by Malkin. Everyone is now hoping that this game begins a positive trend for Maatta, because damn is it good to see him smiling while celebrating this goal.
300th career goal for Geno, he stays in the 6th all-time spot for the Penguins, but he won't be there long:
Lemieux (690), Jagr (439), Crosby (342), Pronovost (316), Kehoe (312), Malkin (300)
This goal proved too much for the Flyers to overcome, and the Penguins defense was able to shakily hold down the fort.
---
THOUGHTS:
Kris Letang, please come back for the next game. It is painfully obvious how important he is, but that is a good thing since he makes 3 million more than the rest of the defenders.
Probably a 98% chance Murray starts Wednesday
After looking at the career stats of Malkin, we will most likely see Malkin reach 800 career points (currently at 770) and Crosby hit 1000 (currently at 943) before this season ends. Good times all around
Fleury's white mask with the white road jerseys looked much better than the black one
Bryan Rust is struggling right now, but it is important to remember that he was injured through camp so he hasn't had as long to prepare
If you are in the Pittsburgh area and show Emporium this tweet you get a free ball. Word is Kessel is first in line: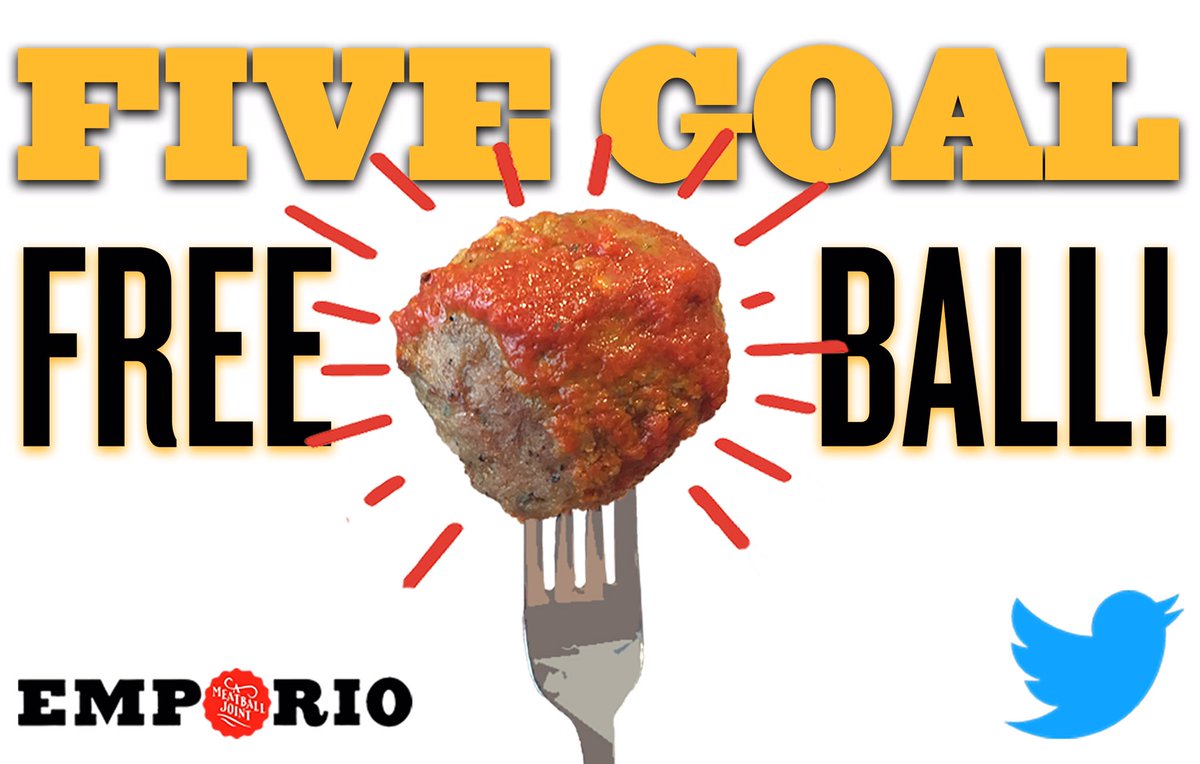 Not many entries last night.  Looking forward to the first 10 game hockeyporn showdown coming up next week!
[socialpoll id="2397266″]
Thanks for reading and enjoy the next few days, see you Wednesday morning for the Gameday post against the Ducks!