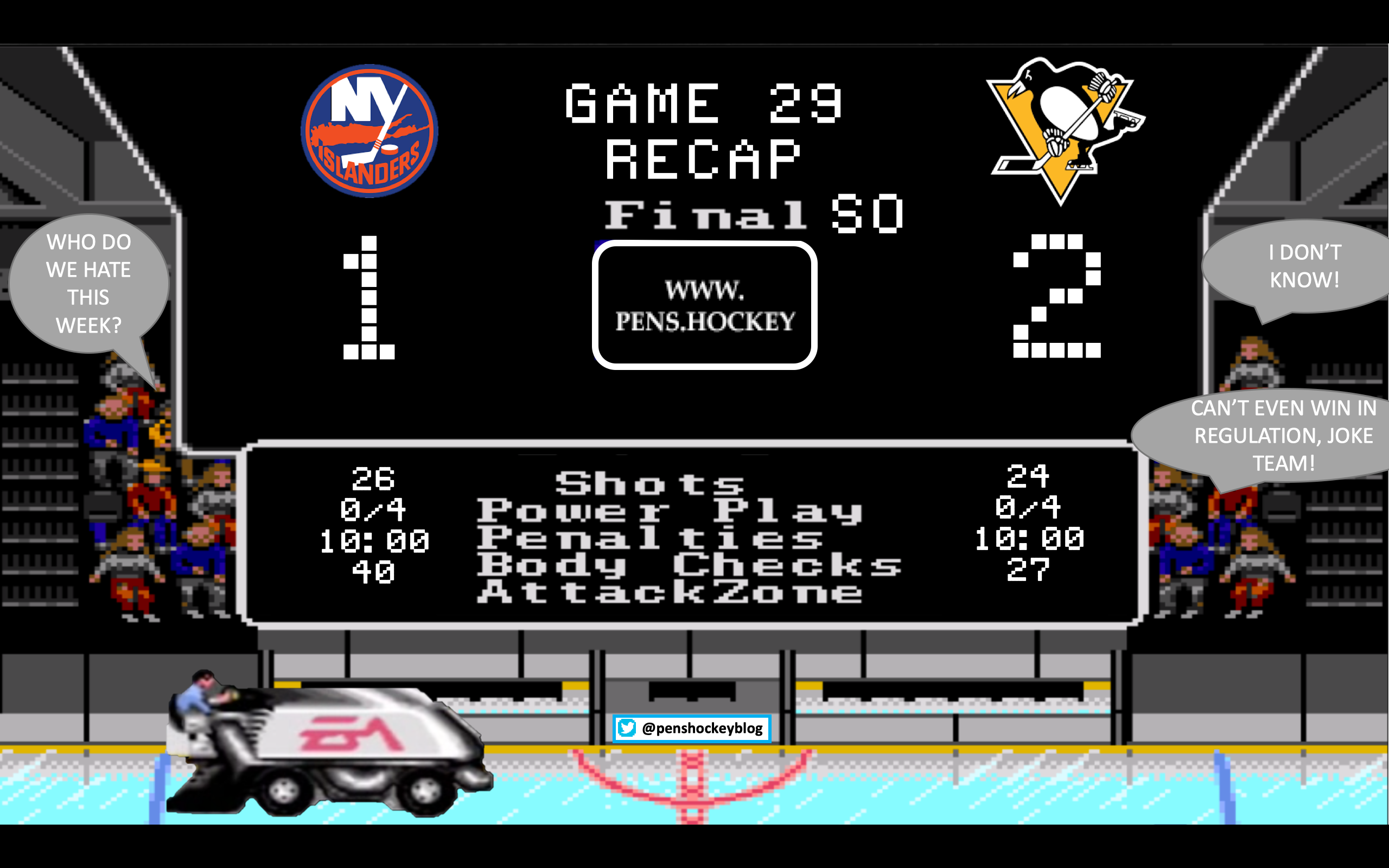 The Penguins went to Long Island to lift the new lid on the Toilet aka. "The Nassau Coliseum" …and were hoping for a nice big Deuce. That's exactly what they produced. Was it easy? Hell no. It was really hurting there for a while…but erreything came out great in the end.
The Pens came out pressing strong. You could tell they wanted to take command. Kessel had a great chance at about the 17:30 mark but just didn't have enough time and space to lift the biscuit up over Lehner's leg pad.
Our dominance didn't last very long though. The Islanders seemed ready to play and the Refs were helping them every step of the way. The curse of Billy Joel helped them to 3 straight man advantages in the first half of the first frame. The Pens were able to survive this and in fact ended the period on a four minute double minor power play thanks to a really horrible mis-call by the best Zebras the Chel can skate. They didn't do squat. The first period ended in a scoreless tie.
Were there some stats at the end of the First? You bet! But I looked and looked and I just doan know where Rad and Dope and UNG get those great end of period stats from. Guess I'll havt'a ass em ; D

The second frame saw a lot of back and forth play with some really good saves from both goalies. DeSmith was GREAT in this one BTW. At the the midway point in the period, he was the only reason we were still in this game. Be that as it may the Pens found a way to hang him out to dry and at 6:32 this happened:
Brassard actually made a really nice play to poke the puck off of Beauvillier's stick….only to immediately turn around and have Brasshole give it right back to him. Just BREATHE dooooood. Take a second to LOOK up the ice and actually see where your lanes are.
At this point it was looking bad for the good guys. Even though Sid was making all kinds of amazing plays, we even had a 4 on 2 chance at one point…but once again, the other team's average talent goalie was under the impression that this was game 7 of the SCF and was of course playing out of his mind. Oh yeah….Geno was trying to kill people all night long. In fairness to him he was being mauled during most of his shifts and nothing was being called and it was plain to see he was not a happy Rooskie.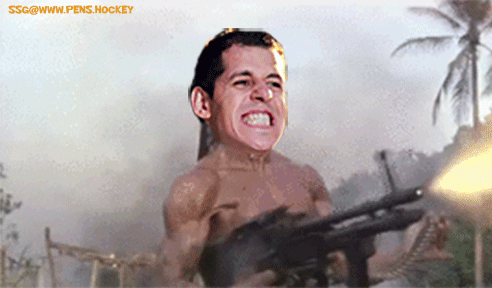 End of Second Period: Isles 1  / Malkin 2 Confirmed Kills, zero golas : (
I honestly felt that the Pens were gonna win this game in the third. They've been showing a lot of fight in the past couple of weeks, winning points in each of their last 4 games. Sure enough at 17:40 the guy who handed the early lead to the Peninsulas came through and potted this one to get us even:
So not a whole lot changed after that goal. Both sides were fighting hard for an advantage, they each had their chances. Both goalies were up to the task. More mahem ensued when LeTang said OH HAI MARK to Clusterfuck during a break after Malkin killed DooHickey.
The Refs actually got this one right. Clutterbuck started it by crosschecking LeTang and then Christopher just fucking decked him. 2 minutes each for sillyness. Clutterdik goes to the locker injured cause cheaters never prosper : P   Whotta dik he is.
The 3rd Period ended in a 1-1- tie. Time for some hawt 3 on 3 action.
Things started out well for the Pens. They were controlling most of the action then …you know who…Brassard was called for a trip. In his defense, a totally sofff call considering he was playing the puck and the other guy was skating like fucking Goofey and falling on his own buy the time Brazzer's stick happened to 'tick' his skate. So fuck it.
I can't find a single gawdammm highlight but DeSave and ZAR were stellar on the PK and even though we didn't scoar in the OT…neither did they.

Of course no one has all of the saves/goals seperated into individual segments so they are all in the last video.
NY – Matthew Barstool…Doinks the first attempt off the post, DeSave in great position, goalie's BFF
PGH – Phill The Thrill…GOAL, of course
NY – Leo Komatose…wide, like his mama's butt
PGH – Crosberries…got in too deep, that's wut she said
NY – Joke Bailey…GOAL…meh
PGH – Rambo…nice move but nope : (
NY – Beaveulette…no fuken way twice jerkweed
PGH – Snek…GOLA, u friggen betcha…his 1st career shootout goal, total goal scorers goal, back hand deek, 5 hole FU
GAME BITH

Thanks for Dading ; D
SSG


Loading ...