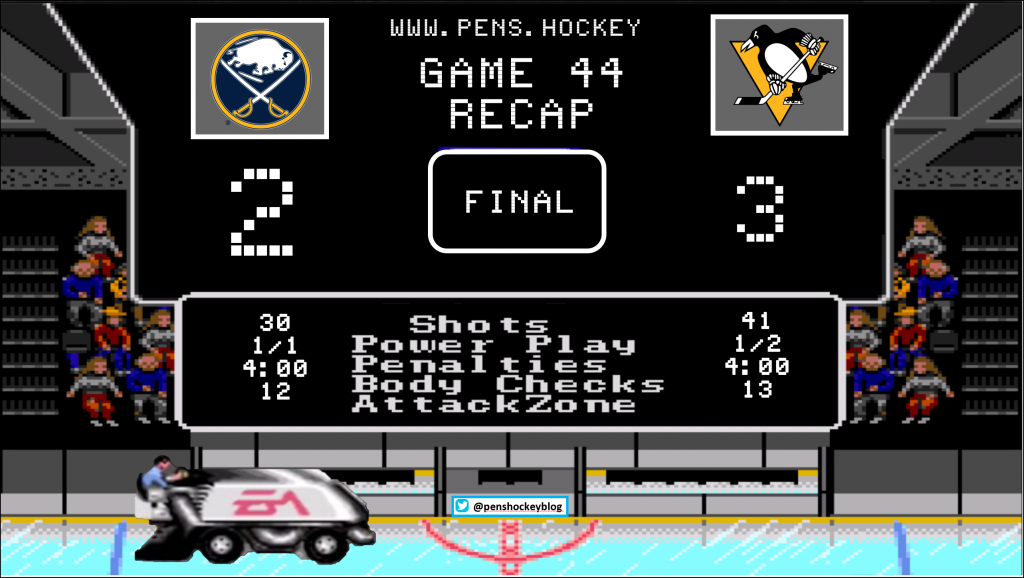 Buffalo on a Tuesday afternoon. Knowing that the Pens were facing Buffalo, and that it is a dreaded afternoon game, I wasn't feeling particularly enthused about this one. When that happens, I find it best to turn to the resident Pens Historian, the inimitable Bob Grove in a feature we like to call…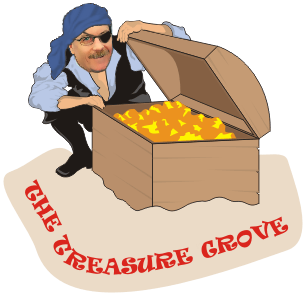 OK, well that's a great place to start! Penguins love Buffalo – makes sense, even in the spring. What else ya got?
Uhhh… uhhh…. oh yeah, I'm feelin' it now… Now bring it home, Grover!!!
And a timely throwback to close it out. Sid feasts on buffalo meat. Figuratively. Maybe literally, for all we know.
Let's Do This!

First minute, first big shot and bad rebound for Jarry. Let's hope that doesn't become a habit.
Listening to Pierre is a stressful activity. And in this new look NHL broadcast, we get to hear him even more. 3:28 IS too early for day drinking… unless it's a Saturday. And by gum…
With the absence of Eichel for the game. And no Hall or Staal or anyone else worth talking about, the broadcast team has decided to focus on Dahlin for Buffalo. Remember, they're paying a dude $9M to play… and he's healthy and playing, but is so bad they don't even mention his name. That's how little hope they have in Buffalo.
3 minutes in, Pens would draw a questionable hooking call so it's PP time.
The PP had great possession. Great movement. Great passing. And a few OK shots. No go, good guys.
For as hard as he is to listen to, Pierre made a great point. The Pens didn't try to really establish a forecheck, rather they are playing a 1-2-2 to frustrate the young Sabres. And, yeah, it was working. The Sabres would face just too much pressure at the blue and fail to get it into the zone. The Pens would turn that into offense and generate a couple great looks.
Possession and pressure would continue a couple minutes later, working low to high and taking deflection shots from the point a few times before a favorable bounce would get things rolling.
McCann (12) from Matheson (10), Ceci (10) – 10:30 – EV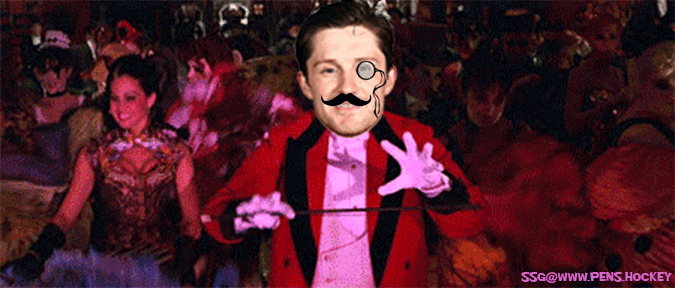 Shooters are born and McCann is a shooter. This means he was born to shoot, and shoot he did. As a player, I have to think bouncing it off the goalie's ass or face has to be the most satisfying feeling. 'Hey look, you want giant ass pads, cool, I'ma use em lol'.
A few minutes later the Pens would get another OZ faceoff and Carter would take one, two, three cracks at it but ToeCarSki said no. On replay, it was one crack and one miss, but the most important part about that was that Carter was in the crease being a general menace. More of this please.
But the Pens didn't care that it didn't go in, they just kept the OZ pressure up, shift after shift.
Every time the Sabres would bring it up ice, I just wasn't worried. Seemed like the Pens were always where the Sabres wanted to be. Oh, and Dumo just about killed a dude super clean, so that was cool.
More defense to offense and Sid had a glorious look and caught the post clean. Happens.
This would just keep going, over and over. McCann and Carter look great together, and Zucker is getting comfy there too. It would appear that this stuff is starting to come together, yinz guys! FAPTASTIC!!!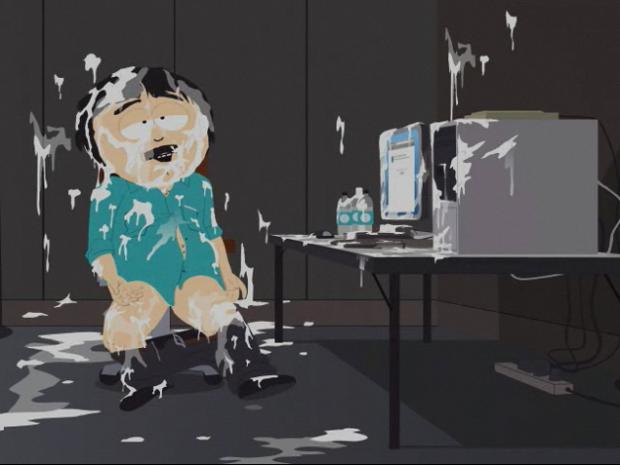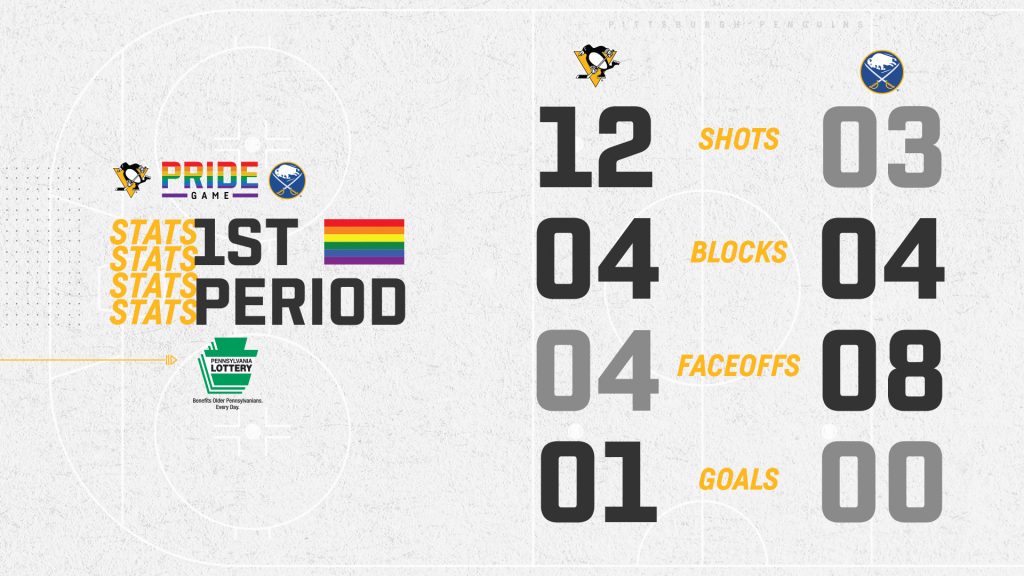 Shots/chances were 24-8 Pens. #domination
During the intermission, and throughout the game, it was all about this being the first ever two team Pride game. All good stuff – consider the blog totally on board. That let us see an interview with Brian Burke (who tragically had a gay son he supported completely pass away in a tragic car wreck) and he just does not disappoint.
"I ride Harleys, I chew tobacco, I drive an F-150. I'm rough and gruff." He was talking about why that may have made it tougher for his son to come out to him (which didn't even phase Burke – he loved him regardless), but clearly this man is from Pittsburgh, at least in his soul. Mario knew what he was doing when he called this guy.

As expected, the Sabres would come out with a purpose and get several great opportunities, but Jarry was up to the task. But thankfully that didn't last too long, with the Pens forcing them to then ice the puck three times in the first 150 seconds of the frame.
Some more pushing and shoving and then Young Cousin got a little too cute below his own goal line. He tried to throw it around down low but didn't realize how good Blueger's hand-eye coordination was.
Rodrigues (6) from Blueger (13) – 5:57 – EV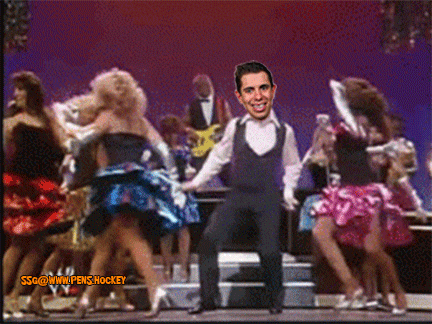 Cozens is obviously skilled, and yay all that, but this is the NHL. Everyone is skilled. For instance, that shot from ERod.
But then just 44 seconds later, McCann would block one with something tender and get taken out of the play writhing in pain. McCann's dude got the carom and found a bunch of room in the slot, more than your mom even has. Too much, it turns out.
Unfortunate carom there, and it's back to a one goal lead. Happens.
The Pens would wake back up at this point and start pushing back on the young'uns. Thwarting them at the line, taking the puck away, fighting off the forecheck. A good way to do that is skating through it, like Marino did, and drew a penalty for his efforts. Whipping out the PP again.
Amazing puck movement and ending with some great looks and even shots. And that was during the boring part. Because then they got even better, aided and abetted by a couple of great passes from Letang, I might add. Ultimately, the passing and moving all proved too much for the Sabres and Rust would make them pay.
Rust (17) from Crosby (33), Guentzel (26) – 12:15 – PPG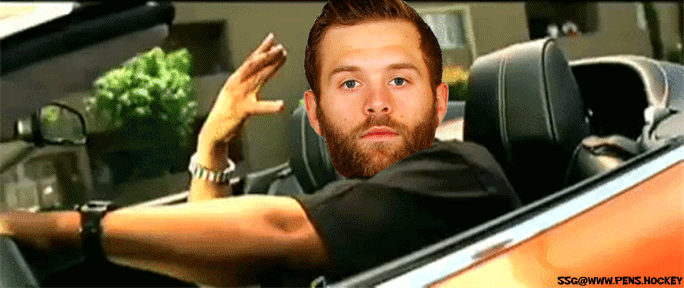 Damn that powerplay was about as perfect as you can get. I'm at a loss for words, honestly. Just watch and enjoy the Pensboner(TM).
Speaking of Pensboners, Pierre sure has one and I'm not sure who he loves more, Sid or Kristopher Letang. Does he get free Primanti's or something? Maybe a little TOO inclusive, my guy – both of those dudes are in relationships already.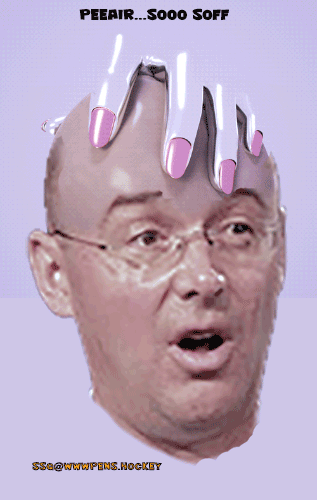 Pens were now VERY content to let the system do the work. Which they did to perfection for the remainder of the period.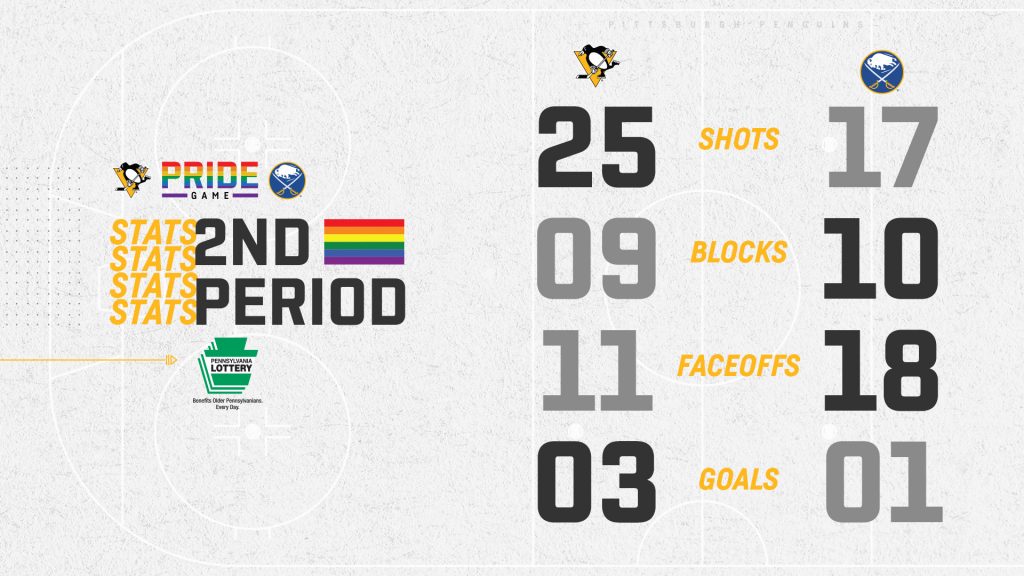 The third would start similarly. Pens were still invested in the d-first approach which your mom certainly appreciates. But like the first 40 minutes, they'd do a good job of turning good D to good O, which just about everyone appreciates.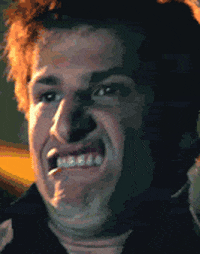 Just not good enough to get one over the line.
A couple minutes later the Pens were apparently getting bored with D first and would loosen up enough to let a few Sabres chances look dangerous. Ultimately, Jarry was better than Buffalo at every turn, but it still got a little close for comfort at times.
Then things got…. boring. I'm sure you're just as shocked as I. Sitting on a 2 goal lead on a Saturday afternoon with a game tomorrow, this was expected.
What was also expected was some lame even-up call by the refs to try to keep it interesting. Janky got overly janky it would appear, but the reply showed… you know what, it doesn't matter. Janky to the box.
The PK was on it's heels from the beginning and several of the Rasmusi would help take advantage.
Nothing Jarry could do. Good movement by the Sabres and not enough pressure from the PK. Happens.
So now it's interesting. 8 minutes left and time to maybe step it up a little, eh boys? Let's go here boys! LET'S GO HERE BOYS!!!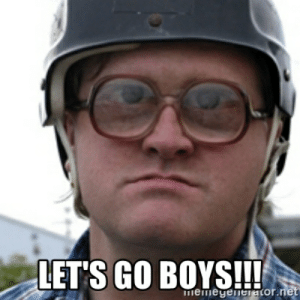 McCann answered with a good look. Sid's line would follow up with a chance, but no dice. Dumo would also get a clean look, but this ToeCarSki old guy is having a game, because of course.
Then with just under three minutes left, shit got REALLY real, and Jarry really had to step up. Or, more accurately, dive backwards to keep it out of the net. Crisis averted.
Sabres would yank their ToeCarSki and shit would get even more crazy, but Jarry held the fort and GAME BITH.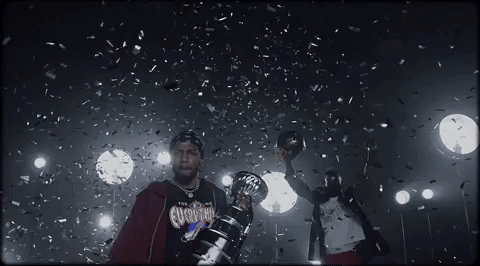 Gameday 45: Be Wary…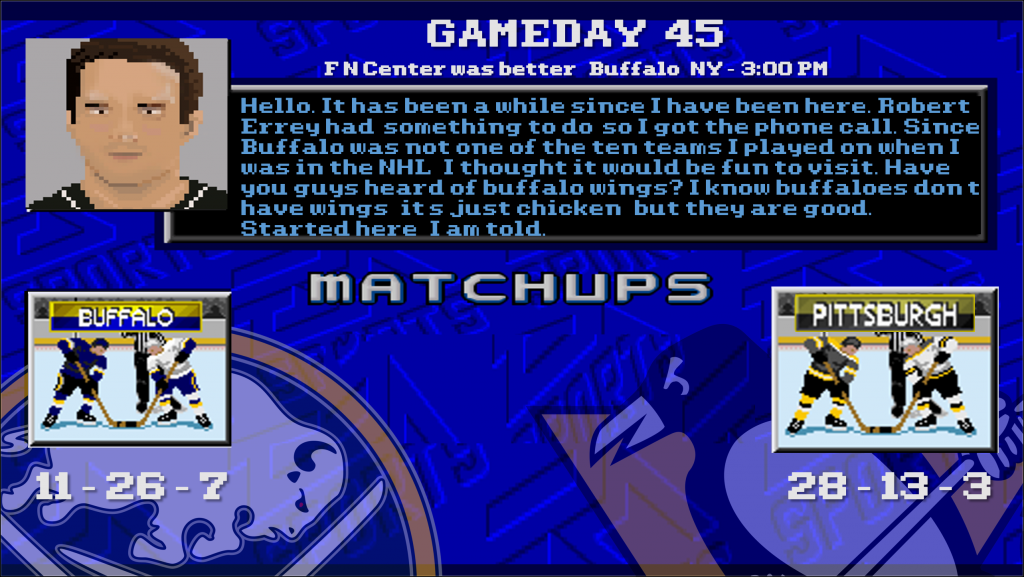 Hey there sports fans, it's TimQvist here taking over for Ung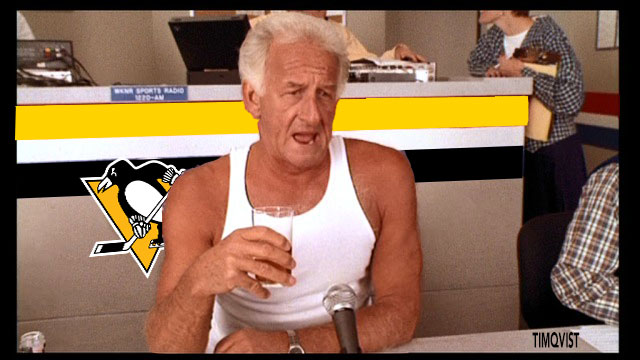 We're back on another lovely Sunday afternoon… oh who am I kidding. Anyone who's paid attention to the Penguins long enough knows that the afternoon weekend game is always Hockey Kryptonite, probably especially considering yeterday's result. Plus the game is once again in Buffalo. I'll be visiting my local Fine Wine Bad Spirits store today to pick up something cheap I can slug when this game gets frustrating.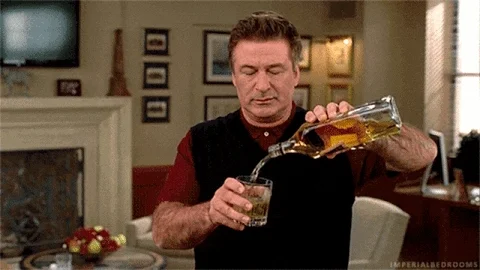 Pens took care of business yesterday against the bottom team in our NonMalignant Mass Mutual East Division. Let's talk about that for a second.
In their past six games (not including yesterday) the "fencing devices" have a 3-3 record. There's no easy way to discern their wins or explain their losses. They went 1-1 against NJ, lost in a close game to the Capitals, beat Philthy, lost in a SO to the Broons and beat up on the Caps 5-2. This is not a team you can let into a game. Once again our division unlike others… has no easy games.
This is a young team with nothing to lose and very little fear. The Caps have all the super powers they need currently and weren't able to get the W at home. Watching the highlights of the Crapitals game the Sabres took the opportunity to make Washington pay for their mistakes.
This doesn't bode well given the poorly timed turnovers we've seen lately. The Pens will need to take really good care of the puck again, like yesterday. 3 of the 5 goals and technically the 5th empty net goal were all directly related to bad turnovers either right in the D zone or breakaways derived from poor puck handling with D men up top. (stares at LeTang).
On the flightless birds side I don't really know what to say other than this team really needs to get Malkin, Kap and Tanev back soon. The Pens are making it work but their absence is notable.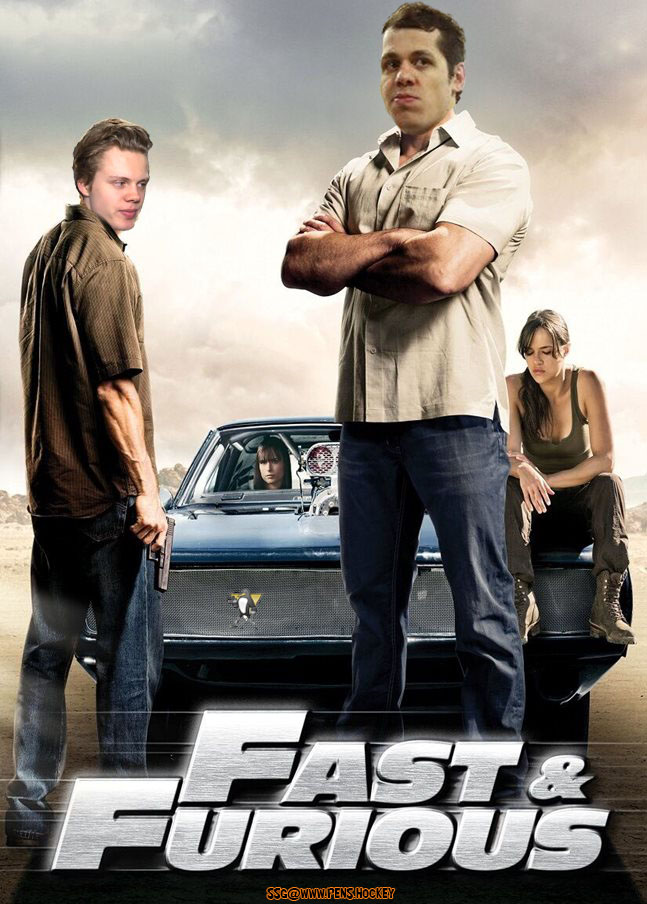 New thing for my posts to break it down – Lookin Good vs. Not So Great
Lookin good
Dumo – Do I really need to say anything here? The guy is just playing great hockey.
Ceci – Quietly having a great season and has earned his keep in my opinion. Dumo-light, if you will.
Snek – 2nd in points behind Sid. Dude is in a good zone here. Can't say much more but he looks like he's in stride which is where you want him to be going into the playoffs. Chipping pucks in, moving the puck well and is finding space in all the right places.
Sid – While I wouldn't normally have put him in here as of late because he's just doing his thing… that play to give Dumo his stick, out work the D, get a new stick from the bench and then put the rebound home is what champions do. 99% of the league just skates back to the bench and sits down. I don't really recall ever seeing anything like that in hockey and I've been watching for a while.
Team Chemistry – Celebrating for Taglianetti on the bench. That's bringing back some nostalgia and overall is a great look for a team that needs to keep that energy rolling for their elder statesmen.
Not so great…
Kristopher LeTang – I don't care how many points he has or what his production value is. He needs to be less of a defensive liability at this point in the season. I know I'm asking for a miracle here but, who knows? (Editor's Note: TQ is a whiner)
Injuries – I'm going to keep saying it. They need to win these 2 Buffalo games without key major pieces which we know that they can do.
4th line – They cooled off a bit in the last game against Philly. Let's see what they can do
The PK – A lackluster 72.2% puts them 25th in the league in the month of April. Against a weak schedule that doesn't look good. Overall for the year they are at 77%. The team isn't giving away many penalties at only 18 so far this month so they are only tied for the 7th least penalized team. It's not the end all be all but in the cup runs 16 / 17 the Pens were 84.4% and 80% respectively. Needs to get better.
The Pens are gaining a little distance on Boston a mere 5 points back with 2 games in hand and they are one point ahead of the Islanders. The Islanders have a rough month ahead of them, I can only hope that they trade back and forth with Washington and there's little to no OT's so the Penguins can stay in the 2nd spot comfortably.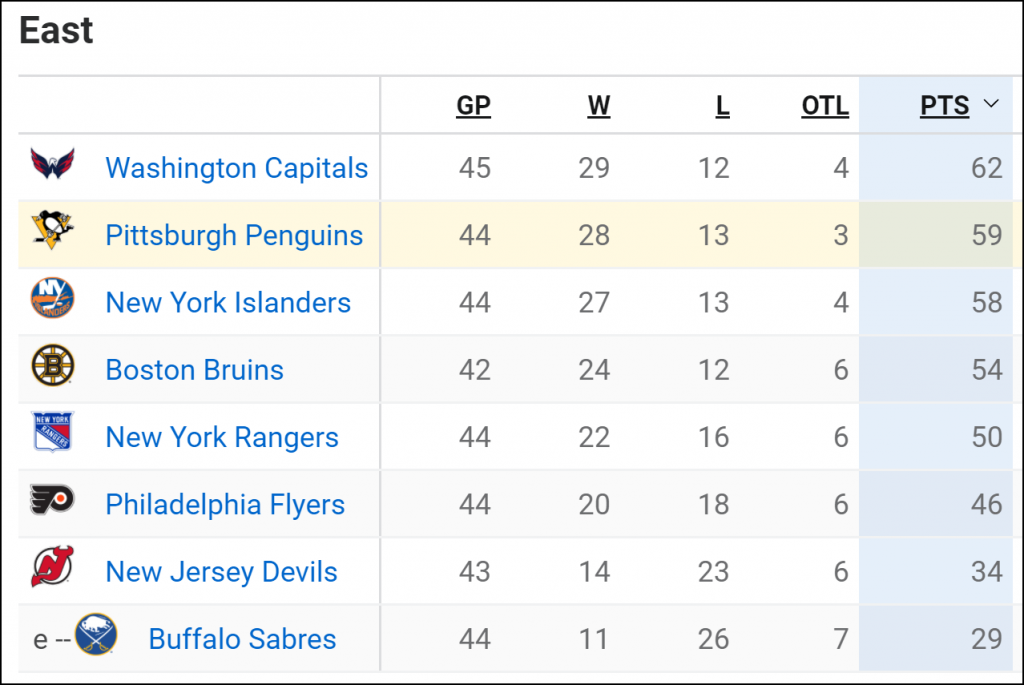 With the win yesterday, the Penguins have moved into 2nd place, which is awesome. With the loss yesterday, the Sabres of have been eliminated from playoff contention, which is hysterical.
This is a winnable game and this team has shown this year they can beat up on Buffalo with a 5-0 record so far this season. Great opportunity today to get in gear and take the W from a team who has shown they will hang around and have the talent to punish you for your mistakes.
Make it happen Pens. Be wary of the NBC Sunday afternoon shit shows you've given us in the past and put this Buffalo team further in the ground.