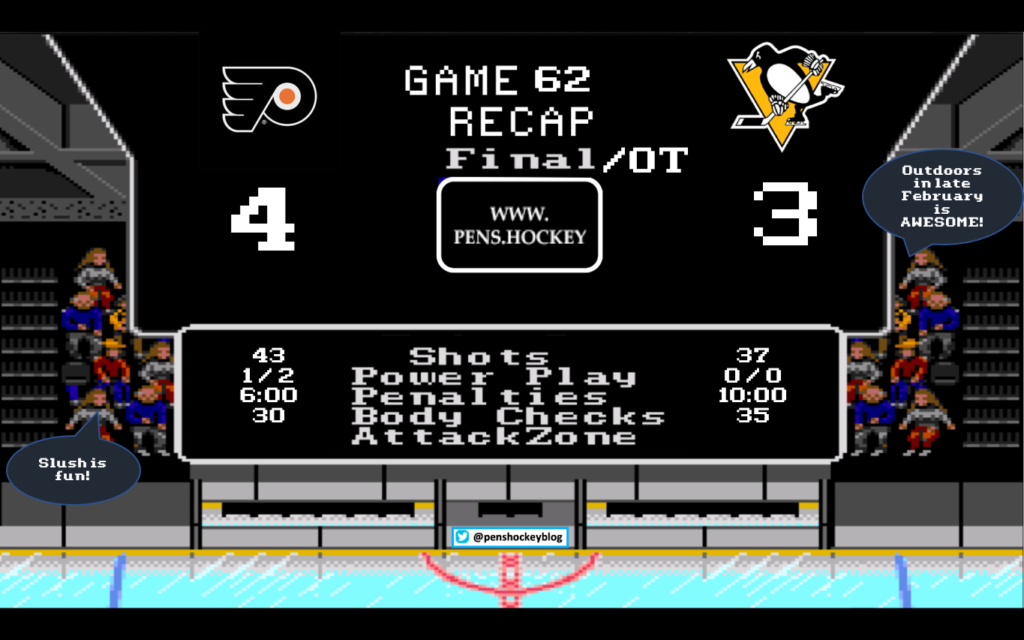 Yay, another gimmicky outdoor matchup. Sans Maatta, the Pens iced a fully-healthy roster. That probably won't be happening again any time soon….sorry for the foreshadowing.
First Period: To me, this game felt really awkward for the get go, I'm sure the players felt the same way. For the Pens, that discomfort was likely caused by near-freezing temperatures, constant drizzle, and standing water on the playing surface. The Flyers likely felt awkward knowing they were playing a "home" game in a Philadelphia stadium that has actually celebrated a championship. Whatever the reason, the first few minutes had a definite feeling-out process while the puck skipped, rolled, bounced, and stuck on the terrible playing surface.
Only a few minutes in, Flyer killer Sidney Crosby capitalized on a horrible turnover and went glove side on the backhand.
With the lead, the Pens immediately took their foot off the gas and gave up a fairly soft goal to Couturier after Pettersson got too aggressive in the neutral zone and couldn't recover.
No reason for Murray not to challenge there, and no reason for him to drop to his knees faster than Robert Kraft's masseuse. I've never spelled that word before, and it looks funny. Not a good goal for Murray to give up, but this would become a theme.
The next few minutes saw Crosby get manhandled behind the net, only to make a really slick play by stepping on the puck and no-look kicking it behind him to his winger for a potential scoring chance. Sid typically makes 2-3 plays each game like this when he is on…which is pretty much every game.
Shift after shift, the Pens were pressuring the Flyers, but Elliot and the orange scumbags in front of him held on.
Then, with under 4 minutes remaining in the first, everything changed.
Few things to go over here:
The Simmonds hit has the head as the primary point of contact. This is an obvious check to the head. Dumoulin's shoulder was barely touched.
Simmonds never fully leaves his skates, but his left blade is several inches off the ice and his right skate shifts forward during the hit, showing nearly all of his momentum was going high.
During the resulting melee, Shayne Gostisbehere performed a professional wrestling move called the "RKO" on an unsuspecting Letang. Since I'm not 9 years old or white trash, I had to Google what that was. Here's a GIF.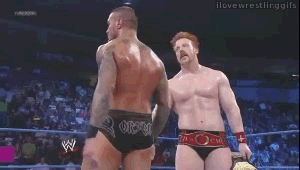 Seems totally reasonable to do this to a All-Star defenseman with a history of major neck injuries (nevermind the punch to the head after he was taken down). It should be surprising that I would have to look for WWE finishing moves to recap a professional hockey game, but it's not. We're talking about the Flyers and they are garbage human beings with garbage leadership playing in a garbage league where they will never be required to change.
As a fan of the game, I think the most asinine part of all this is how the penalties were handed out. 2 minutes to Simmonds for "Unsportsmanlike Conduct" and 2 minutes to Letang for….getting assaulted. Randy Orton's finishing move was deemed perfectly legal. The fans booed the concussed Dumoulin and the rest of the Flyers yucked it up on the bench about Letang's injury. Absolutely inexcusable display from the NHL and the Flyers tonight. Somehow, Sullivan didn't get ejected for daring to be upset at this bush league clown show.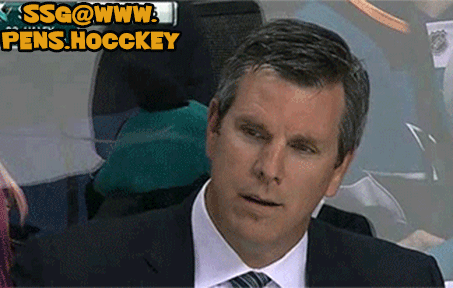 Just like that, the Pens were down their top pairing, and neither would be coming back. Earlier this season, I was dumb enough to believe that officiating had gotten better. Since the Lightning game 2 weeks ago, it seems that has all changed, and it's as bad as it has ever been.
With the Pens down to just 4 defensemen, the Flyers were taking ever opportunity to run any Penguin who touched the puck- especially the remaining blueliners. Give the Pens credit though, they absolutely dominated the 1st.
Second Period: After watching Jodi Foster play guitar for the intermission, the period started with Jack Johnson going to the penalty box for attempting to hit Nolan Patrick. PK, with help from the elements, took care of the penalty.
The Pens played a pretty solid structure, and increased their shot lead, despite a choppy game with lots of stoppages. Randy Orton charged McCann and every Penguin was being targeted with high hits well after they got rid of the puck.
Halfway through the period, Schultz made a great play after a dish from Sid….and a pass from himself.
The rest of the period saw Kessel botch his 4th simple pass reception of the game. Something is very off with Phil! right now. Fortunately, Horny looked much better with his stint on the 1st line.
Third Period: Voracek made an excellent move as soon as the period started, but Murray was there with the save.
Moments later, Kessel had a golden opportunity, but can't buy one. ZAR had a point-black shot off a turnover, but couldn't elevate the puck over Elliot's right pad.
5 minutes in, Malkin (playing with Cullen) had 3 horrible turnovers that almost tied the game, but on his next shift:
Despite the great saves he made in this game, Brian Elliot reminded us He was Brian Elliot.
With the 3-1 lead, we watched Malkin get held on a partial breakaway with no call and the horrible officiating got even worse.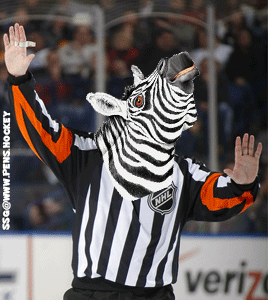 With 5 minutes remaining in the game, Malkin is viciously slashed in the arm in the offensive zone, he heads to the front of the net, gets slashed 2 more times, cross checked up high, and punched by Robert Haag. No call. The exact moment Malkin responds with a small shove, the referee calls both players. Watching the replay, Dan O'Halloran was WAITING for Malkin to respond. If it was a penalty after Malkin retaliated, why wasn't it a penalty before? Paying hitmen with personal checks makes more sense than this officiating.
During the resulting 4-on-4, Cullen was called for "slashing". Sure. The Flyers pulled their goalie to make it a 5-3 and JVR put a rebound past Murray. Sully challenged for goaltender interference….could the Pens possibly have a call go their way?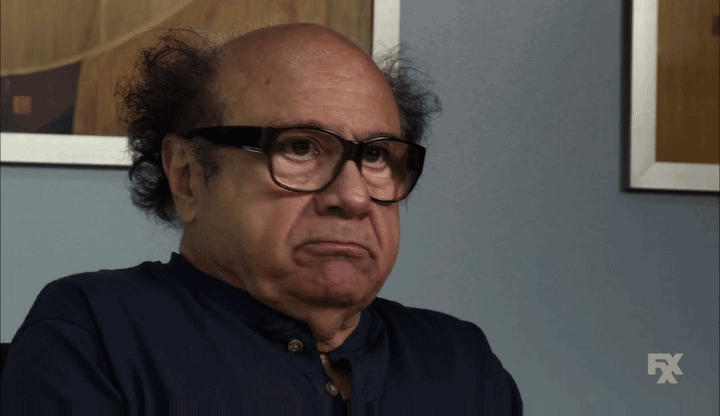 I don't really care to relive this, and you already know the ending. Vorceck tied it up with 20 seconds remaining thanks to equally bad plays from Jack Johnson and Matt Murray. Extra time would be needed, but at least a point was in the bag.
OT: My notes say:
Sid and Jake – Excellent shift
Kessel and Malkin – Excellent shift
Sid and Rust – F*** this game.
Murray with his 3rd bad goal of the night and an absolute gift to Giroux.
Game.
Thoughts:
Penguins didn't get a single power play, despite the fact the Flyers were literally performing wrestlers' finishing moves after whistles.
Murray has to be better. I'm sure the conditions were a factor, but he was significantly outplayed by Brian Elliot.
Pens lack of "grit" has been apparent in nearly every game over the past 2 weeks.
The entire season will depend on the conditions of Dumoulin and Letang, if both of them are out for an extended period of time, making the postseason will be difficult, let alone making a significant run.
If McDavid can get suspended 2 games for a check to the head (no injury), what should Simmonds get? Just kidding, we all know the answer.
Schedule doesn't get easier, with the Pens playing teams either in the playoffs, or only a couple points out of a spot until March 17th, when they will see these Flyers again.
15,979 days.