The Penguins acted like Wednesday's game was just that, a Wednesday game in the regular season. Getting all bent out of shape over one game is a waste of time. The Penguins handled the Islanders, and had the powerplay been more efficient this game doesn't go to overtime. The last 7 minutes of the third period the Pens were pouring it on but just couldn't get anything to fall. Johnny Boychuk is a dick. John Tavares is wasting his golden years with the Islanders. The Pens improve to 4-1 against the division. If the trade off for a 7-1 stomping is winning 4 out of 5 division games, I will take it.
Sidney Crosby (11) assisted by Letang (9) & Kunitz (7) @ 15:19 PPG
Letang puts a shot on net and Crosby uses will and hustle to bury the rebound. It's funny, because after this simple formula of "just put it on net" on the powerplay worked, the Pens would resort to their Harlem Globetrotters style powerplay for the rest of the game and finish 1 for 5.

Brock Nelson assisted by Strome & Tavares @ 1:51 PPG
Nelson Mandela rips one over the blocker of Fleury for an easy goal. That's not Fleury? But he dropped down sown quickly and the puck went right over his shoulder… huh.
Anthony Beauvillier @ 2:34
Really good play defensively by Hamonick to trap that flop pass from Sheary. Horrible defensive attempt by Letang, and Murray is twisted into the Barclay's slush.
Trevor Daley (2) assisted by Kessel (11) & Kunitz (8) @ 13:55
Daley for Scuderi. Three minutes before this goal Daley left the Pens bench and twitter blew up with injury theories. Then he shows up, tells the team to calm the fuck down and just shoot like so. Errey made a John Daly reference.
Kris Letang (2) assisted by Crosby (4) @ 1:24
Sidney Crosby man, we all take for granted the things he does. It's Saturday, you most likely have some chores to do, but for right now, for this moment, just watch this three or four times. Take it in. Enjoy the moment.
I faked out Brock Nelson so bad your girlfriends orgasms are put to shame pic.twitter.com/F95qXIlp4D

— Sidney Crosby's Ego (@SidneyCrosbyEgo) November 19, 2016
Game.

Quick Thoughts:
Penguins fans on Twitter have zero chill. Down 2-1 to the freaking Islanders and they are calling for Malkin benchings, Murray pullings, and blaming Sullivan for the slump. Chill people.
With Hornqvist out the powerplay should go back to 2 defenders in my opinion, Scott Wilson does not replace Patric Hornqvist.
The loss put the Islanders to 5-8-4, which is the same record the Buffalo Sabres have, so with that… on to Buffalo.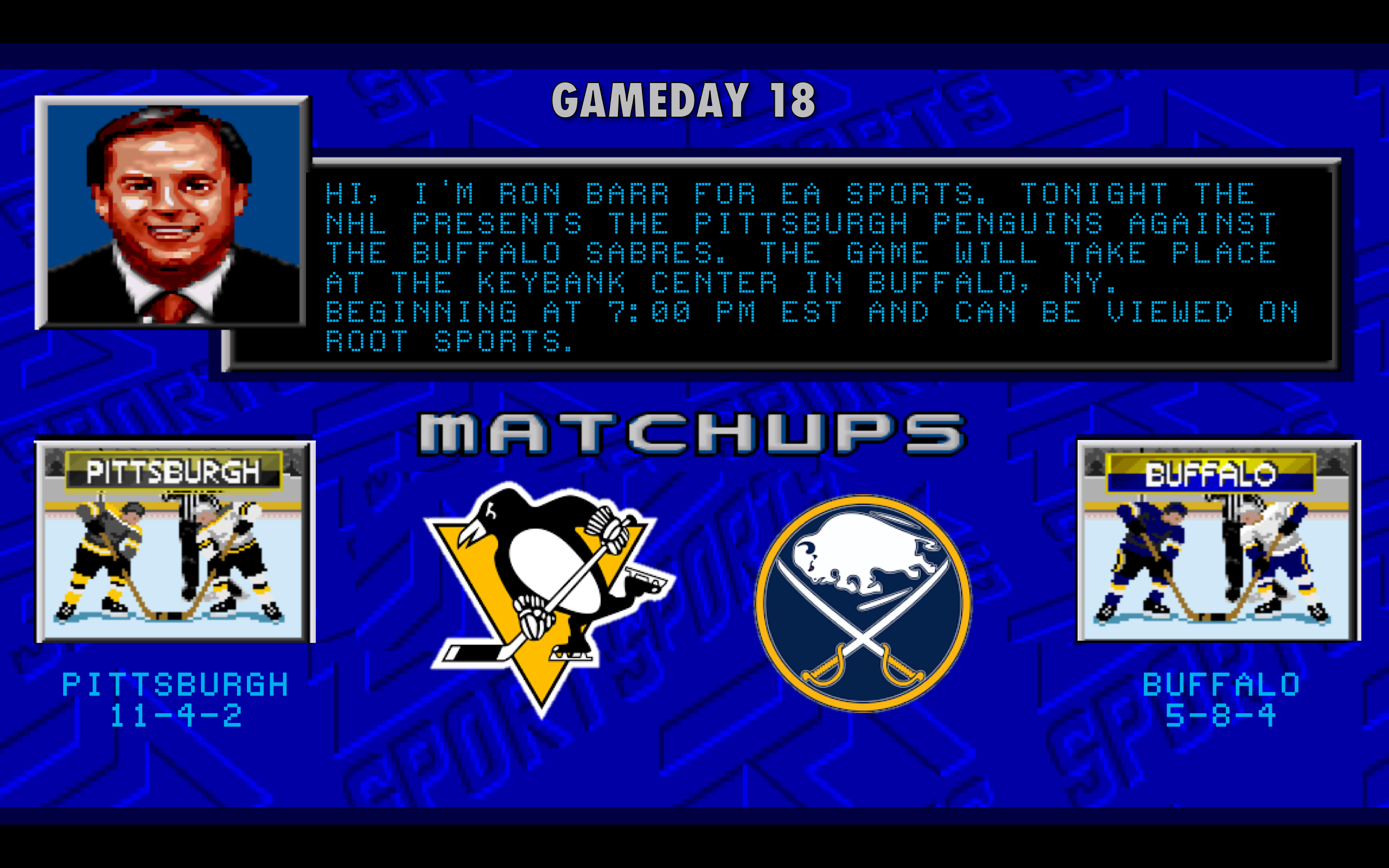 The Penguins roll right in to Buffalo, and the most exciting part about this game is getting to see Jack Eichel against Sidney Crosby. The league won't say that, because in yet another brilliant marketing move the league has decided not to pit team superstar against team superstar, because the NHL doesn't want to grow. Dan Bylsma recently recorded his 500th career win, and  judging by their record it is safe to assume that 480 of those came with the Penguins. My favorite quote involving the Sabres is when a fan on reddit asked "To any Penguins fans willing to help, did Bylsma always shuffle the lines, even when winning? Or is that a new thing?" Hahaha, just wait until (Enter Defenders Name Here) starts playing on the 4th line.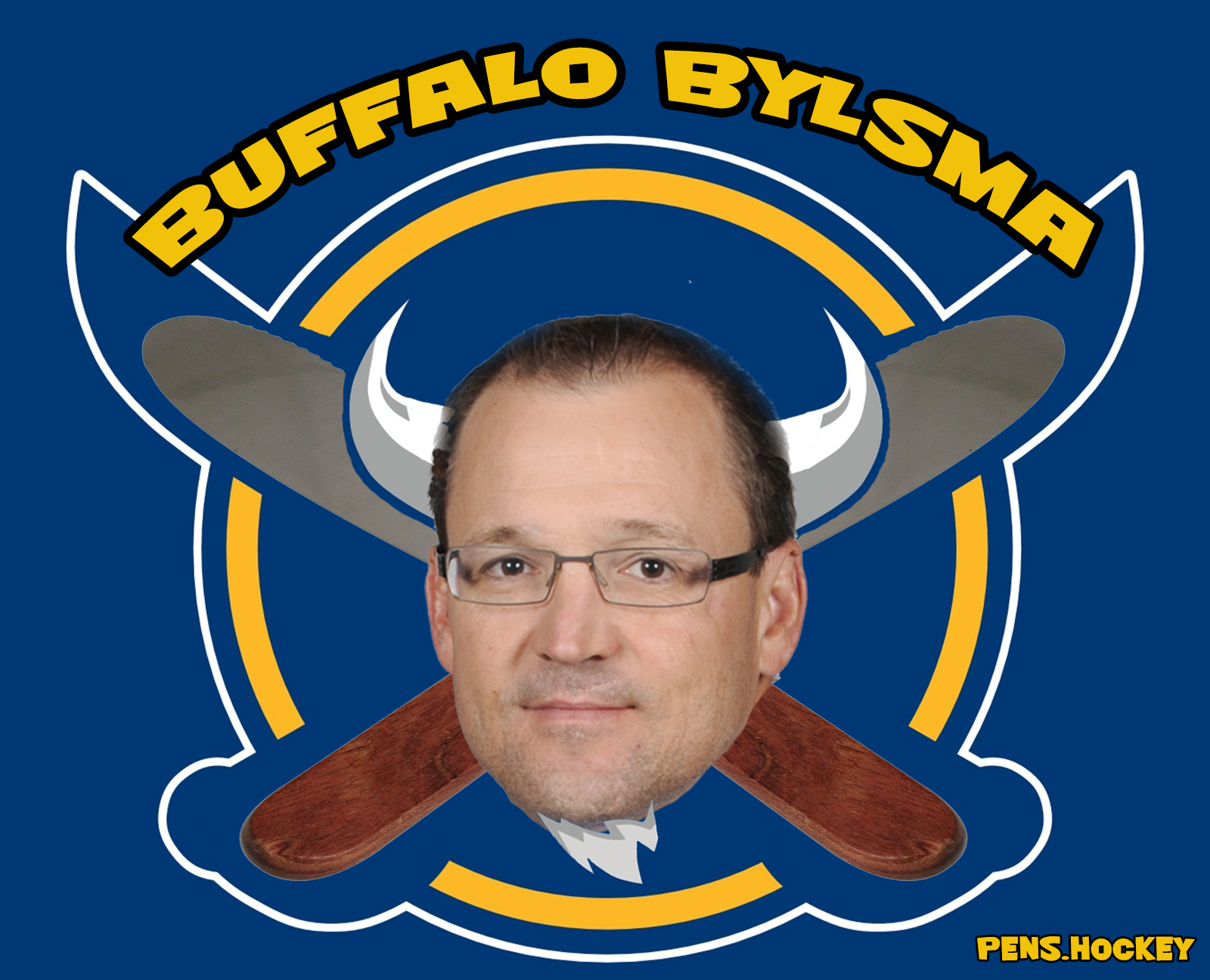 Sharpen your Sword. That is the Sabres slogan for the season… and this seems to be the leading Sabres Blog. Drop by and say "Hi," invite them for some family friendly banter, we may even get a pizza.

The Sabres are full of bad contracts, luckily the Penguins face them multiple times, because we couldn't decide on one. Since this is the first game against Buffalo we are going to go with:

Though it doesn't count as a Cap Hit because of the CBA buyout agreement, anytime a team has to pay a player money to not play for them is a bad deal. To make it worse, Erhoff was signed to a 10 year deal, and the Sabres bought the contract out after the second year. The money still counts towards the teams bonuses and other funds, and as penspointsyourmom pointed out, you know 857k hurts a small market team like the Sabres too. I'll bet Terry Pegula breaks a pen over his wife's dick everytime he has to sign one of those checks.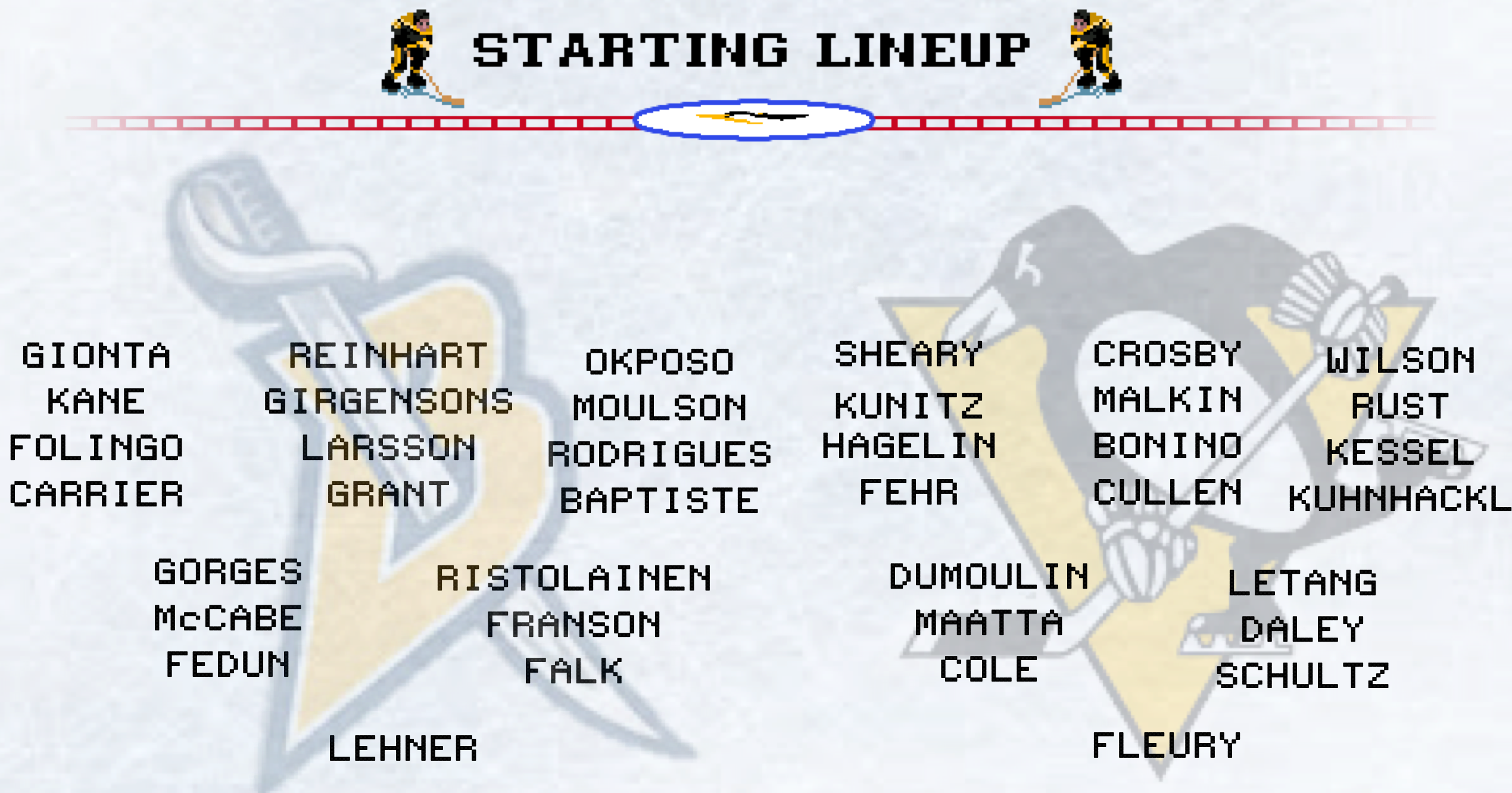 Rodrigues was known as Rodriquez before the election. Pretty good chance Sestito plays tonight, pretty good chance he doesn't. The Penguins defense got a little beat up last night, but with no call-ups and Pouliot not yet ready I don't expect any changes. Even with the disadvantage of playing last night the Sabres have the disadvantage of being the Sabres. These two teams usually play a high paced game though, so a 5-4 finish isn't unlikely.

This is from last night's game. I can't believe another 10 game section of the season is almost finished.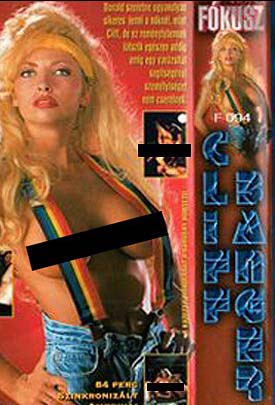 This game was so "tit-a-latin" I slept through the 3rd and had to rewind to see LeTwang's Money Shot . PICK YER GRAPES...PICK EM!
4) "It seems like everything is hard right now." — Errey (31%, 4 Votes)
8) "We came out hard." — Oli Mattaa (23%, 3 Votes)
2) "Then took Malkin's stick hard across the upper lip." — Errey (15%, 2 Votes)
6) "The Penguins are lookin for penetration down low." — Errey (15%, 2 Votes)
5) "See him go to the crease and pop one in.'" — Steigy (8%, 1 Votes)
7) "I'm not gonna say anything goes right now. You gotta keep your stick to yourself." — Errey (8%, 1 Votes)
1) "Lee trying to stuff it in." — Steigy (0%, 0 Votes)
3) "They're really minding the backdoor in these situations." — Steigy (0%, 0 Votes)
Total Voters: 13

Loading ...
And don't forget to play: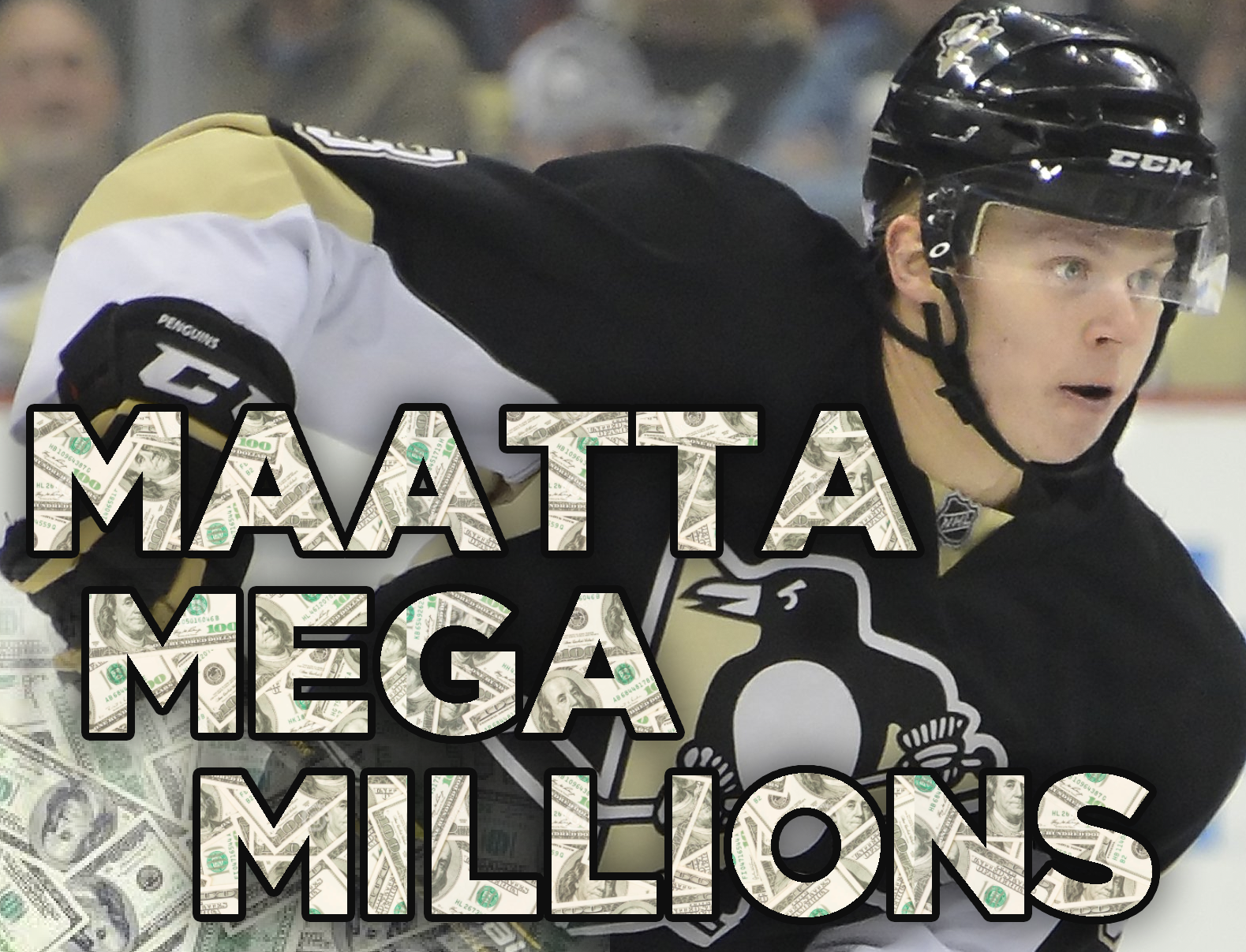 MAATTA MEGA MILLIONS JACKPOT… $43

Buffalo Byslma…lol…living proof that you doan have to know how to coach in the NHL to inherit a great team and win a Stanley Cup.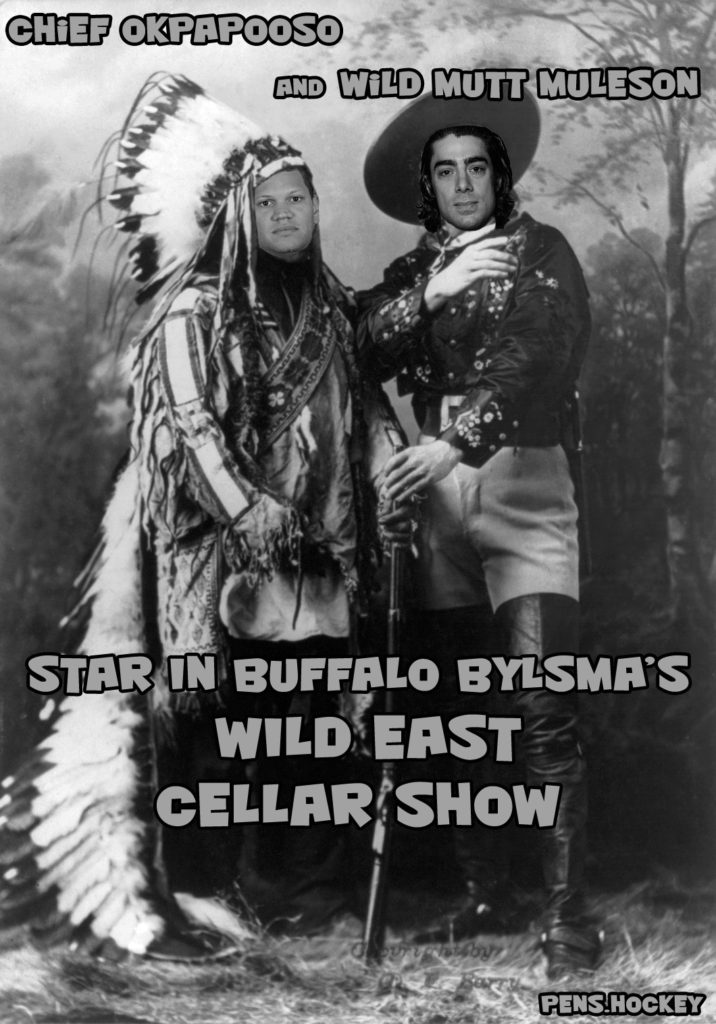 Which team has NO SHOT of climbing outta the cellar this season? (and can we please play them next?)
Sabres (36%, 4 Votes)
Coyotes (27%, 3 Votes)
Hurricanes (18%, 2 Votes)
Islanders (9%, 1 Votes)
Flames (9%, 1 Votes)
Avalanche (0%, 0 Votes)
Total Voters: 11

Loading ...
TONIGHT'S THE NIGHT TO BUTTER UP